Day 2, Lucca and Pisa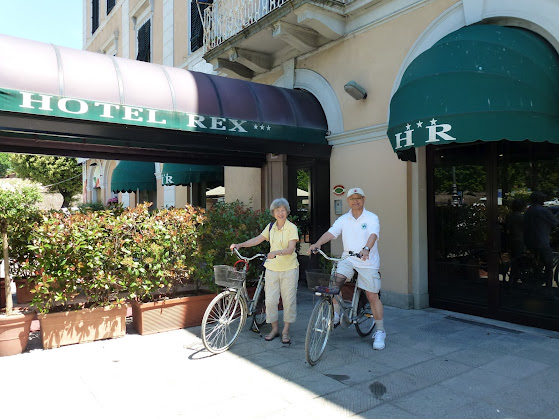 Hotel Rex loaned us two bikes.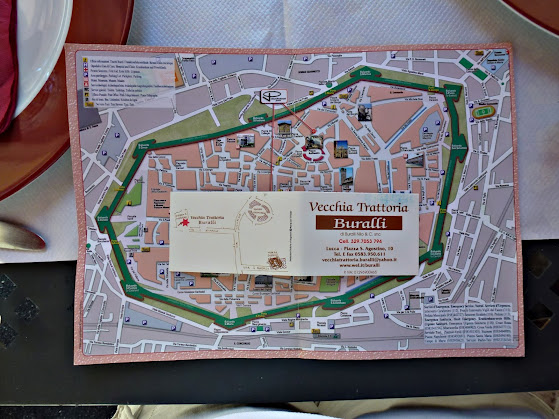 Ignore the restaurant's business card placed in the center, just look at the map.
You can see that the historical old town of Lucca is surrounded by ramparts.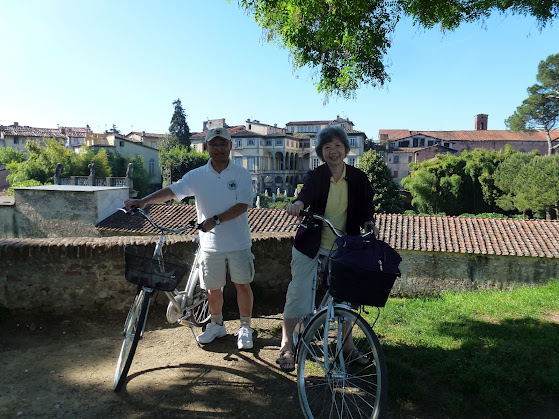 We rode on the entire 2.5 miles of ramparts.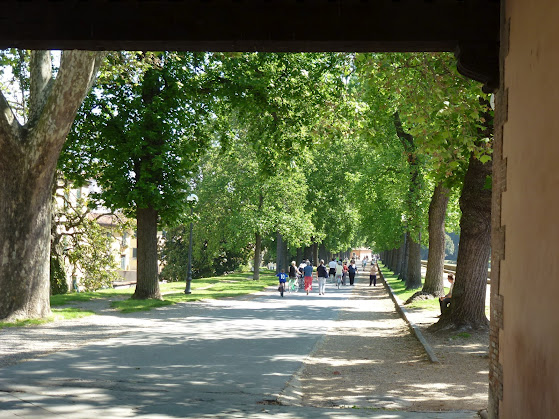 On the ramparts - many folks were taking a pleasant walk.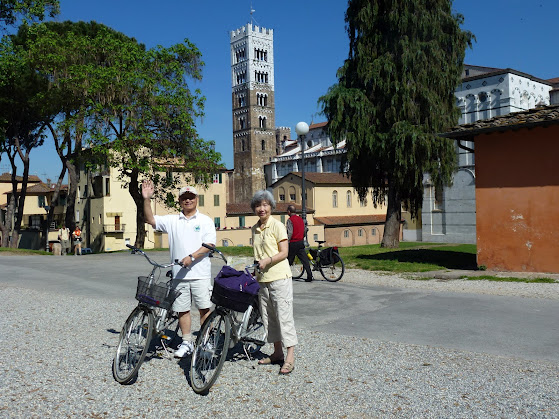 The landmark bell tower behind us belongs to Lucca's main church, Duomo di San Martino.
The tower has 5 tiers, with the top 2 tiers in marble facing.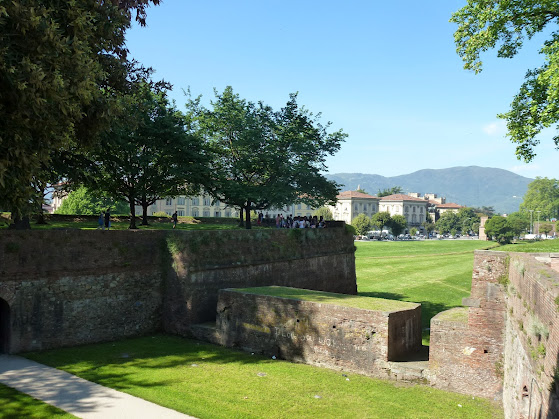 A view of the street and buildings in the new town outside the ramparts.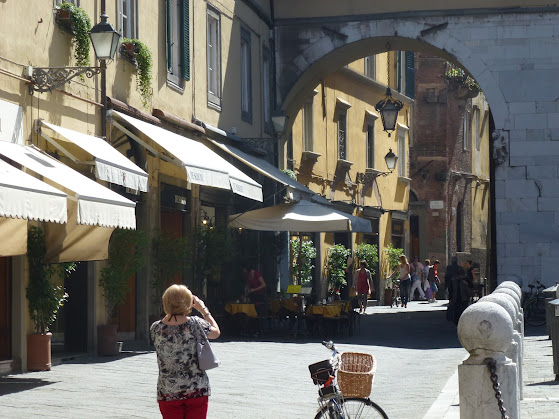 A scene in the old town, on our way to lunch GTG at Trattoria Buralli.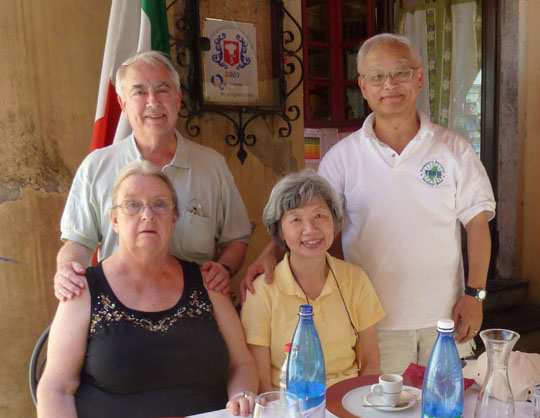 Lunch with Ron and Linda Audet from Florence.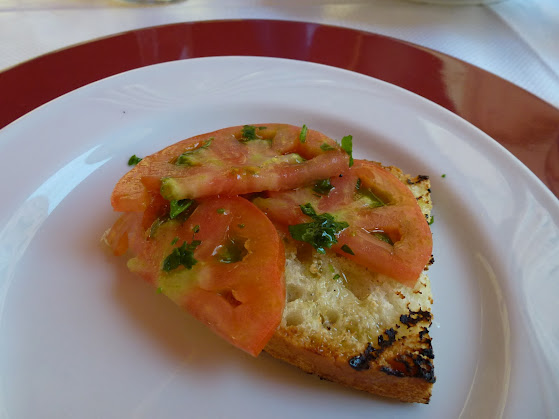 Bruschetta appetizer.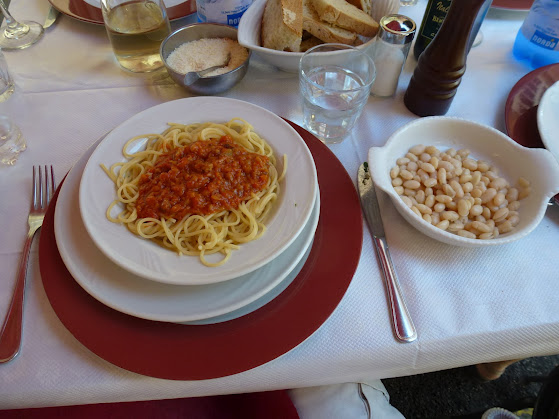 Pasta with beef ragu, and white beans.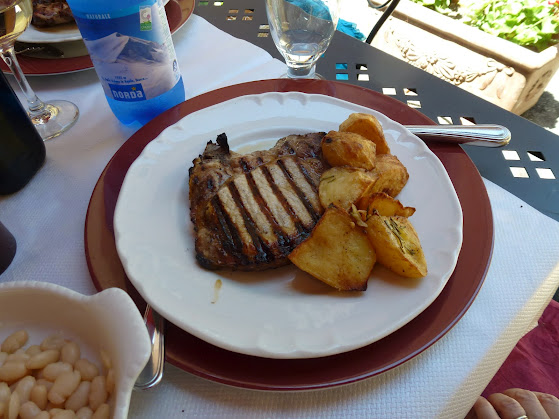 Grilled pork. All the grilled pork we had in Tuscany were all very tasty.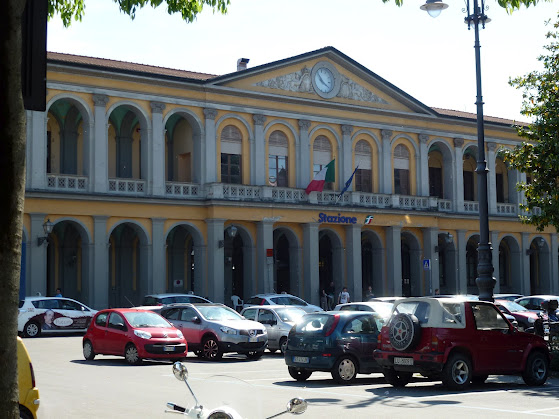 Lucca's train station.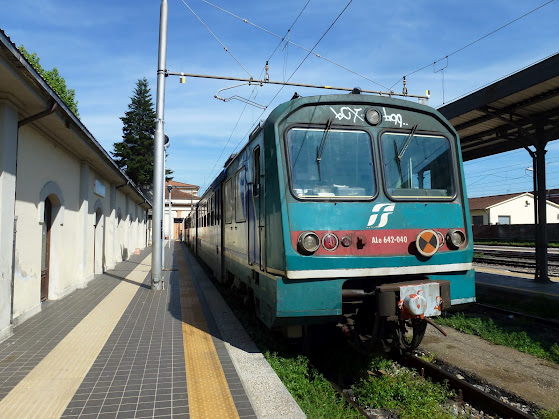 The regional train we took from Lucca to Pisa.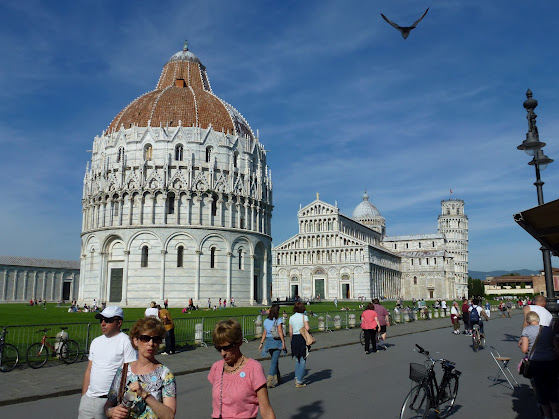 Pisa's Campo del Miracoli (Field of Miracles).
From left it is the Baptistery, then the Duomo in the middle,
the Leaning Tower is at the right.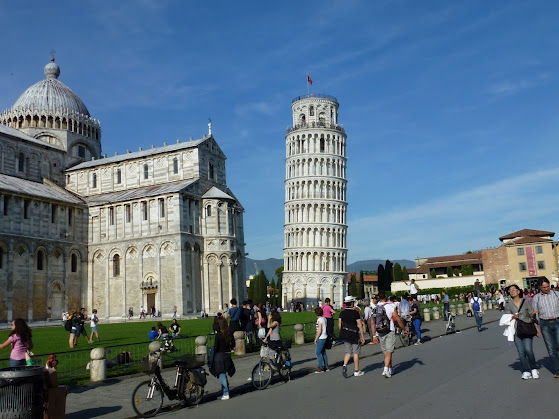 As we walked toward the Leaning Tower.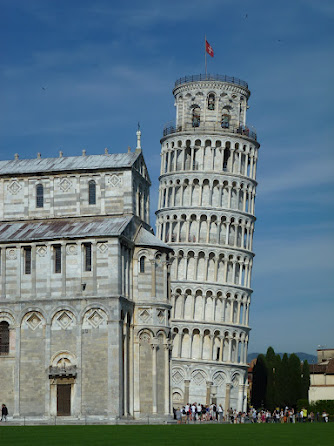 Many tourists lingering near the base of the Tower.

One could purchase admission to go up the Tower.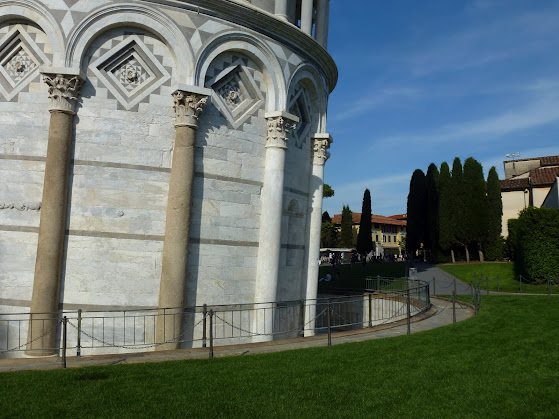 The base of the Tower.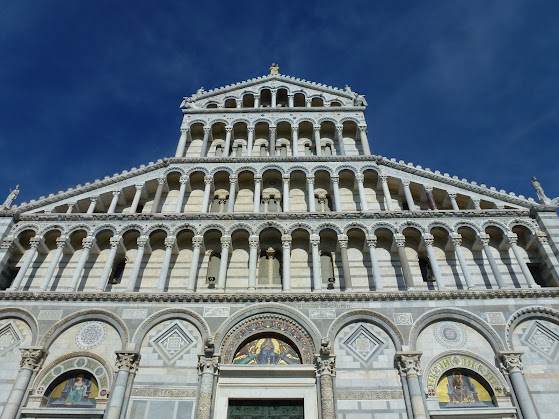 The splendid Duomo di Pisa ( work begun in 1063).
This style of facade is called the Pisan Romanesque.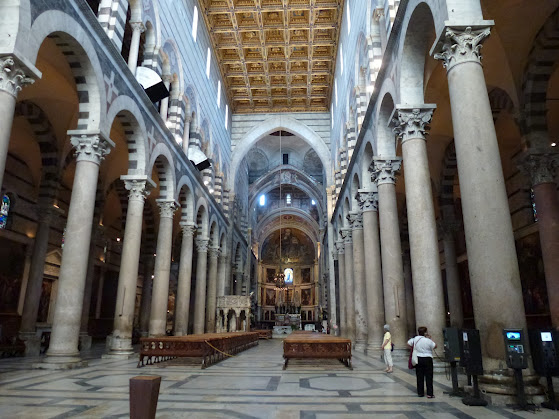 Inside the Pisa Duomo, a very long 320-foot nave.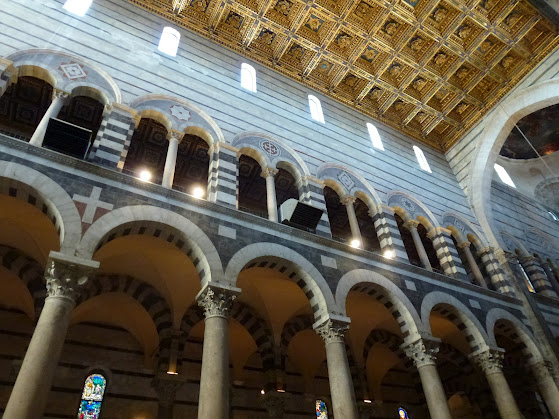 The striped marble give it a mosque-like feel.
Notice the gilded coffered ceiling.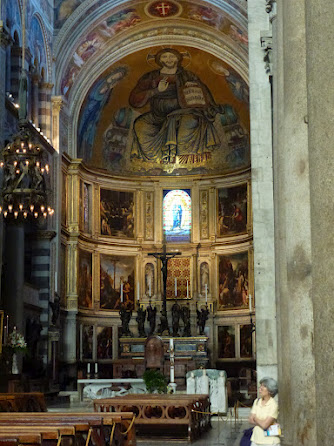 The apse with mosaic showing Christ.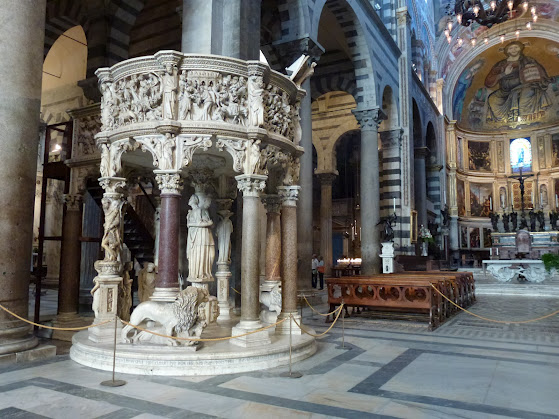 The 15-foot-tall pulpit by Giovanni Pisano.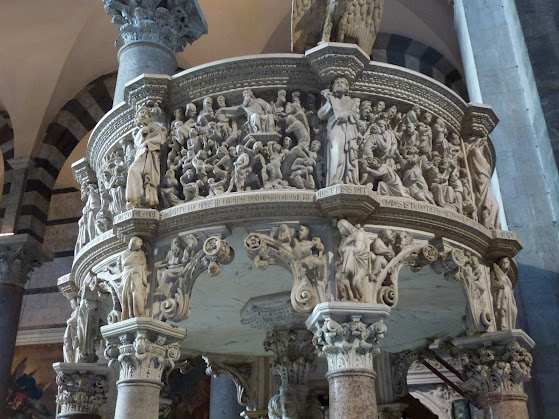 Christ's life were depicted in the carvings on the pulpit.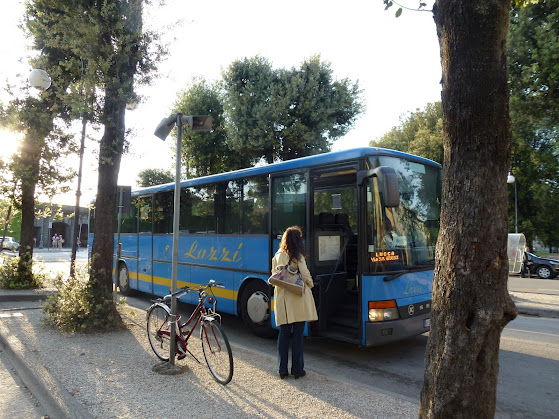 We took this bus from Pisa back to Lucca.

For dinner, we went to Trattoria pizzeria Da Francesco.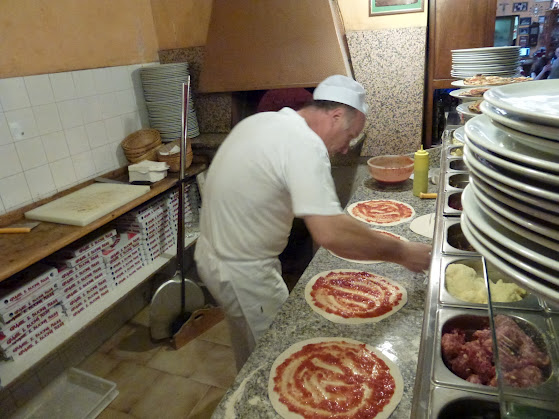 As we entered the restaurant we saw a chef making pizza.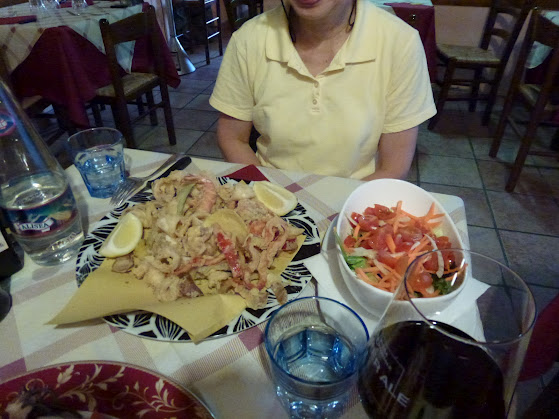 Our fried seafood platter and mixed salad.

Pasta in black ink with calamari.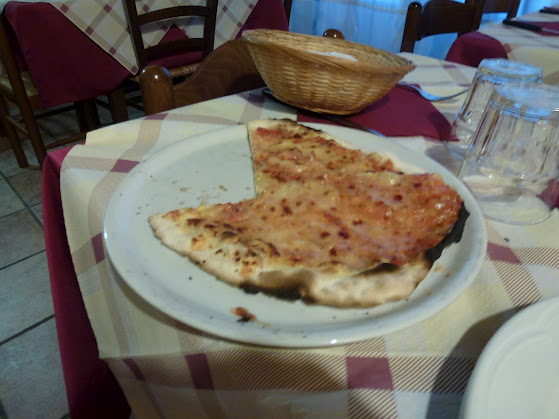 Our margherita pizza, the tastiest pizza of our entire trip.
We were going to give it up, but decided to cut a small piece for taste,
then wound up finishing the whole thing.