Day_5, Hiroshima / Miyajima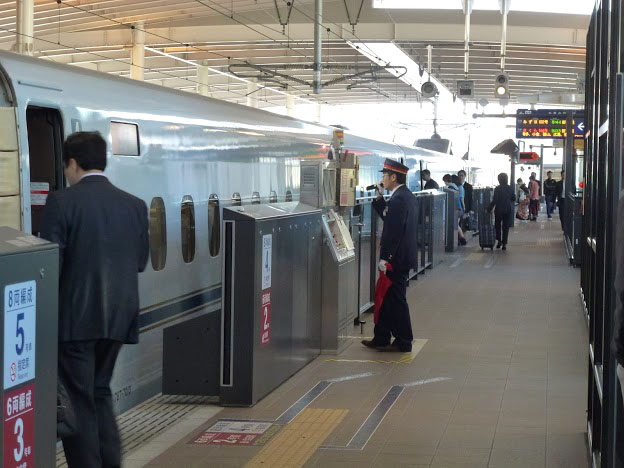 Getting on Shinkansen train to go from Kumamoto to Hiroshima.
The train would stop for exactly one-minute.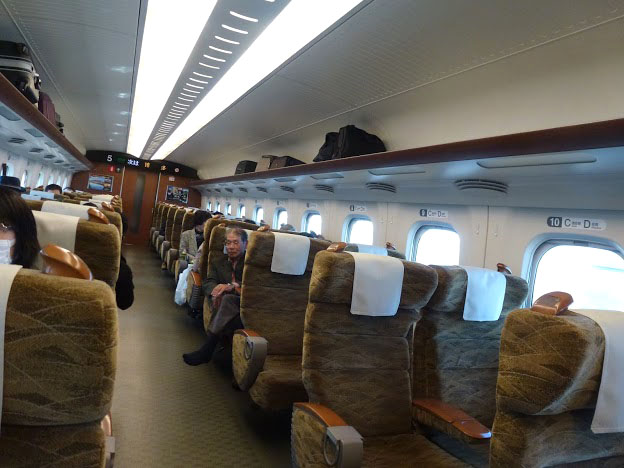 The inside of our Sakura Shinkansen, very comfortable and relaxing.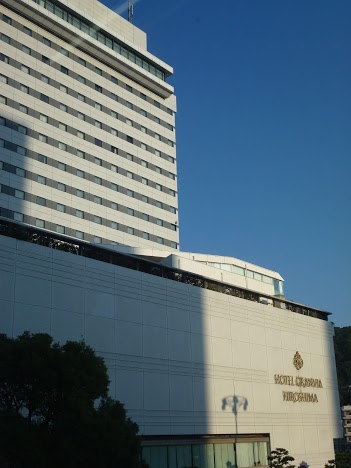 Hotel Granvia Hiroshima, our hotel right on top of the Shinkansen station.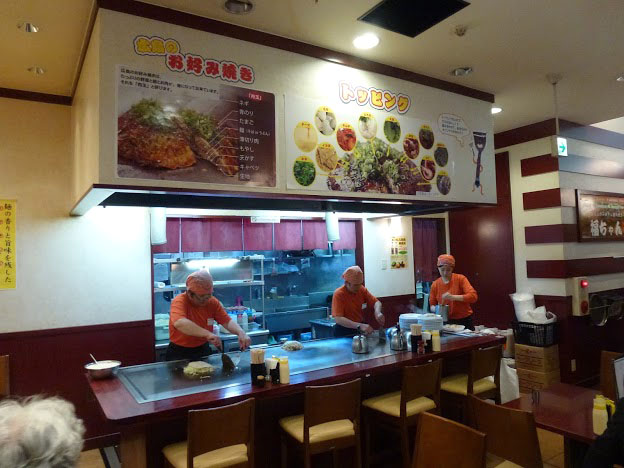 We dropped our bags at Hotel Granvia, then went looking for lunch.
This okonomiyaki restaurant was right inside the Shinkansen train station.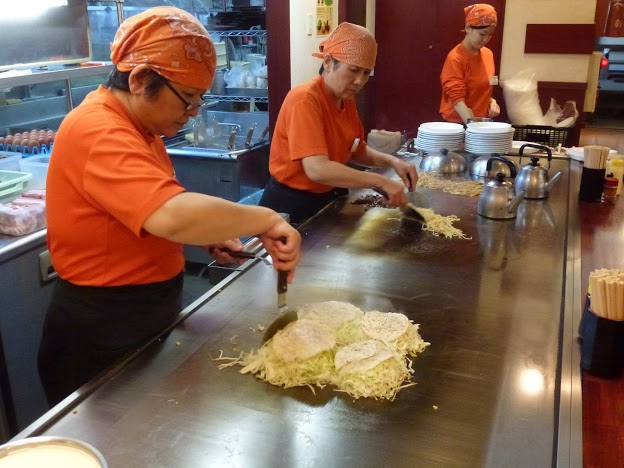 Hiroshima style okonomiyaki has 6 layers.
Hiroshima and Osaka both are famous for their own style of okonomiyaki.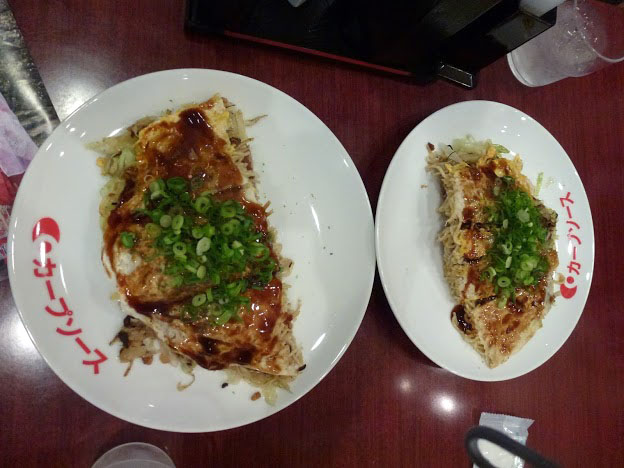 We ordered one with everything in it to share.
Pork, squid, octopus, noodle, cabbage, ..... etc.
It was very tasty when hot just off the griddle.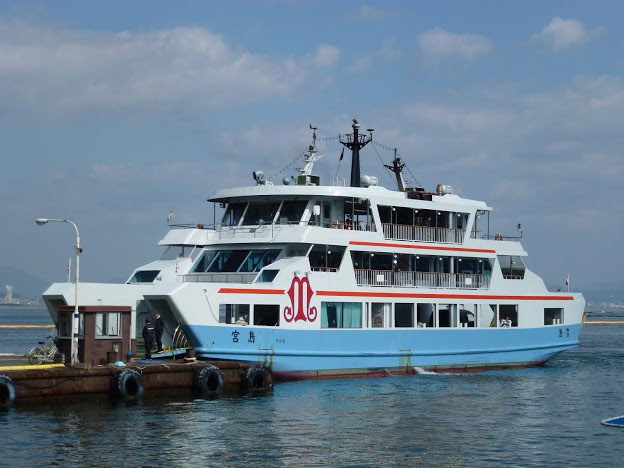 One of the ferries running between Miyajima-guchi and Miyajima island.
We took a JR ferry (not pictured) because our JR Rail Pass covered JR ferries.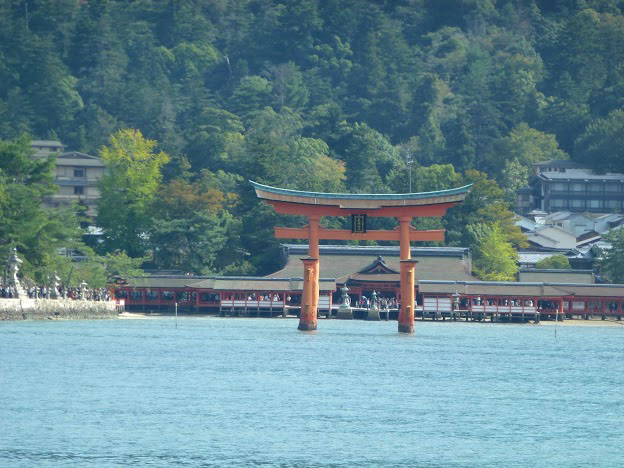 Approaching Miyajima, the vermillion torii gate came into view.
Erected in 1875, this 53-foot-tall torii gate is the largest in Japan
and became a symbol of the island.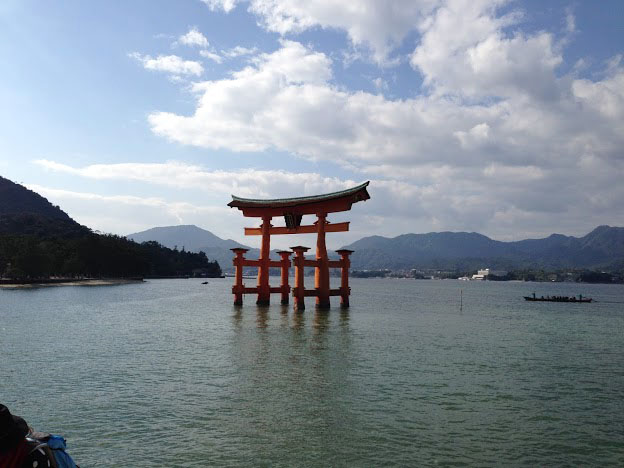 A view of the torii gate from Miyajima island.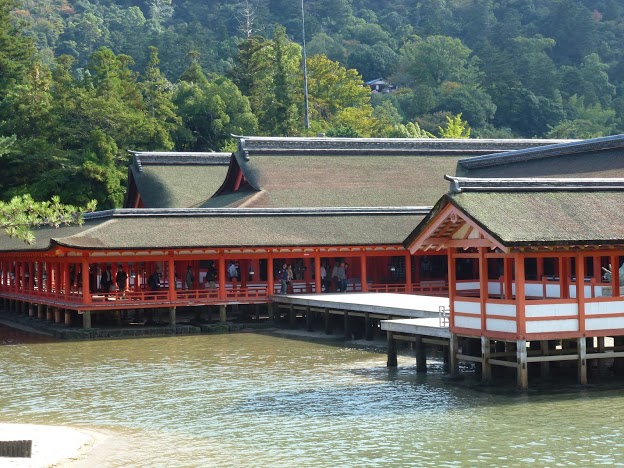 The Itsukushima Jinja Shrine (厳島神社) on Miyajima island.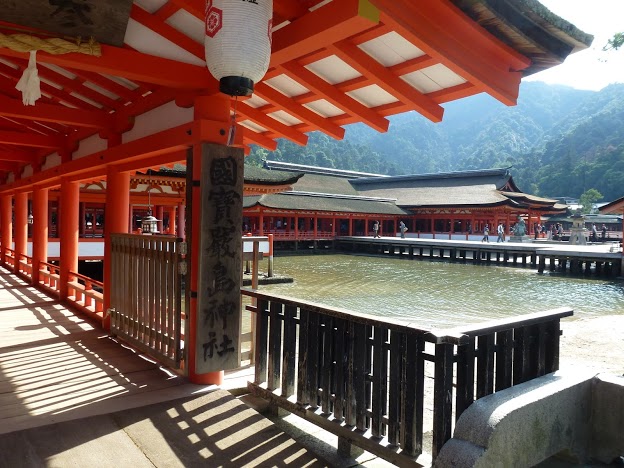 The shrine.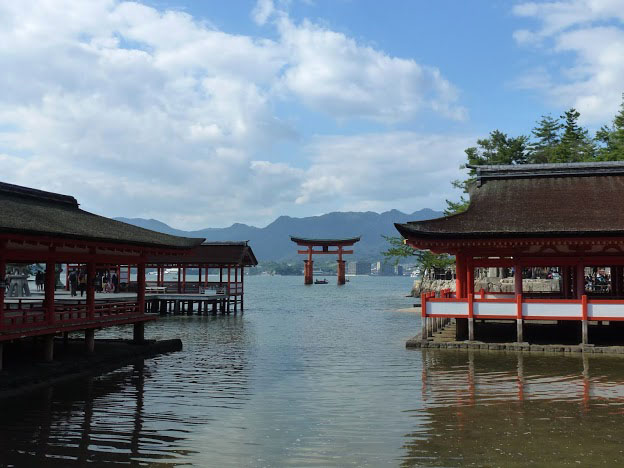 A view of the torii gate from the shrine.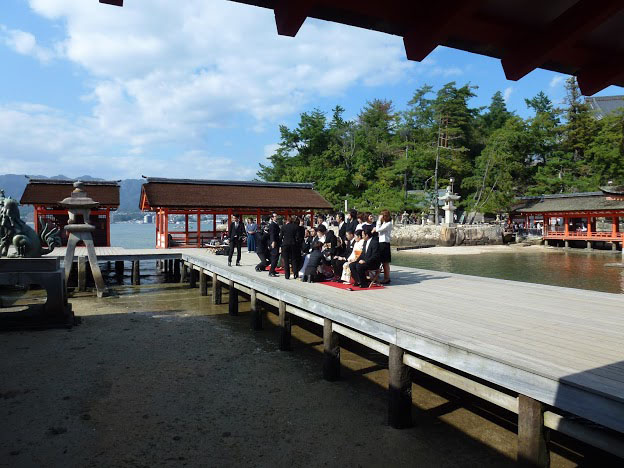 A wedding party.

The bride and the groom.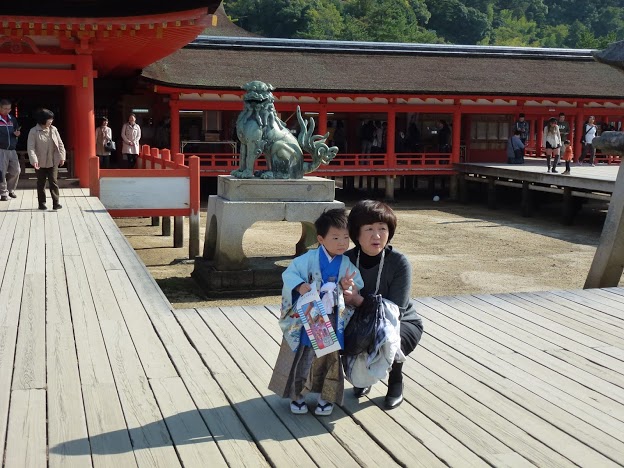 A boy from the wedding party.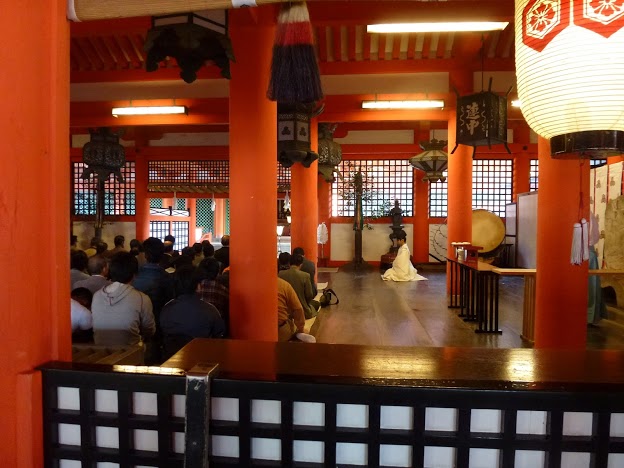 A service was going on in one of the halls.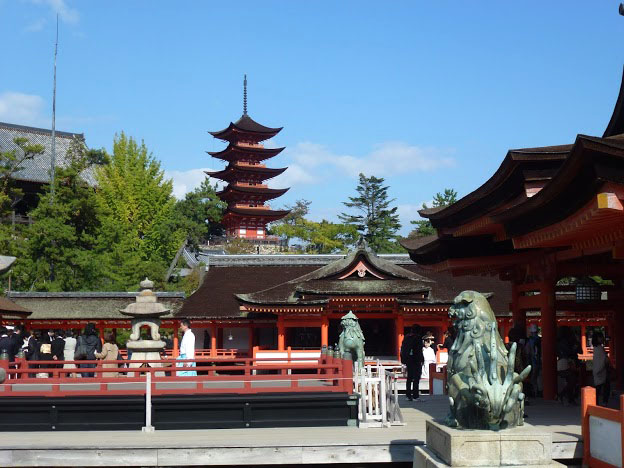 A 5-storied pagoda was just next to the shrine.

The Senjokaku Hall (豊国神社(千畳閣)).
Without ceilings or a front entrance, the building was left incomplete by its founder,
Toyotomi Hideyoshi (豊臣 秀吉).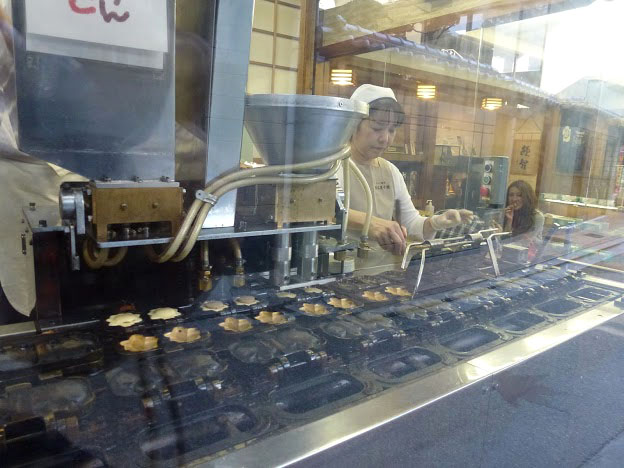 A street leading from the shrine to the ferry terminal was full of souvenir shops and eateries.
This lady behind the glass window was making maple-shaped manju with cream fillings.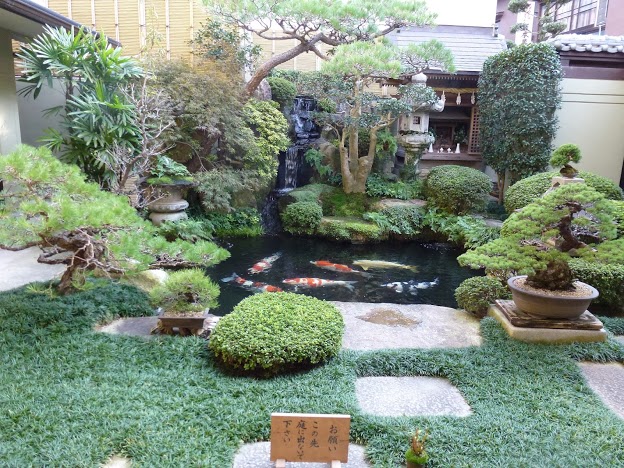 A souvenir shop with a tranquil garden in the back.
The Koi (錦鯉) in the pond were very big in size.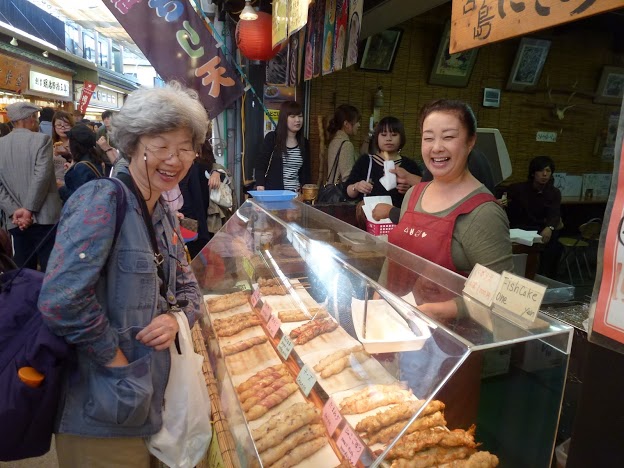 This shop had signs in English specifying ingredients in each kind of oden.
We bought one with octopus, and it was very good.

Grilling oysters.
Oysters harvested from the inland sea is a specialty of Hiroshima.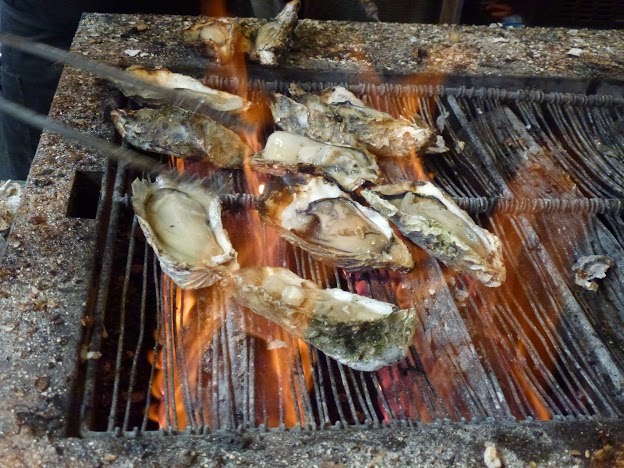 250Yen (USD$2.50) for one grilled oyster.

Huge, and delicious.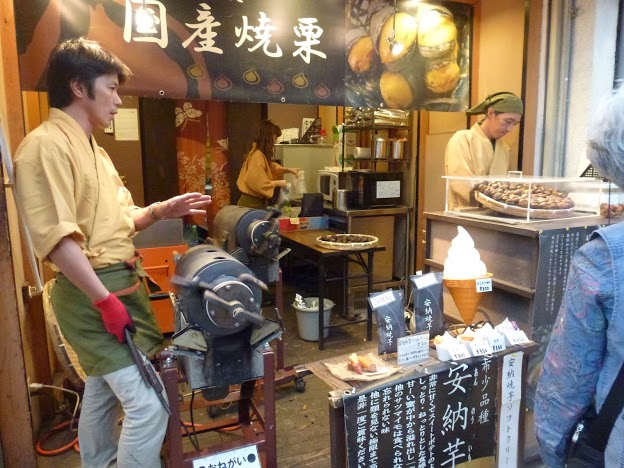 Roast chestnut. We bought a bag.
Each chestnut was big, beautiful and delicious.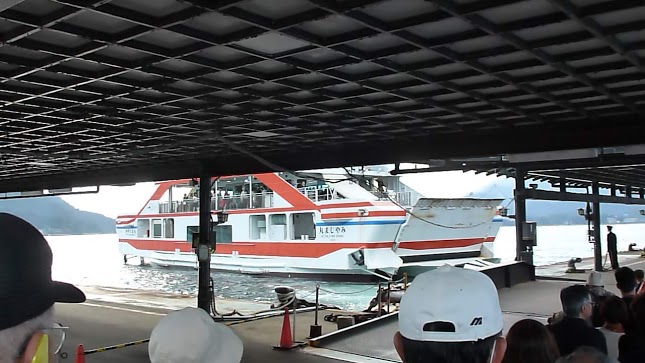 We got on this JR ferry to go back to Miyajima-guchi (and then train to Hiroshima.)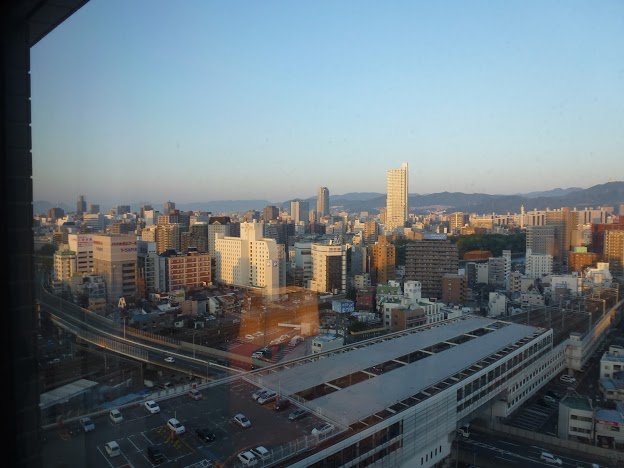 Views of Hiroshima from our 19th floor room in the Hotel Granvia.