Day_7, Osaka - Kuromom Market and Osaka Castle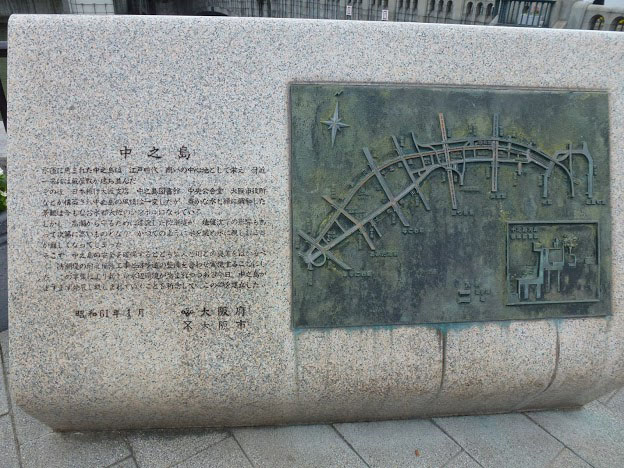 Our hotel is located to the north of Nakanoshima island on the map.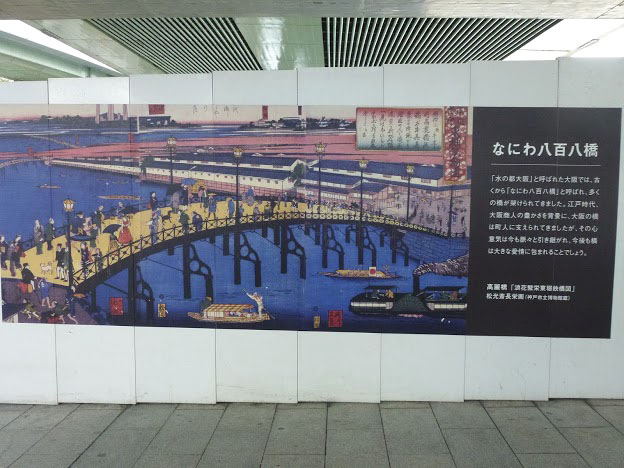 The modern bridge we walked on everyday for our coming and going.
This drawing on the bridge indicates there was once a historical bridge on this same spot.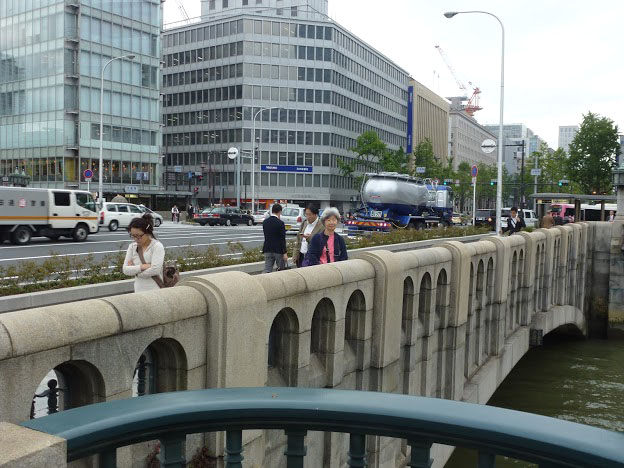 Modosuji boulevard (御堂筋), Osaka's Avenue des Champs-Élysées.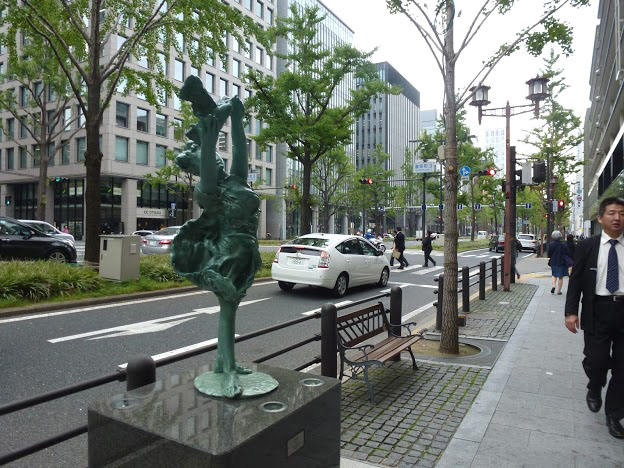 The trees lining the wide boulevard are 銀杏 (Ginkgo).
We have seen a very beautiful picture of this street with Ginkgos blooming.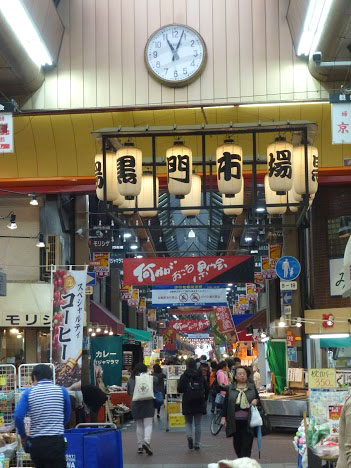 We took subway for a few stops to Kuromon Market.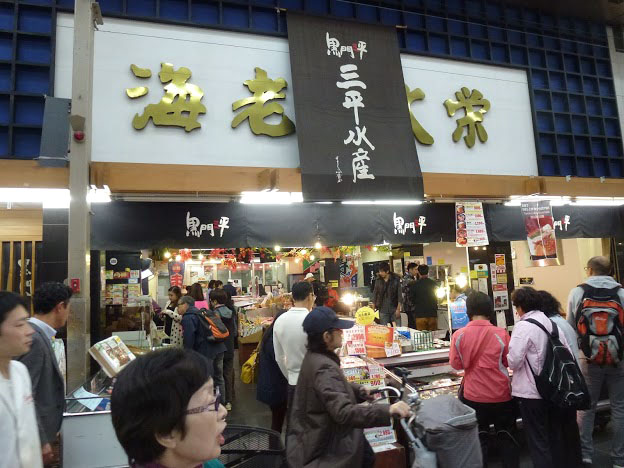 A big seafood store in the market was doing a brisk business.
The store has tables and chairs inside for customers to enjoy what they have purchased.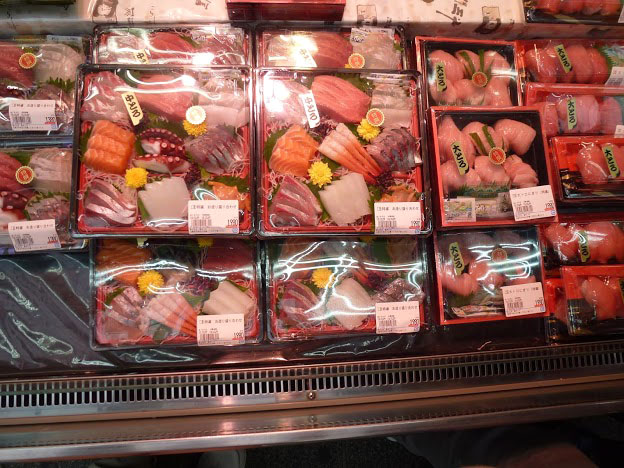 Ready-to-go sashimi in the seafood store.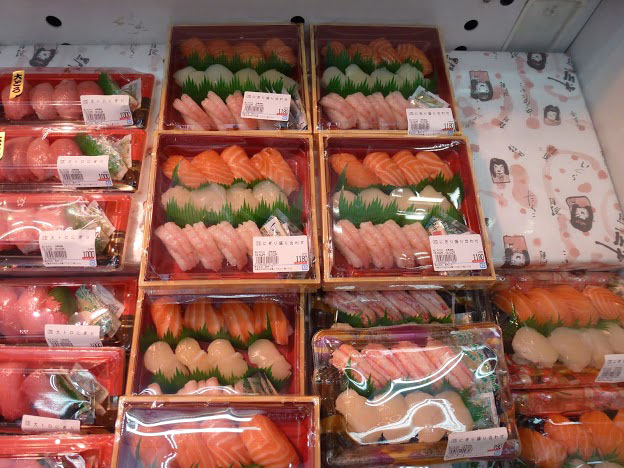 Ready-to-go sushi in the seafood store.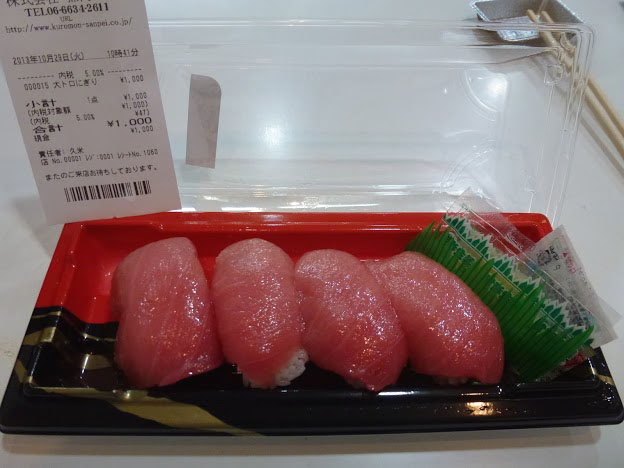 Vincent bought a package of 4 pieces of Toro nigiri. How was it?
The fish melt immediately in his mouth, so he only felt rice left in his mouth.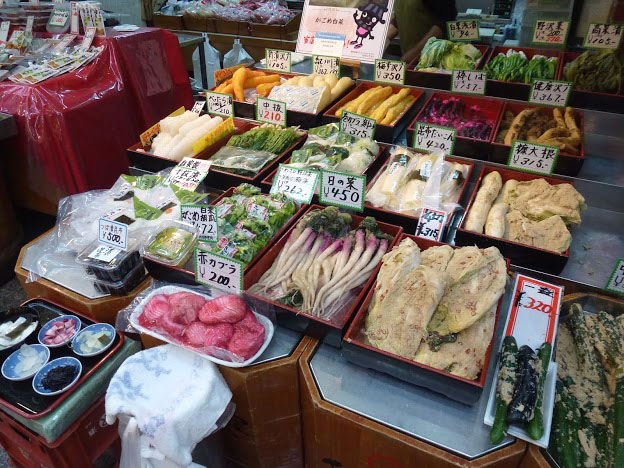 Daikon.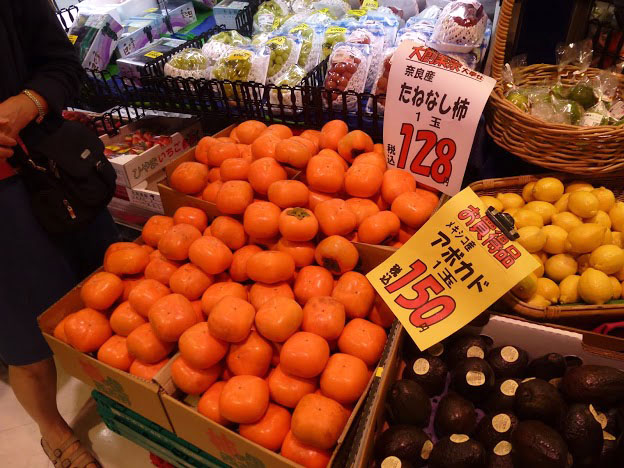 Persimmons were in season.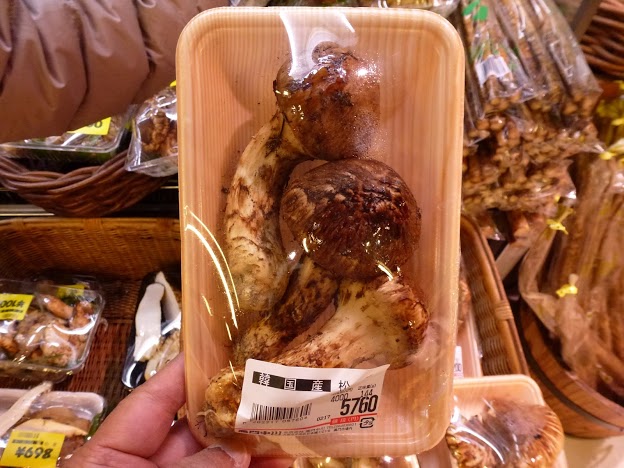 This package of mushroom from Korea cost 5760Yen?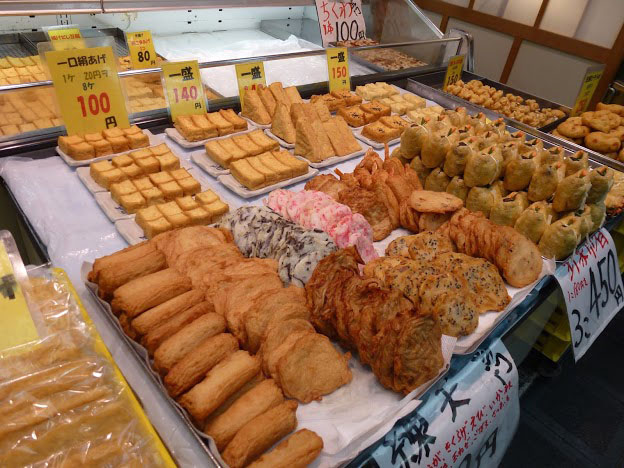 Many kinds of Oden.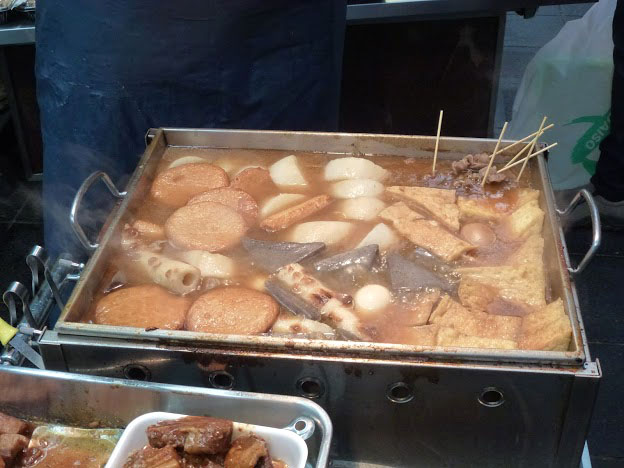 Each piece from this pot was 90Yen (USD$0.90).
We bought several different kinds by pointing to them.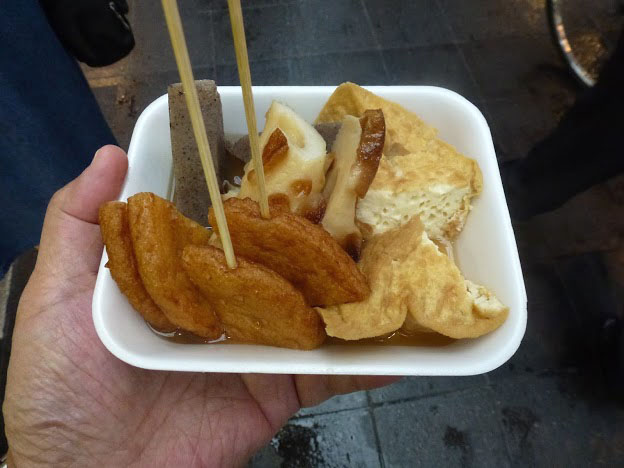 The vendor snipped them into bite size for you.
They were so good that we immediately went back to buy more.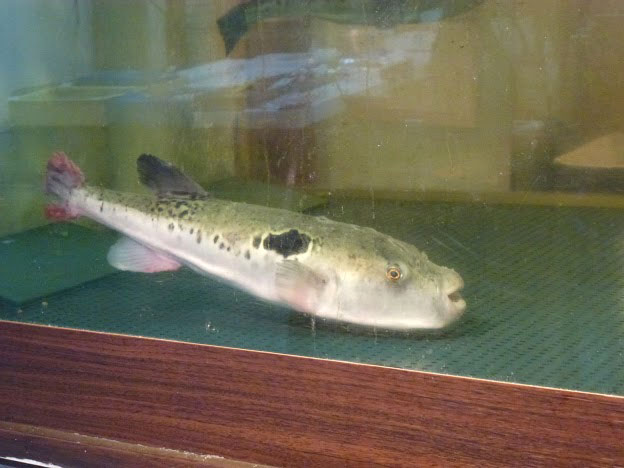 Elsewhere, a store had this tank with (a kind of) fugu fish.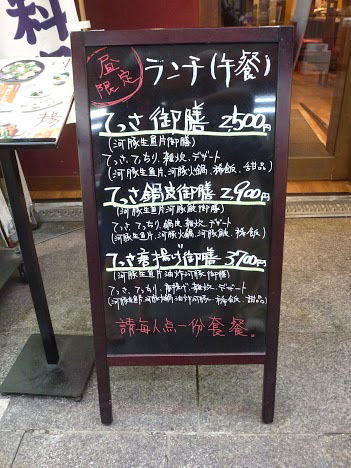 And here was the menu choices for a fugu lunch special.

---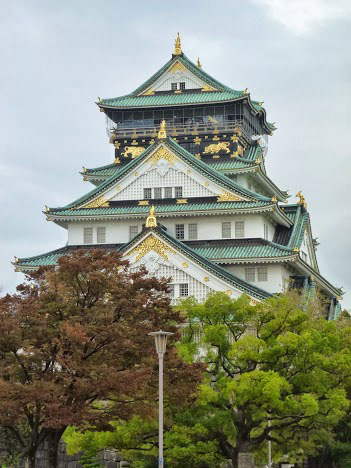 We left Kuromon market, took subway to Osaka castle.
Built in 1583, the castle has since burned down and rebuilt a few times.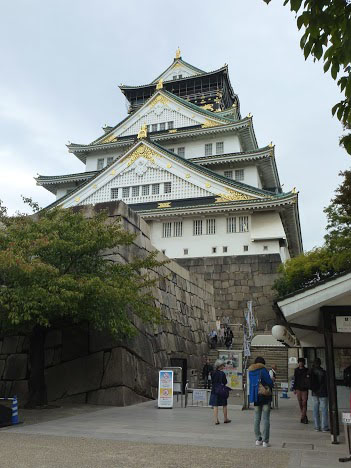 The current castle is a modern reconstruction.
It houses a museum about the castle's history and Toyotomi Hideyoshi (豊臣秀吉).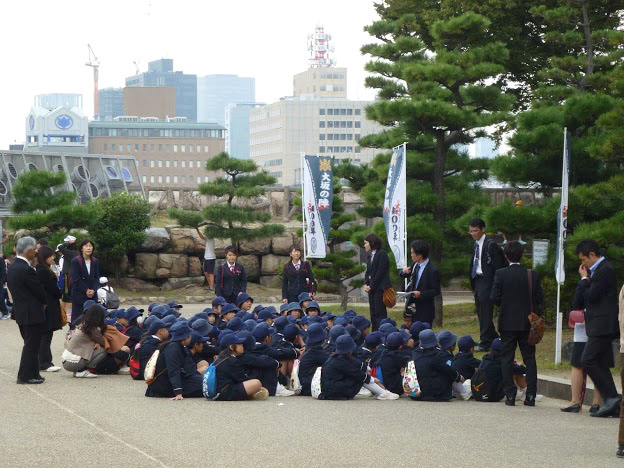 A group of school children visiting the castle.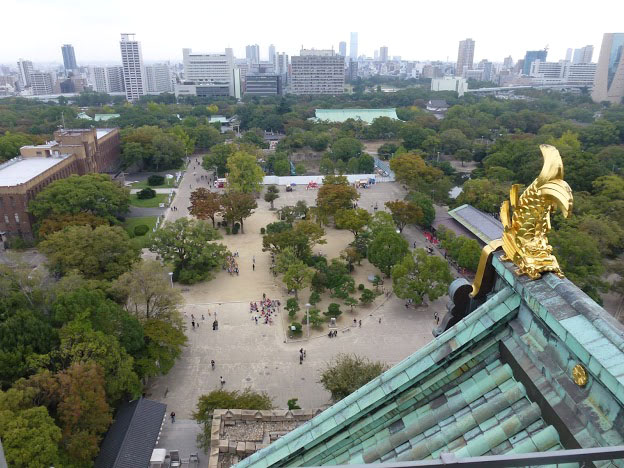 Views of Osaka from the castle's donjon.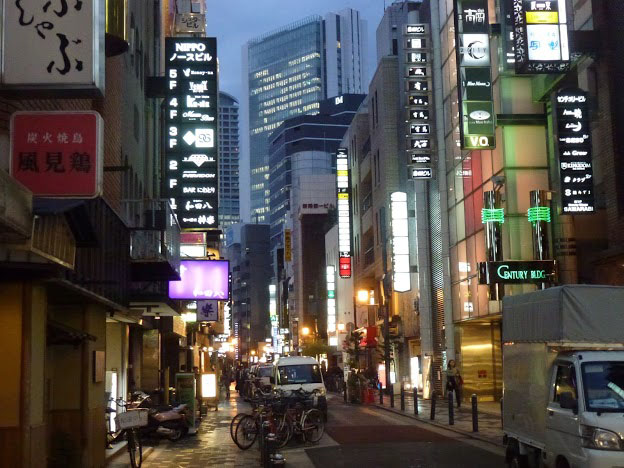 In the evening, we walked north from our hotel toward Kita Shinchi to look for dinner.
We walked for about 15 minutes, found us already in the JR Osaka station vicinity.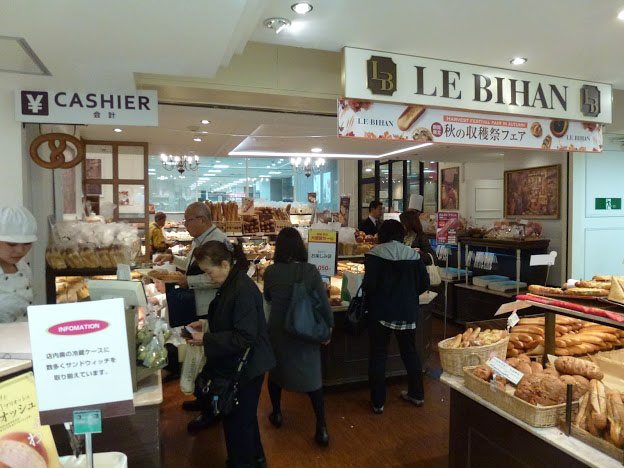 A bakery in the Hanshin Department Store where we bought pastries.

All the pastries looked good.

We bought some dorayaki, 銅鑼焼, for dessert.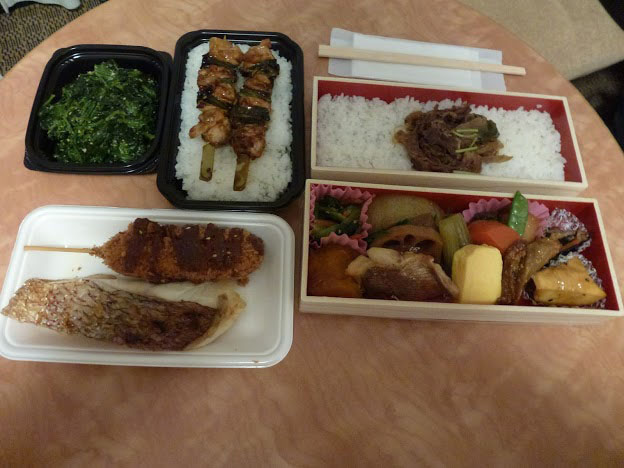 We wound up assembling a delicious meal from ready-to-go-food from Hanshin Department store.
Marinated spinach, yakitori, tonkatsu, grilled snapper(鯛魚), and a stew of meat and vegetable.