Krakow & day-trip to Zakopane (10/4 ~ 10/7/2014)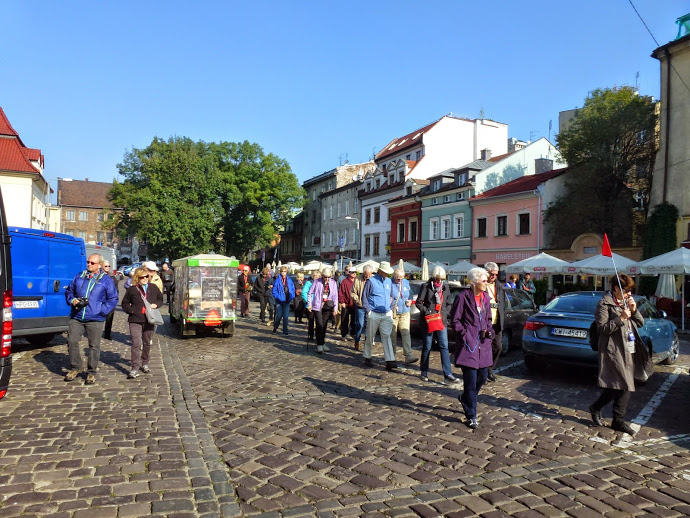 A local guide took us for a half-day city tour.
Here we were in Jewish quarter, many store-front are restaurants now.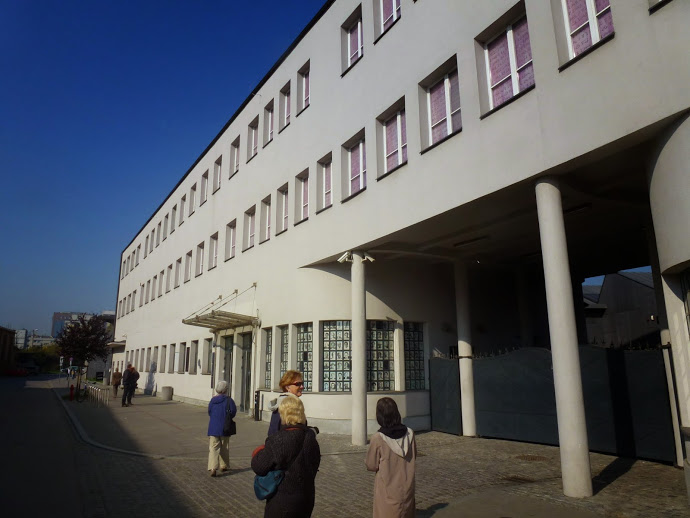 Oscar Schindler's factory in Krakow from 1939-1944.

Krakow's Wawel Castle, a symbol of Polish royalty, is a huge complex.
Here is a view of the Krakow Cathedral in the Castle complex.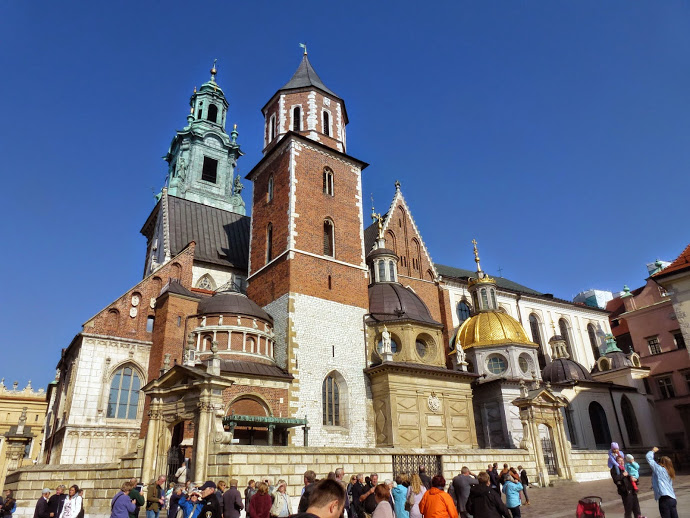 Krakow Cathedral.
This was the seat of Cardinal Karol Wojtyla before he was elected pope and became Pope John Paul II.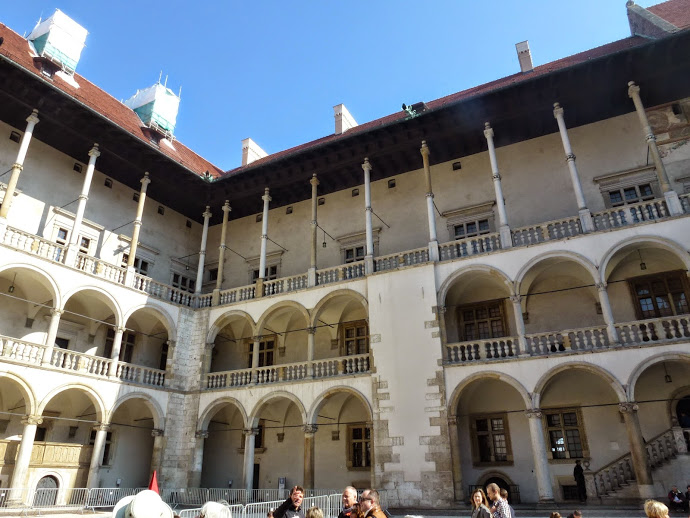 A courtyard in the castle complex.
Polish King, King Sigismund the Old, was so fascinated with all things Italian that
he not only built a Venetian courtyard, but also married an Italian princess.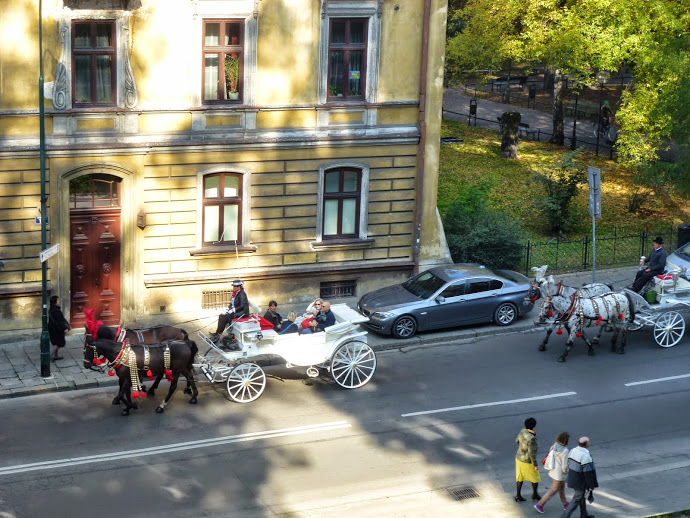 Walking down from Wawel Hill to the old town, we saw
several beautifully decorated horse carriages carrying tourists for a ride.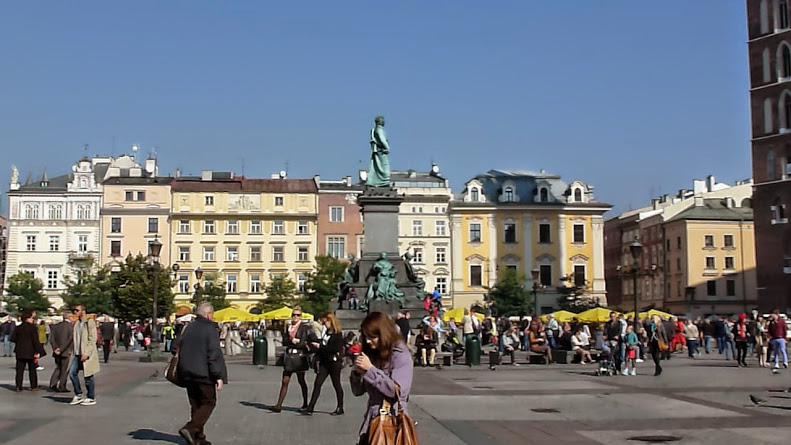 The 13th-century Main Market Square in the old town.
This is the heart of Krakow and a people magnet any time of the day.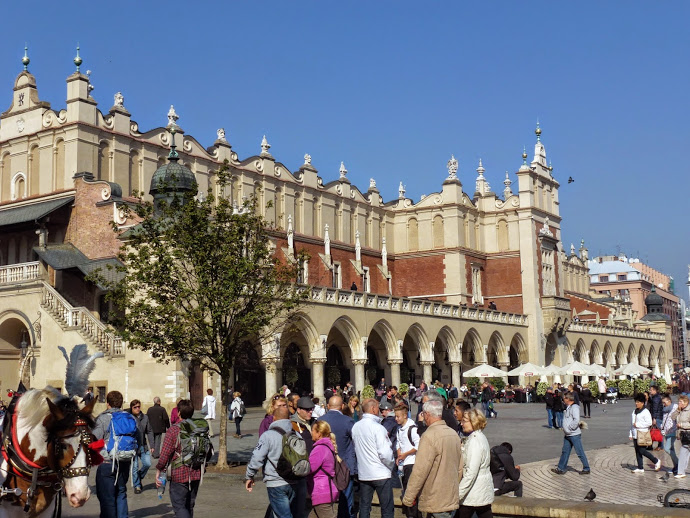 Cloth Hall in the middle of the Main Market Square -
during the Middle Ages this was the place that cloth-sellers had their market stalls.
The current structure was rebuilt after the original structure was burned down in 1555.
Now it houses stalls selling modern-day souvenirs.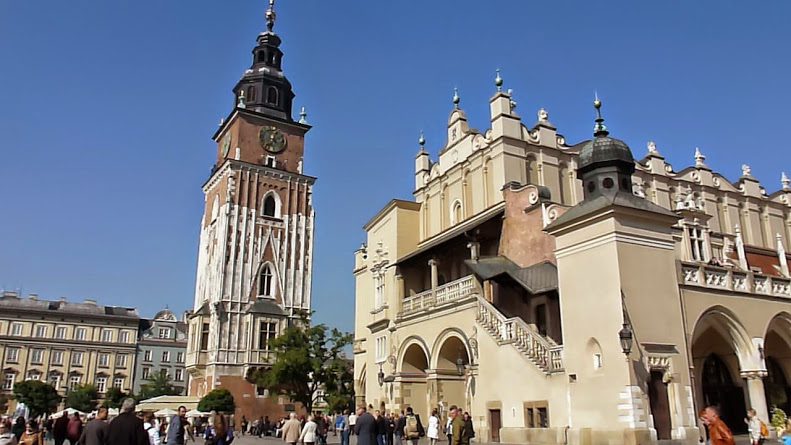 The tall tower (next to the Cloth Hall) is what remains of a 14th-century Town Hall building
when Krakow was the powerful capital of Poland.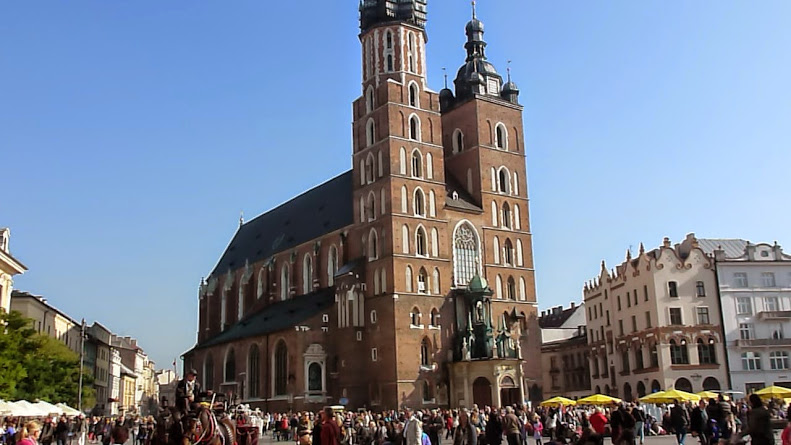 St. Mary's Church - stood at a corner of the Market Square.
The shorter tower belongs to the church; the taller one is a municipal watch tower.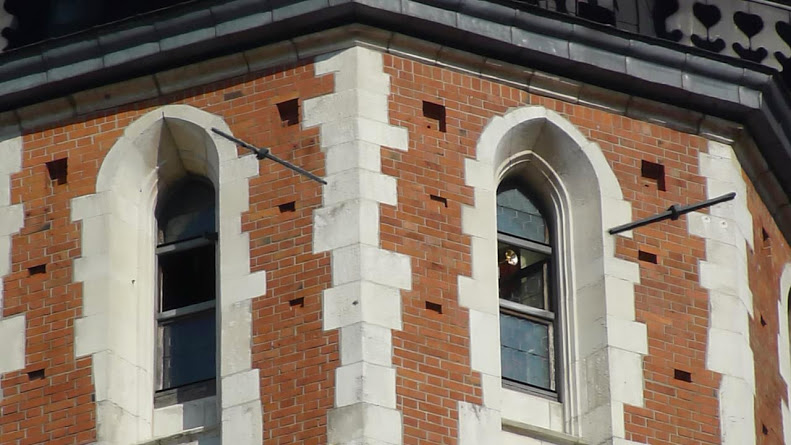 From the top of the municipal watch tower a bugle Hejnał song is played hourly on a 24-hr shift.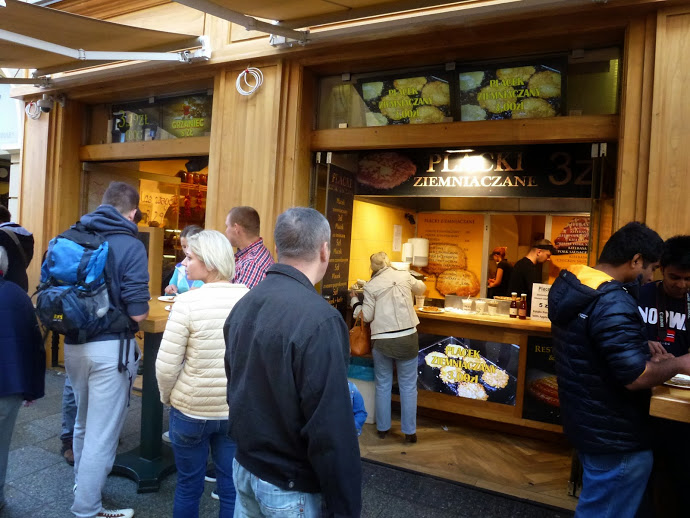 We saw many people eating outside this shop, so we stopped to see what they offered.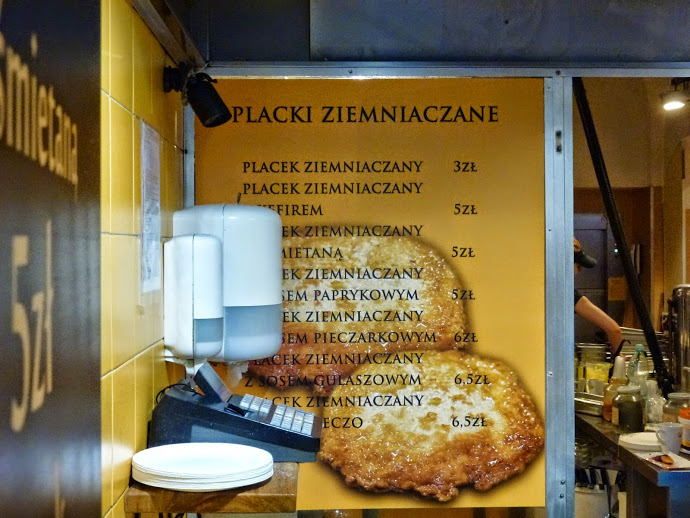 Potato pancakes, priced from 3ZL to 6.5ZL.
($1 USD was = 3.1 Polish Zloty)
A local told us the price differences were in the sauce.
He said sauces in #5 and #6 were good, but his English was limited that
he could not explain to us what were in the sauce #5 and #6.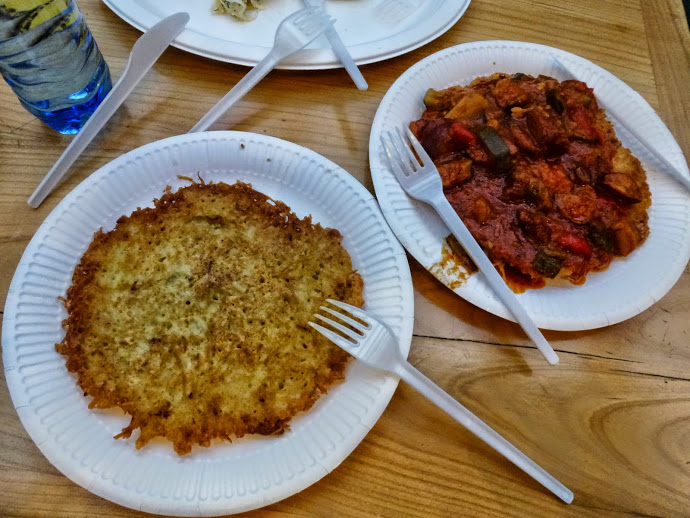 When it was almost our turn, we saw the customer ahead of us ordered a plain potato pancake and a
pancake topped with a red sauce that looked like stewed sausage with green pepper in tomato sauce.
So we said, and with a hand gesture, "Just like what he had."
The plain potato pancake was piping hot, the pancake with red sauce was delicious.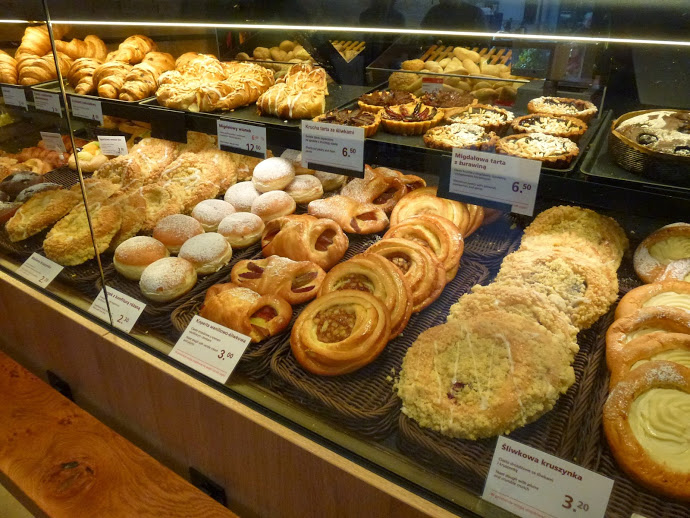 We then went to a bakery for sit-down coffee and pastry.

A country fair was going on at a square behind St. Mary's church.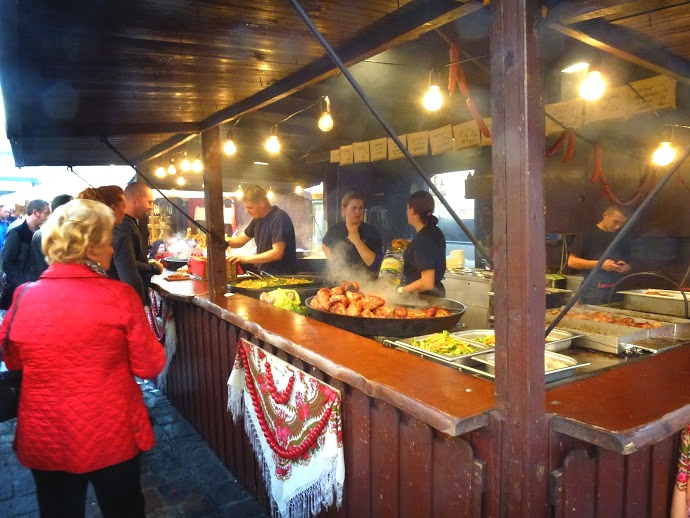 This vendor's stand looked more like a permanent setting (than a moving country fair).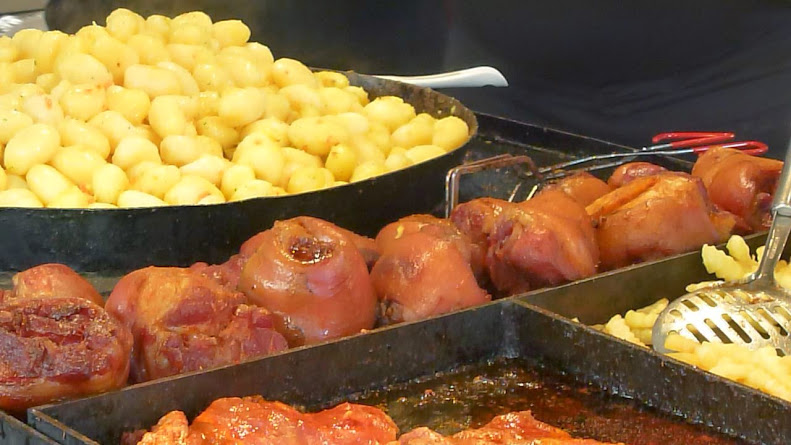 All these pork knuckles .....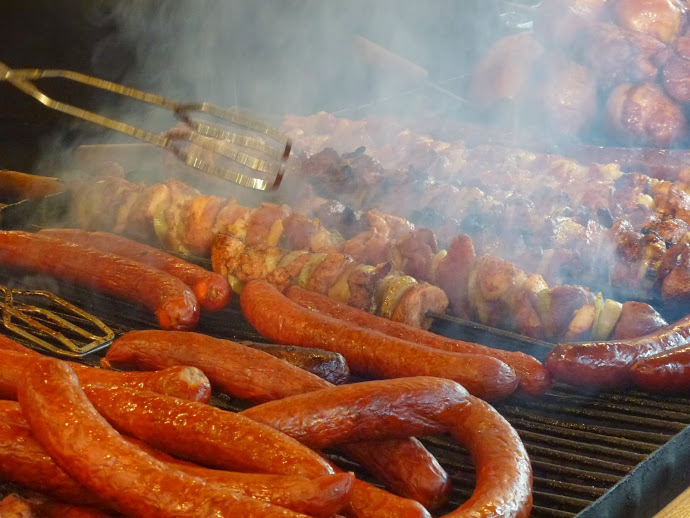 ... and grilled meat.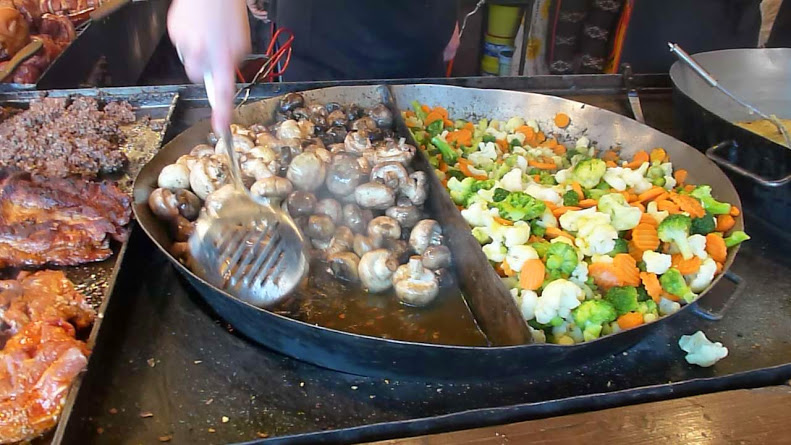 Sautéed vegetables as sides to go with your meal.
Mushroom must be abundant at this time of the year in this region, because
we saw sautéed mushroom every morning at our hotels' breakfast buffet (and they were delicious).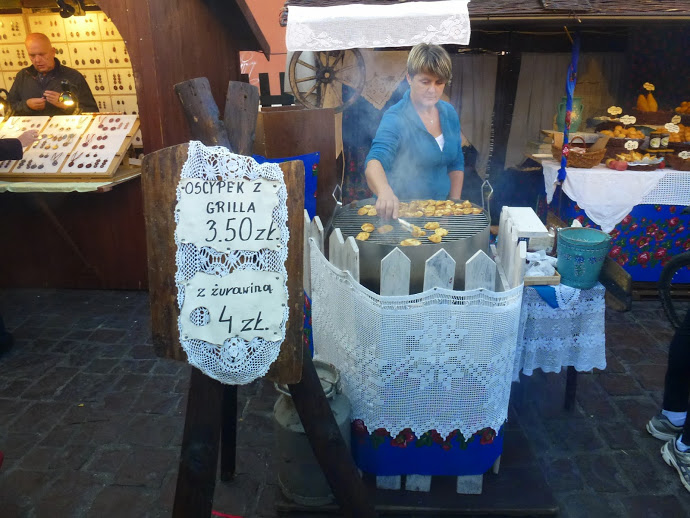 A lady was grilling something with an interesting oval shape, so we bought 2 pieces.
Each piece was 4 Zloty.
After we bit into it, we realized that it was sheep's cheese.
Two days later in Zakopane we saw this kind of cheese for sale in every cheese stall.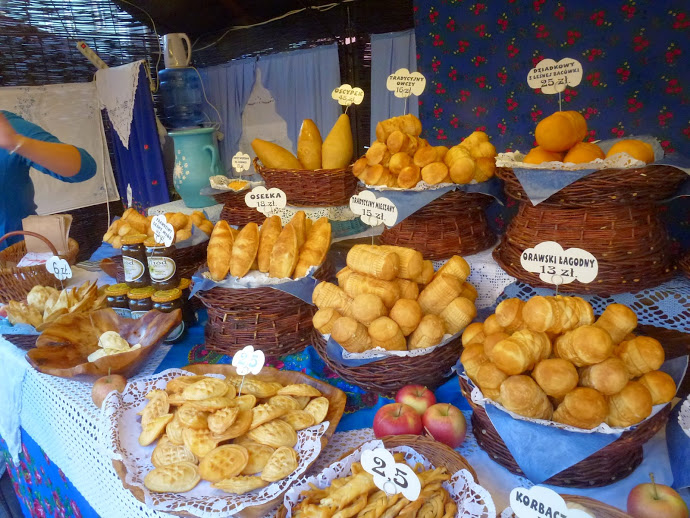 The lady was selling other kinds of cheese too.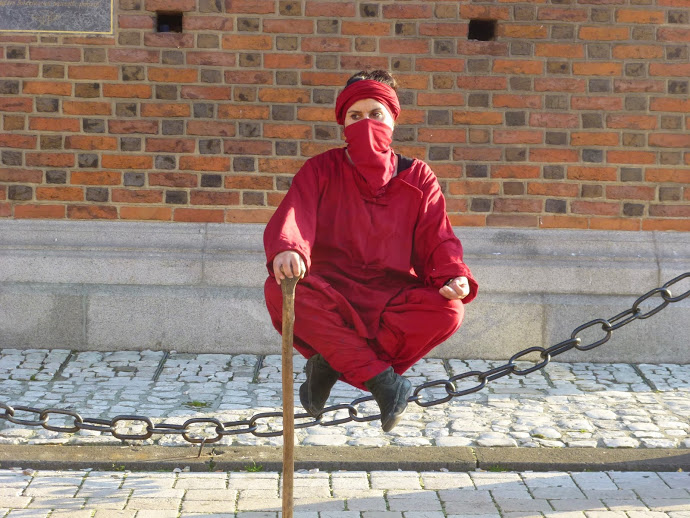 In the market square, a street performer was defying gravity suspending herself in air.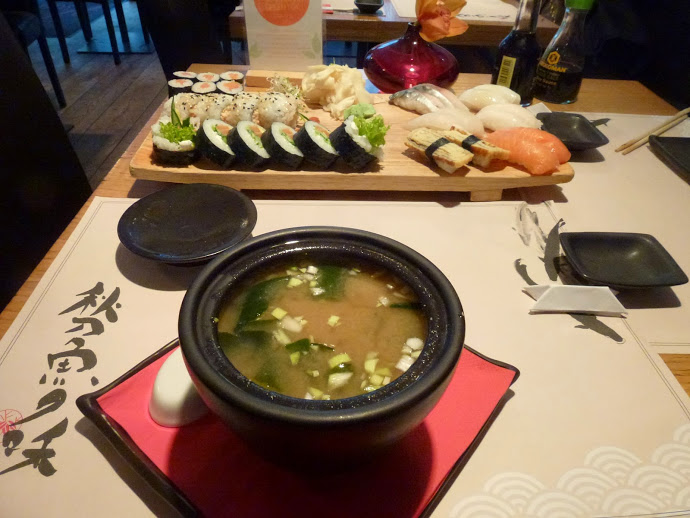 The two of us went for a Japanese sushi dinner one day.
This was 120 Zloty (about USD$40), and we were still hungry after that.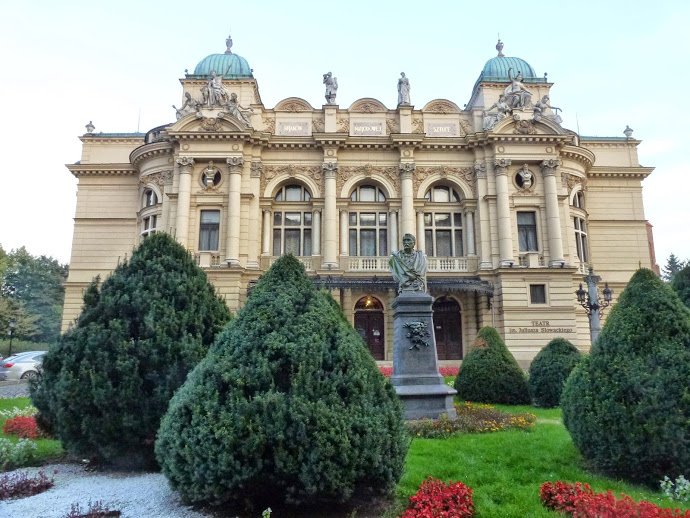 An opera house in Krakow.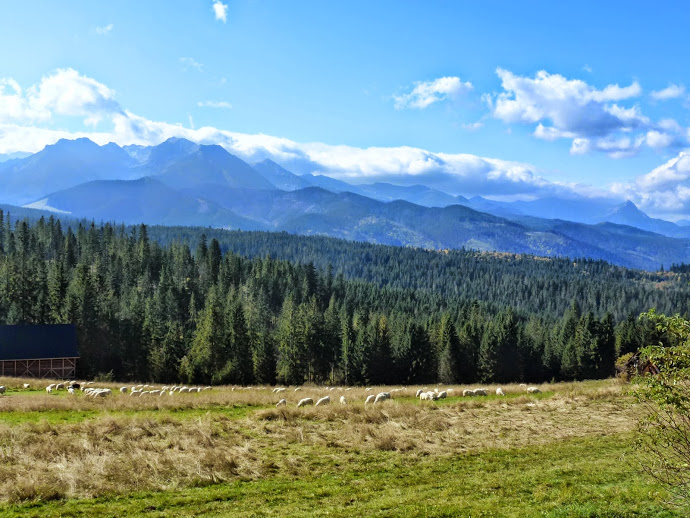 On day-trip to Zakopane - the was Tatra mountains in southern Poland near Slovakia border.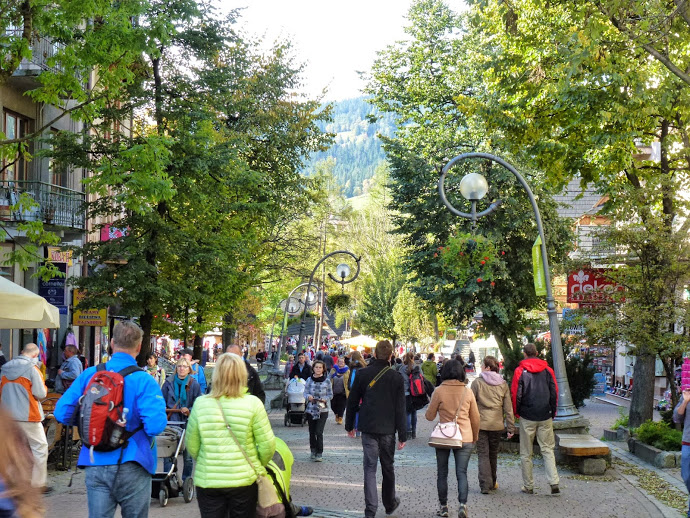 The main street in Zakopane.
Zakopane is a resort town in the foot hills of the Tatra Mountains.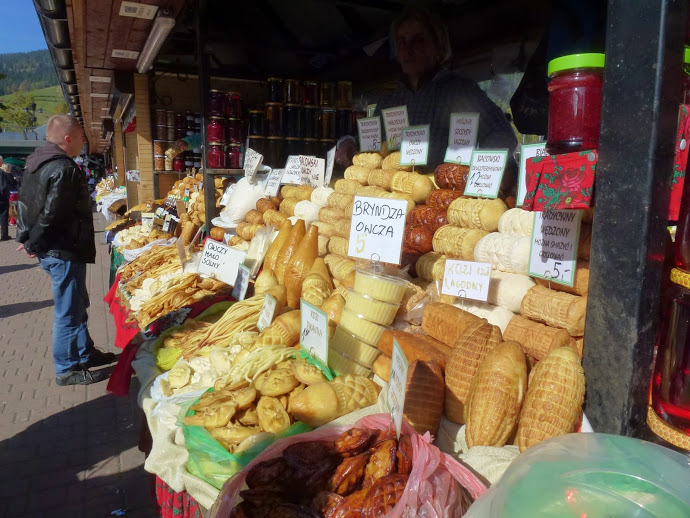 Many variety of cheese for sale in Zakopane.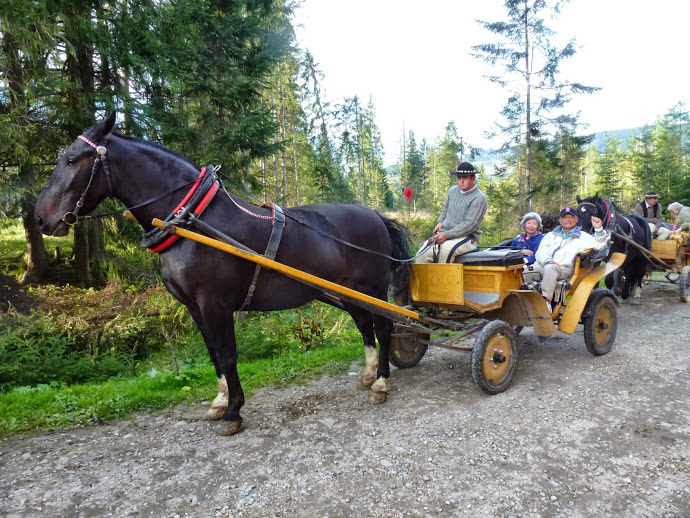 Carriage ride after a festive dinner at 3:00pm in a country-side restaurant.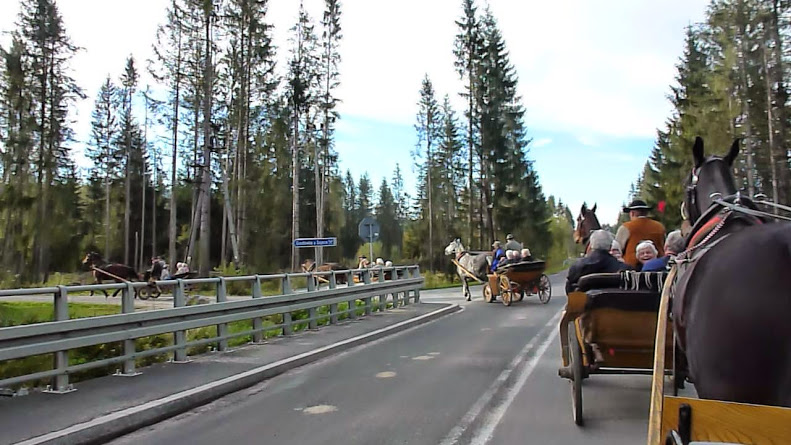 Eight carriages for all the members who took today's GCT optional tour to Zakopane.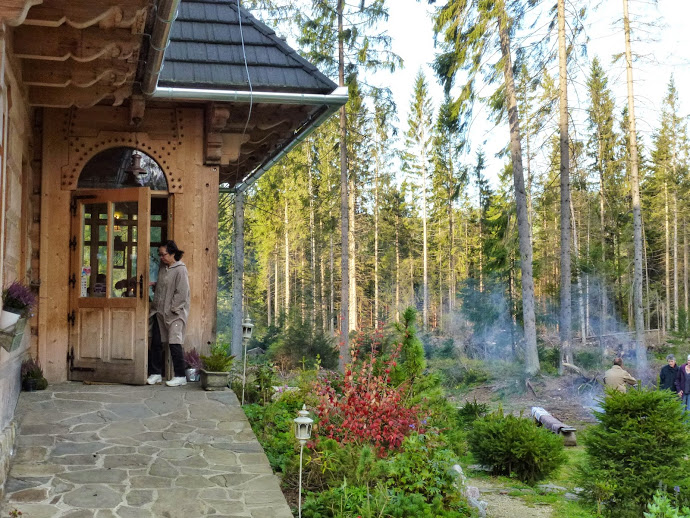 On the left hand side of the photo was the restaurant where we had our festive dinner.
After horse-carriage ride, we saw that a bonfire was started in the yard outside the restaurant.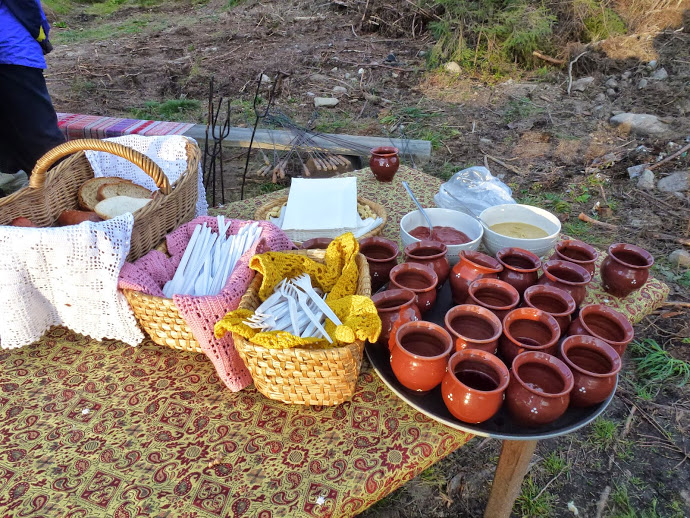 Hot wine and food were laid out on the table for us.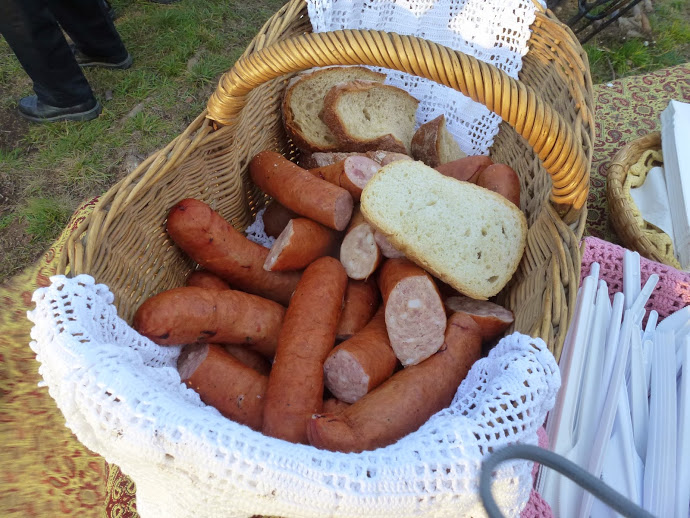 Sausages to be roasted on fire.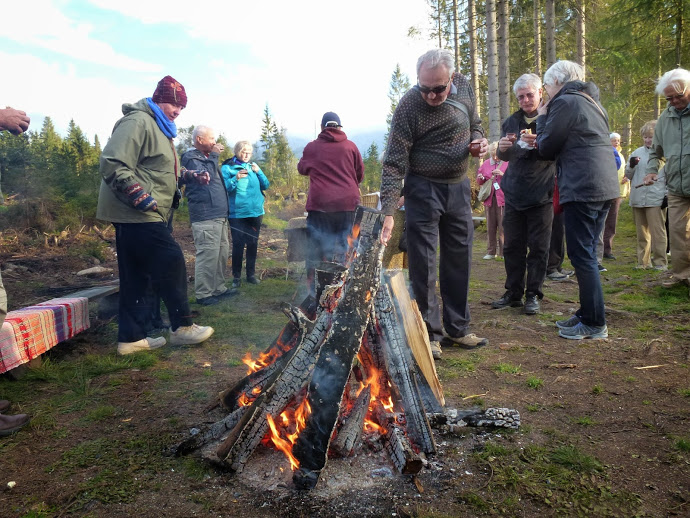 The bonfire not only kept us warm, but also
roasted delicious sausages.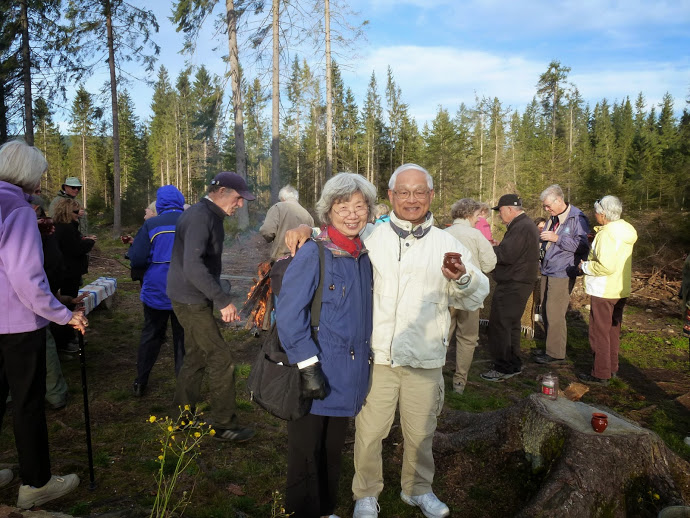 Needed scarves and gloves to fend off the chill.