12/16/2016, Day 10, Punta Del Este, Uruguay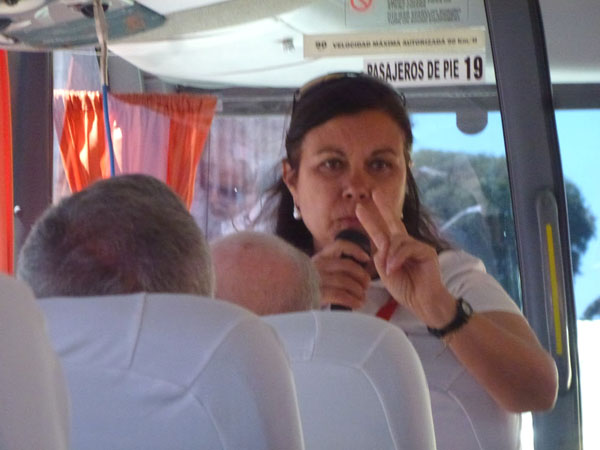 Our Punta Del Este local guide, Pilar.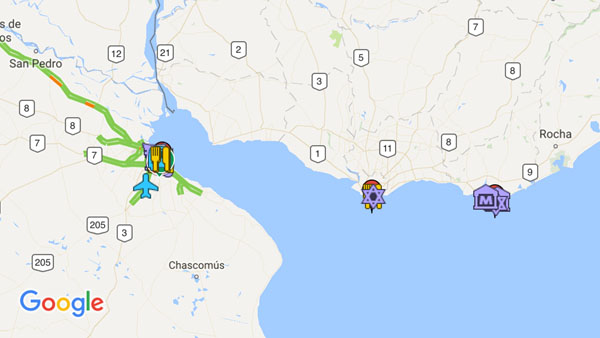 A 3-city map for visual aid.
The city on the right is Punta Del Este, Uruguay.
The city in the middle is Montevideo, Uruguay's capital.
The city on the left is Buenos Aires, Argentina.
The wide body of water from Buenos Aires to Punta Del Este is the
estuary (出海口) of two rivers, one of them is River Plate (Rio de la Plata, 銀河).
But the two countries insisted on calling this estuary "Rio de la Plata", a river,
so that they can tax ships entering this body of water.
The "Battle of River Plate" took place not far from Punta Del Este in 1939.
The German captain maneuvered the damaged Admiral Graf Spee to Montevideo, hoping to get it repaired there.
But the neutral Uruguayan government, under pressure from Great Britain, told him he could only stay for 72 hours.
When the time was up, the German captain chose to scuttle his ship in the Montevideo harbor.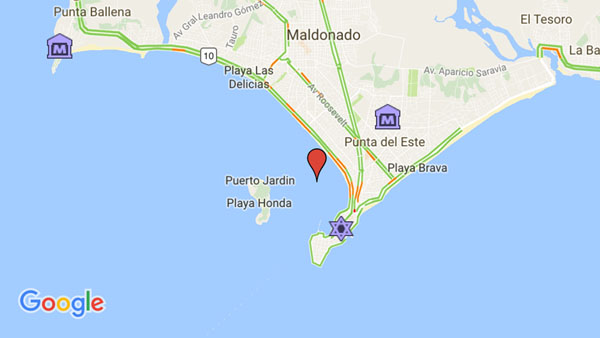 Punta Del Este - blessed with long shore lines.
The blue "star" is where the major shopping area, Gorlero Avenue, is.
The "M" on the right is the location of Museo Ralli.
The "M" on the far left is where Casa Pueblo is.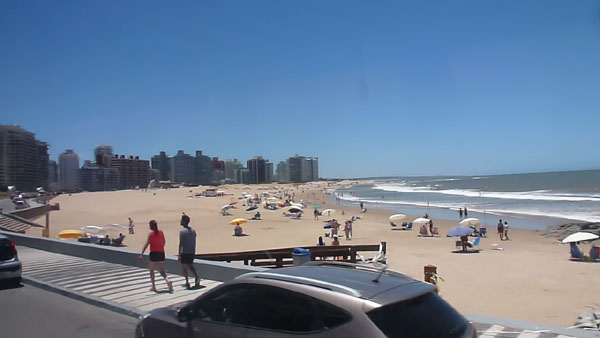 In Montevideo, we drove east toward Punta Del Este along this stretch of
beautiful white sand beaches and high-rise river-front buildings (River Plate, that is).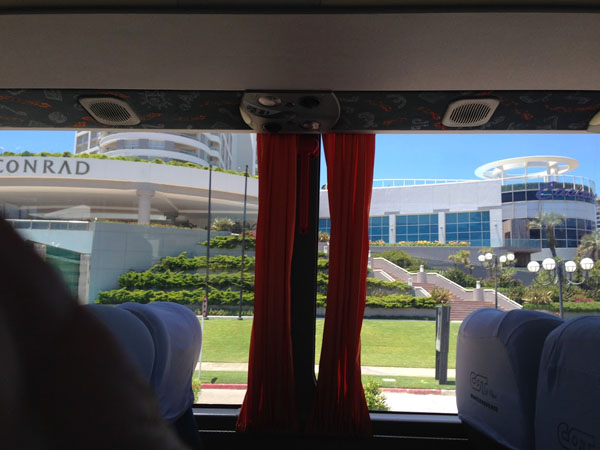 Hotel Conrad in Punta. It was the first hotel to have casino, thus
started attracting many South American visitors to Punta Del Este.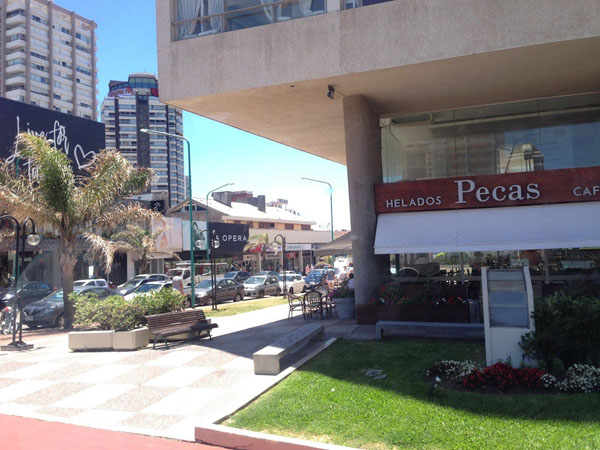 The street corner where we got off the bus to explore on our own for 75 minutes.
(At the intersection of Gorlero Avenue and 30th street)
Gorlexo is a busy shopping street in the peninsula of Punta.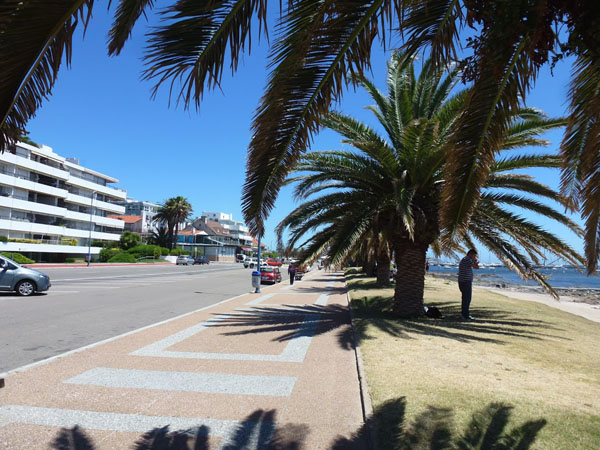 A blvd along the shore.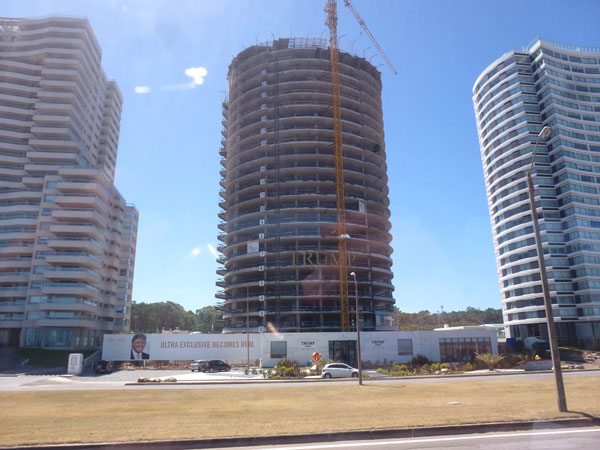 A Trump Hotel and Casino under construction.
His face was painted on the white billboard.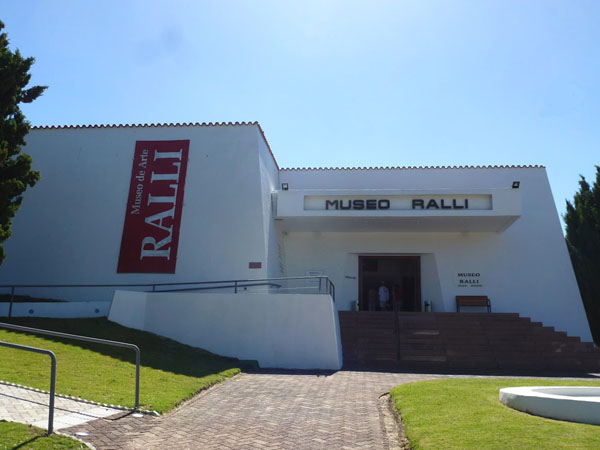 Ralli Museum.
It was started by a Swiss banker who wanted to support
South American artists.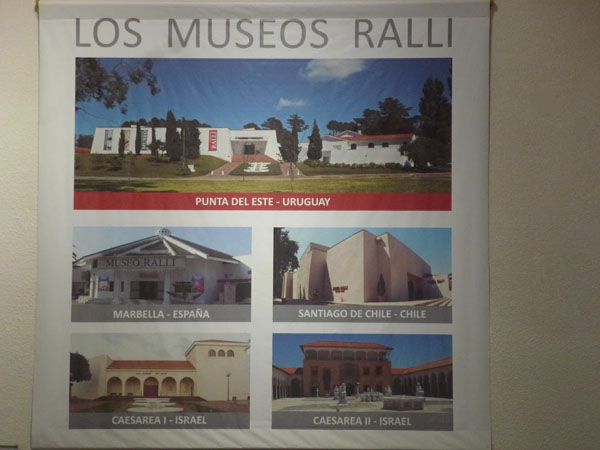 There are now 5 Ralli museums scattered around the world.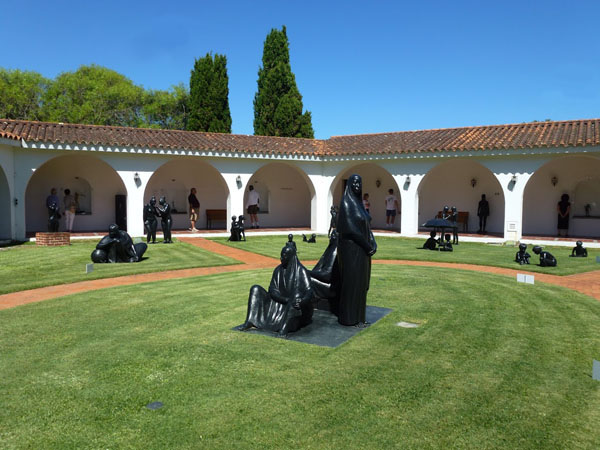 A sculpture garden ....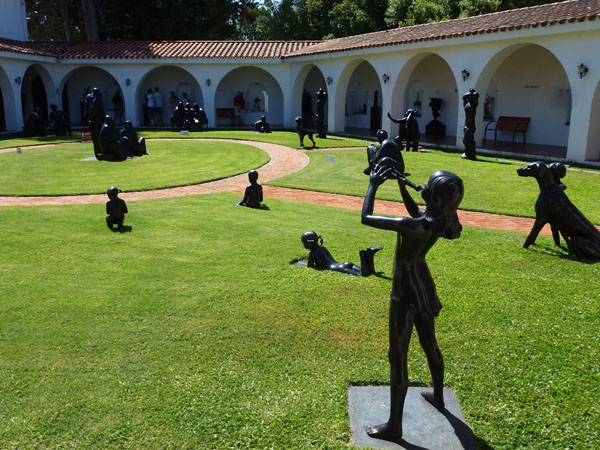 .... with many sculptures of children on display.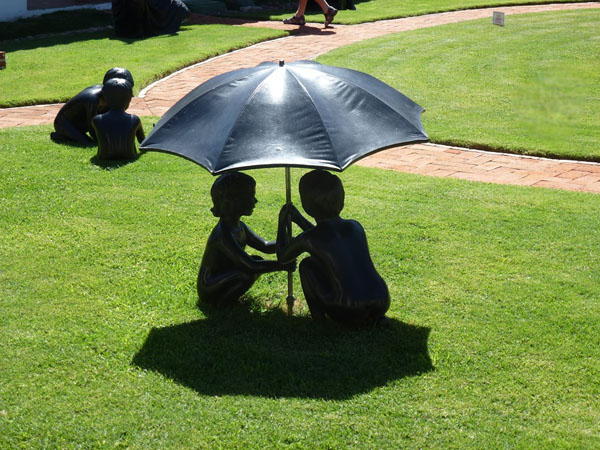 A very cute sculpture.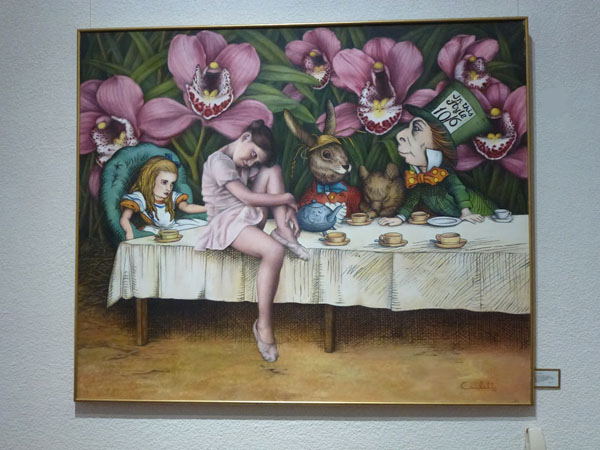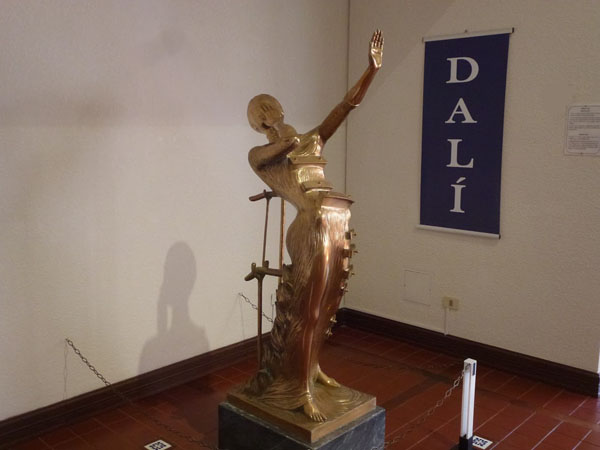 A few of Dali's sculptures are in this museum.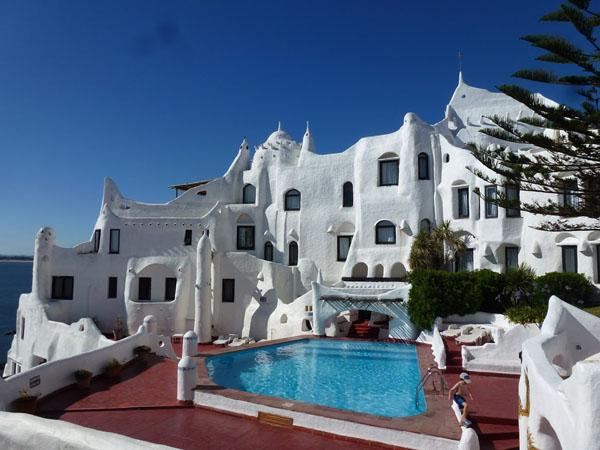 Casa Pueblo.

As if we were transported to Santorini.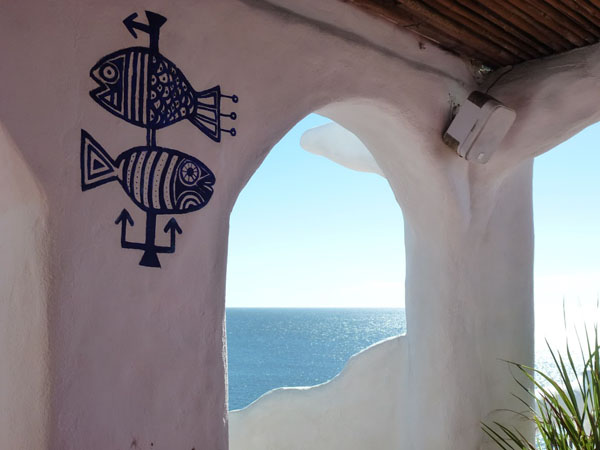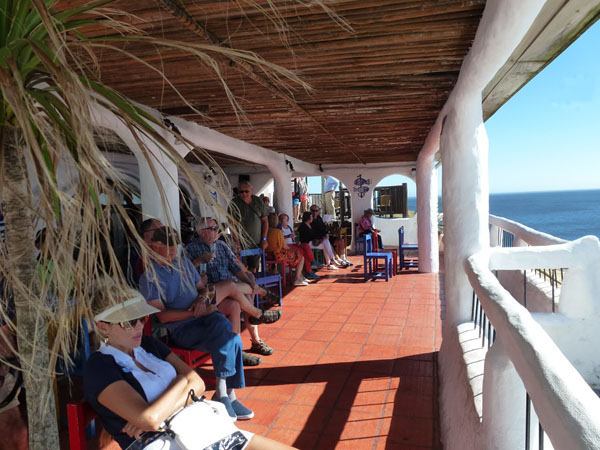 We were treated to glasses of chilled champagne while admiring the scenery.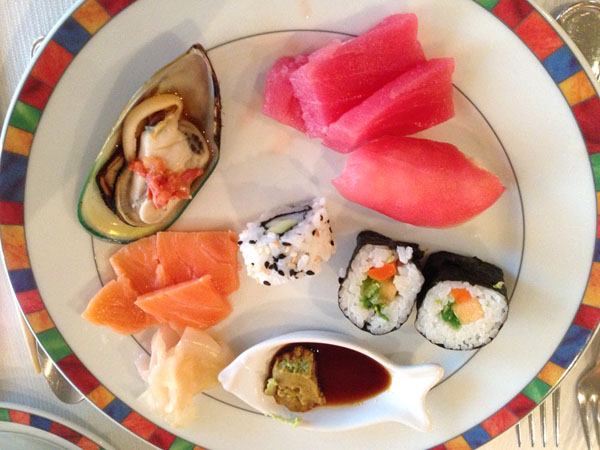 Back on the ship, dinner at the Terrace Cafe (buffet).
Vincent's choice for first plate.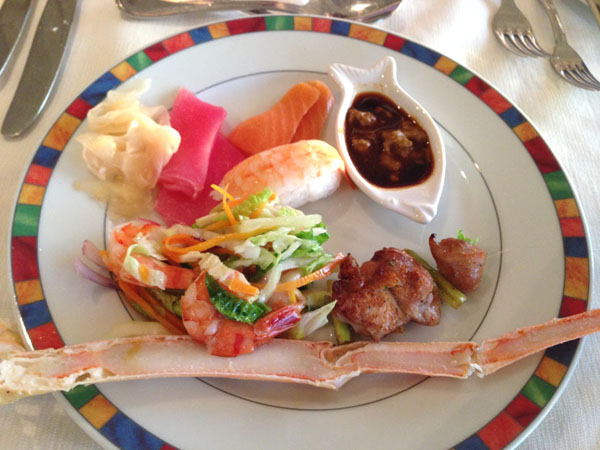 Mei-Ching's first plate.
A few pieces of sashimi, then some cold seafood, depending on what was on offer that evening.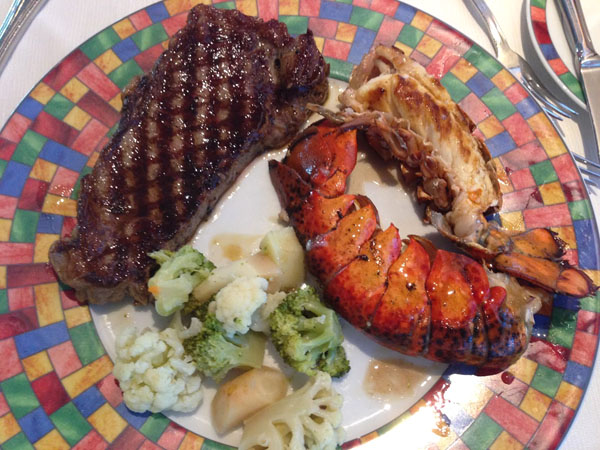 Mei-Ching 2nd plate usually was grilled lobster tails.
But since we ate very little for lunch, she also had a steak this evening.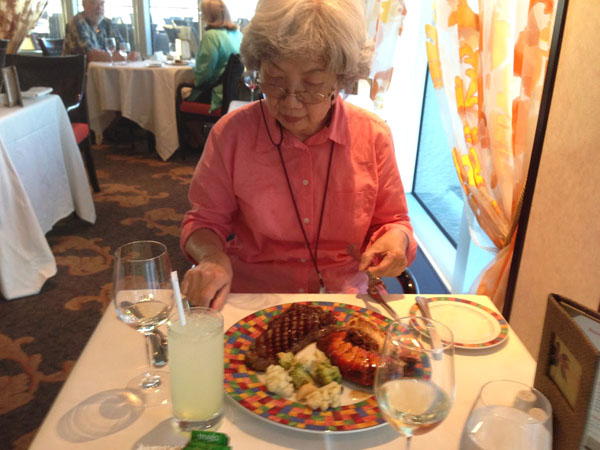 Terrace Cafe.
The restaurant has an outdoor terrace, but we seldom sit outside during this segment.
Vincent preferred inside seating with air-conditioning.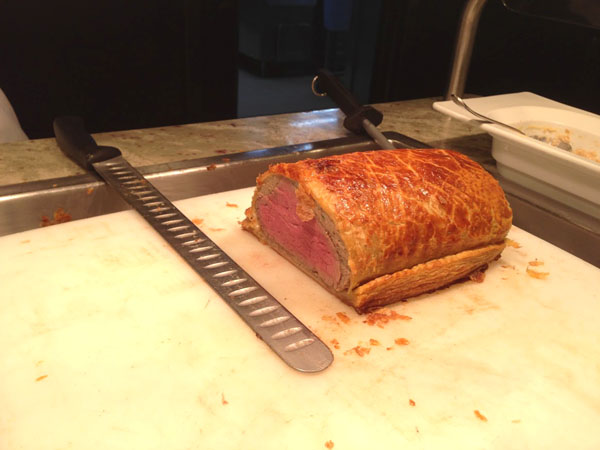 There was a carving station offering different roast meat on different days.
We seldom had anything from the carving station.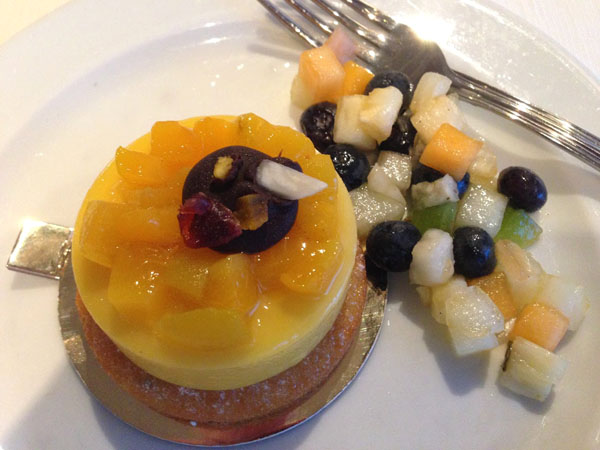 Vincent's dessert.