12/10/2016, Day 4, Parati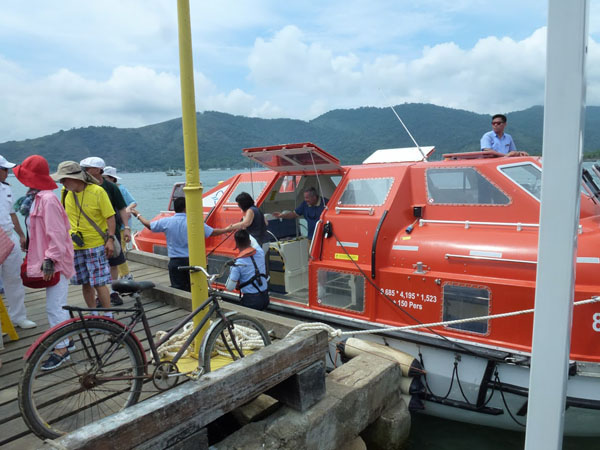 One-way tender to Parati shore was 40-min.
Oceania used a combination of its own life boats, as well as contracting local boats to tender us to shore.
Here we took a life boat to shore.

The pier was very busy, bustling with activities.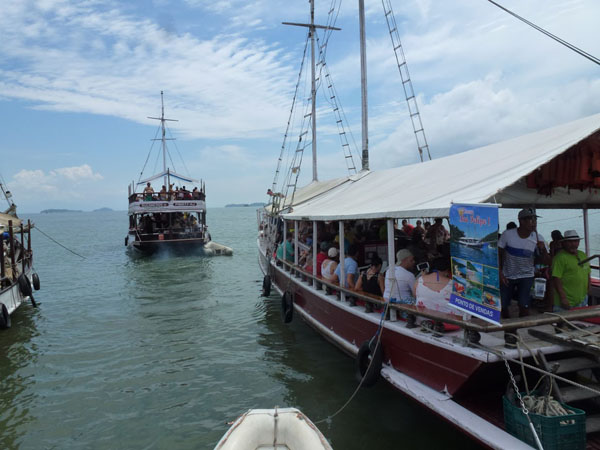 Boats were leaving carrying tourists (but not us from the cruise ship) to outlying islands.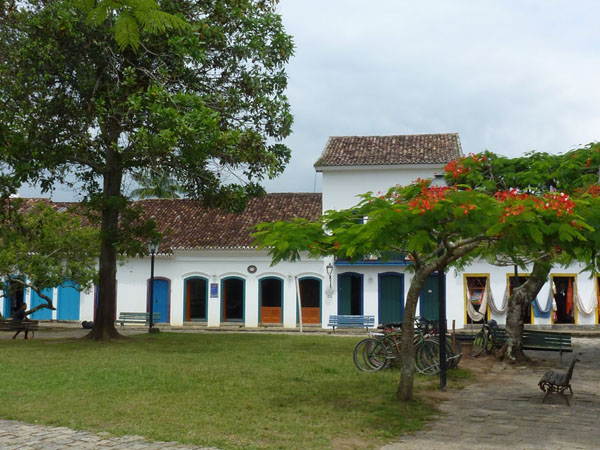 Portuguese colonial buildings in the old town.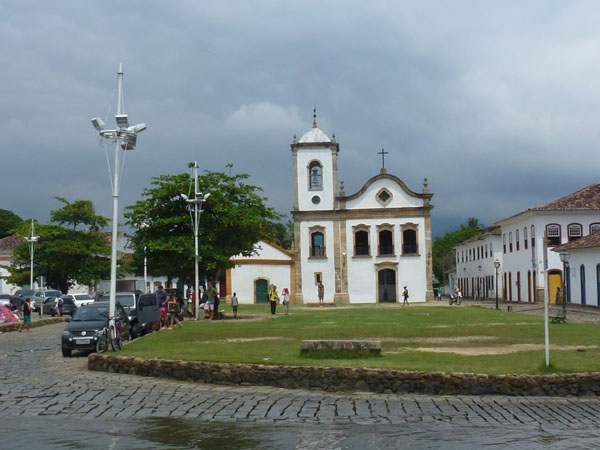 A landmark, Church of the Santa Rita de Cassia, built in 1722.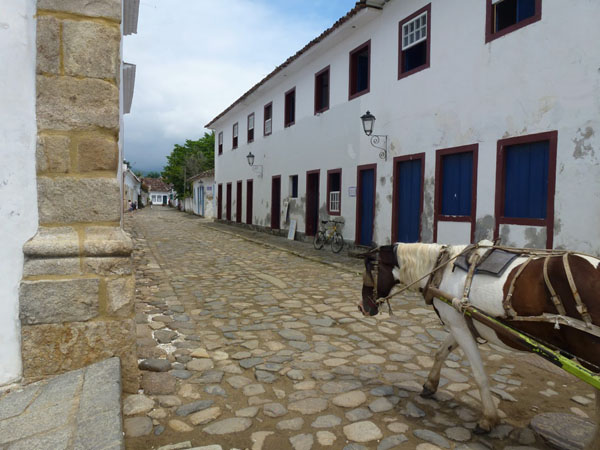 Colonial old town.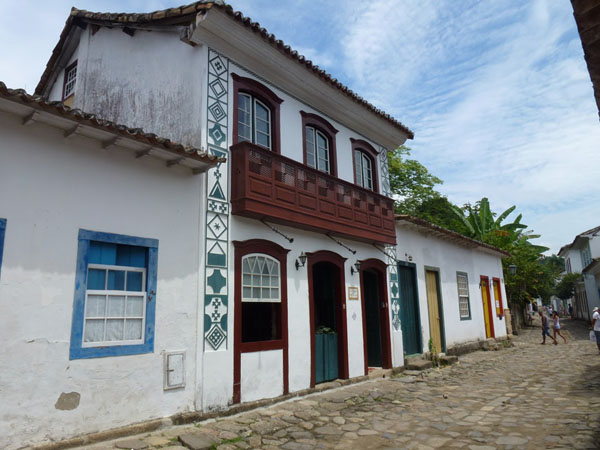 Old town.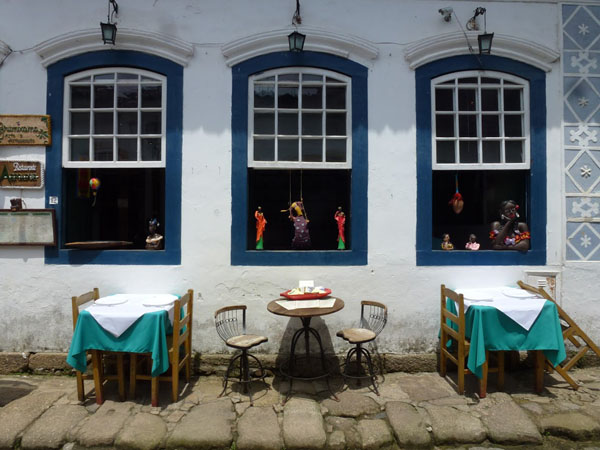 Some of the old town homes were turned into gift shops or artists studios.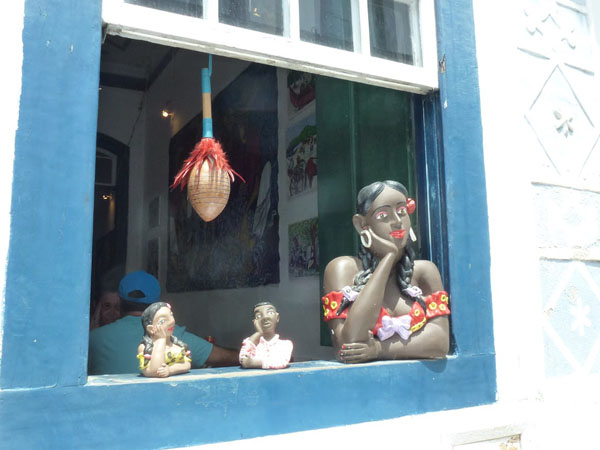 A lovely window display.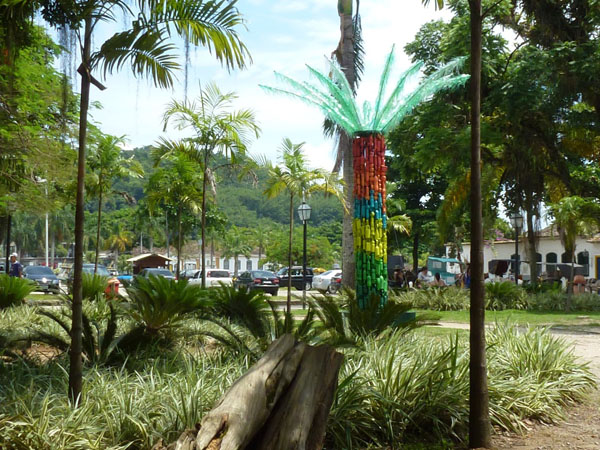 The town square where the town hall is.
Straight ahead beyond the traffic street, we believe is the new town with modern buildings,
but we did not walk that far.

A nativity display in the town square, since X'mas is coming soon.

The town is very green.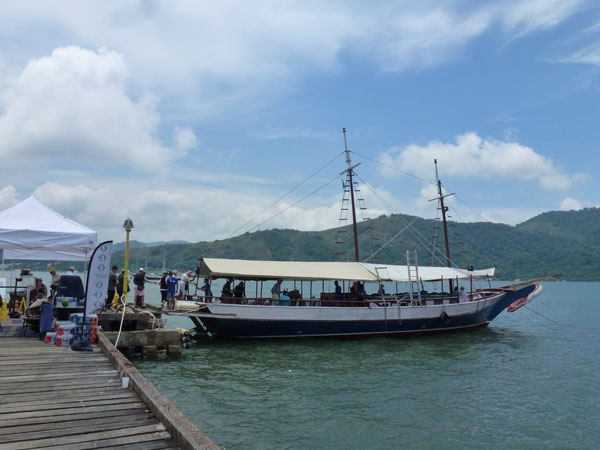 On the way back we were happy to take a locally contracted boat, with
openings all around, enabling cool air to breeze through.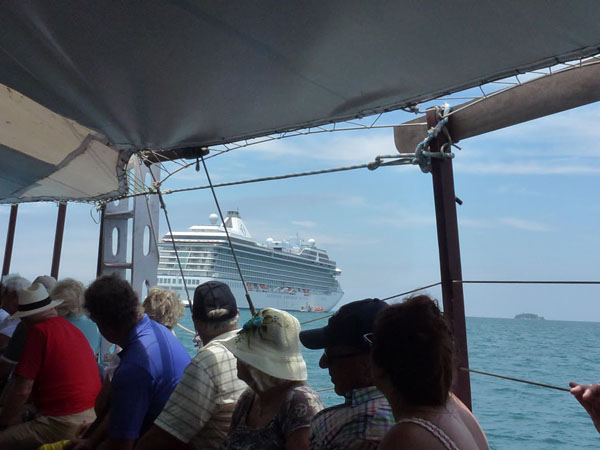 Our tender boat nearing the Oceania Maria.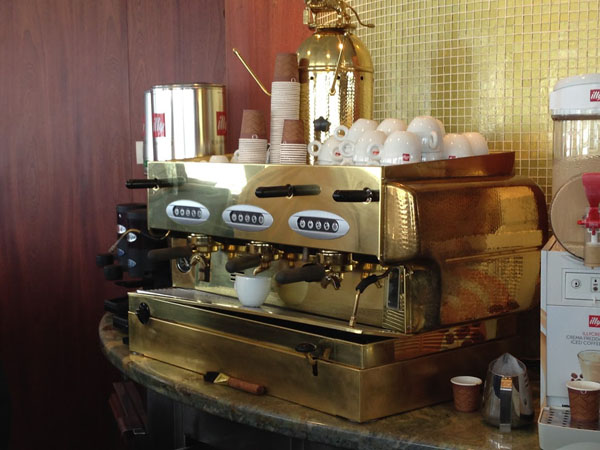 This coffee machine at Baristas makes the best coffee on the whole ship.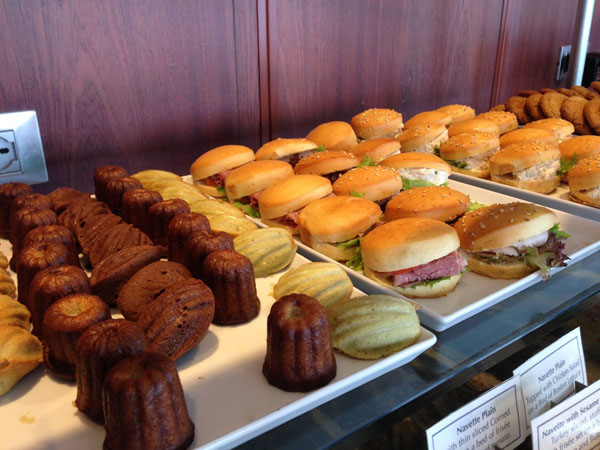 Help-yourself snacks at the Baristas Coffee Bar.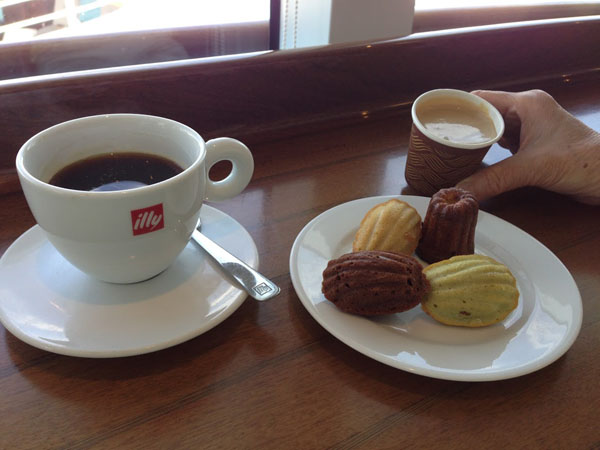 What we usually had at the Baristas.
Vincent had hot coffee, Mei-Ching had ice coffee slush (the one on the right in tiny paper cup).
And then we shared a few pieces of French sweets.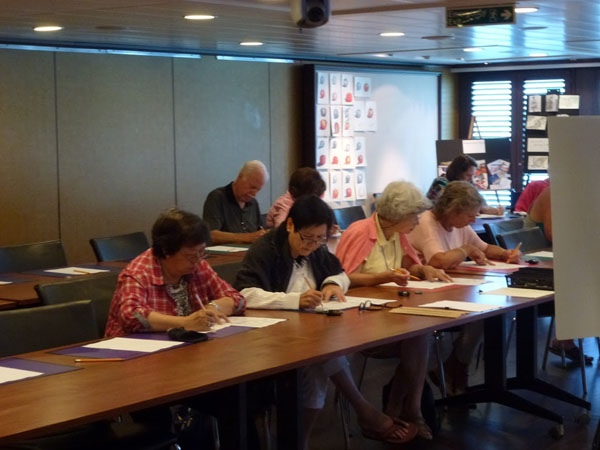 Mei-Ching at a 4pm arts class on the ship.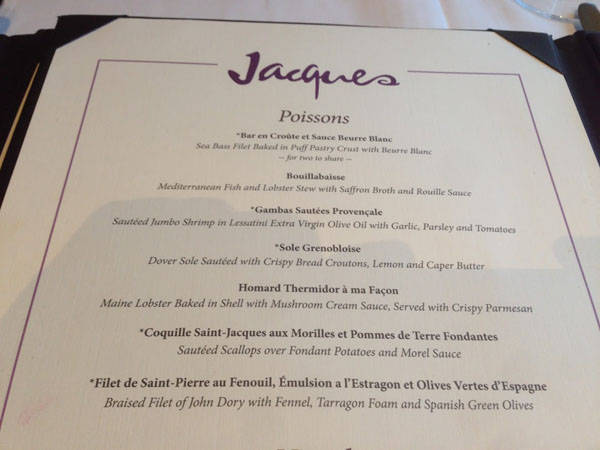 Dinner at the Jacques Restaurant.
Today's menu was a bit different from the sample menu we linked on the main page.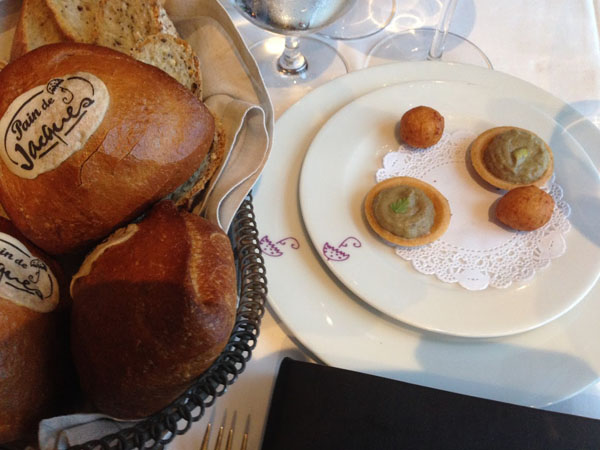 Amuse-Bouche.
A fancy way to say "small appetizers on the house".
See the bread has "Jacques" label on it?
It was black dye made from black rice, and baked on a white sheet made from white rice.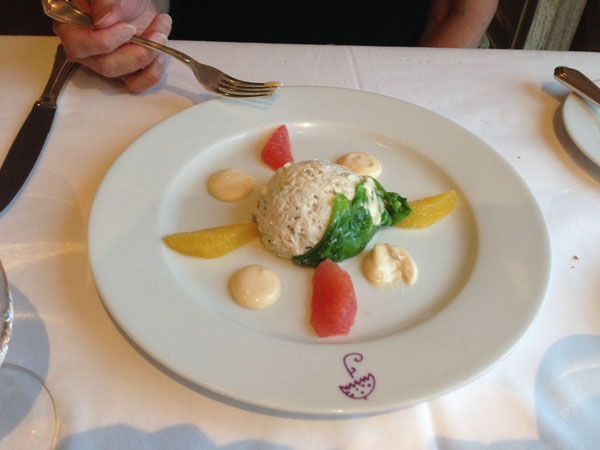 Mei-Ching's Maryland Crab Meat Salad. Very good and very rich.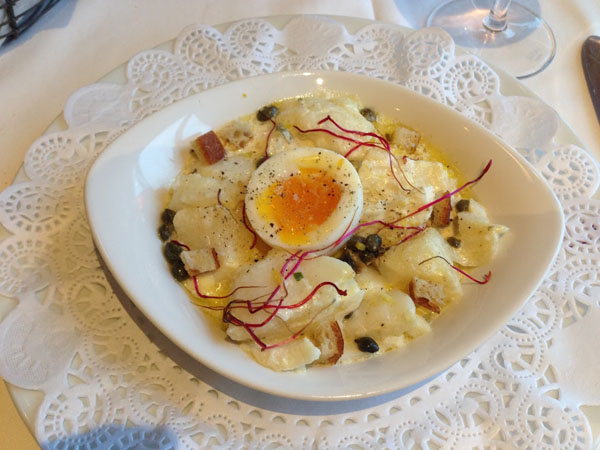 Vincent's Chilean Sea Bass Salad with Capers.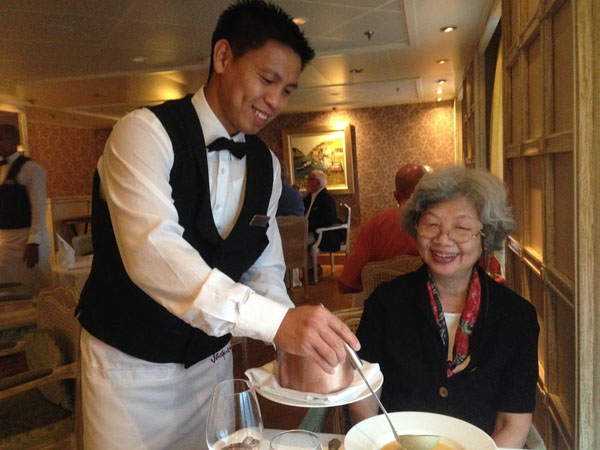 Mei-Ching's Chilled Pumpkin Soup was served table-side.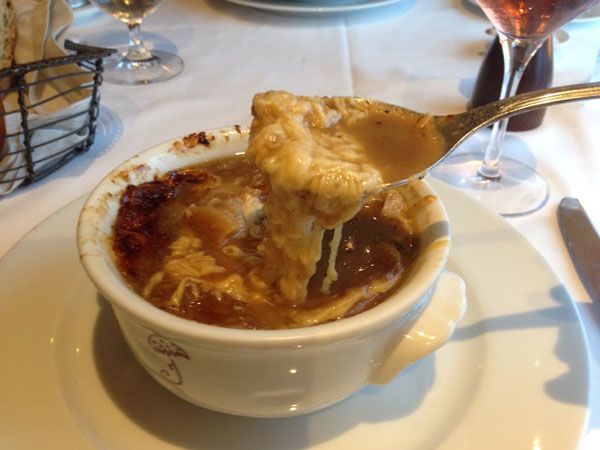 Vincent's Baked Onion Soup with Gruyère Cheese Crust.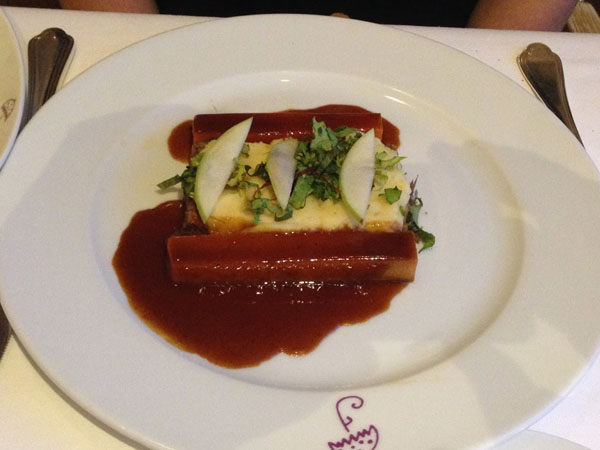 Mei-Ching's main dish, Duck Parmentier with Orange-braised Carrots.
This was the only main dish with the word "Duck" in it, so she ordered it.
Although she had asked the waiter what "Parmentier" meant, and was told that,
"It is not a whole piece, but is cut up and no bone".
It was up to one's own imagination as to what a "cut-up and no bone" duck might be.
The dish turned out to be shredded duck meat baked under a layer of potato,
not what we expected as the only duck main-dish from Chef Jacques Pépin's menu!
You may Google "parmentier de canard" to see a lot more pictures and recipe.

Vincent's main dish, Bouillabaisse.
Mediterranean Fish and Lobster Stew.
Vincent said the shrimp and lobster were over-cooked, too tough.
Also, not enough varieties of fish and other seafood in there (missing clam, mussel etc.)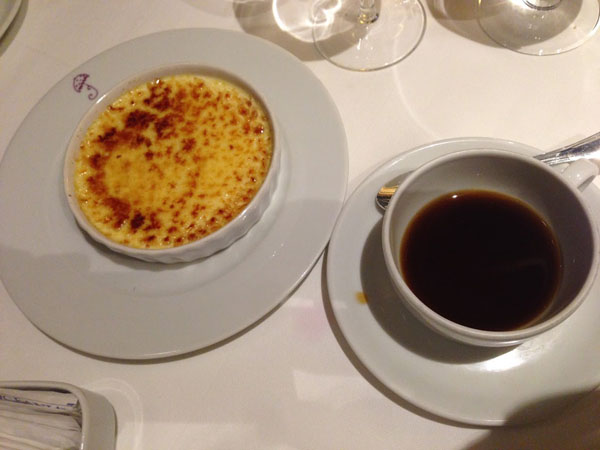 We shared a Lavender Crème Brulee for dessert.