12/11/2016, Day 5, ILHA Grande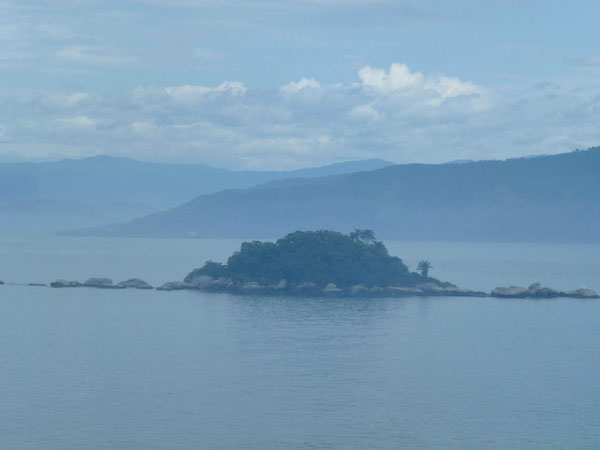 A small isle near our ship's anchor.
The Big Island is out further beyond.

The Big Island.
Beautiful green mountains and a very bustling town.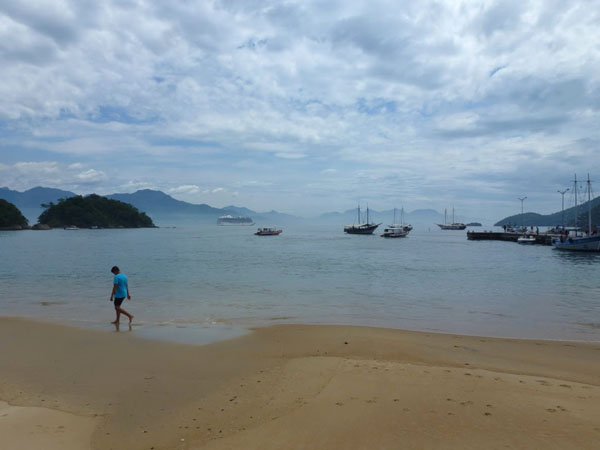 A small beach near the tender landing.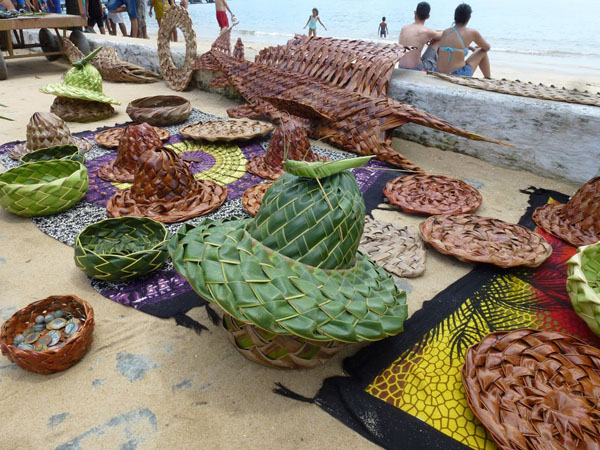 Handicraft made from banana (or palm?) leaves.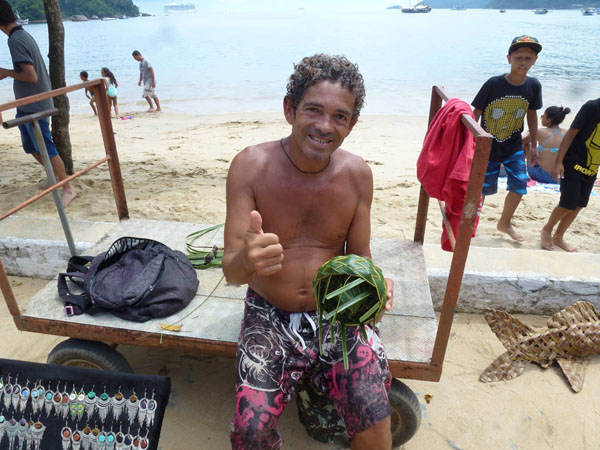 We admired the man's work, but did not purchase any from him.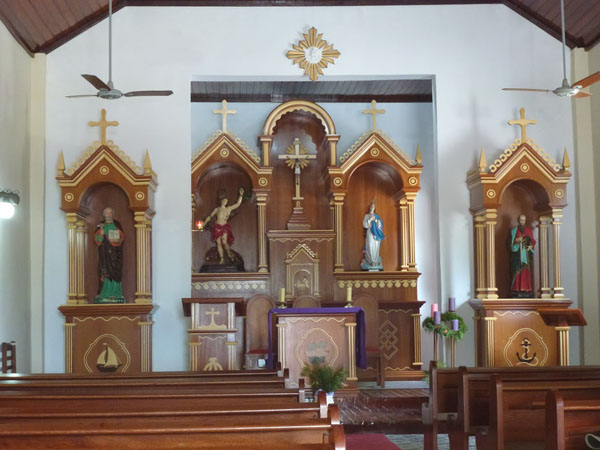 A church.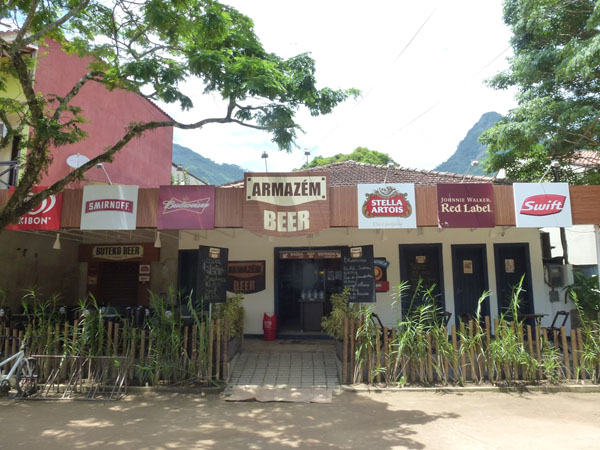 A store.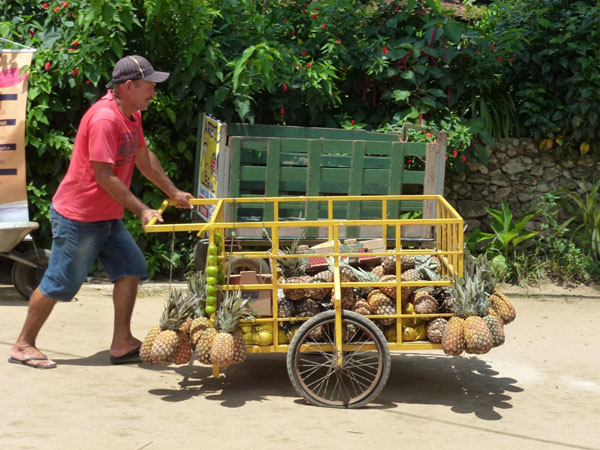 A fruit vendor with a push cart.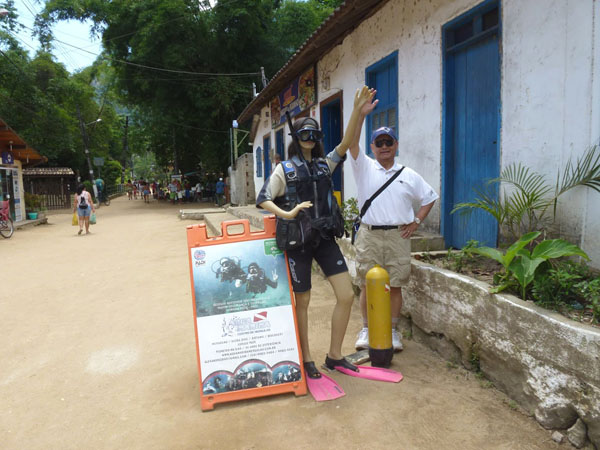 A business either renting diving equipment, or
taking customers on a diving excursion.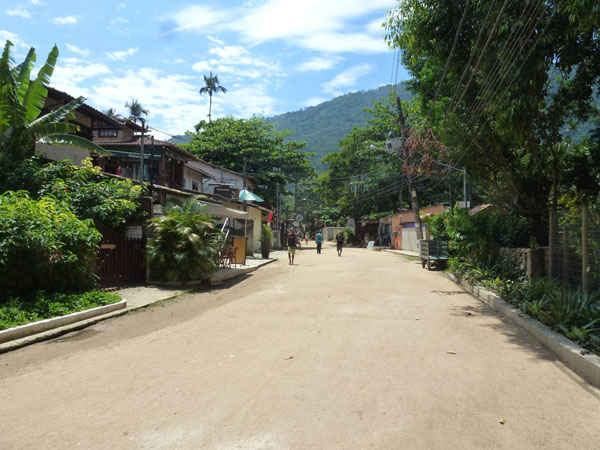 A street in the town.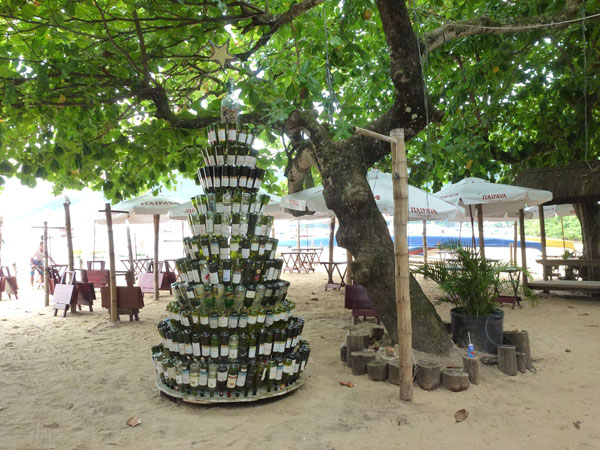 Empty bottles stacked into an art display.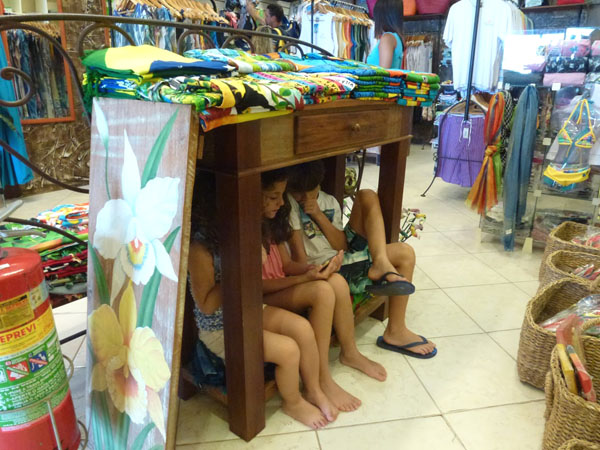 A gift shop.
This is Sunday, no school, so the 2 kids may be store-owner's children?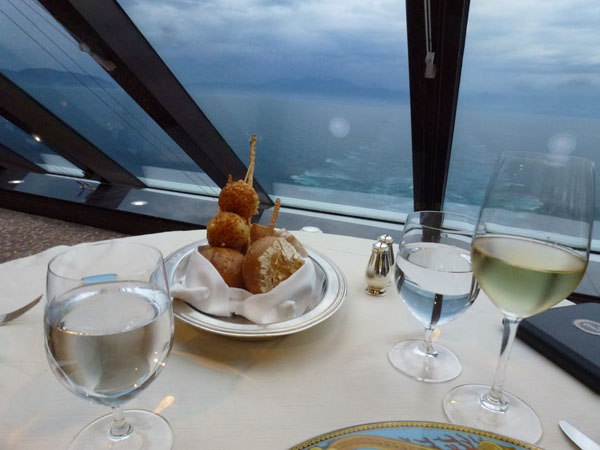 Dinner at the Toscana Restaurant on the ship.
We were seated at the back of the restaurant with nice views
as our ship set sail and slowly pulling away from Ilha Grande.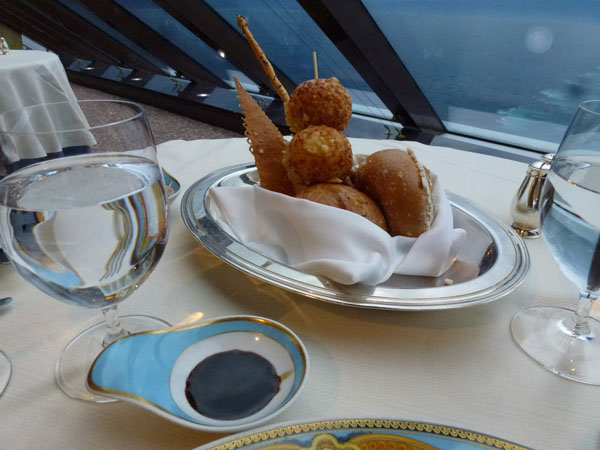 The dark thick sauce in the small dipping dish is the Balsamic Vinegar from Modena.
The sweet vinegar is one of the main draws for us to come back to this restaurant.
We had dined in Toscana Restaurant 4 times last year during our 44-day cruise on the Oceania Insignia.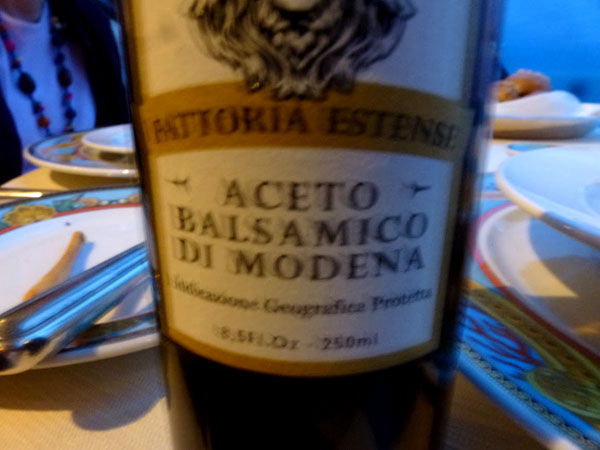 The precious Balsamic Vinegar from Modena, Italy.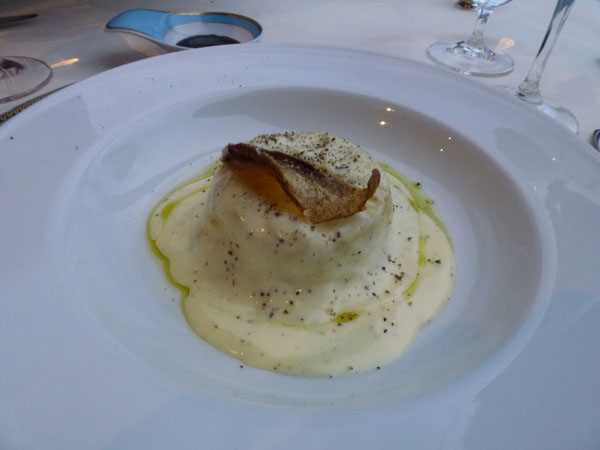 Vincent's appetizer.
Artichoke and Parmesan Cheese Timbale with Black Truffle Sauce and Arugula Infused Oil.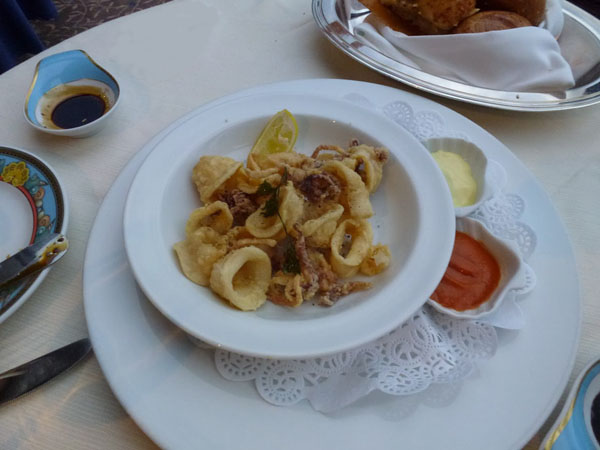 Mei-Ching's appetizer,
Lightly Breaded Baby Calamari served with Spicy Marinara or Aioli Sauce .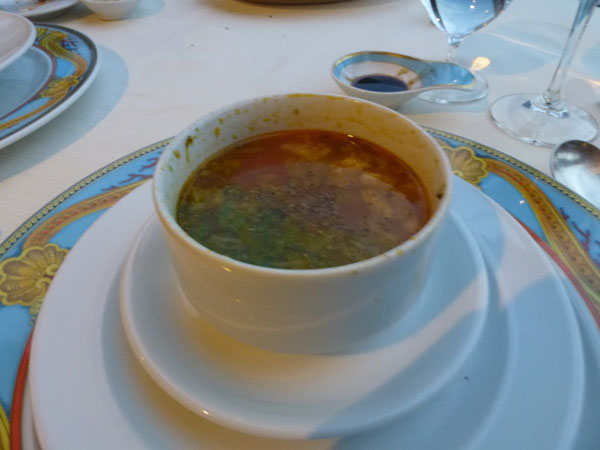 You may order as many courses as you like.
Here is Vincent's northern Italian "Minestrone alla Genovese" soup.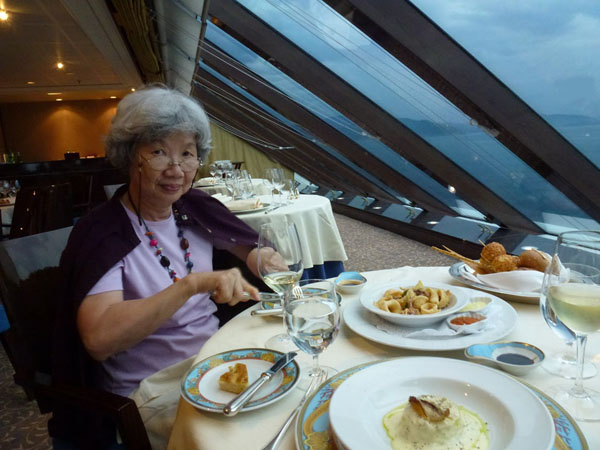 Toscana is a very nice restaurant.
We enjoyed the elegant settings, the attentive services and the excellent food.
(And there was no check to deal with after a wonderful meal.)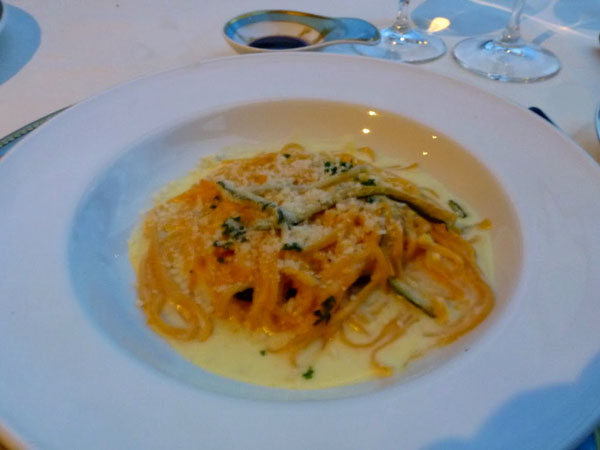 Vincent's first course, today's special pasta made from squash.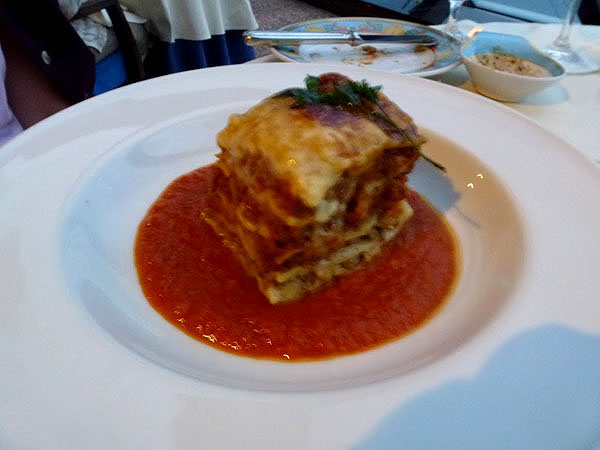 Mei-Ching's first course, a half-portion of Lasagne al Forno alla Bolognese.
(You can always request just "half-" of something.)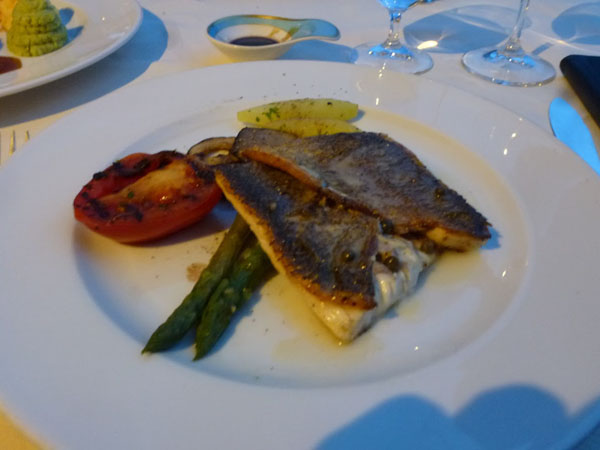 Vincent's second course,
Pan-Seared Sea Bass Fillet topped with an Emulsion of Sorrento Lemons, Capers and Chardonnay.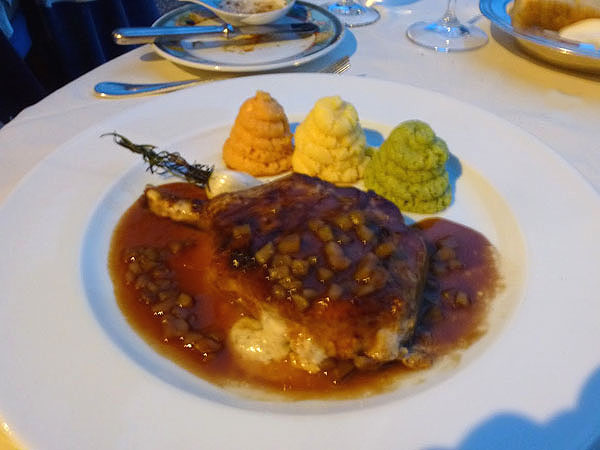 Mei-Ching's second course,
Pan-Roasted Free-Range Tuscan Pork Chop stuffed with Provolone, Smoked Ricotta and Truffle.
(We skipped dessert. )