5/20/2017, Day 2, Rhine cruise

Breakfast at our hotel's delightful restaurant.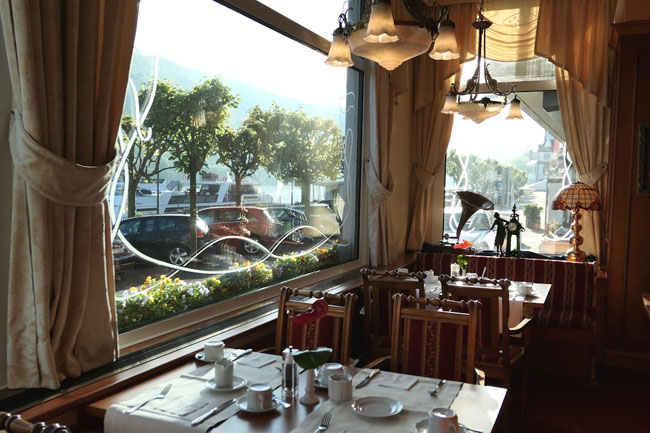 We always chose a table by the window for the Rhine River view.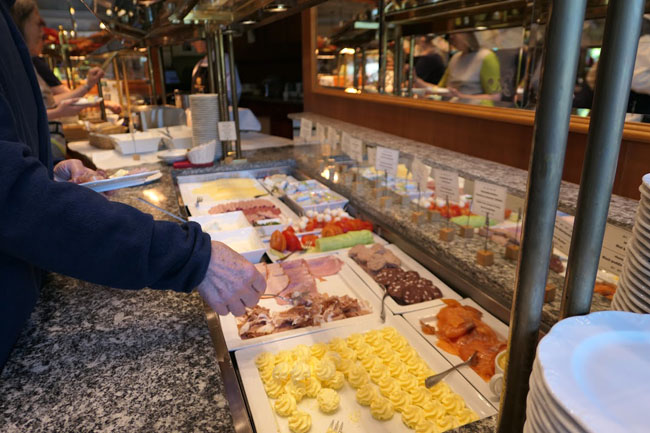 Breakfast's cold cut spread.

Bread, pastries, cakes and jam.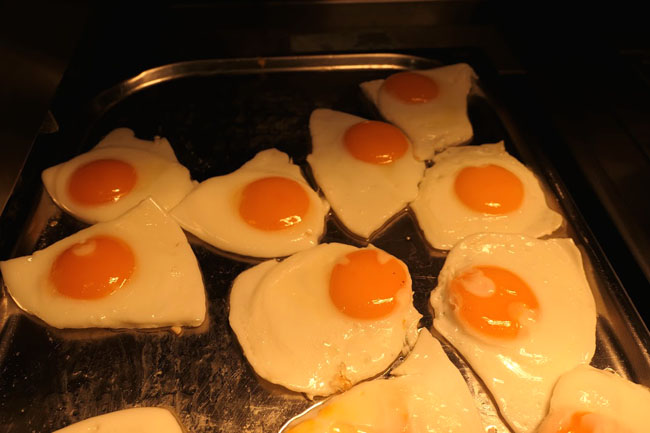 sunny-side up with orange-colored yolk.
There were also bacon, sausage, cold cereal, cut fruits, .... etc, very bountiful.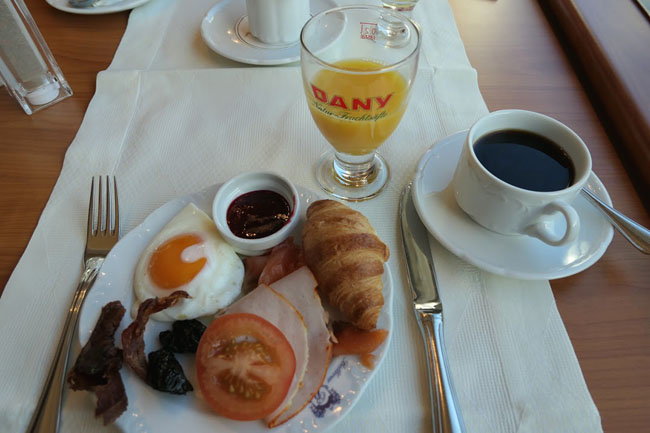 Vincent's plate - crispy bacon, dates, jam, ....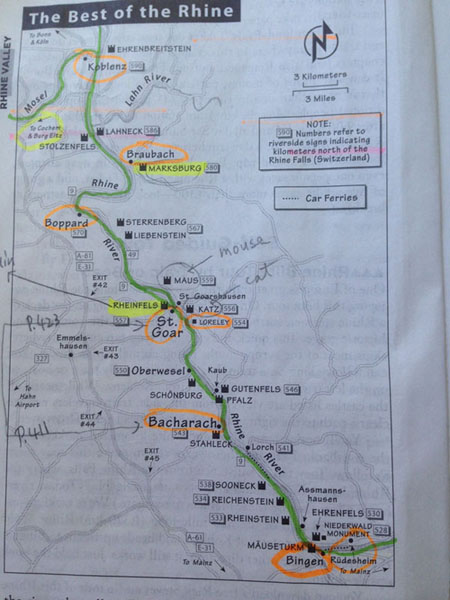 A map of "The Best of the Rhine" from Rick Steves' Germany guidebook.
You may cruise from Bingen to Boppard, or choose a medium segment from Bingen to St. Goar,
or a short segment from Bacharach to St. Goar, which was what we did.
Loreley rock is just south of St. Goar.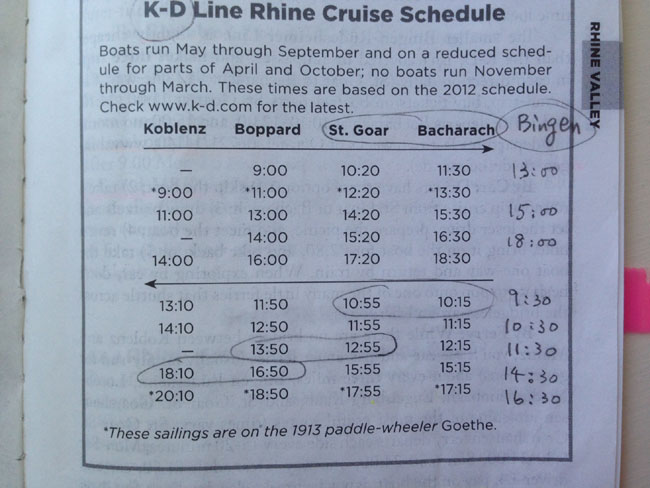 K-D Rhine cruise schedule, in up-stream and down-stream directions.
Cruising up-stream takes almost twice as long as down-stream.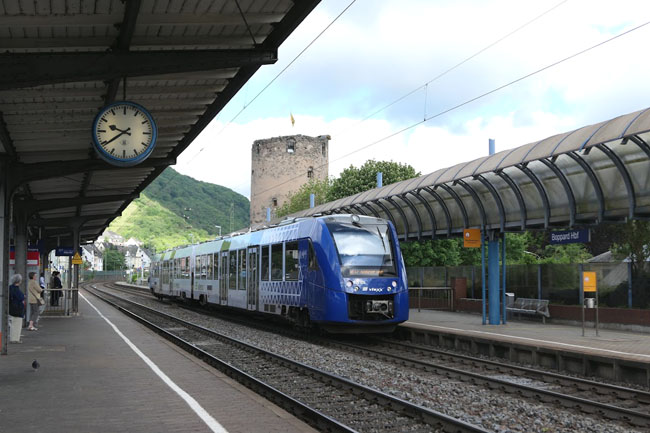 In Boppard train station waiting for our train.
Train to Bacharach was about 2 per hour.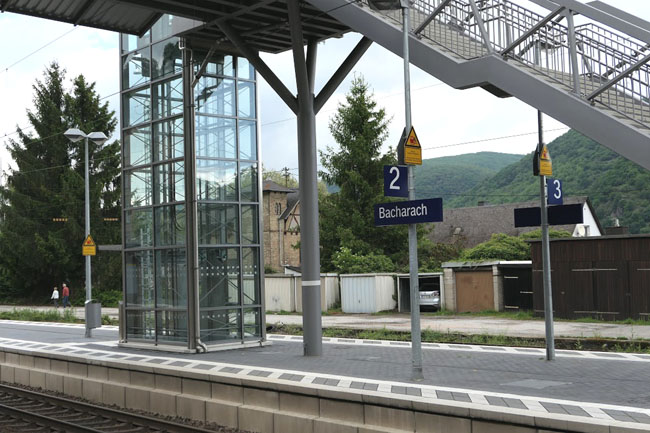 20-min later, we arrived at Bacharach train station.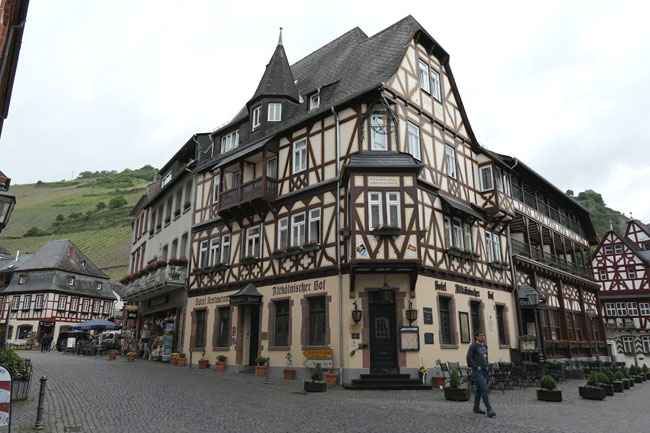 Bacharach is a small town. This is near its town center.

Bacharach's tower. Further beyond on the hill top is its castle.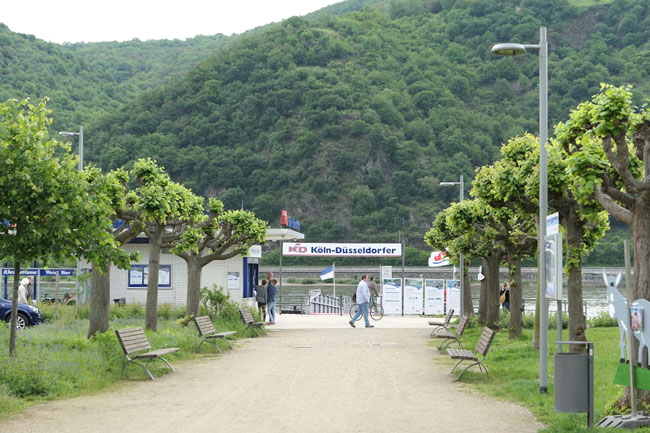 Bacharach's K-D cruise dock. Buy tickets from the booth on the left.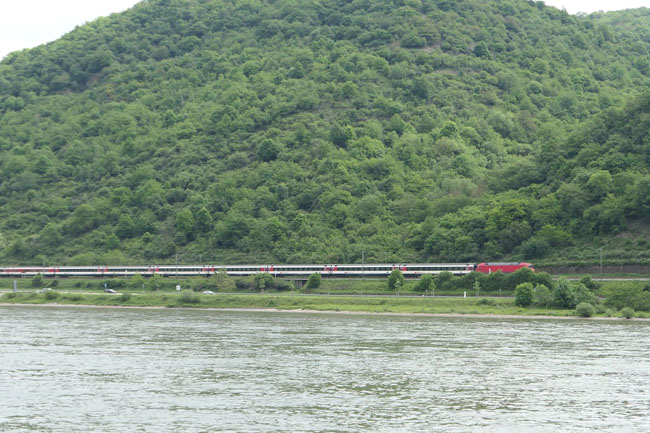 A train whizzed by from across the river.
Along the Rhine, there are train tracks on both sides of the river.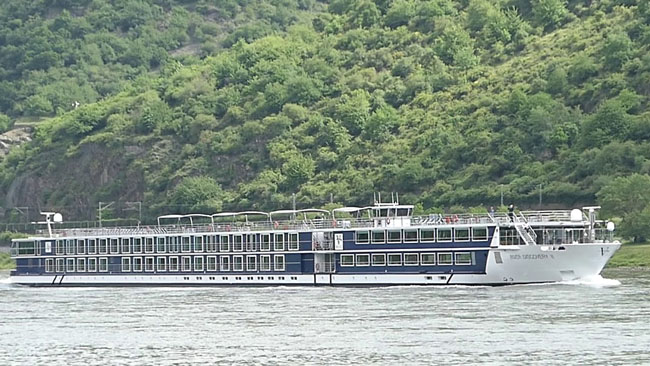 A looooong ship cruising by.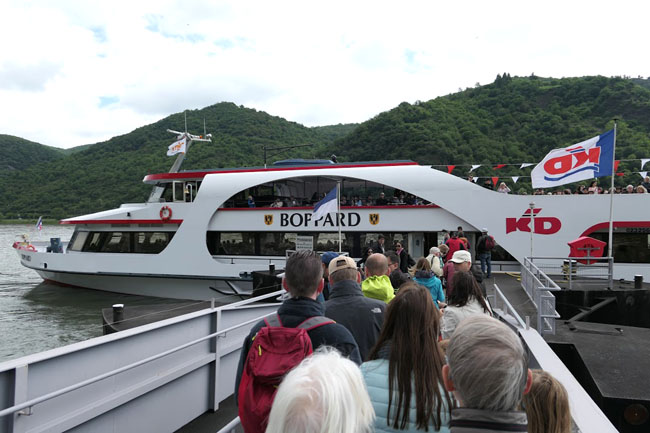 Finally, our K-D boat arrived on time.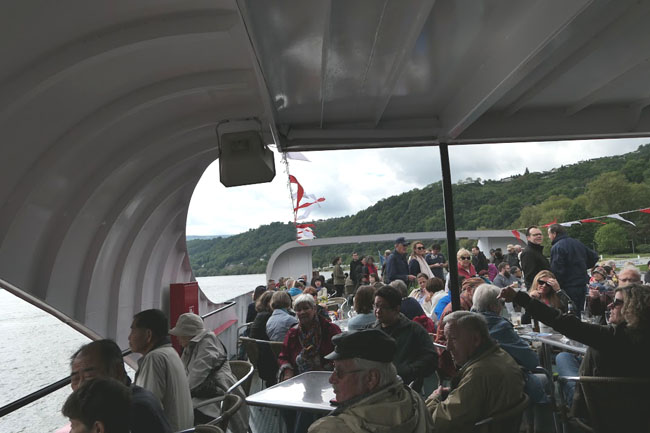 We went to sit on the top open deck.
There was a Japanese tour group on the top deck too.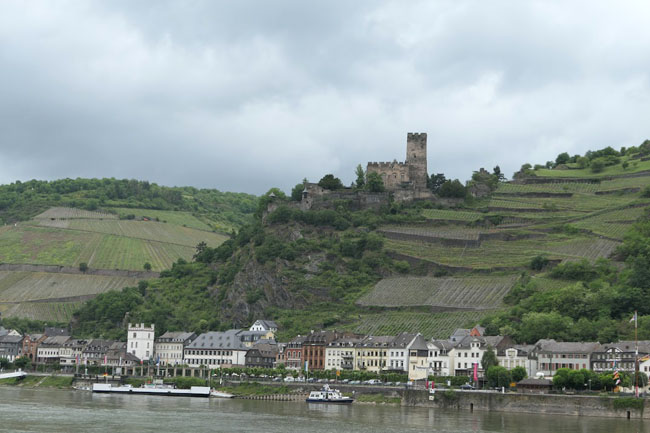 A castle along the Rhine River.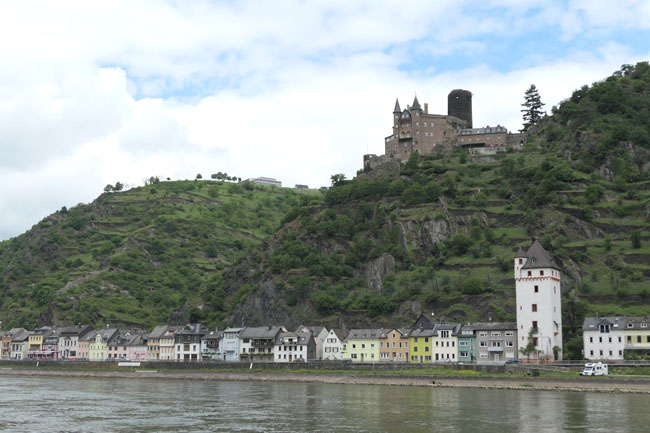 Another castle along the river.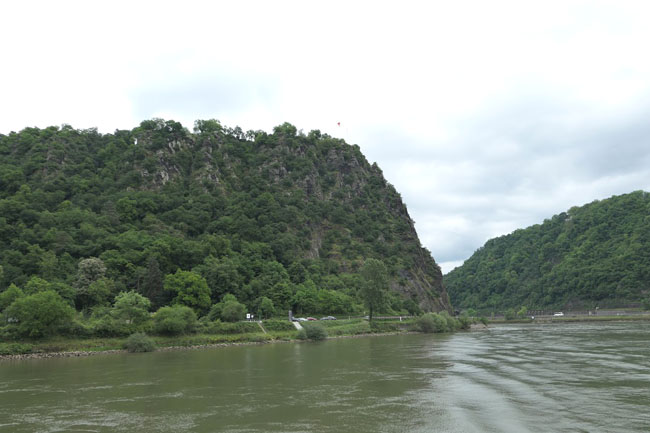 Our boat just rounded the Loreley rock (at the center of the picture with a flag at the top).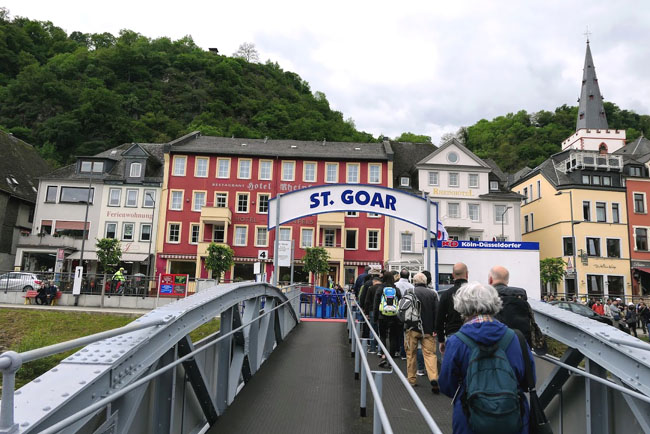 Disembarked in St. Goar.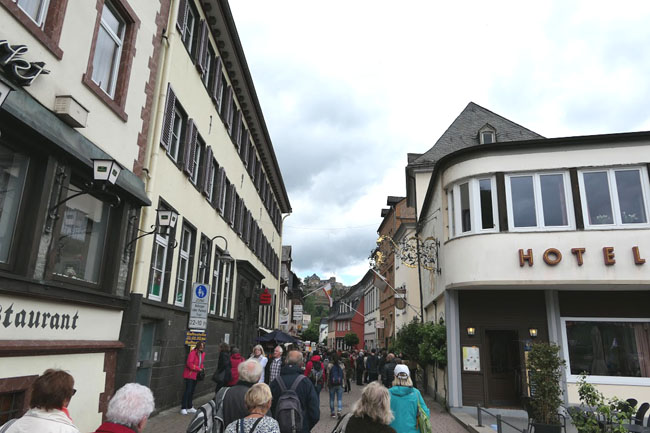 The main thoroughfare of St. Goar.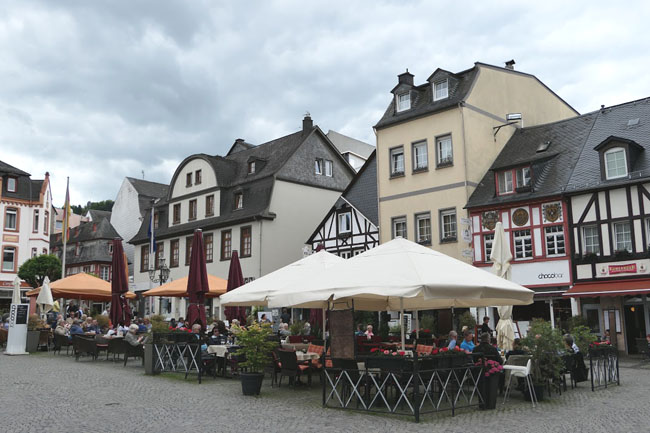 A square.
St. Goar looked more bustling than Bucharach.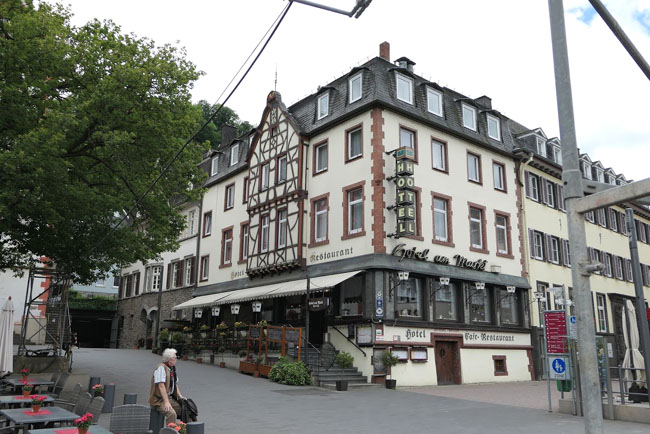 Hotel am Markt, its restaurant was the top restaurant listed in Rick's guidebook,
which stated that the restaurant "serves tasty traditional meals".
So we went in for lunch.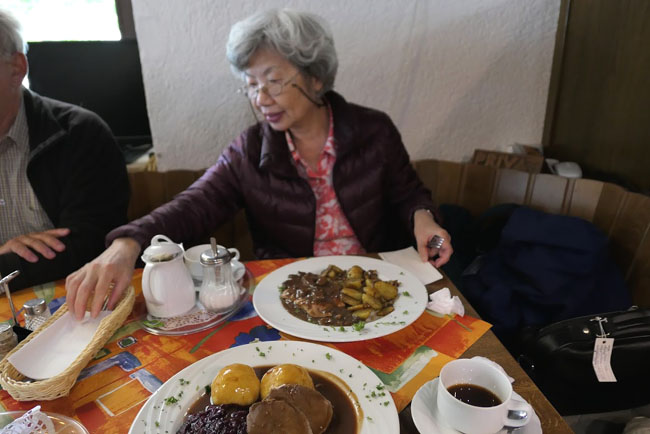 The restaurant was full. We got the two last seats, sharing a table with a middle-aged man.
But that was not a problem, we chatted with him.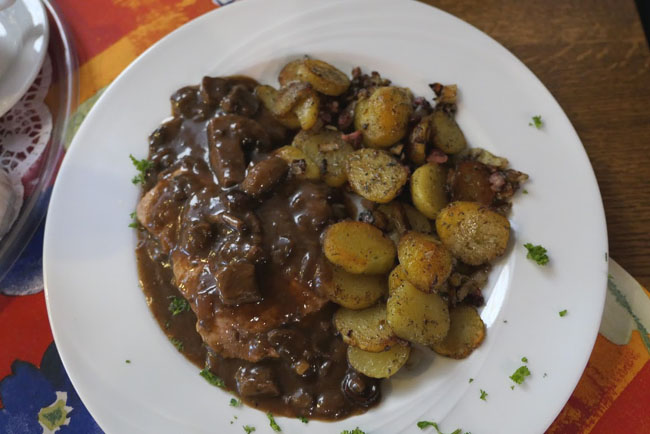 MC had Pork Steak with mushroom sauce + potato sautéed with onion.
It was very good.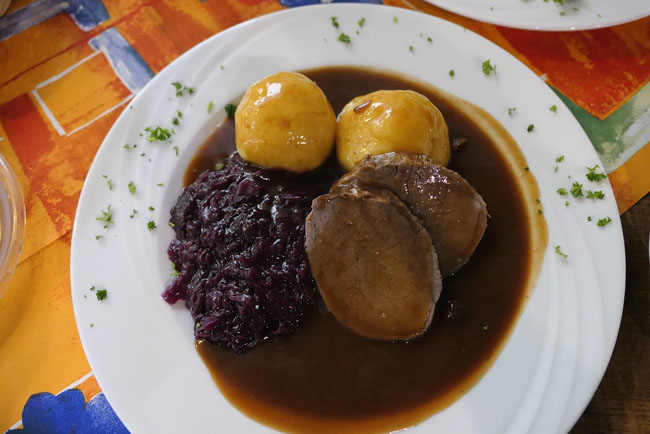 VT had Roast Beef + Red Cabbage + Dumpling.
The round thing were not potato, they were dumplings made from flour.
VT did not like his dish as much as MC liked hers.
The aroma of the meat gravy from every diner's plate permeated the air into our shirts.
For days, MC could smell meat gravy on her shirt sleeves. It took 2 laundry washes to rid of the smell.

Every restaurant bill we received in this region included a 19% tax,
which had already been included in the item prices on the menu.
It was just in the receipt that they broke it down for you.