5/22/2017, Day 4, Koblenz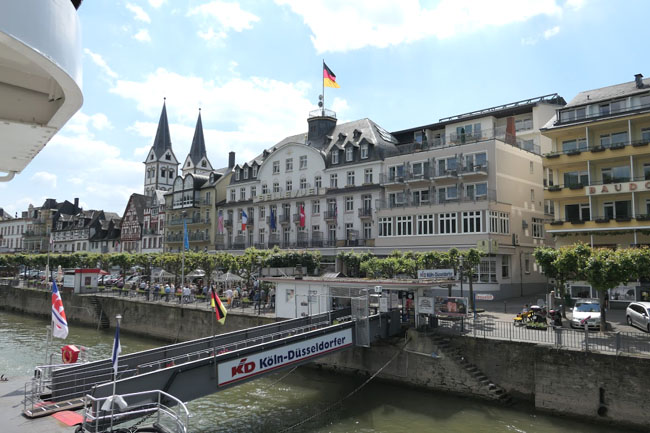 We took the 11:50am boat from Boppard down-stream to Koblenz.
K-D's Boppard dock is just in front of our hotel, The Bellevue Rheinhotel.
As the ship pulled away, Vincent took this full-view photo of the hotel.
It is the building with a German flag on the roof top + the connecting building on the right.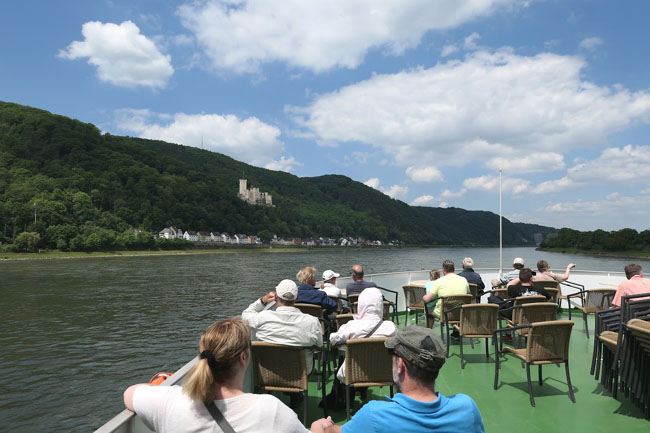 We chose to sit on the top open deck, up front.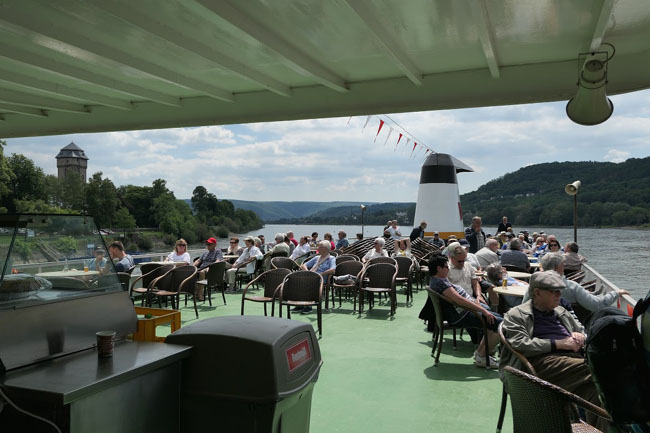 The back of the top open deck, there was a snack bar.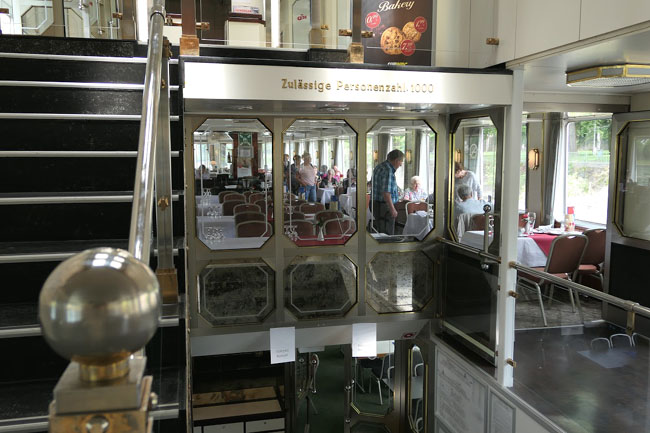 On the 2nd level there was a restaurant.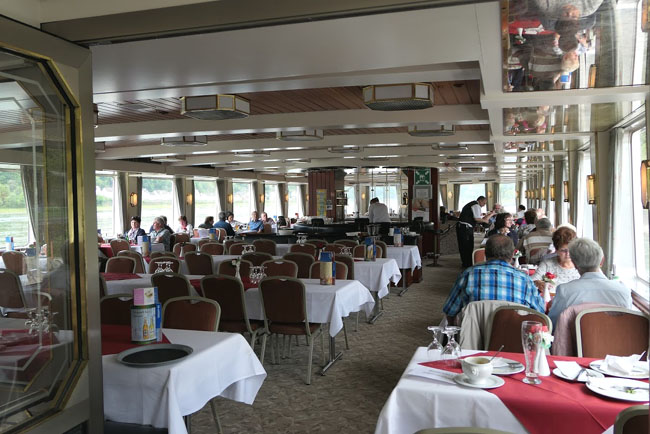 The restaurant.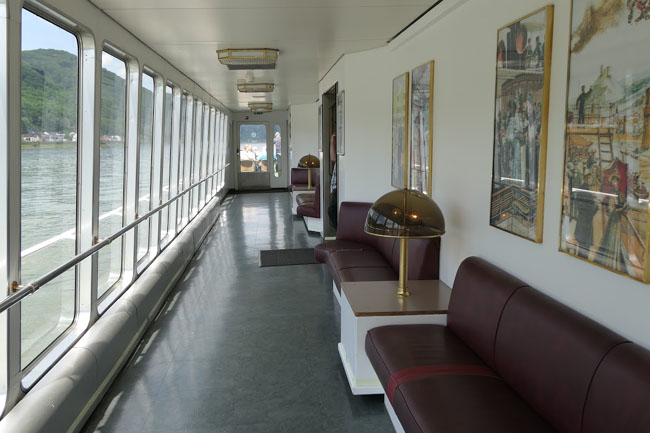 A pretty hallway lead to the outside open deck.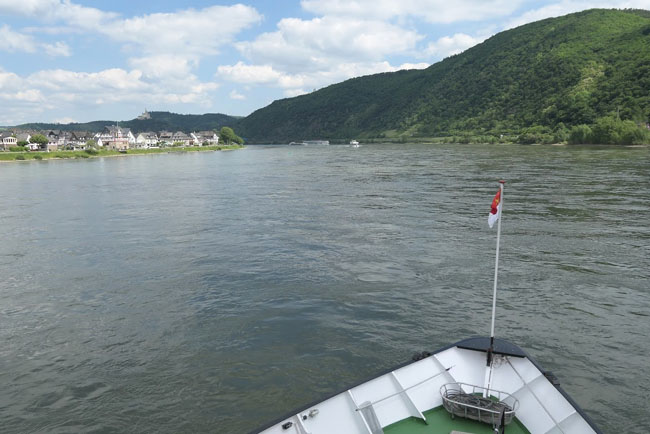 Scenery outside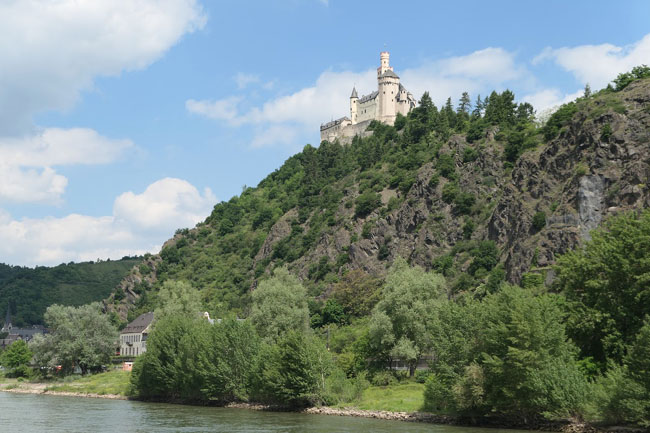 Marksburg Castle loomed large on a mountain top.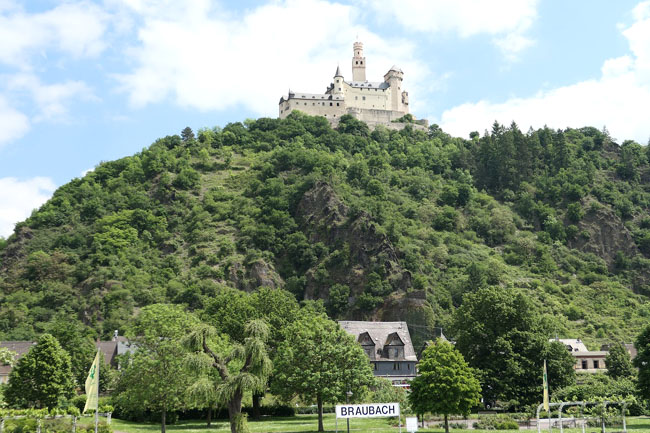 Marksburg castle is located in the town of Braubach, so you'll need to
take train or boat to Braubach, then follow signs to the castle.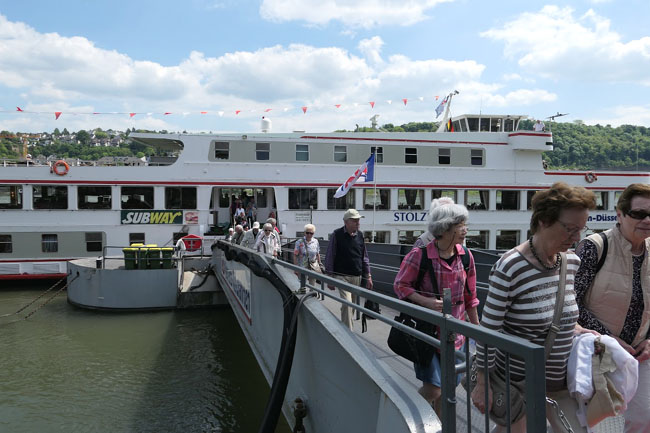 Disembark in Koblenz.
Every K-D boat is different, this one was quite nice.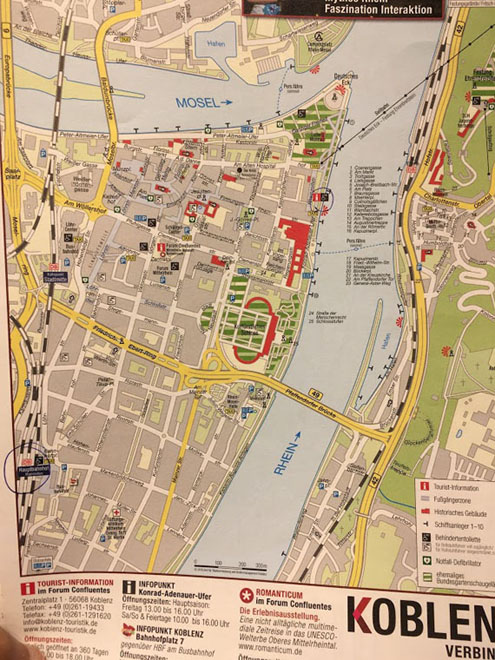 Koblenz tourist map.
At the tip of the triangular headland where Mosel joins Rhine is a park with a monument called the German Corner.
(We picked up this map yesterday at Koblenz's train station TI when we were in transit
from Cochem back to Boppard and had 20-some minutes changing train in Koblenz.)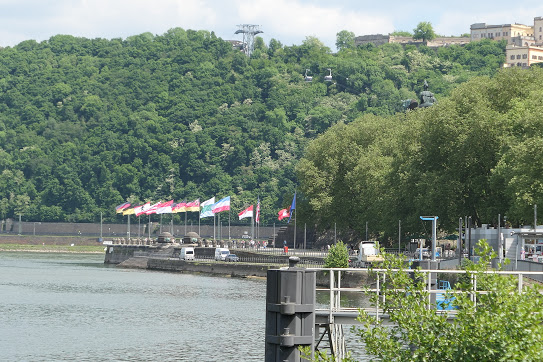 The pointy German Corner (Deutsches Eck) was surrounded by flags.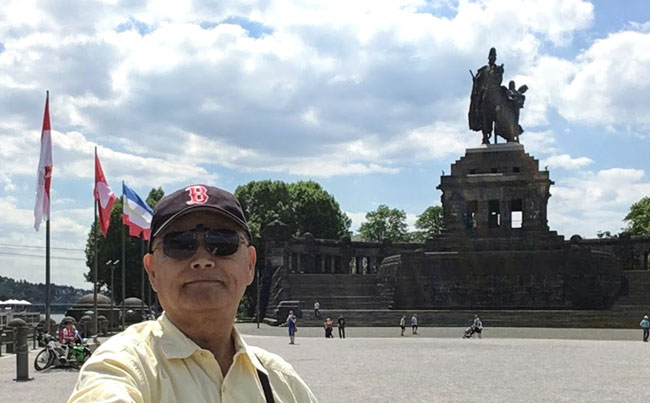 In the German Corner, with a German emperor's monument in the background.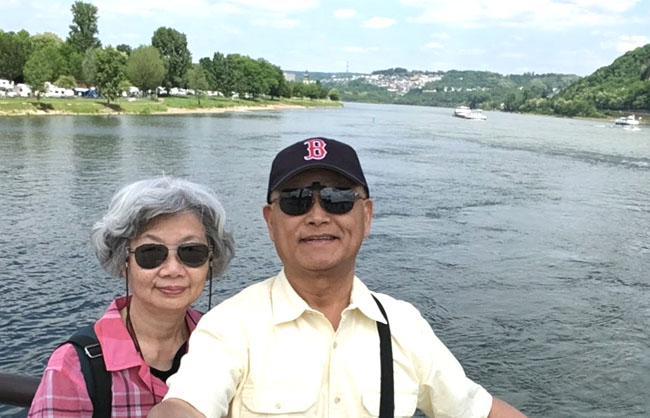 At the two rivers' confluence. The water flowing in from your left is the Mosel.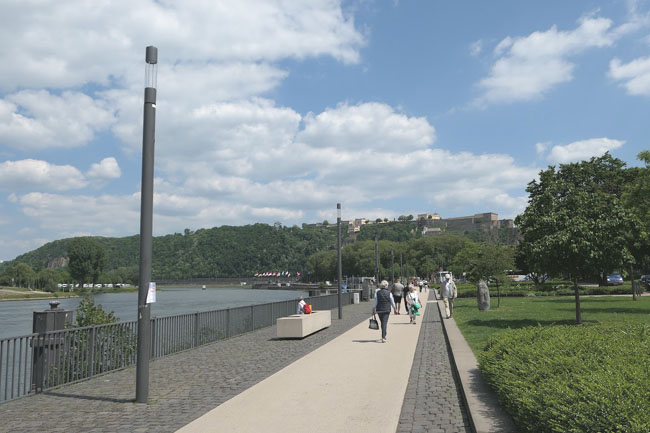 Afterwards, we walked away from the park toward the old town, ...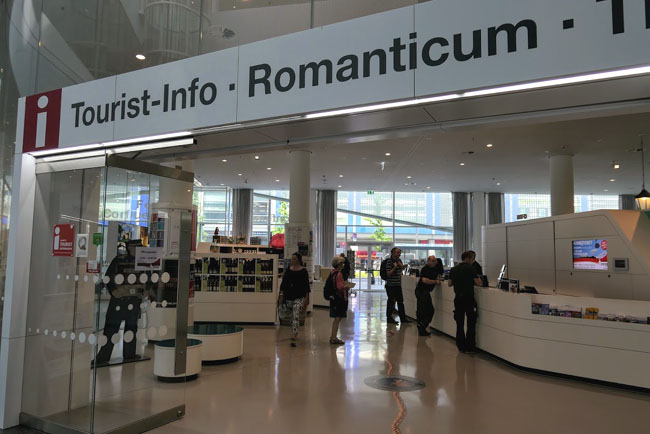 ... and then past the old town to this TI which is located in a sparkling modern building at the edge of the old town.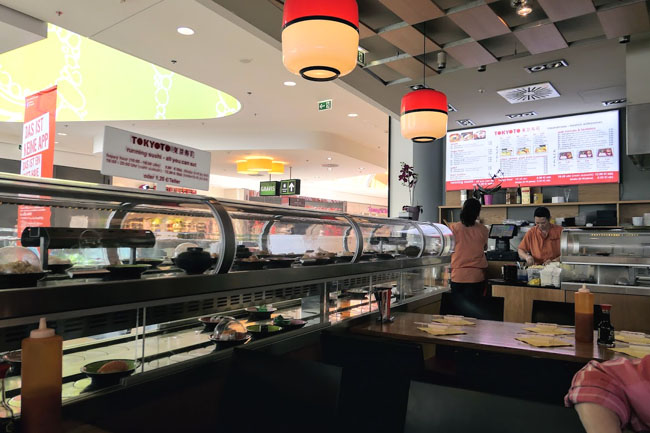 Next to the TI was a mall called Forum, so we decided to find lunch there.
The food court had many eating options, MC persuaded VT to try this Tokyo Sushi.

We did not see anything appealing on the conveyor belt, so we decided to order Bento Box instead.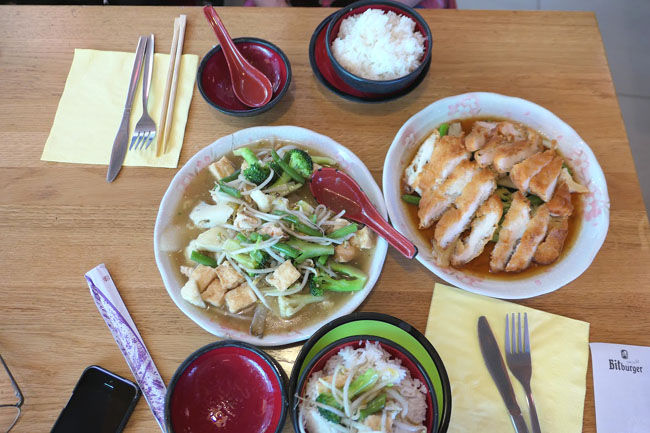 Surprise! The Tofu Bento Box and the Chicken katsu Bento Box came out this way.
However, the To-Fu vegetable spooned over the white rice tasted very good.
May be we were just craving for plain, simple cuisine.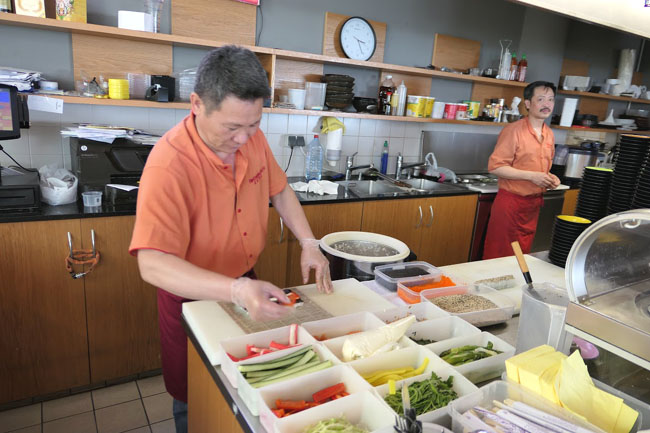 While paying the bill at the cash register, we chatted with this man. He is originally from Vietnam.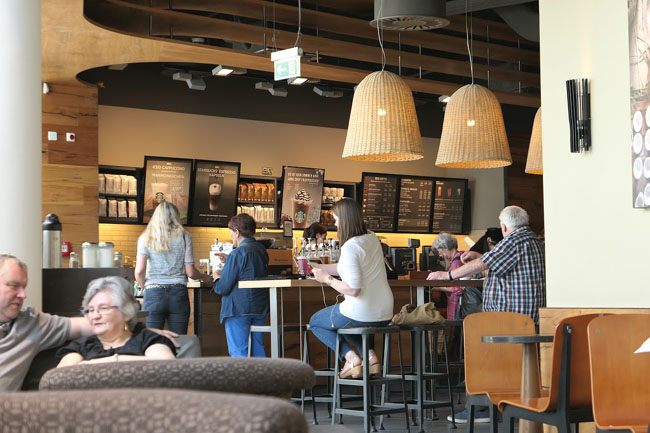 After lunch we went to a Starbucks for coffee, and used their fast WIFI to catch up on news.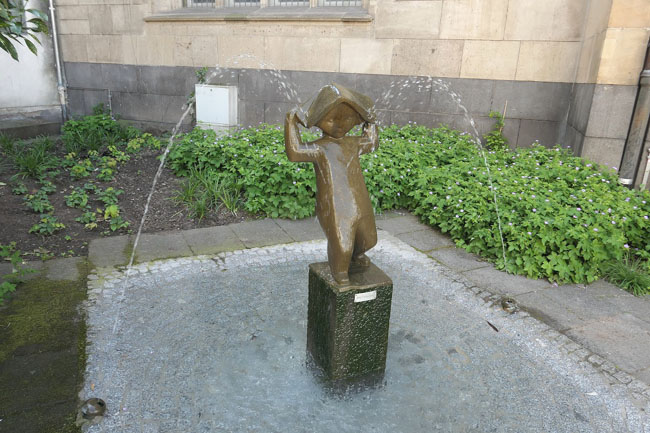 A city fountain we past by while walking from Starbucks to Koblenz's train station.
We took a train back home to Boppard.