Trip Summary: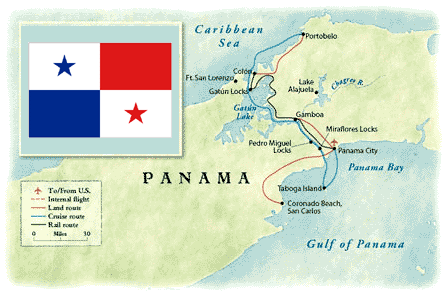 Vincent came to the United States 42 years ago on a Taiwanese cargo ship named "S.S. Caroline", which sailed from the Pacific through the Panama Canal to New York harbor. The cargo ship was carrying 14,000 tons of sugar. Vincent, a college classmate, Jerry Lee, and another young man, were the only guests on the ship. They shared the owner's suite just below captain's cabin level. They were permitted to roam everywhere on the ship except the engine room. After almost 60 days on the sea the ship arrived in New York harbor. Vincent's sister Susan, brother-in-law Ken and their 3-year-old son Andy drove from New Haven CT to the Long Island shore to pick them up.
For nostalgic reasons, Vincent has been talking about revisiting the Panama Canal for several years. However, we were not sure if boarding a mega cruise ship cruising from Los Angeles to Miami passing through the Panama Canal is an ideal way to go.
In April, we received a flyer from OAT (Overseas Adventure Travel) announcing a price reduction on their 11-day tour of Panama and Panama Canal transit on a privately chartered small ship. Since we have enjoyed all our prior tours with OAT and GCT, we signed up. Sister Susan and brother-in-law Ken were joining us on the tour as well.
It was only after we signed up for a departure date of 5/19 that we ordered a Moon's Panama guide book from Amazon. From reading the guide book, we learned that Panama only has two seasons, the wet season and the dry season. From mid April to mid December is the wet season, the rest is dry. Temperatures were more or less the same all year round. Therefore, we'd be in Panama when it was wet and hot. Wow!
The 3-day transit on a small ship was the highlight of this tour. Besides that, we visited the capital, Panama City, stayed two nights at a brand-new resort on Coronado beach (facing the Pacific Ocean), stayed two nights at Gamboa Rainforest Resort and visited an Embera Indian Tribe village, which can only be reached by canoe. We were also adventurous enough to ride zip line canopy near Fort Gulick in Colon.
We had the sweetest pineapple while in Panama and saw many papaya and mango trees. Our tour director, Gustavo, told us there are 150 kinds of mangos in Panama, and that only foreigners go to supermarkets to buy mangoes - locals simply walk to a tree to pick theirs.
Also, Panama does not print its own paper money. The official paper money in Panama is the U.S. greenback. US coins and Panamanian Balboa coins are both circulated in Panama and are of equal value in Panama.
Transportation:
We flew Delta from Boston to Atlanta, then to Panama City, Panama.
We flew home by reversing the way we arrived.
---
Panama City (5/19 ~ 20)
The four of us purchased our own air tickets separately from OAT's tour package, because we had some Delta credits that we had to use or else lose them. So, after arriving at Tocumen International Airport in Panama City at 8:30pm, we were responsible for getting to our first hotel on our own. Taxis in Panama are not metered, you have to agree on a price before getting into a taxi. The taxi fare to the downtown hotel (approx 11 miles) for the four of us traveling together was US $40. ($30 for one to two persons.)
We sensed that the air was extremely humid when we stepped out of the air-conditioned taxi and immediately our eye glasses (camera lenses also) were fogged up. Our hotel, El Panama, is centrally located in the financial district and is within walking distance of many shops and restaurants. Hotel El Panama and Casino was built in 1951, and for many years was Panama City's premier hotel. Although today it shows its age, this was a good choice for its convenient location. The food served at the hotel's buffet breakfast was very good. The Panamanian coffee was very aromatic.
Note: move your mouse cursor to somewhere on a photo to see descriptions of that particular photo.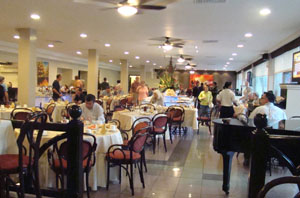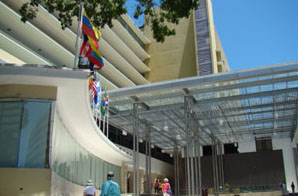 We spent the 2nd day touring Panama City on a mini bus. We first visited Panama la Vieja (The old Panama). Founded in 1519, this original Panama City was the first Spanish city on the Pacific coast of the Americas. In 1671 it was burned down by the notorious Welsh pirate Henry Morgan. After that, the Spanish moved the Panama City southwest to a more defensible site now known as Casco Viejo. Today, this site has a few ruined stone buildings and a 5-story tall bell tower. Vincent and Mei-Ching went up to the top of the tower, where we could view the modern Panama City in the distance. On the lower right is a modern street of today's Panama near our hotel.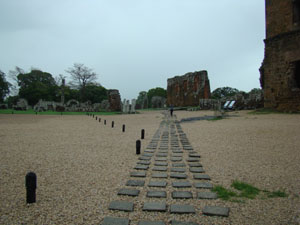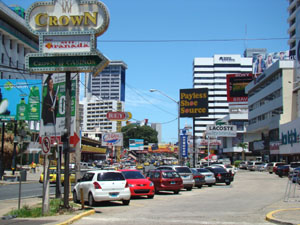 Our tour director, Gastavo, took us to a downtown restaurant where we tasted some traditional Panamanian food for the first time. The group then continued to visit Casco Viejo (the old district). It is the colonial district founded in 1673 after the sacking of the Panama la Vieja. On the way, we passed a gate in Chinatown. This gate was a Taiwanese gift to Panama. On the plaque, it shows the name of Taiwan's first democratically elected president, Mr. Lee Dung-Huei.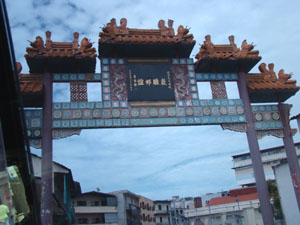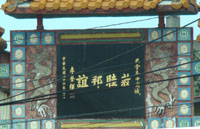 Today, the streets and buildings in Casco Viejo are under renovation, some are nicely finished, but many are still left in rundown condition. Although the area has many interesting restaurants and night clubs, our guide book says it is not safe for tourists to walk in Casco Viejo after dark. Take a cab and let it drop you at the door of a restaurant in Casco Viejo.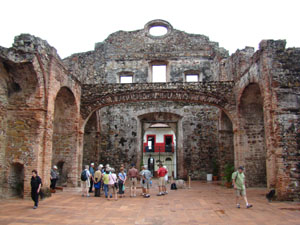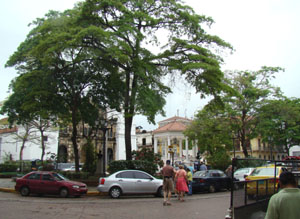 In the evening, our group went to the restaurant in the Miraflores Locks Museum building for a buffet dinner, a night view of the passage of ships through the Miraflores locks, and also a short performance of folklore dancers hired by OAT. The dancers did fine, but the dancing floor was simply too small for a good performance. However, the lead dancer entertained us by explaining the four main styles of Panamanian dance. Their styles and costumes are deeply influenced by both the French and Spaniards.
Below is a picture of Vincent with the folklore dancers at the end of the show. He was wearing a typical Panamanian hat. There are many ways to wear a hat so as to express a person's temperament/feeling on a particular occasion.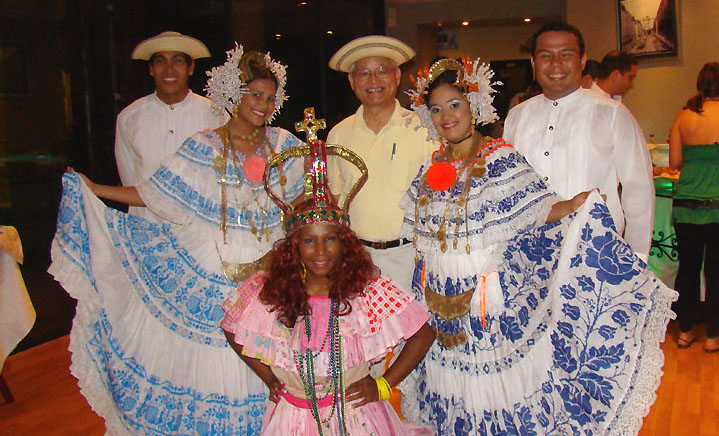 Note that Miraflores [meera-flaw-rayz] is the name of several places in Spanish-speaking countries. It means "to watch flowers", or "flower's view" from mira ("watch") and flores ("flowers"). Miraflores Locks is the first of the two locks on the Pacific side and is the most accessible of all locks. 42 years ago, Vincent's ship spent one night in this lock waiting for a heavy fog to clear up in the area.

Coronado Beach (5/21 ~ 22)
There were 21 members on this OAT tour. We headed west in a 25-person van. We were surprised that OAT used a small van for the Panama tour, because when we were in Greece in 2008, OAT used a 50-person bus for the 19 of us, with plenty of empty seats to move around. The only reason for not using a large bus that we could think of, was that probably the driving distance in Panama (during this tour) was all very short, for 90 minutes max at a stretch.
On the way to Coronado Beach we stopped at a village called San Carlos to visit an elementary school (from grades 1 to 9, so it really is not just an "elementary" school). We had some Q&A with students. Many of these young students wanted to grow up to be medical doctors or engineers. One girl wanted to be a tour director, to be just like our Gustavo! We were then divided into 5 smaller groups to head into different homes for a home-hosted lunch. Our hostess was young and talkative. Although her English was limited, our Spanish was even more limited. Therefore, we communicated with her with the help of an English-Spanish phrase book that OAT provided, and we all had fun.
Our hotel at Coronado Bay is the brand new Hotel Solarium, which just opened in March. The lounge and dining area has large windows looking out to the ocean and the blue sky. Every guest room has sliding doors to a balcony with views of the Pacific Ocean. The decor of the rooms was bright and cheerful. We were very pleased with this hotel. During our stay, there were very few other guests at the hotel besides our group of 21 (23, counting our tour guide Gustavo and the bus driver Sal).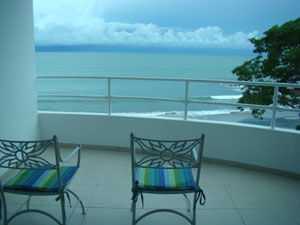 Susan, Mei-Ching, and another member from Idaho, Marian, all suffered from tummy troubles shortly after checking in. (Maybe too much mango? or papaya?) So the next day we did not participate in a hike to the rain forest in Anton Valley. Instead, the four of us relaxed at the hotel. But after hearing the loud sound of rushing waves every 10 seconds all day long, we were tired of living so close to the ocean. Does that sound like we were ungrateful?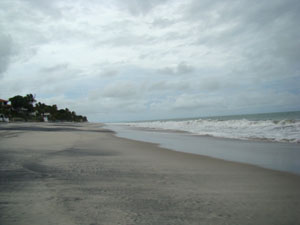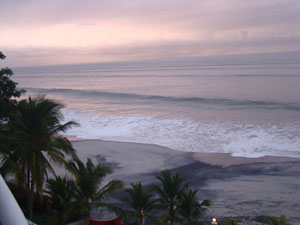 In the afternoon, after the rest of the team came back from their hike, we saw Gustavo, our tour director, surfing in the ocean in front of our hotel. Vincent took a video from our balcony of Gustavo surfing. You can hear the loud sound of the rushing waves too in this video below.
In the evening, Gustavo arranged for the hotel restaurant's chef to cook a BBQ dinner for our group by the roof-top swimming pool on the 24th floor. Team members Ron and Linda from Florida contributed many kilos of fresh shrimp to add to our BBQ feast. The hotel and the adjacent condo complex were all managed by the same management, some of the condos were for sale.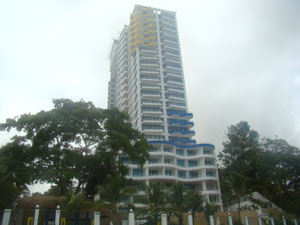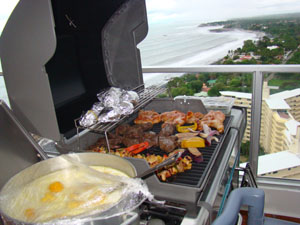 Embera Indian Village and Gamboa Rain Forest (5/23 ~ 24)
We checked out of the hotel at Coronado Beach to move to Gamboa Rain Forest Resort in Gamboa, half way between the Panama Isthmus and by the river Chagres.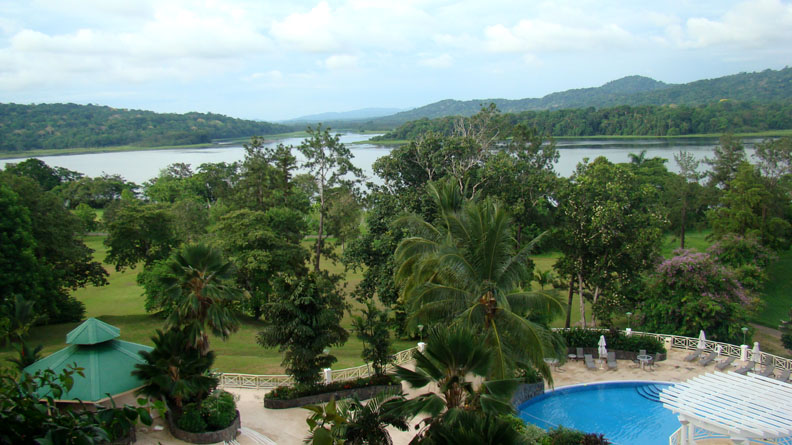 OAT booked our group into the so-called "Villa" rooms, which are apartments originally built to house the officers of the Panama Canal Administration in the 1930s. Although they have all been renovated and updated, these apartments are not all equal. Some were very nice, some had air conditioners leaking water onto the living room floor, or shower control not functioning properly. Anyway, these apartments are interesting to experience once, but not good enough to repeat it. The picture below on the left shows the "villa" that the Tzengs and the Lius stayed in. Each stand-alone building like this has two apartment units on the second floor and two apartment units on the third floor. The picture below on the right shows the living room and dining area of an apartment unit.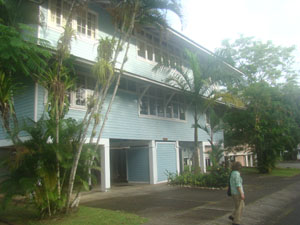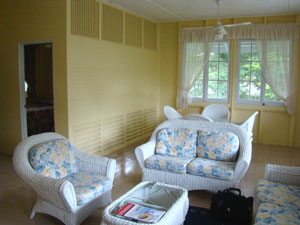 The following day after breakfast, we went to visit an Embera Indian tribe in the rain forest about one-hour's drive from Gamboa. On the way to the village our bus stopped at a roadside fruit stand where Gustavo bought many kinds of fruit to bring to the Indian village as our after-lunch dessert. The pineapple Gastavo picked turned out to be the sweetest we have ever had.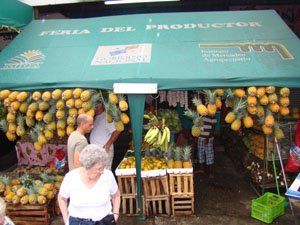 Our bus dropped us off by the Chagres river bank where the Emberas were waiting to take us to their village in canoes. More tribal folks welcomed us with music at their village landing.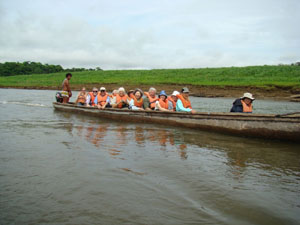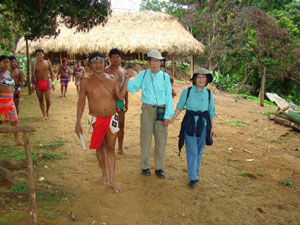 The tribal women in their colorful garments immediately set to work to wash and slice the fruits Gastavo brought and lay them on banana leaves. They then cooked and served us lunch wrapped in leaves (fried tilapia and fried plantain.) The fried fish and all the fruits were very good.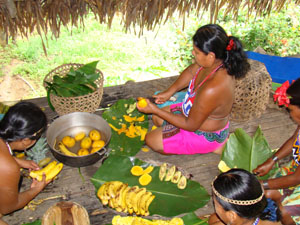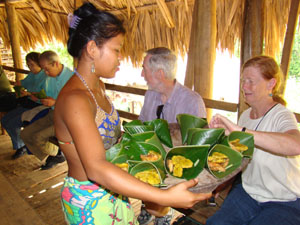 We had a Q&A session with the tribal leaders and their wives, with Gustavo interpreting. We all bought some handicrafts from the tribe. They also performed a song-and-dance before we left. Over all, the visit to Emberas village was a very pleasant day and a unique experience. This YouTube video summarizes the excursion.
Portobello and Colon (5/25)
As instructed by Gustavo, we all woke up and got ready to go before dawn to catch a train leaving Panama City for Colon. We had our packed breakfast on board the train. The historical railroad runs in parallel to the canal. There are only two scheduled departures for passengers each day. Most of the time, the trains are busy transporting cargo containers from one ocean shore to the other, complimentary to the super containerships that are too big to fit inside the canal.
On the way to Colon (named after Christopher Columbus) to board our ship, our bus stopped at Fort Gulick for an OAT treat - a zip line canopy. The zip line consists of ten rides all together, two of them going over lakes. This was a "first" for many of us mature citizens, and we had great fun. There were 7 guides assisting us (15 participated, 6 opted out). We felt very safe, not scared at all. Here is a video of our zip line canopy:
Colon, on the Atlantic side, unfortunately suffered from neglect from the government and is not a safe place for tourists. Vincent vividly remembered 42 years ago on a June day, he and Jerry stepped off their cargo ship in Colon, walked in trepidation to a post office to mail postcards.
In the afternoon, we toured the ruins of a Caribbean port town called Portobelo, then went to shore to board our ship, the 24-passenger catamaran that would be our private home for the next three nights as we transited the Panama Canal. From the shore, we could see a beautiful ship in white and wine color moored beyond several smaller boats, and we knew it was our ship, Discovery, because we had seen its picture on OAT's website. But first, we had to get on an inflatable rubber boat called Zodiac to get to Discovery.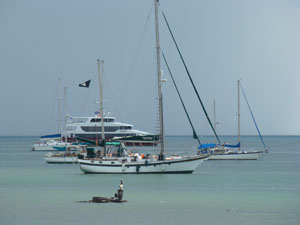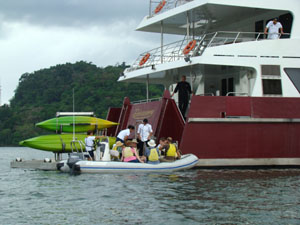 As soon as we were on board, the crew welcomed us with ice-cold strawberry daiquiris. There was an introduction of six crew members, in addition to one chef and one assistant chef, as well as one local guide hired by the ship company. His name is Ian (in a blue shirt and white cap talking at the microphone in the left photo below).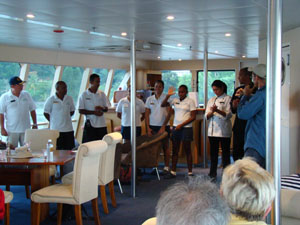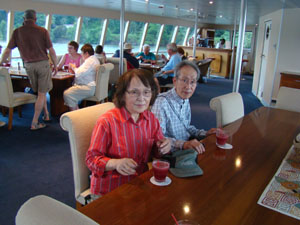 We loved the large windows in our cabin. In fact, we loved the ship, it was so relaxing and so ... pleasant.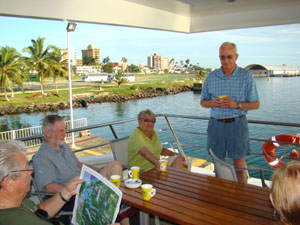 In the afternoon, our ship sailed to the eastern side of Colon and spent the night docked in Colon harbor.

Panama Canal Transit (5/27 ~ 28) from Atlantic to Pacific
Our canal transit would not begin until in the afternoon at a pre-assigned time window. Therefore, after breakfast, there was a group outing organized by Ian to explore Fort San Lorenzo (by small boat, then by bus, then on foot), but seven of us skipped it and opted to stay on the ship with cool air-conditioning. We played a friendly bridge game with Sandra and Sharyn from Maine. The kitchen crew kindly prepared a delightful lunch for all of us on board. So, it was a good choice to avoid the blazing sun and the tropical humidity for one day.
In the afternoon, Discovery sailed west of Colon to the entrance of the Canal on the Atlantic ocean. We had to wait for a canal pilot to board our ship in order to start the transit. The canal administration assigned Discovery to transit the Guton locks together with three other ships in a group. We'd be following a large cargo ship named China Spirit, and two smaller sail boats following us. When we were ascending, hundreds of water jets would be releasing water into the bottom of our water chamber, creating a tremendous up-swing force from the chamber's floor. Therefore, it is necessary for a small ship like ours to follow behind a large ship so that the large ship could absorb the up-swing force from the water jets.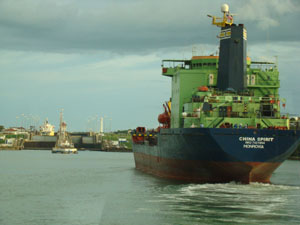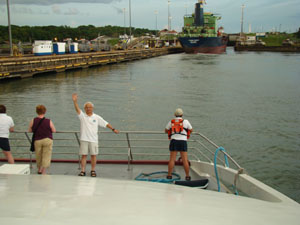 As you may see from the photos above and below, we were following the green-colored China Spirit into a Gatun lock chamber, and two smaller sail boats were following us. The photo on the lower right shows the gate in the process of closing behind the two sail boats.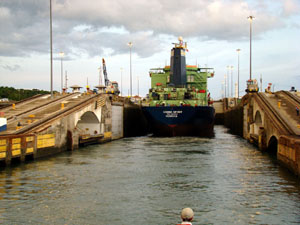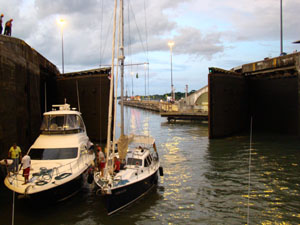 Being a big ship, China Spirit was pulled by 2 or 3 pairs of "mules" on each side. The mules are the small vehicles as seen moving on a fixed track in the left photo below. The mulls harness a large ship with tight cables on each side so that the ship would remain straight while transiting, lest it should hit any canal wall to cripple the system.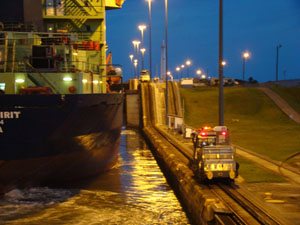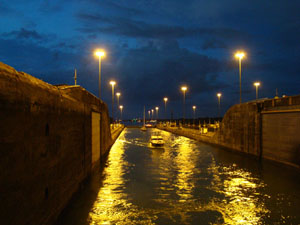 After passing through Gutan Locks, we anchored in Guton lake for another night. The next morning we continued our transit through Pedro Migual Locks and Miraflores Locks into the Pacific Ocean. We went through these two locks while descending. That means water will be released from our chamber. Therefore, it is not required for a small ship like ours to follow a large ship. As a result, Discovery was the first of a group of three ships entering and exiting the water chambers on these two locks.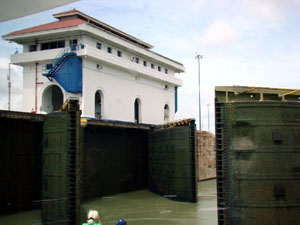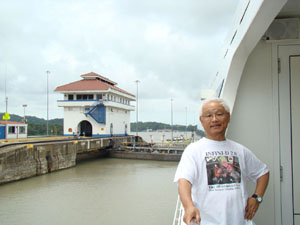 We were told the best paying jobs in Panama went to the Canal workers - pilots, engineers, administrators etc. There are 300 canal pilots, with the most senior ones earning $USD 120,000 annually, which is a very good sum in Panama.
To transit the canal, a cargo ship pays about $140 per container, and a cruise ship pays about $120 per bed. The largest transit fee paid so far is by Norwegian Cruise Line's Norwegian Jewel, which paid more than $370,000 for transit. The canal transit fees alone bring in $2.2 million dollars net EVERYDAY for the Panamanian government. With a more efficient central government, we hope Panama can improve its infrastructure and get rid of poverty for half of its population.
Discovery moored near Toboga Island in the Pacific ocean. Some went to visit the island and one senior group member, Ruth, went kayaking as seen in this YouTube video. We saw a beautiful Panamanian sunset just before the final dinner served on the ship. The next morning, after breakfast and taking group photos, we said good-bye to the captain and the crew. We truly appreciated the pleasant atmosphere the ship and its crew provided during our stay.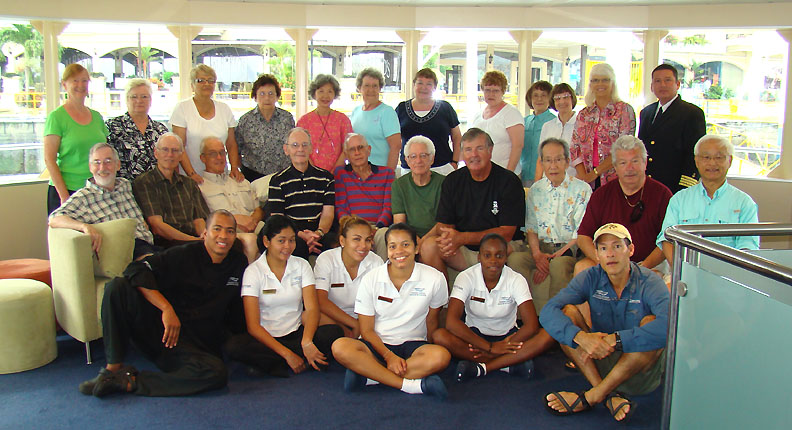 Back to Panama City(5/29 ~ 30)

After disembarkation, a van took us to El Panama hotel in downtown Panama City. However, we knew we could not check in yet that early in the morning, and the itinerary called for a free day on our own until the farewell dinner in the evening.

Gustavo, being a very good Tour Director that he is, suggested to us to collectively hire a van for $10/pp to tour the city until 3 pm, when we could check into our hotel. The plan would go if there were at least 15 people signing up. Well, all 21 signed up, so a van and driver took us and Gustavo to tour the city. We first stopped at Mercado Del Marisco (The Fish Market) - a central fish market built with the help of Japanese technology. A whole Covina (a kind of sea bass abundant in Panama) in this market was sold for $1.50/LB. I wish we could get fresh fish for that price at home. Gustavo then took us to an Indian craft market to shop for souvenirs. We gave Gustavo credit for discreetly selecting appropriate opportunities to let us help with the local economy. He told us that many families live on less than $10 a day.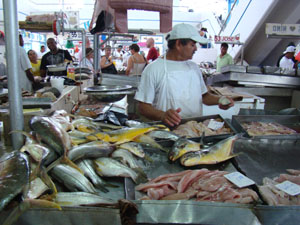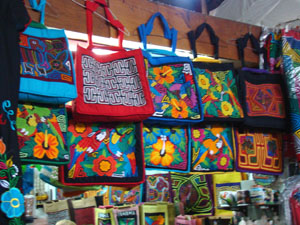 We also toured Ancon Hill - We went up the hill top for a panoramic view of the surroundings, the City skyline, the Pacific ocean, the canal entrance, the Bridge of America, and the Miraflores locks. We then stopped at a popular eatery, Niko's Cafe, near the Canal Administration building for lunch. We have read in a guide book that Niko's Cafe is a successful cafeteria chain, open 24/7. It is popular for a wide selection of simple and tasty food, fast service, cleanliness, and reasonable price. After lunching at Niko's, we agreed with that assessment, and were glad that we had an opportunity to visit the Cafe before leaving Panama.
In the evening, we had a team farewell dinner at Restaurant Casa Blanca in Casco Viejo near the opera house. We dined outdoors in the pleasant evening air. Our main course choices included seafood paella, pasta, or Covina. We chose paella. Although this paella looked different from the paella we had in Spain or in southern France, it tasted as good. Vincent bought a mango colored shirt with a Canal lock logo that afternoon, and posed with Gustavo during the farewell dinner in the photo below. He was holding a bottle of Balboa, the most popular beer in Panama.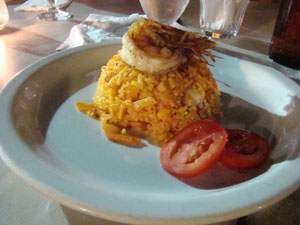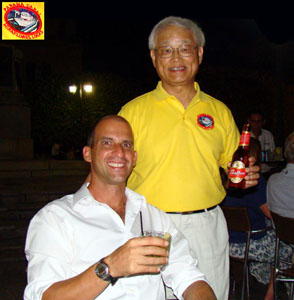 In conclusion, the trip was fun and we enjoyed the time there. In addition to the excitement of the 3-day Canal transit on a small ship, we learned so much about the country of Panama and heard so much about the history of the Canal. Besides sweet pineapples, mangos, papayas, sea bass etc., Panamanian coffee really stands out. Coffee tastes great everywhere in Panama, even at local Mcdonalds.
Although we could have chosen a different month with less humidity to be more comfortable, we were very happy that Vincent got to reminisce about a part of his 1968 trip to America, and were glad that he shared this trip with us.
(Few more Panama trip photos posted here)
---
epilogue: Panama Canal is under massive reconstruction right now. The "new" Canal is set to open in 2014, exactly a century after the initial opening. The Canal will have a brand new look with modern features very different from what we see today. May be we shall go back there again after the project is completed.