Trip Summary:
Vincent came to the United States in 1968 to attend graduate school. While most young Taiwanese who came to the US for graduate studies arrived by airplane, Vincent got a free passage on a Taiwanese ship sailing from Taiwan with stops in Hong Kong, Japan, then crossing the Pacific Ocean, through the Panama Canal to New York Harbor. For many years he wished to sail from Europe to Asia to complete a full circle of the globe.
Fast-forward to 2014, there were several up-market cruise ships departing from Thailand (or Singapore) to Istanbul (or Rome or Athens) in the spring, but we wanted to cruise from Europe to Asia and not the other way. Also, we were not interested in African stops. Therefore to find an itinerary we'd be happy with, and on a cruise ship we'd be excited about, was not a small task. We eventually booked this 44-day Oceania cruise in June of 2014, more than a year in advance of departure date. We had read many rave reviews about Oceania Cruises and had wanted to sail on one of its ships, so why not now?
Oceania Cruise Line is highly acclaimed for its services and fine cuisine: https://www.oceaniacruises.com/experience/dining/. Another big bonus is that Oceania does not have formal nights. Dress code on the ship is country club casual.
Oceania's Insignia ship is on a 180-day world cruise from Miami to Miami starting 7/8/2015.
Oceania (the cruise company) divided this 180-day world cruise into 9 segments. One may book as little as one segment on this world cruise. Barcelona --> Dubai is one segment, Dubai --> Singapore is another segment, therefore cruising from Barcelona to Singapore is two segments on this world cruise. By booking these two segments, we are qualified as Oceania's "Grand Voyager" guests.
We booked in June of 2014 and received a few "Grand Voyager" early-bird perks, including Visa package (India and Burma), laundry service package (we heard that shirts were pressed and came back on wire hangers), unlimited WIFI, pre-paid gratuities, free airport <-> ship transfer, and two shore-side events FREE of charge. One such event is an excursion (by airplane) from Yangon Burma to its ancient capital Bagan on October 4th and spend the night at the Bagan Lodge. Another event is called "A NIGHT OF GLAMOUR IN ABU DHABI" on 9/19 in Abu Dhabi, where we'll be transferred by stretch limousine to the luxurious Emirates Palace hotel for cocktail & dinner prepared by some of the best chefs in the world.
The cruise company's info page for this 44-day segments can be found at: Oceania-Itinerary_and_Fares-44Day.PDF . A saved copy of the full 180day World cruise itinerary is at: Oceania-2015July-180DAY-Itinerary-and-Fares.pdf
You may use this MarineTraffic web page to track the current location of the Insignia ship.
Insignia is a mid-sized ship with 684-passenger capacity and a crew size of 400. She is identical to her two other sister ships, Nautica and Regatta. Oceania also has two larger ships, Marina and Riviera, each are about 1260-passenger capacity. Very often, Oceania's promotional cruise fare includes free airfare for US and Canadian guests. You may also request "air-deviation" for an additional fee, to arrive at the starting port a few days early, and/or to depart the ending port a few days later. But Oceania will give you a credit if you prefer to book your own air.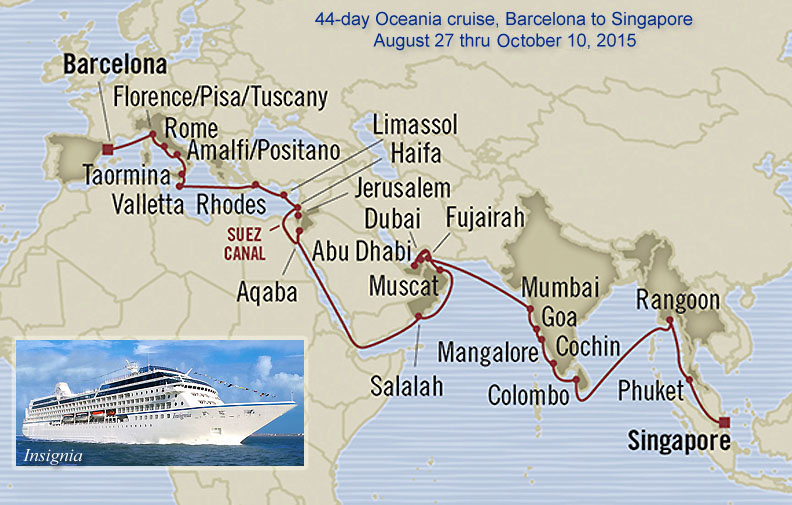 Our 44-day route cruises along the coastline of well populated lands. We'll be crossing the Mediterranean Sea, the Suez Canal, the Red Sea, the Gulf of Aden, the Arabian Sea, the Laccadive Sea, the Bay of Bengal, the Andaman Sea, and the Strait of Malacca. We hope to use the sea days to recuperate from the hectic schedule of the shore days, or to just relax and catch up on the latest world news as well as with friends & family from home.
Google Map:
Our customized Google map highlighting major sights in each port can be found at : https://www.google.com/maps/@21.8365273,56.2893656,4z/data=!4m2!6m1!1szS_vui45mFAA.kZd47n-BS--Y?hl=en-US
Transportation:
We are very happy with the air schedule Oceania booked for us, good connections and no early-morning flights:
Outbound: on KLM from Boston -->JFK --> Barcelona.
Inbound: on Cathay Pacific from Singapore -->Hong Kong --> Boston.
Online Resources:
Oceania's shore excursions are a bit on the pricy side (unless you have purchased many excursions, then you'll receive a bulk discount), that's one of the reasons many cruisers went on CruiseCritic board to form small-group private excursions of their own. However, if getting back to the ship in time (or safety) was ever a concern, then it is a good idea to book the ship's excursions.
We researched ahead of time for major sights and reputable local tour companies at each port, then chose or organized a private shore excursion for the port. A few ports are easy enough (or we have been to) that we plan to do the shore excursions on our own without contracting guides.
Linked below is our ports research document: http://www.tzengs.com/2015BarcelonaToSingapore/portResearch.htm . We have been sharing port research info with Frances and her husband Richard, two very experienced travelers from Toronto, Canada who are also on the Barcelona to Singapore segments. Frances and Mei-Ching have "known" each other for many years on the "TravelZine" discussion board. The four of us have formed plans to share many shore excursions together.
Money Matters (Cash, ATM and Traveler Checks):
With so much foreign currency to deal with, and with various local tour operators wanting to be paid in Euro / USD / local currency cash, we are bringing along crisp clean US bills in various denominations ($100, $20, $10, $5, and $1). We also brought American Express traveler checks to be cashed into USD on board the ship, because Oceania cashes traveler checks for its guests (up to $500/day) free of charge. We'll supplement by withdrawing local currency from foreign bank ATMs as needed.
---
Itinerary and highlights:
Day 1 - Embarkation in Barcelona (8/27/2015 Thursday):
The flights over to Barcelona was pleasant and uneventful. At BCN airport we (along with about 18 others) boarded a chartered bus from Oceania and then found out we were "kidnapped" for a two-hour city tour, because the ship could not check us in until after 1PM. So to fill the time Oceania gave us a two-hour sight-seeing tour of Barcelona despite our jet-lagged state.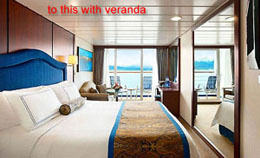 We were lucky to be upgraded to a 216-sq-ft stateroom with balcony. (Thanks to our Oceania agent Michael A.) The room picture to the right is from Oceania's website. We could not take a good photo of our room because the sun light outside the sliding door was too bright.

Figuring out how to connect to the ship's WIFI took a while. Many people went to the Internet Manager's office for help. The internet connection is slow in general. We brought a wireless mini-router to hook into our laptop computer to create a local hotspot in our room, so that multiple devices (iPad and iphone) can access WIFI at the same time.

The Terrace Cafe (the buffet restaurant on Deck 9) serves sushi and sashimi every evening. It also serves grilled jumbo shrimp and grilled lobster tail this evening, along with many dishes including white rice! We selected only a few items to sample and in small portions. Like Vincent said, "Everything is so good, but select only what you like, just like listening to music".

Day 2 - Sea Day (8/28/2015, Friday):

We are cruising along the coast of southern France toward Italy today, but we cannot see land at all. Therefore for this instance, the views are no difference whether you are on the left hand side or the right hand side of the ship. The blue sea is calm, it is a smooth sailing.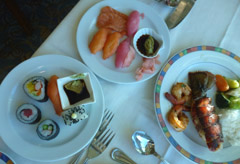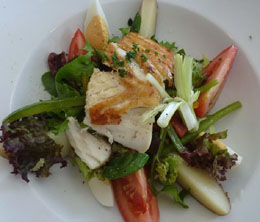 There was a M&G (Meet and Greet) meeting of CruiseCritic board members in the Horizon Lounge at 10am. About 60 people attended. It was very nice to match faces with names to those that we have communicated prior to the cruise - some with whom we have formed small private excursions together. One couple from Arizona have been cruising on the Insignia ship since March, they are sailing from Singapore to Singapore for a total of 204 days.

We met with Frances and Richard for lunch at the Main Dining Room. Three among us chose the Tuscan Bean Soup and then the Jacques Pepin Signature Niçoise

([ni'swaz], a style of the city of Nice, France) Salad with Grilled Halibut for main. The halibut, pictured to the right, was very good and not fishy at all, as all the fresh fish should be.

For dinner we went to the Terrance Cafe for sushi/sashimi and grilled lobster tail again. Pictured to the further right.

Tomorrow we port at Livorno in Italy, not far from Pisa.

Day 3 - Cinque Terre (Livorno, Italy) (8/29/2015, Saturday): From Livorno, most cruisers would visit Florence and Pisa. But we have been to these places, so we organized an excursion for 8PAX to Cinque Terre, the 5 villages in the Italian Riviera that Rick Steves promoted in his guidebooks.
We visited four out of the five villages. The walk from a parking lot to the village center was often a very steep slope, so everyone got a very good work-out.

We also rode a ferry to view these villages from the ocean. Looking at each of the villages carved out of the side of rocky mountains, it must have been very difficult to settle at these rugged location a long time ago.

Cinque Terre was very small, also a bit gritty in my opinion. I was glad to visit for a day, but for a longer vacation I'd prefer places more established, such as Lake Como or the French Riviera.

We chatted with Rosie in the evening, Rosie and her husband will be our teammates in Jordan's excursion to Petra. They live in Vancouver, Canada. Rosie told us that they have been cruising with Oceania since 2004 and this is their 20th cruise on Oceania. What makes her like Oceania so much? She said it is the food. She rated Oceania's food higher than its more expensive sibling, Regent of the 7 Seas.

Day 4 - Rome (Civitavecchia, Italy) (8/30/2015, Sunday):

Hot! Hot! Hot! We purchased a B.I.R.G. one-day train/metro/bus pass (12Euro) and took a train from the port to Rome on our own, because we have been to Rome a couple times already, there really were no must-sees for us. Vincent even contemplated staying on the ship for the day.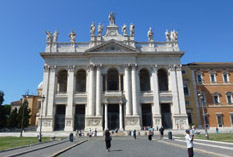 From Roma Termini we took a metro to see the San Giovanni in Laterano church (Archbasilica of St. John in Lateran). It is the oldest church in the West and ranks first among the five Papal Basilicas of the world. It is the official seat of the Bishop of Rome, who is the Pope. This was Rome's most important church through medieval time.
Next to the church is a building housing the Holy Stairs (Scala Santa), supposedly to have been walked on by Jesus. If you have seen videos of pilgrims ascending a staircase on their knees in Rome, it was in here.
After that, we were planning to go to Campo dei Fiori for a traditional meal that we enjoyed in 2012, but we could not hail a vacant taxi after standing by a street corner without shade or breeze for a while. At 98F, Rome was baked. The heat really got to Vincent, he was sweating profusely. So we changed plan, walked back to the metro station and took a metro back to Roma Termini, then connected to a train back to the port to our AC room on the ship.
We had dinner at the Terrace Cafe (sushi/sashimi and grilled lobster tail with white rice and steamed vegetable), and shared a table with a retired Canadian farmer couple just outside of Calgary. They are a few years younger than us, had sold their farm and are enjoying traveling the world.
Day 5 - Amalfi, Italy (8/31/2015, Monday):
We had breakfast at the outdoor terrace of the Terrace Cafe, in order to watch the ship sailing along the Amalfi coast. For a while, only the left hand side (the port side) of the ship had views of the houses clinging onto the mountain slopes. But after the captain dropped anchor, both sides of the ship had views to the costal towns.
We had to wait at the Insignia lounge to be called to tender to shore. It appeared the guests booked with the ship's excursions were called first. We waited for about 50 minutes to have our turn. Luckily, on this 44-day itinerary, only two ports are tendered, this one (Amalfi), and tomorrow's Taormina in Sicily.
With France and Richard, the four of us went on shore together. From Amalfi we got on a SITA bus to Ravello, a town sits 1000 ft above the sea. The drive up to Ravello along the curvy road was very scenic. In Ravello we visited Villa Cimbrone's "Terrance of Infinity" - a terrace adorned with marble statues and offers a killer view of the Coast of Amalfi and blue sparkling sea down below.
After Ravello, we took a return bus down to the town of Amalfi to visit its impressive cathedral. The town of Amalfi is small, but in its heyday (10th - 11th century) Amalfi was one of the four powerful maritime republics, controlling this region and rivaling Venice, Pisa, and Genoa.
Day 6 - Taormina, Sicily (9/1/2015, Tuesday):
Insignia dropped anchor off Giardini Naxos at 7am, 4 miles from Taormina. Taxis charged 25Euro one way from the tender pier to Taormina, and that was how we reached Taormina, sharing a cab with F&R.
We were in Taormina for 5 days with a Grand Circle tour in 2009. We had fond memories of that visit, thus we were curious to see if some of the restaurants we had enjoyed meals with sister Susan and brother-in-law Ken are still there, and if the two street singers are still performing at the same spot at noon. (The answers to both questions were YES.)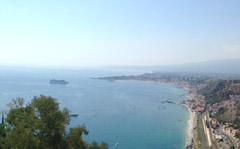 Taormina's main street (Corso Umberto) was very upscale and pleasant to walk on. We savored gelato in almond flavor. There are no almond gelato elsewhere that could rival the almond gelato in Sicily! Although today was 94F, the main shopping street had shades from the tall buildings lining the street, so it was not as bad as two days ago in Rome. Pictured to the right is our ship anchoring off Giardini Naxos. The picture was not sharp because the air was hazy.
At the April 9th square, we were happy to see the same two street singers singing. We did not take a video of them this time, but here is a 2009 video Vincent took of them singing the Godfather theme song: http://www.youtube.com/watch?v=Gztihe9L6Sk
Day 7 - Valletta, Malta (9/2/2015, Wed):
We set alarm to wake up at dawn to watch Insignia sailing in to Valletta harbor. Two mega ships were already in port, the MSC Fantasia and the Emerald Princess. Each of them have a capacity for at least three thousand guests, adding us (about 640 guests on board the Insignia), Valletta was very crowded this morning.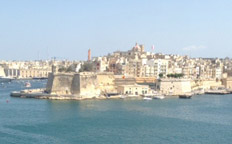 Valletta is the capital of the Republic of Malta. From 1814-1964 Malta was under British rule, that's why English is one of the official language here (along with Maltese). The island country's currency is Euro.
The Knights of Saint John set up their base in Malta in 1530, seven years after they were driven out of Rhodes by the Ottoman Sultan Süleyman the Magnificent. The Grand Master of the Knights of Saint John ruled Malta for more than 200 years (1530–1798).
The Grand Master's Palace (completed in 1577) is still the house of government in Malta, first by the knights, then the British and now hosts the President's office.
The Co-Cathedral of St John is a must-see. Although the exterior is austere, the inside is ornate Baroque with beautifully painted vaulted ceilings and inlaid marble floor. Today, many visitors come to this church to see its main attraction - Caravaggio's The Beheading of St. John , the artist's largest paining and the only one known to be signed. (In 1816 Pope Pius VII gave the church a "cathedral" status so that the single diocese of Malta had two cathedrals (the other one being St. Paul's in Mdina), hence the term co-cathedral. )
Mdina, the island's ancient capital until 1530, is about 30-min away by car. We had contemplated visiting Mdina with a taxi. But a few weeks ago when Insignia changed its schedule to leave port at 4pm (instead of 5pm), we decided to save Mdina for a future visit.
Tonight we turn our clock 1-hour forward, changing from Central European Time Zone to Eastern European Time Zone.
Day 8 - Sea day (9/3/2015, Thursday):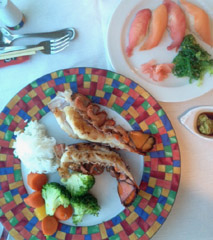 Today is a well-deserved sea day. We have had 5 shore days in a row, so for a change of pace we could sleep late today.
The weather has been hot and humid in the past five days. All our clothing were wet from sweat when we came back to our room from an excursion. It is a very good thing that we received free laundry service as a perk. And yes, it is true that shirts, pants and even T-shirts came back pressed and on wire hangers.
Afternoon tea is served daily from 4 to 5pm in the Horizon lounge accompanied by a string quartet. We tried to only take tea but not sweets, so as not to spoil our appetite for dinner.
Speaking of dinner, since Terrace Cafe serves sushi/sashimi, grilled lobster tail and grilled shrimp every evening, we have been taking dinner at the Terrace Cafe everyday. Pictured to the right is Mei-Ching's usual dinner selection - a small plate of sushi/sashimi with seaweed salad, a plate of two grilled lobster tail halves with steamed vegetable and white rice. After that, if she still had room she might have a taste of other things such as fried calamari, escargot or grilled sea bream etc. Roast meat, steaks and lamb chops were always on offer, but neither of us had room for those.
Day 9 - Rhodes, Greece day (9/4/2015, Friday):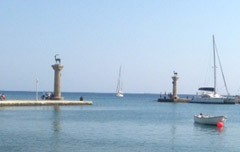 We visited Rhodes in 2012 with a Royal Caribbean Cruise ship and spent the day inside the walls of the old town. So this time we went beyond the old town to the Mandraki harbor. In use since the 5th century BC, Mandraki harbor was the main harbor for Rhodes for over 2500 years.
Pictured to the right in Mandraki harbor is the two bronze deer statues standing on two columns marking the site where once stood the feet of the Colossus of Rhodes. However, modern engineering declared it was impossible to build a giant statue with legs straddling so far apart, and that it was more likely that a statue stood on the site of one of the columns.
From the TI office in the New Town we hopped on a Hop-On-Hop-Off sightseeing bus for a tour of the city of Rhodes. On the west tip of Rhodes' New Town there were sandy beaches and luxury resort hotels. The shades of the Mediterranean sea along the beaches were amazing, from green-blue to blue to dark blue.
In the afternoon Mei-Ching went to the old town while Vincent stayed in the cool air-conditioning room on the ship. Rhodes was steep in history with the Crusaders. In 1309, the Knight of St. John - an order of the Knights Hospitaller of Jerusalem - claimed Rhodes as their headquarters, and transformed it into a bustling medieval walled town, governed by their grand master. Rhodes became a magnet for knights coming from all over Europe, who gave the city a cosmopolitan appearance. The highlights in the old town include the "Street of the Knights" and the "Palace of the Grand Masters", which you may view from our photo taken in 2012.
In the old town Mei-Ching bought a colorful light-weight folding umbrella (for sun) as a souvenir, hoping to get a good use later when we visit the Middle East and India. The lady shop owner asked Mei-Ching how many days she had been on the ship already and how much it cost to cruise for 180 days, then was surprised to hear back that not everyone from the ship was on a 180day cruise. She made a facial expression as if she could only dream of cruising the world for 180 days.
In the evening we went to the head liner show, "Tribute to the music of Frankie Valli & The Four Seasons". The male vocalist sang familiar songs including "Too Good To Be True", "Big Girl Don't Cry", "My Eyes Adore You". Everyone loved the show because these were the pop songs from most of the audiences' era, the 1960's.
Day 10 - Limassol, Cyprus (9/5/2015, Saturday):
Cyprus was settled by Mycenaean Greeks before 1000 BC. By being in a strategic location of the Middle East, it had been subsequently occupied by foreign major powers including three centuries of Ottoman rule from 1571 to 1878. After that, the island was placed under British administration.
In the 1950's the Great Britain agreed to the creation of a Turkish state in the northern part of the island thus partitioned the island into two political entities. The southern part gained independence from the Great Britain in 1960 and became the Republic of Cyprus. The Republic of Cyprus is an EU country, the currency is Euro. The official languages are Greek and Turkish. Today, drivers in the Republic of Cyprus drive on the wrong side of the road (same as in UK). The Great Britain still maintains a small army (1000 strong) on the island country.
Cyprus has a few archaeological sites that interested us. With Frances and Richard, we contracted a private guide to take the four of us on a tour of its archaeological sites. We visited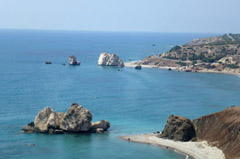 1) the Kourion (Curium) - An ancient Greco-Roman site with an excavated Greek theater that is being used today.
2) Pétra tou Ro̱mioú - "Aphrodite's Rock", Aphrodite is the Goddess of Cyprus. It is said that she was born from the waves at the site of these rocks. We asked our guide if we were to choose only one photo to represent Cyprus, which should we choose. Without hesitation, he said, "The Aphrodite's Rock of course, because she is the goddess of Cyprus." Thus, to the right is a picture of the "Aphrodite's Rock".
3) Paphos (or Pafos) - the ancient Hellenistic city is located at the western edge of the island and is a UNESCO site. We went to the Paphos Archaeological Park to see the excavated mosaics. Although the scale is not as big as Villa Casale's in central Sicily, the beauty and craftsmanship is no less than Villa Casale's.
4) Kolossi Castle - ruins of a small castle which once upon a time (1302-1310) served as the headquarters for the Knights Templars (and later for the Knights of St John) after they were driven out of ACRE (AKKO) and before setting up the command center in Rhodes.
Day 11 - Jerusalem (Haifa), Israel (9/6/2015, Sunday):
Today's excursion to Jerusalem was a highlight for us. We were in a 16-person group formed on CruiseCritic board to visit only Jerusalem with a local tour company. No Bethlehem, nor Dead Sea, nor Masada, because they would take time away from our already too short a visit to Jerusalem.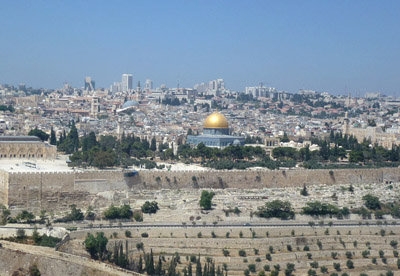 A 20-passenger minibus with a 55-year-old energetic motherly guide (Micki) and a gentle Arabic Muslim bus driver were waiting for us at Haifa terminal at 8am. One way drive from Haifa to Jerusalem was more than 2 hours, because the traffic near Tel Aviv was usually very bad. We left our ship at 8am, and arrived back at 8pm, this was a jam-packed long day.
Micki not only took us to a local eatery in Jerusalem for a delicious lunch of authentic falafel and chicken shawarma (for a sandwich in pita bread + a cold drink + French fry, Micki told us to pay the shop keeper $10 USD each) she also took us to visit many great historical sites, including:
Mount of Olives - One of the three peaks of a mountain ridge just east of the Old City of Jerusalem. Jesus was described to have ascended to heaven from here. (From here we had great panoramic views of the golden Dome of the Rock, Temple Mount and the old city of Jerusalem, pictured to the right.)
Temple Mount - is the holiest site in Judaism. According to the Bible, both of the Jewish Temples stood at the Temple Mount. The first Temple was built around 957BC and the 2nd Temple was built around 516BC. According to the Bible, the site functioned as the center of all national life—a governmental, judicial and religious center. The golden dome is called Dome of the Rock, built after Muslim conquest of Jerusalem in 692AD, and occupying the area where the Holy Temple previously stood. Inside the Dome is a rock of great religious significance to Jews, Christians and Muslims. Therefore this has been the most contested religious site in the world between Judaism and Islam.
Garden of Gethsemane - a garden at the foot of Mount Olives. It is said that Jesus and his disciples came to pray on the night of his arrest. The name Gethsemane is derived from the Aramaic word, meaning oil press.
Via Dolorosa - "Way of Suffering", Jesus supposedly carried the cross and walked along these streets out of the city walls to his crucifixion. We walked from the 5th station on to the church of Sepulcher described next below.
Church of the Holy Sepulcher - the site where Jesus is said to have been buried and resurrected. This church was built on the spot where Jesus was buried, and was outside the old city wall at that time, because Jews were not allowed to be buried inside the city walls.
Western Wall / Wailing Wall - referring to the western segment of the retraining walls of the Temple Mount. Men and Women have separate praying area.
We also walked through the Christian, Jewish, Armenian and Muslim Quarters of the old city, as well as the Arab Souk and Roman Cardo. The old city is very attractive and not crumbling at all. Micki said the Israeli government had to rebuild many parts of the old city after 1967 when they regained control of the old city.

Day 12 - Haifa, Israel (9/7/2015, Monday):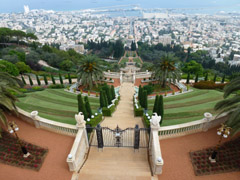 We were planning to visit ACRE (AKKO), 40-min by train in the north, which was an important Crusaders strong hold and served as the capital of the Kingdom of Jerusalem for 100 years from 1191 to 1291. But three weeks before sailing, Insignia changed schedule to depart from Haifa port at 1pm instead of 4pm, causing us to scrap the plan and spend the half day in Haifa instead.
From Haifa port we shared a taxi with Frances & Richard to Baha'i Gardens - it is the world center for the Baha'i faith founded in the 19th century. From a view point on Mount Carmel above the gardens we had beautiful panoramic views of the terraced gardens and the city all the way to the port. (Pictured to the right.)
We negotiated fares with taxi drivers in US dollars, thus we were able to sight-see this morning without obtaining local currency, the New Shekel. A taxi driver at the port told us that he could take us to ACRE in 30 minutes and wait for us, for a round trip of $150 per car. If we had known that, we could have started the day early and got to see ACRE and back. Oh well, a reason to come back to Haifa in the future.
In the afternoon we attended a lecture about the digging of the Suez Canal, in preparation for tomorrow's passage.
There was a drill before dinner about cruising through an area known as High Risk Area (HRA) for Piracy in the next 7 to 10 days. One of the things we have to do is to reduce the ship's external lighting in the night, therefore we have to close the curtains of our cabin. During the drill we were told that in case of a pirate attack, we were to stay away from windows, and go to a central hallway area. May be we were all brave souls to book this segment of the cruise!
Day 13 - Suez Canal Transit (9/8/2015, Tuesday):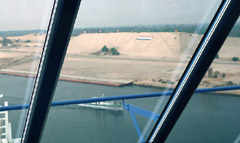 The Suez Canal project was engineered by the French and funded by a privately formed international for-profit company called "The Suez Canal Company". Work started in 1859 and took 10 years to complete. The Canal connects the Mediterranean Sea in the north to the Red Sea in the south. There are no locks, sea water flows freely between the two seas.
Insignia entered the Suez Canal from Port Said in the north at 4:30am. It took 11 hours to transit the length of the Canal to the Red Sea. The outside elements were so high in humidity that in the early morning our windows were fogged up and the deck and railing were all wet. It just showed that this is not the right time of the year to visit Egypt.
The western side of the Canal (toward the Cairo side) is more developed. From our ship we could see green trees, highways, trucks, railroads, ferries, even big cities, as well as houses, hanging laundries and streets. On the eastern side, it was sand and desert, dotted with a few houses far in between.
This morning was also the first time we saw many flies on the terrace of the Terrace Cafe. Many of them even flew into the closed restaurant area through the automatic opening doors. The flies in this area could smell food and fly to Deck 9 of a cruise ship! Don't know how the crew will manage to eradicate them before lunch time.
A Japanese gentleman chatted with us yesterday because he overheard we were originally from Taiwan. He has been to Taiwan, and is reading a book about Taiwan ("台灣紀行" by 司馬遼太郎) during this cruise. He lives in California now. Thus we invited Mr. and Mrs. Motoshige (本重) to share a table for lunch in the Grand Dining Room. Mrs. Motoshige is a graceful lady, she was born in Mexico from French/Spanish (and a bit of Arabian) heritage. Between the two of them they converse in three languages, English, Japanese and Spanish. We had a good time chatting about families and personal experiences.
Day 14 - (Sea Day) Cruising the Red Sea (9/9/2015, Wednesday):
A day to enjoy gourmet meals and relax. Attended two lectures in preparation for visiting Petra in Jordan tomorrow.
Day 15 - Aqaba, Jordan (9/10/2015, Thursday):
We booked a private excursion for four to Petra + Wadi Rum with a local tour company named Petra Nights Tours (PNT). Our teammates for today are Rosanna and George from Vancouver, Canada, who joined our excursion through our post on the CruiseCritic board back in January.
An 8-seater air-con van with wifi and a driver waited for us outside the ship at 6AM. The driver, Ahmet, told us that PNT is based in Amman (the capital) and he had left Amman at 12:30am this morning, arrived at Aqaba at 4:30am, washed the car, vacuumed the carpet, then waited for us at the pier before 6am. Today he would drive 2 hours to take us to Petra, then 90 minutes to take us to Wadi Rum, then drive 60 minutes to take us back to the ship, then he would drive 4 hours to go back home to Amman. Needless to say we were a bit concerned, thus kept chatting with him to make sure he was wide awake while driving us. (Of course he could have a shut eye later when we were with our Petra guide for 5 hours, and when we were with our desert jeep driver for 90 minutes. Ahmet said he does this kind of trip about once a week.)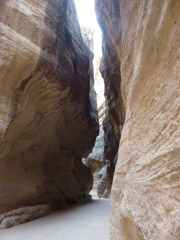 We spent 12 hours today visiting 2 sites, Petra and Wadi Rum. PNT included a lunch buffet for us at an upscale restaurant near Petra's Visitors Center, and also gave us guidelines on how much to tip (in USD$) the guide inside Petra, the jeep driver in Wadi Rum, and the company's own driver, Ahmet.
Jordanian currency is Dinar, which is pegged to the USD, therefore the conversion rate does not fluctuate. 1 Jordanian Dinar = 1.41 USD. Our entrance admission to the Petra Archaeological Park alone is 50 Dinar (~ $70 USD) per person. Ahmet told us the admission is only 1 Dinar for the local.
Petra (the word "petra" means rock) - Constructed some 2,200 years ago by the ancient Arab tribe of the Nabataeans, it is a breathtaking archeological site. This ancient city carved into solid red sandstone mountains features temples, a monastery, tombs, a columbarium (a building with niches for funeral urns), monuments and grand boulevards. Petra was rediscovered by the Western World in 1812 when the Swiss explorer Johann Ludwig Burckhardt visited the ruins by disguising as an Arab.
- Petra "Siq" (Sig means gorge) is the mile-long narrow and deep tunnel entrance to the ancient city. The 1989 movie "Indiana Jones and the Last Crusade" (corrected by Dennis) shot in location here. (Pictured to the upper right.)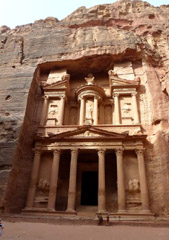 - The "Treasury" is the most recognizable photo of Petra, but the whole Archaeological Park is much larger than that. The treasury, a beautiful facade carved into the sandstone, is believed to have been used for funeral ceremony purpose. (Pictured to the lower right.)
- The Bedouins tribe members were the last actual residents of Petra. In a move still considered controversial, they were made to leave the ancient city in the 1980's and were resettled nearby.
Our local guide in Petra was a fit and trim man with long legs. He is 42, but looked 28. He walked in such a brisk pace that we needed effort to keep up with him. The weather was HOT HOT HOT, more than 100F by noon. We walked about 75% of the main trail of the Archaeological Park, stopped at where we could see the Royal Tombs to our right and told our guide that we would part ways with him there, because we were turning back to the Visitors Center to find our driver Ahmet (and his air-con van). The walk today inside Petra was 4 hours total, with the last two hours under extreme heat. Vincent has low tolerance for heat, he was near exhaustion when we made it back to the Visitors Center. We heard Frances (on a different excursion with all day spent inside Petra) also felt sick under extreme heat and sweating.
Wadi Rum, (Wadi= valley. Rum means 'high' or 'elevated'), is a desert with sandstone mountains and canyons. We had a 90-minute jeep ride in the desert arranged by PNT for us.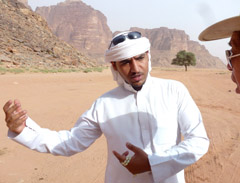 A young handsome Bedouin man in white robe and Arabian head dress took us over from Ahmet (at a pre-arranged highway stop) into his Toyota jeep for a ride in the vast desert. The jeep did not have a working air conditioning, because air conditioning does not last long in a sandy desert environment.
British officer T. E. Lawrence was based in Wadi Rum as a member of the British Forces of North Africa serving as a liaison officer with rebel forces during the Arab Revolt of 1917–18 against the Ottoman Turks. Wadi Rum appeared in T. E. Lawrence's autobiographical account "Seven Pillars of Wisdom". Our Bedouin guide stopped the jeep at a wide open area and told us it was here that David Lean shot much of his 1962 movie "Lawrence of Arabia". (Pictured to the right.)
We had fun talking with our Bedouin guide on the jeep ride back (to meet with Ahmet at the same highway stop). We asked him where he lives, if he is married (no), how much it costs to marry a wife (50,000 Dinar), how many wives a man can have (at most 4, at the same time) etc. He asked if we have any daughters (none), and said if we could help him find a wife he would give us 5 camels. We asked how much a camel is worth, does a girl have to bring a dowry (no, the man prepares everything) etc. The conversation was so lively with plenty of laughter that we forgot the jeep was hot without air-conditioning. At the end we gave him a generous tip because we really enjoyed the conversation with him.
Overall, we were very happy with PNT's arrangements and professionalism.
Day 16~19 - (Sea Day) Cruising the Red Sea and Gulf of Aden (9/11 ~ 9/14/2015):
There are many activities planned by the cruise director on sea days. One may choose to attend as many or as little as one wants.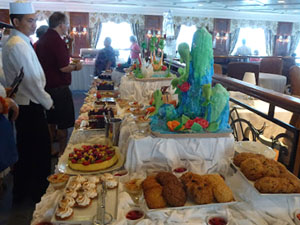 We used sea days to go to specialty restaurants for dinner. One is called Polo Grill, a steak and seafood restaurant; the other is called Toscana, an Italian restaurant. There are no additional charge to dine in a specialty restaurant, but reservations are required. The food and services are comparable to a high-end restaurant on land.
The Grand Dining Room hosted an elaborate Sunday Brunch on Sunday morning, complete with ice sculptures and icing sculptures and accompanied by a string quartet. The staff do this about once per segment, on occasions when there are several sea days in a row. Pictured to the right was the dessert station.
A female vocalist entertained us one evening. She sang several popular songs beautifully, including Etta James - "At Last", Peggy Lee - "Fever", Eva Cassidy's version of "Summer Time", Tina Turner - "Rolling on the River", and Barbra Streisand - "Somewhere".
We turned clock 1-hour forward, changing from Eastern European Time Zone to Gulf Standard Time Zone. (Persian Gulf, that is.) We are now 8 hours ahead of Boston.
Day 20 - Salalah, Oman (9/15/2015, Tuesday):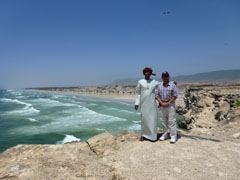 The country name Oman is pronounced as [o-MAN], and the city name Salalah is pronounced as [sa-LA-lah].
Salalah is Oman's second-largest city. Salalah and Dhofar (the province it is in) are historically famous for the Arabia's frankincense trade.
Due to the monsoon clouds of India bringing a constant drizzle to the area several months a year, Salalah is very green.
We booked a half-day tour of eastern Salalah with OmanLastMinute for 4PAX in a jeep. We wanted to see the countryside scenery because on our next port of call, Muscat (the capital of Oman), we have already booked a tour to tour the city. On the drive east along the coast of the Arabian Sea, we saw soft white sandy beaches and lush greens of coconut trees, banana trees, and green mountains. (Pictured to the right is Vincent with our Omani driver.)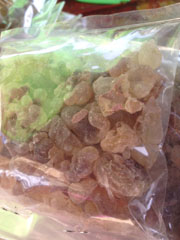 While chatting with our driver, we learned that the majority of Oman's tourists came from other Arabian countries. For the Omanis, medical care and education are provided free of charge by the Sultan, but most people's (at least in the Salalah area) income level are low, and may not have a steady income. Since Oman has a relatively high national average income, perhaps it will be different in the capital city of Muscat.
We visited Khor Rouri (Khor=creek, site of ruins of Sumhuram archaeological site ) - this was ancient capital of Arabia's Frankincense trade. Between 300 BC to 500 AD, the port thrived due to its key location in the middle of the flourishing frankincense trade. Frankincense was traded on a route as far as Rome, Indian, China and Africa.
Mirbat - this was an old port city of Arabian horses and slave trade. We visited the Mirbat Fort which now doubles as a Tourist Information office.
We saw a frankincense tree, and learned that frankincense is extracted similarly to tapping a maple tree. Slivers of tree barks were skillfully removed for the white sap to flow to the surface to dry, then the hardened resin were harvested. Our driver told us that frankincense extracted from a male tree are greenish, while white to pinkish from a female tree. Our ship's lecturer said a few days ago that the light-colored frankincense are of better quality than the dark-colored ones.
With our guide's help, Frances bought a small bag of frankincense at a Salalah market for 3 Omani Rial (about $8 USD), pictured to the right. The shop keeper burned some frankincense on a little burner for us to smell its fragrance. It was not a smell we were familiar with, nor attracted to, therefore we did not purchase any.
Day 21 - (Sea day) Cruising the Arabian Sea (9/16/2015, Wednesday):
A day to relax before visiting Muscat tomorrow.
Chatted with two sisters cruising for 180 days together. They must be at least in their 80's. This is their first cruise on the Oceania. They said they had been happy with Holland American, but after hearing good things about Oceania they decided to give it a try, and are enjoying it.
The evening show featured a Japanese classical pianist. We were not a group of demanding audiences at all, so it was easy for her to please us.
Day 22 - Muscat, Oman (9/17/2015, Thursday):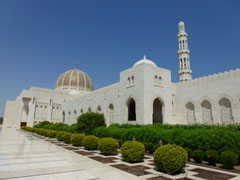 Muscat is the capital city of Oman. Of the 7 million Omani, 3 million live in Muscat.
Unlike Dubai or Abu Dhabi, Muscat stands for completely different values: tradition, history, restraint. We have been reminded again and again that in order to visit the Grand Mosque in Muscat, women must wear loose long pants or long skirts and long sleeve shirts, with hair covered in scarves. Men need to wear long pants.
We booked a 4-hr Muscat city tour for 4PAX with OmanLastMinute. Just like in Salalah, it took us a while to find our driver. This time it was because when we exited the cruise terminal building we thought we were at the "port gate", where our driver was supposed to meet us. It was only after we spoke with an English-speaking shuttle bus driver who told us that the port gate is another 10-min walk away, or take a shuttle to the port gate, because drivers for independent tours could not come inside the gate. Before leaving home we had signed up a Passport International Plan with AT&T on one of our iPhones, and it has come in handy for emergency phone calls in three ports already, including this one.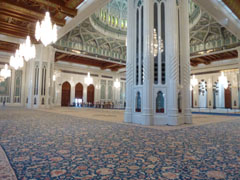 Muscat is very modern, but not flashy. Our guide took us straight to the (Sultan Qaboos) Grand Mosque - The Grand Mosque is open to non-Muslims from 8:30 to 11:00am. The mosque is surrounded by a beautiful garden/park. It has the world's second largest single piece carpet (hand woven, the carpet measures over 70 × 60 meters, and covers the 4,343 square meter area of the praying hall; surpassed only by the carpet in the Grand Mosque of Abu Dhabi). The Grand Mosque took 6 years to build and was inaugurated in 2002. The whole complex, including the marble floors outside the main halls, can hold 20,000 prayers. Pictured to the right top is the Grand Mosque, and the right bottom is the giant carpet inside men's praying hall.

We also visited Bait Al Zubair Museum (bait=house), which displays a fine collection of Omani artifacts, including men's and women's dresses from different regions of Oman, house furniture, and an old house. The women's dresses on display were all very beautiful and richly decorated, they must be for special occasions, not every-day wear.

We ended up at Muttrah Souk where we asked our guide to go in with us for 15-min. Frances purchased a bottle of rose oil (to be used as perfume), and Vincent purchased an engraved copper coffee pot which reminded him of Aladdin's magic lamp (from the Book of One Thousand and One Nights.)

We also drove through (but did not get out of the car, because it was too hot and humid outside) the beautiful waterfront called Corniche, and the Al Alam Royal Palace which can only be viewed from afar anyway.
The evening's show featured crew members. Not only are many guests disembarking in Dubai in two days time, many crew members are also leaving the ship to go home for 2 - 3 months break before rejoining the ship again.
Day 23 - Abu Dhabi, UAE (9/18/2015, Friday):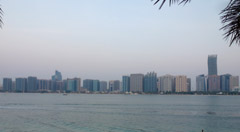 The United Arab Emirates is a confederation of seven emirates (酋長國, regions headed by a sheik or emir). The capital of the United Arab Emirates, Abu Dhabi is the largest and wealthiest of the nation's seven emirates, covering 80 percent of the land mass of the U.A.E. including part of the world's largest uninterrupted sand desert with towering dunes.
Abu Dhabi's culture is rooted in Islam, but all faiths are respected and protected by the constitution. The dress code is liberal, and Western wear is common, though native Emiratis often choose to wear their national dress.
Upon arrival, Abu Dhabi welcomed us with free shuttles to the Marina Mall. We took one to the mall. The endless sky scrapers along the multi-lane highway hugging the beautiful Corniche (the park-lined sea-shore) gave us the first glimpse of a modern and contemporary oil rich city. The picture to the right is hazy because the air was hazy with very high humidity.
The Marina Mall itself is just like any huge high-end mall, marble floor and cool air-conditioning. We found a money changer in the mall to exchange money, $100USD = 365 Emirati Dirham (AED), very close to the conversion rate published on internet, so we were happy.
From the Marina Mall we hopped on a taxi for a short ride to the Heritage Village where the nomadic Bedouin life-style and local traditions were recreated. We were very glad that we chose to visit this site in the cooler evening, because even in the evening the temperature was still 107F and very humid. However, if you plan to visit Dubai, then you may go to the Dubai Museum and skip this one. Dubai Museum has a much better display than here.
Day 24 - Abu Dhabi, UAE (9/19/2015, Saturday):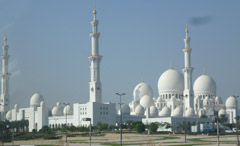 With Frances ad Richard, the four of us had an early start. We hopped on a taxi at the pier and arrived at the Sheik Zayed Grand Mosque before 9am.

Sheik Zayed Grand Mosque - Upon seeing this massive white mosque with four tall minarets and many domes, the words out of our mouths were "Wow!" and "Stunning!".

We rented (FREE with ID) audio guides and toured the mosque on our own. The mosque is flanked by reflection pools and surrounded by forest of marble pillars inlaid with semiprecious stones with gold tips.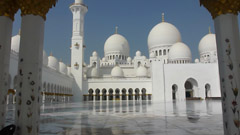 The main prayer hall can hold 7000 worshipers, and has the world's largest hand-woven carpet made in Iran of wool from New Zealand. (It was divided into nine pieces and flown here in two separate planes, then workers completed the carpet onsite.) The marbled courtyard can hold 32,000 worshippers.
After a long break at the mosque's coffee shop for cool ice coffee and free internet we took a taxi to the WTC (Abu Dhabi's World Trade Center) to browse its souk selling traditional spices, frankincense, clothing and souvenirs.
Taxis in Abu Dhabi are metered and very inexpensive. The first two drivers we had were female drivers. One of the driver was from the Philippines, the 2nd one we did not ask. The 3rd driver was a man from Nepal. The decision to take taxis on our own today was a good one, because taxis are plentiful, metered, and the drivers speak English. It also allowed us the freedom to linger at a site without being rushed.
The night out to the luxurious Emirates Palace Hotel was not planned very well logistically. First of all, Oceania used 15 stretched limos to transport about 170 invited guests, but could only bring 3 limos to the port gate at a time, so some guests had to wait (in the cool lounge, fortunately) for almost one hour to get into a limo. Secondly, limousines are really not comfortable because the ceilings are low it was difficult to climb in and out, and the windows are so tinted that we could not see outside very well. Thirdly, by the time we reached the hotel it was already dark, we did not get to see the hotel's beautiful grounds as we approached it. We were dropped at the front door and guided to the cocktail area down on the 1st floor. VT and MC wandered to the 4th floor lobby to take a look at the marble, chandeliers and art work on display. We did not get to see its private beach. The dinner was superb, we had chilled lobster in a creamy cocktail sauce for appetizer. MC's main course was prime beef, foie gras and black truffle; while VT chose a roast salmon with caramelized cauliflower, capers, raisins, almonds and cauliflower puree.
We heard that Oceania used to do this event by transporting guests to the Emirates Palace hotel in big buses. They should go back to using big buses. Not only will the big buses be more comfortable, they will also get people to the hotel sooner, affording guests with time to enjoy the hotel's beautiful grounds before dark.
Day 25 - Dubai, UAE (9/20/2015, Sunday):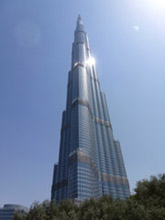 Today was a very busy day for the ship's crew. Many guests are disembarking in Dubai, and many new guests are joining the cruise. Some crews are going home, and new crews are joining the ship in Dubai too.
Dubai is UAE's commerce center. It is glitzy, boasting the world's tallest building, the world's tallest hotel, the world's biggest mall, the world's largest dancing fountain, .... etc. Dubai is only 90-min away from Abu Dhabi by taxi.
The four of us (with F & R) toured Dubai by taxis today. Our taxi driver told us that about 80% of Dubai's population are foreign workers.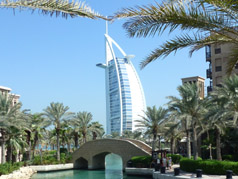 Burj Khalifa - (Burj = tower) at 828 meters and 165 floors, it is the world's tallest structure (pictured to the top right), over 300m taller than Taipei 101. The observation deck requires a timed-ticket, so we did not plan for it.
Burj Al Arab (sail-shaped) - The sail-shaped hotel is no longer the world's tallest hotel, nor a 7-star hotel. (It is only a 5-star, our Indian taxi driver wanted to make sure we know that.) But the hotel still commands a very high price tag for its suites. (There are no standard rooms, only suites.) Entry to the hotel requires a reservation (at the hotel, at a bar or restaurant) which will be confirmed at the entry gate. Therefore we took taxi to a view point to take photos of the building. [NOTE: The honor of being the world's tallest hotel has been over taken by a luxurious Marriott Hotel in downtown Dubai.]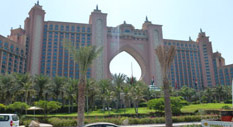 The Palm Jumeirah - the Palm island is a group of man-made islands extended into the sea. There are many luxurious apartments and resort hotels including an Atlantis hotel, pictured to the 3rd right.
Dubai Fountain - the world's largest dancing fountain, located on a 30-acre man-made lake in downtown Dubai. However, due to the sudden death of the 33-year-old son of the Sheikh of Dubai yesterday, all the celebratory activities in Dubai were halted, therefore the fountain show was halted when we were in town.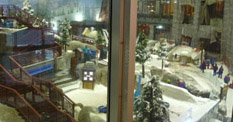 The Mall of the Emirates - this is not the world's largest mall but it has an indoor ski slope. We saw many children wearing winter jackets skiing or sledding in the winter-wonder-land (pictured to the 4th right). Its a nice way to beat the heat outside.
The Mall of Dubai - this mall boasts more than 1200 stores and eateries, a walk through aquarium, huge waterfalls, an ice skating rink and the Dubai Fountains near by. Perhaps the world's largest mall.
Day 26 - Fujairah, UAE (9/21/2015, Monday):
Fujairah is a humble relation to Abu Dhabi and Dubai. Our guidebook says Fujairah is blessed with fine beaches and offers excellent deep-sea fishing and snorkeling activities.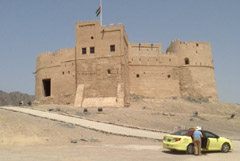 Fujairah welcomed us with free shuttles to a city mall. From there, we found an English-speaking Bangladeshi taxi driver to take us for a tour. We went to the Fujairah Museum, visited the 350-year-old Fujairah Fort (pictured to the right), visited a fish market where we saw very large shrimps and very thick fatty sepia. We also went to the Friday Market which opens every day of the week and is very far out of the city center therefore should be skipped. While driving in the city, we saw the new gleaming white Sheikh Zayed Mosque still under construction, as well as the Sheikh of Fujairah's palace and government buildings.
In summary, there was not much to see in Fujairah. It would be a better use of our time to stay one more day in Dubai and skip Fujairah.
Day 27~28 (Sea Day) Cruising the Arabian Sea (9/22 ~ 9/23/2015):
Leaving the Middle East behind, we have two sea days to relax and to prepare for visiting India.
There was a CruiseCritic M&G meeting at 10am to meet members cruising for the new segment. A couple from Reading in UK was very happy to meet with us - people from Reading Massachusetts.
We also moved clock 1 hour and 30 min forward to be same as Mumbai. Mumbai is 9.5 hours ahead of Boston in summer (Daylight Saving Time).
Day 29~30 - Mumbai, India (9/24 ~ 9/25/2015, Thursday ~ Friday):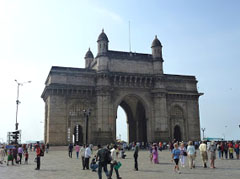 We did not know what to expect of India, especially Mumbai, because we read that it is both modern and old-fashioned, rich and poor, beautiful and ugly, all of India concentrated in one city.
Still "Bombay" to locals, Mumbai is not only India's largest city, it is also one of the largest cities in the world (nearly 20 million are crammed into 1,600 sq miles). It is NYC with British Victorian colonial architecture.
Where Mumbai stands now there were once seven islands. They passed into the hands of various Hindu and Muslim rulers and in 1534 were seized by the Portuguese, who named them Bom Baia, meaning "Good Bay." They became British in 1661, and the name morphed into Bombay. In 1668, Bombay was leased to the East India Company, the islands were joined through land reclamation projects, and the city became an important trading port under the British Raj. India gained independence from Britain in 1947. Today, the income generated from the city of Mumbai is 40% of the national income.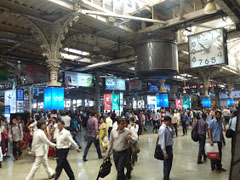 Mumbai was not as oppressively hot as in the Middle East a few days ago. We booked 2 days of excursions with Mumbai Magic for 6PAX. A very comfortable air-conditioned van with a driver, and a well-educated middle-aged woman guide, Sancia, lead us for two days' exploration of the city. We saw a lot, the highlights include:
Gateway of India - near the cruise port, built by the British to commemorate the visit to India in 1911 of King George V and Queen Mary. When we saw it the gateway was covered in a layer of soot, not in the bright Terre-cotta color we had seen in photo books. (Pictured to the right, top.)
The Taj Mahal Palace hotel - across the street from the Gateway of India, it was built by a rich Indian to provide a luxurious place for the wealthy Indians to stay and social. It opened door in 1903 and is an attraction in its own right. In 2008, the hotel suffered a terrorist attack. Sancai took us in to browse its elegant lobby and shops, as well as to use its restrooms.
Victoria Terminus - built in 1887 by the British, it is the central train station of Mumbai, 3.5 million people passed through this station every day. Sancia purchased platform tickets so that we could go to the platform to watch the activities. (Pictured to the right, 2nd from top.)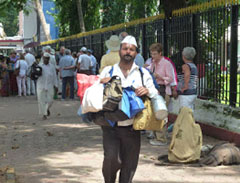 dabba walas (lunchbox delivery, dabba = lunch box, walas=carrier) - we went to the Churchgate station to see them in action. 7000 people working in a network to deliver 250,000 home-cooked lunch boxes everyday from homes to offices in Mumbai. In the afternoon, they reversed the process to collect empty lunch boxes from offices and return them to their origins. The service cost about $10 USD per month, and are used by mostly middle-class families. Most of the 7000 carriers came from the same village, they are not educated but need to be able to read codes on each lunch box to put them on the correct trains, and then different teams will pick up the lunch boxes from train stations and deliver them to offices. A carrier's income, according to Sancia, is about USD$300 per month. (Pictured to the right, 3rd from top, a dabba walas was delivering lunch boxes from train station to offices.)
Dhobi Ghat - a well known open-air laundry in Mumbai. They used to do laundry for hospitals, hotels and some homes. But now most everyone has washing machines, so they now do the pre-shrunk washing for manufacturers. We saw many blue jeans hanging on the lines to dry. Next time if you buy a pair of pre-shrunk Levi jean made in India, it may have been through a wash in here.
Museum of Gandhi - the home of a wealthy diamond merchant who loaned it to Gandhi whenever he came to Mumbai. A series of dioramas tells a very moving story about Gandhi's life.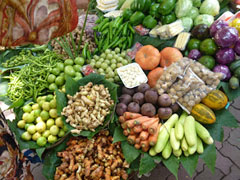 Regarding to women's status in the society, Sancia said that when Rajiv Gandhi - Indira Gandhi' son, serving as India's prime minister from 1984 to 1989 - was in power, he passed a legislation to give girls free education through college level, provided that the family has no more than 3 children. This has a two-fold effect, it not only elevates girls education and esteem, but also encourages families to have no more than 3 children. As a result, there are more girl students in universities than boys today.
We also visited fruits and vegetable markets as well as flower markets and bakeries. We saw many guava fruit (番石榴), large and small, some are prickly with red meat inside. While growing up in Taiwan we ate guava often. They smelled so familiar and tempting, but I was not sure if we were allowed to bring fruits back to the ship (to wash and eat).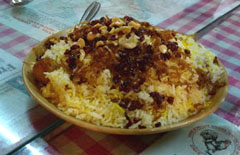 Sancia took us to local eateries for quick and inexpensive lunches. The first day we ate Indian food (Dosa, chicken lemon rice, etc). The second day we went to a Parsi restaurant called Britannia, which has been in business since 1923. Parsi are Iranians who were persecuted due to religion and moved to India many centuries ago. We had Chicken Berry Pulav (pictured to the right bottom, Pulav = rice pilaf) and Chicken Dhansak (chicken in curry gravy scooped over rice) etc. Both times she ordered different dishes for us to share, and she also ate with us. At the end of the meal we just split the bill. They were all delicious, we enjoyed both lunches.
We were glad we survived Mumbai, and saw many of its major sights.
Day 31 - Goa, India (9/26/2015, Saturday):
Goa is the name of a state, the smallest state in India. Goa was under Portuguese control until 1961, the colonial past lingers on in its historical buildings, churches, forts and houses.
Goa is blessed with long, sandy, palm-fringed beaches along the Arabian Sea. We came here hoping to see the beautiful blue-green ocean water as shown in the 2004 movie "Bourne Supremacy" - where Jason Bourne found Marie in Goa and began a new life before an assassin arrived. But our local tour contact told us (back in April) that there are no beaches near Goa cruise port that could be qualified as "beautiful beaches". The movie was shot in Palolem beach in the south of Goa, far from Goa's cruise port. And also, one has to come at the right season in order to see sea water in that color.
With Frances and Richard, we booked a "Goa Past and Present" tour with Goa Magic for 4PAX. A guide and a driver waited for us at the pier. We drove 25 miles north to Panaji (also called Panjim), the state capital. Panaji was the first port for voyages from Lisbon, and sailors visited the Church of the Immaculate Conception to give thanks for a safe crossing before continuing to Old Goa.
Old Goa is very close to Panaji, and was the administrative seat of the Portuguese. In Goa we visited :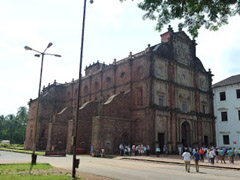 - Basilica of Bom Jesus - which contains the body of Saint Francis Xavier, the same Jesuit missionary who went on to spread Christianity in Japan and China. He died in China in 1552. Francis Xavier is the patron saint of Goa. (Pictured to the right is the Basilica of Bom Jesus.)

- Se (St. Catherine's) Cathedral (the seat of The Archbishop of Goa) - built between 1562 to 1652 by order of the King of Portugal to honor the St. Catherine of Alexandria. It is the largest church in Old Goa.
Both churches were very ornate and imposing. The grounds between these two churches were well maintained and planted with beautiful flowers and shrubs.
We also walked through the old Portuguese-flavored narrow streets, visited a Hindu temple and a covered fruit/vegetable market.
Our guide dropped us off at an old classy hotel for lunch, but he did not eat with us. When we entered the hotel's elegant restaurant, there were only 2 customers and about half a dozen wait staff as well as a female piano player playing "As Time Goes By" from movie Casablanca. We ordered some dishes from menu (3 kingfish fillet with difference sauces and one chicken stroganoff). The fish dish came with French fry and a small amount of salad. A bit boring, not something to write home about. We missed our Mumbai guide Sancia, she not only took us to places she would eat herself, but also ordered dishes for us to share, and ate with us.
Day 32 - Mangalore, India (9/27/2015, Sunday):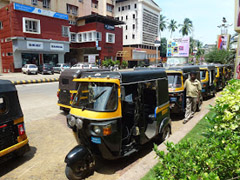 Mangalore was a pleasant surprise. We knew that there was not a lot to see other than several sacred temples, a light house and a chapel built in 1884 with ceiling frescos (St. Aloysius Chapel), so we did not commit to any organized excursions. We wanted to play by ear when we arrived.
Mangalore is an important port in south India, and is one of the fastest developing cities in India. Many multinational corporations and domestic corporations are opening their branches in Mangalore. Vincent read on Wikipedia last night that Mangalore exports a lot of coffee, and has more than 90% literacy rate.
The city of Mangalore welcomed us with free shuttle buses to the city center mall (6 miles south from cruise port). Along the way we saw many modern buildings. The downtown area was contemporary, pleasant and not crowded.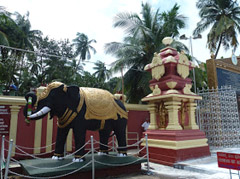 From the city center we hired a motored 3-wheel tuk-tuk to the Gokarnath Temple (not because of its history, but because of its unique exterior), then had the driver take us for a ride to see the city highlights. He drove us to a flower and vegetable market, a fish market, a Sunday market (clothing, house ware etc.), passed the city hall, government buildings and universities. Since tuk-tuk is a 3-wheel, it could drive through a crowded market place. Vincent said it felt as if we were touring the markets on bicycles. The fare the driver quoted at the beginning of the tour was very modest, so we gave him a big tip at the end. Loved to see the big grin on his face.
We took a shuttle bus back to the ship for a late lunch. This was a good outing, we saw a few city highlights without too much sweating, and enjoyed it.
Day 33 - Cochin (Kochi), India (9/28/2015, Monday):
Cochin (Kochi in Indian name) is a major port and one of the oldest ports in south-west India. Kochi is believed to have had trade links with China and Arabia for 2,000 years. 500 years ago the Europeans arrived. First were the Portuguese, when Vasco da Gama discovered the sea route to India and set up a trading station in 1502. In 1503, Fort Cochin, the first European fort in India, was built. The British arrived in 1635 but were forced out by the Dutch in 1663. However, they returned in 1791 and stayed until independence in 1947.
Kochi's old city and new city are on opposite sides of the cruise port. We opted to visit the old city, because the city's representative at the hospitality desk told us the new city is just a bunch of sky scrapers. He also said we could visit the old city with a tuk-tuk for US$5, so that was what the two of us did. After yesterday's tuk-tuk ride in Mangalore, we were comfortable to do it again.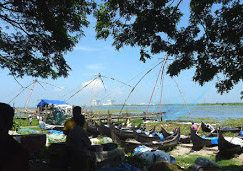 A middle-aged man speaking English approached us outside the port gate to offer his service as our tour guide for a modest fee, so he hopped onto our tuk-tuk and sat on the front seat besides the driver. We went to the Fort Cochin district. The area is lined with old merchant houses. We saw some very well maintained old hotels, and learned that they are sought-after by the Brits when they come to Kochi for X'mas holidays.
- St Francis Church : built in 1503, it is the oldest church built by Europeans in India. The Portuguese explorer, Vasco da Gama, died in Kochi in 1524 when he was on his third visit to India. His body was originally buried in this church, but after fourteen years his remains were removed to Lisbon. The inside was covered in canvas under restoration, so we could not see anything gilded.
- Mattancherry Palace (also called the Dutch Palace) : built by the Portuguese and given to the Raja of Kochi as a gift. The building is now a museum, the main attractions are the wall murals. When we arrived the place was already packed, and there was a long line of local students plus bus loads of tourists from our ship waiting to go in, so we walked around the premises but took a pass on going inside.
We wanted to see the synagogue and the Jew Town, but the guide said it was closed due to holiday. On the way back to the ship our guide asked us to do him a favor by visiting 3 shops, because he could get something just by bringing guests in, so we visited 3 high-end carpet/jewel/antique/fabric shops. Several pieces of Kashmir silk rugs shown to us were all very pretty, but with astronomical price tags. We had no idea what were the fair prices so we did not even attempt to bargain.
Since this was our ship's last stop in India, a local bank set up a money-change service at the pier for our convenience. Five days ago in Mumbai we changed $1 = 65 Indian Rupee. Today, we changed Rupees back to USD at 68 Indian Rupee = $1.
Of the 4 Indian ports that we visited during this cruise, Mumbai is really the not-to-miss city. Goa and Kochi are small and similar, and Mangalore did not have much to offer as a tourist site.
Day 34 - (Sea Day) Cruising the Laccadive Sea (9/29/2015, Tuesday):
Chef Jorg Becker and a Sous Chef staged a cooking demonstration at 11am. The golden Wiener Schnitzel and the German Potato Salad looked easy enough to try at home. The secret to a tasty potato salad, according to Chef Becker, is to sauté beacon and onion first then add (boiled and sliced) potato into it, besides other ingredients.
Day 35 - Colombo, Sri Lanka (9/30/2015, Wednesday):
Sri Lanka, formerly known as Ceylon, is an island country just south of India. Parts of the island have been ruled by the Portuguese, then the Dutch and then the British until it gained independence in 1948. Rubber, coffee, pepper, tea and spices are the island's major produce.
Colombo is the political, economical, and culture center of Sri Lanka. We booked a 4-hr city tour for 6PAX with a local company. Today was the only day we encountered rain during an outing, and a monsoon rain no less. But the temperature was also cooler, at a comfortable 75F.
The city of Colombo was very modern, neat and pleasant with a beautiful green park in the city center. With our driver/guide Vishwa we visited the Gangaramaya Temple - the biggest Buddhist temple in Colombo. Its associated lake-side meditation center (pictured to the right, during monsoon rain) is actually separated from the temple site. We all took our shoes off and went inside the huge temple, some chanting and services were going on at the time. 70% of the population in Sri Lanka are Buddhist.
We also stopped at a government-run souvenir shop (Laksala Handicrafts) for bathroom break. The driver/guide also took us to a shop so that our teammates could buy Ceylon tea. We even went to Odel, the most prominent department store, on our teammates' request so that they could buy some locally designed t-shirts to bring home. We also visited the Independence Square, drove through the Cinnamon Garden (a wealthy district) and then to the Pettah market. Vishwa skillfully maneuvered the van through some narrow streets of the crowded Pettah bazaar so that we could observe the activities without getting wet.
We saw and did a lot in half a day, and really enjoyed our short visit to the city of Colombo.
Day 35~38 (Sea day) Cruising the Bay of Bengal (孟加拉灣) (10/1 ~ 10/3/2015):
Q: Which is the largest bay in the world?
A: The Bay of Bengal which we are currently cruising on. Bay of Bengal forms the northern part of the Indian Ocean.
We needed 3 days to cruise from Colombo, Sri Lanka to Yangon (or Rangoon), Burma. We also turned clock 1-hour forward to the same time zone as Yangon, our next destination. We are now 10h 30m ahead of Boston.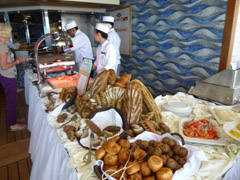 John Freedman, a lecturer just boarded the ship in Sri Lanka, gave a series of very interesting talks on Buddhism - History, Iconography, The Teachings of the Buddha etc. He said that Buddhism was first spread from India to Sri Lanka, then from Sri Lanka to Burma, Thailand, Cambodia and Vietnam. Then spread from southeast Asia to China. Then spread from China to Korean, and then from Korea to Japan. Very similar to the route this cruise ship is taking. His lectures included a few pictures of temples in Taiwan. Buddhism has receded in India, today India only has 1% (of population who are) Buddhist, less than USA which has 2%.
On consecutive sea days the culinary team had to work extra hard. One day they hosted an Oktoberfest lunch on the pool deck with pork knuckles, sausages, sauerkraut, meat loaf, cabbages, potato salad, German bread and condiments (Pictured to the right). On another day (a Friday) they hosted a Brunch at the Grand Dining Room, it was as bountiful as the Sunday Brunch we had on the prior segment.
The weather forecast says both Yangon and Bagan in Burma have 80% chances of rain in the next two days. We are concerned because we'll be spending two days in and out of buses visiting many Burmese temples where one must remove both shoes and socks.
Day 39~40 - Yangon and Bagan, Burma (10/4 ~ 10/5/2015, Sunday ~ Monday)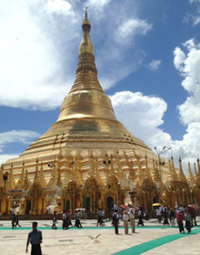 Myanmar is the Burmese-language name for Burma. Burma is the English-language name for Myanmar. The Burmese government switched to using the Burmese-language name for the country in 1948, and in 1989 also switched to using the Burmese-language names for a number of places around the country.
Yangon (also known as Rangoon), with a population of over 5 million, is the country's largest city and the main economic hub.
As mentioned earlier, our excursion to fly to Bagan for an overnight stay was a perk received at the time of booking. The Bagan team consisted of 91 people, we were divided into three tour buses and flew in two airplanes. A separate team went to Mandalay for an overnight stay.
Yangon greeted us with bright sun shine in the morning. We drove one hour from the cruise port to downtown Yangon to visit the Shwedagon Pagoda first before heading to the airport for the flight to Bagan. The roads and houses along the satellite towns looked impoverished until we were closer to the Yangon city, then it was all nice and modern. Some may say Burma is "unspoiled", I say the government has a lot of work to do.
Shwedagon Pagoda in Yangon - (Shwe=gold) also known as the Golden Pagoda, a 98m gilded stupa(佛塔, a dome-shaped shrine with a Buddhist statue inside), it is the most sacred Buddhist pagoda for the Burmese with relics of Buddha's enshrined within. According to legend, the Shwedagon Pagoda has existed for more than 2,500 years, making it the oldest historical pagoda in Burma and the world. Visitors must be barefoot (remove shoes and socks!) before entering a temple or pagoda in Burma. We visited around noon, the marble floor was very hot on bare feet! (Pictured to the right, top.)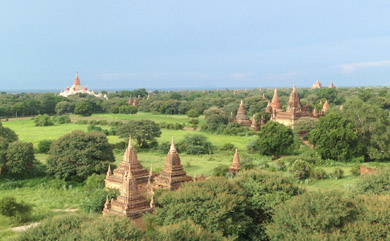 The flight from Yangon to Bagan was about 80 minutes. Bagan (蒲甘) is the ancient capital in the Mandalay Region. From the 9th to 13th century, Bagan was the capital of the Kingdom of Pagan, the first kingdom to unify the regions. During the kingdom's height between the 11th - 13th centuries, over 10,000 Buddhist temples, pagodas and monasteries were constructed, of which about 2200 temples and pagodas survive today. The Bagan Archaeological Zone is a main draw for the country's tourism. (Pictured to the right, middle.)
The overnight lodging at the Bagan Lodge was very nice, same as what were depicted in the hotel's website photo. Dinner was a buffet at the hotel's restaurant.
On the 2nd day we climbed pagodas, visited many temples, as well as a buggy ride in the Archaeological Zone and also visited a fruit/vegetable market in the town.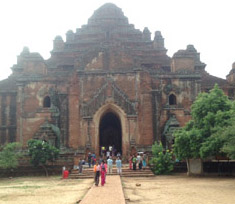 Many temples were built with brick, and the brick floors may be littered with sands and small pebbles. Walking on them bare feet required a lot of cleaning (the feet) afterwards with wet wipes before putting the shoes back on. The picture to the bottom right is a beautiful triangular-shaped brick temple called Dhammayangyi Temple. It was built during the reign of King Narathu (1167-1170). Narathu, who came to the throne by assassinating his father and elder brother, presumably built this large temple to atone for his sins.
Many souvenir peddlers followed our buses on motorcycles to every stop. They hawked their wares in US dollars, $1, $10, $15, $20 etc. 1USD was about 980 Burmese Kyat a year ago, now 1USD=1214 Burmese Kyat, a 25% increase. I hope these enterprising peddlers can reap the benefit of the 25% increase themselves from whomever they changed their hard-earned US dollars to Burmese Kyat.
We thoroughly enjoyed and deeply appreciated the two-day excursion Oceania hosted for its guests free of charge. It's a nice gesture that will bring their customers back.
Day 41~42 - Cruising the Andaman Sea (10/6 ~ 10/7/2015, Tuesday ~ Wednesday)
Our ship was scheduled to stop in Yangon for 3 days. But in August, Insignia changed plan to depart from Yangon at 8am (instead of 5pm) on the 3rd day due to high tide/low tide issue, thus essentially turning the third day in Yangon, 10/6, into a sea day.
It rained very hard on the open deck. The Yangon river was in muddy yellow color and dotted with small fishing boats. The lush greens on the river bank were as pretty as a golf course.
The culinary team hosted a Gala Tea time from 4 to 5pm in the Insignia lounge with an 11-piece orchestra. We did not eat anything other then an orange and a few grapes, because we had a 6:30pm reservation at the Polo Grill for dinner. Both of us had filet mignon for the main course for dinner.
We also turned clock 30-min ahead to be same as in Phuket, Thailand.
Day 43 - Phuket, Thailand (10/8/2015, Thursday)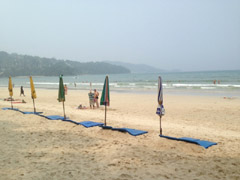 Phuket, (pronounced puu gèt) is Thailand's largest island (and about the size of Singapore). The island is connected to mainland Thailand by two bridges. It is situated off the west coast of Thailand in the Andaman Sea. Phuket formerly derived its wealth from tin and rubber, and enjoys a rich and colorful history. The island was on one of the major trading routes between India and China, and was frequently mentioned in foreign ship logs of Portuguese, French, Dutch and English traders. The region now derives much of its income from tourism.
The taxis union at the pier charged exorbitant fees, so we walked 50 meters past the port gate to find reasonably-priced taxis. One-way fare to Patong beach was about USD$20. The return from Patong beach to the cruise port with a detour to the Phuket town was also USD$20.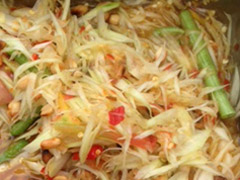 The streets on the way were modern and clean, the buildings alongside the streets were also either modern or well-maintained. Now we know why many westerners come to Phuket (or Thailand in general) for sun, because they could feel comfortable right away, and eat all the Thai food they want without breaking the bank.
Patong Beach - (on the west side of the island, about 45-min drive from the cruise port) This is the busiest and most popular beach in Phuket with a busy nightlife. The crescent-shaped beach is 3 miles long. (Pictured to the right, top.) Across the street from the sandy beach are rows of restaurants and shops, including a Burger King, a McDonald's and a Starbucks. May be it is too developed?
Green Papaya Salad - Our ship lecturer John Freedman had told us not to miss eating BBQ chicken and green papaya salad. Did not have a chance to try the BBQ chicken,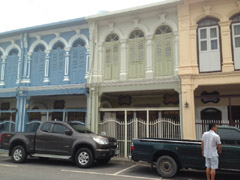 but the green papaya salad was really tasty, and spicy too. (Pictured to the right, middle.)
Phuket town - the island's capital is located in the southeast, about 20-min by car from the port. It was built in the mid-1800s. Mei-Ching came here to take photos of the Sino-Portuguese style buildings, which were built by wealthy Chinese merchants as testimony to their success. (Pictured to the right, bottom.)
Another street in Phuket's old town felt just like 新樂街 of Yancheng district in Kaohsiung, Taiwan.
Day 44 - Cruising the Strait of Malacca(麻六甲海峽)(10/9/2015, Friday)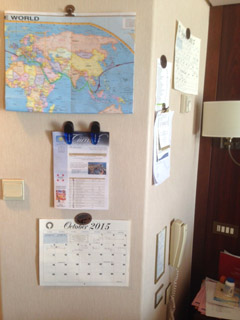 This was a raining day with strong winds.
This was also a day to pack to prepare for going home.
A tip to reduce paper clutter in the cabin: Bring magnetic clips to hang some of the papers on the walls (the walls surrounding the bathroom are metal in our case). Pictured to the right is what we clipped onto our walls with magnetic.
Had dinner in the Grand Dining Room with Frances and Richard to reminiscence the past 44 days. We all agreed that the 1st segment where we went from Israel through Suez Canal and Red Sea to Jordan and the Middle East had so much contrast from port to port, it was really a highlight of the trip.
We turned clock 1-hour ahead to be same as Singapore, which is the same as Taipei, and is 12 hours ahead of Boston.
Day 45 - Singapore (10/10/2015, Saturday)
Insignia reached Singapore port at 7am this morning. We had been to Singapore before so we did not plan for spending extra days in Singapore.
We disembarked Insignia at 8am, got on an Oceania chartered bus to Changi (樟宜) airport. Our transfer to the airport was complimentary. Otherwise, it would have been an easy 30-min taxi ride to the airport.
Changi airport is really a first class airport in terms of passengers amenities - wide open spaces, plenty of comfortable lounge chairs, free and fast internet, as well as many restaurants and shops. We ordered a Hai-Nan Chicken with Rice and a Noodle Soup with Fish Ball (海南雞飯 + 魚丸湯麵), those just hit the right spot. Not a bad place to be if one has a long lay-over.
We arrived Reading home at 11pm Boston time, 27 hours after leaving the ship in Singapore.
This has been an incredible journey for the both of us - the itinerary was fantastic, the ship a 5-star, the dining and services provided by the Oceania staff were outstanding, we were happy and impressed.
---
Practical Tips:
A few tips for friends who may contemplate booking a long cruise:
1. The free laundry service turned out to be very useful. Every time we came back from a shore excursion our clothes were wet from sweat due to heat and humidity, so we sent them out to be washed. During the 44 days we sent out laundry bags about 20 times.
2. The free internet was very important to us.
3. Pre-paid Gratuities - if it were not already included in our fare, we would have to pay an additional $15/per person/per day. For the two of us for 44 days, the sum would be $1320.
4. Not everyone received free laundry service, nor free internet. Most had pre-paid gratuities included.
If you have to pay for internet on Oceania, it was $160 per 100 minutes, or $28 per day unlimited.
If you do not have free laundry service, there are laundry machine/dryer on the ship, but they may be busy on sea days. Our ship also offered a "Bundled Laundry Service" special every 5 or 6 days for "Up to 20 pieces for $24.99", which was a very good value and the shirts and pants came back pressed and on wire hangers.
If when you booked your cruise it did not include some of the perks, then watch for the company's website or promotional email from time to time to see if the company runs any promotional sale on your particular cruise. If it does, call/email your agent to ask for the same "sweets" to be added to your booking. This will most likely be granted if it were still before your final payment date. Otherwise, it is up to your agent on what he can do for you. Our stateroom upgrade alone was worth several thousand dollars.
5. We found ourselves not as keen in observing and absorbing during the 2nd segment from Dubai to Singapore. May be we were a bit tired after twenty some days, or may be the 2nd segment's ports of call were not as contrasting as those on the 1st segment, or may be both?
6. We did not purchase trip cancellation insurance, the premium was about 11% of the cruise fare, therefore more than $2500 for the two of us. We purchased, instead, an emergency medical evacuation insurance policy independently for $410 for two. However, it was still a big risk if we were not able to go on the cruise for some reason then the fare paid would be a total loss.
7. To see what local tour companies we used and how much it cost for private excursions, read our ports research document referred earlier. Usually, a private excursion cost about 50% of a ship's excursion, but the qualities of guides vary, that's why one needs to read online reviews to be selective. However, Oceania offered 25% off if we were to purchase 8 or more shore from them, which is not bad at all. (The magic number "8" was not fixed, it was dependent on the length of your voyage. It was 8 for guests on our two segments, but it was 25 if you were on the 180Day RTW cruise. You'll have to ask an Oceania agent on the magic number relevant to your particular voyage.)