Trip Summary:
We had wanted to visit Berlin, Prague and Budapest for a while, but were on the fence on whether to go on our own or to join a tour group. GCT (Grand Circle Travel) offered a promotional sale on its "Best Of Eastern Europe" tour departing September 28 and that sealed the deal. We grabbed 2 seats right away and also paid $100/pp extra for a "break-away" to fly to Berlin four days ahead of the group to spend extra time in Berlin on our own.
Our trip started in Berlin and ended in Budapest. The main tour itself did not visit Vienna, but we had been to Vienna in year 2000 so this itinerary suited us great. Although Poland was not a "must see" for us, we treated it as a bonus to visit Warsaw and Krakow as part of the tour.
Many local Taiwanese friends visited Central/Eastern Europe recently. Several went on a river cruise visiting Budapest, Vienna and Prague etc. Another group went on a Croatia tour along the Adriatic coast. Some attended WFTA (世台會) conference in Budapest and went on a post-conference tour. Yet another group of friends departed a week ahead of us on a Berlin-to-Berlin loop of Eastern Europe tour visiting mostly capital cities like us.
Our GCT group consisted of 38 members. Our outstanding program director, Misha, was based out of Moscow and spoke English very well. The bus driver, Adam, was based out of Warsaw. We spent 6 nights in Berlin (4 nights on our own and 2 nights with the group), 3 nights in Warsaw, 4 nights in Krakow, 3 nights in Prague and 3 nights in Budapest. Four nights in Krakow was too long and that extra day would have been better spent in Prague. Below is the map of our 21-day route: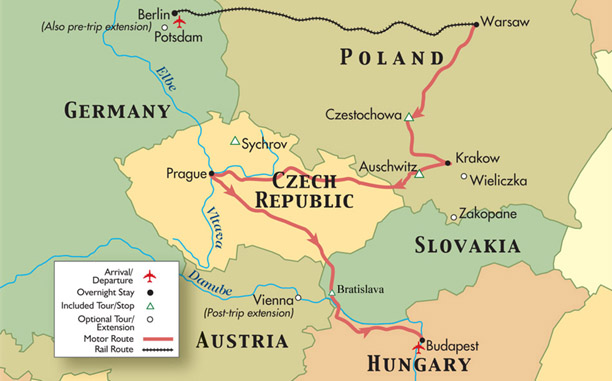 larger map click here
Transportation:
We flew Lufthansa from Boston to Berlin by way of Frankfurt. Then flew home from Budapest by way of Frankfurt. The flights were smooth and pleasant.
In each city, the public transportation system was done by the honor system. There were no ticket takers or turnstiles, but one must validate one's tram/bus/Metro tickets or risk a heavy fine. Prague is notorious for having plain-clothed public transportation officers targeting tourists for just this.
Guide Books:
Rick Steves' Eastern Europe guidebook.
Lodging:
When searching for a Berlin hotel for our own 4 nights independent stay, our top choices were already booked full. (Later we learned that it was because two of these days coincided with Berlin's Marathon Event. Hotels not only were booked full, prices were grossly inflated.) We ended up in the (formerly) East Berlin area called Mitte (Mitte = Center, Middle) at the intersection of Friedrichstrasse and Leipziger Str. at a hotel named Winters Hotel Berlin Mitte Am Gendarmenmarkt. The location was near Gendarmenmarkt square with U-Bahn and bus stops near by. However, based on our experience during this visit, we would choose a hotel near "Potsdamer Platz / Mall of Berlin" area in the future, because that area was very bustling and prosperous with many eating options, and was also a transportation hub.
While on the tour with GCT we stayed at 4-star or 5-star big chain hotels with excellent buffet breakfasts. Some of the locations were not as central as we would have liked, but the most was a 30-min walk to the old town center. In Krakow we stayed right in the middle of the old town.
Food:
Besides daily buffet breakfast, GCT also included many lunches and dinners. Three of the dinners came with dancing/singing entertainment. All of the tour meals were decent, but the most memorable ones were meals we found on our own.
In Berlin - pork knuckle and mushroom with pasta in KaDeWe (Kaufhaus des Wesens), continental Europe's biggest department store. Its 7th floor LeBuffet is a glass-domed airy restaurant with great views.
In Berlin - currywurst. How can you pass up this institutional fast food while in Berlin? Many stands sold currywurst, but a few were famous. We ate at a stand called "Curry 36" near the Berlin Zoo train station. A local informed us that it was a new branch of a popular stand located in an area with a postal code ending in 36.
In Prague - A roast port knuckle for lunch. We were told that port knuckle originated from Bohemia, and then it became very popular in southern Germany.
In Prague - TRDLO, a soft, sweet dough wrapped around a rotating steel rod, roasted over an open flame and smothered in flavored sugar. It was very good when hot off the rod.
In Budapest - Hungarian Beef Stew, slow cooked with root vegetable and spiced with paprika. It was very good.
Money Matter:
Germany uses Euro, Poland uses Polish Zloty, Czech uses Koruna, and Hungary uses Forint.
We used ATM to withdraw Euros in Berlin. Bank of America charged a 3% fee for drawing cash from foreign ATM's while we had a Visa card that only charged 1% foreign transaction, so we charged to the Visa card as much as possible and only used cash for small purchases.
While in Warsaw, our local guide pointed out a money change post in old town as a "good place" to change money. We went in to check out. The exchange rate was very close to the published rate online and there were no fees. Since we did not need much cash, we only exchanged USD$60 for Polish Zloty. However, the money changers in Prague and Budapest were greedy. Not only did they charge a fee, they also gave a rate much lower than the published one online. So shopping around is recommended. We gave all our leftover Polish Zloty and Czech Koruna to bus driver Adam at the end of the trip.
Some local venders in Prague and Budapest also accepted Euros as payment.
WC facilities:
It used to be, you'd have to purchase something from a shop or bar or restaurant in order to use their toilet. But during this trip we found out that there were many public WCs with attendants that you pay a fee to use without purchase. The fees were in local currency and were equivalent to USD$0.30 to USD$0.80. Some McDonald's and Burger Kings in busy tourists center also charged fees to use their facility. We found this system to be very convenient, because (1) a paid WC with attendants usually is well maintained, and (2) we were not obligated to purchase something we didn't want.
---
Itinerary with links to picture pages:
Berlin (9/25 - 9/30/2014, Thursday - Tuesday) : link to our Berlin Photo
To us, the biggest attractions in Berlin are the museums and its Nazi, WWII and cold war history.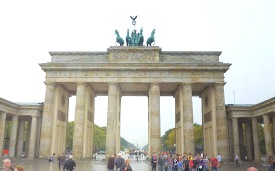 At Berlin's Tegel airport, we purchased a 5-day WelcomeCard for ABC zones, which gave us 5 days of unlimited local transportation covering 3 zones. It also provided discounts to some secondary museums including Potsdam's Sanssouci Palace and Cecilienhof Palace. Although we did not ride the tram/bus/U-Bahn/S-Bahn often enough to make this card pay off, it did provide us with the convenience of hopping on a bus whenever we wanted.
Berlin's highlights include but are not limited to the following:
Took a Sandemans Berlin free walking tour on the afternoon of arrival to get a quick orientation - the meeting point was the Starbucks in front of Brandenburg Gate.

Pergamon Museum – The 2nd building complex from the north on the Museumsinsel (Museum Island), just next to (and south of) the Bodi museum. The museum admitted x number of visitors every 30 minutes, so it is better to book your timed entry ticket online from https://secure.smb.museum/smb/tickets/ticket_check.php?tarif_id=1 to save from spending hours waiting in line at the museum entrance. Its main treasure, the Pergamon Altar, is closing for renovation from 9/29/2014 till 2019, so we were very fortunate to visit at this time when Pergamon Altar was still open.

The Pergamon Altar is from a 2nd-century B.C. Greek temple, featuring the Greeks under Zeus and Athena beating the giants. Pergamon was an ancient Greek city in modern day Turkey. The reason why Turkey did not ask for this treasure back is because (in our guess) (1) it is a Greek temple, not a Turkish treasure, and (2) Pergamon is no longer in Greece, it is in Turkey, therefore Greece did not ask for this treasure back in Pergamon.
The 6th century B.C. Ishtar Gate – was the eighth gate to the inner city of Babylon. It was constructed in about 575 BC by order of King Nebuchadnezzar II on the north side of the city. Dedicated to the Babylonian goddess Ishtar, the gate was constructed of blue glazed tiles with alternating rows of bas-relief bull and mythological hybrid dragon.
Warsaw (10/1 - 10/3/2014, Wednesday - Friday) : link to our Warsaw Photo
The 38 of us, plus Program Director Misha, traveled from Berlin to Warsaw by train. The pleasant train ride clocked in at 5 1/2 hours. Each train car was partitioned into compartments for 6 passengers. GCT purchased 12 extra tickets to have 2 more compartments and hired a team of porters on both ends of the train journey to quickly load and unload 39 pieces of luggage into them. The operation ran like a well-oiled clock without glitch.
From 1795 to 1918 (the end of WWI) Poland was divided up by 3 of its powerful neighbors. Russia took its eastern territory, Prussia took its western territory, and the Hapsburgs took its southern territory. So for 123 years Poland as a country did not exist at all. Perhaps that explains why the Poles put up a more fierce resistance against Nazi Germany (and later Communist Soviet Union) than folks from its neighboring countries.
Before WWII, Warsaw was the world's second-largest Jewish city (after New York) with 380,000 Jews. That meant for every 3 people there was one Jew during that time.
Warsaw was 85% destroyed during WWII, so today's Warsaw is a modern city, even the old town square was rebuilt to look old, but is actually only 60 years old.
The old Jewish ghetto was completely leveled during WWII, so today there is no trace of the ghetto but modern buildings. Our hotel, the Westin Warsaw, was located in this area. The 2002 movie, The Pianist, re-created the Warsaw ghetto and some street scenes prior to 1945.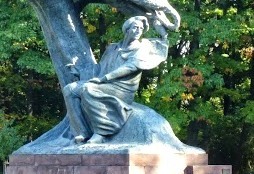 Everything in Warsaw was less expensive than Berlin, even the money changers were very modest in their profit margin. However, one of our tour member's wallet was lifted from her bag in Warsaw's old town. There were a few places on this trip that we were on high alert for pickpockets, such as the seedy CheckPoint Charlie in Berlin and the super-crowded old town square in Prague, but in Warsaw? This couple went to US Embassy to apply for temporary passports, called an 800 number to cancel credit cards, and absorbed the loss in cash.
Frederic Chopin (1810-1849, he was born while Poland was divided up by its three powerful neighbors and Warsaw was under Russian rule) is Poland's most famous son, even though he left Warsaw at age 20 and lived the remainder 19 years mostly in France. The other famous Poles that we know of are Pope John Paul II and Marie Curie who won Nobel Prize in Physics in 1903 and in Chemistry in 1911.
Our Warsaw highlights included the following:
Old Town Square and the Royal Way - The old town square re-creates Warsaw's glory days with lots of colorful architecture. The Royal Way is a 6-mile-long stretch of streets lined with beautiful buildings of shops, churches, mansions, squares and a university.

Home hosted dinner - The 38 of us were divided into 3 small groups to go to family homes for dinner. Our small group went to a very comfortable family home with a father, mother and two adult unmarried children. The father owns an automobile service garage business, the mother owns a sewing shop with hired helpers making/designing maternity clothes. The adult son works for the city government, and the adult daughter teaches English. The parents do not speak English so they busied themselves in the kitchen. The daughter was teaching and could not be home that evening, so they invited a friend who spoke English and along with the host's son got the dinner conversation going. We all had a great time. The food was home-cooked comfort food: soup, pork, stuffed cabbage, and dessert, coffee and wine. The meat filling in the stuffed cabbage tasted just like the jumbo meatball with cabbage (

白菜獅子頭)

that Mei-Ching used to make decades ago. So needless to say she had a second helping.

Chopin Museum - A modest museum in an elegant old mansion honoring Poland's most famous composer. The top floor has a concert hall and may open for special concert. We saw his life's story in multi-media and listened to his music with interactive headphones.

Chopin Piano Recital - We attended a 60-min Chopin piano recital in a historical mansion performed by a pianist named Ewa Beata Ossowska. She played selections of Etude, Mazurkas, Scherzo, Prelude, Grand Valse Brillante, and Polonaise. She won a big applause from all of us.

Krakow (10/4 - 10/7/2014, Saturday - Tuesday) : link to our Krakow Photo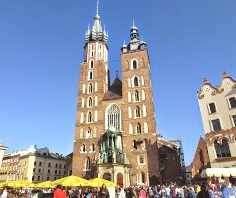 Krakow, in the southern part of Poland, was the capital from 1038 to 1596 until the capital was moved to Warsaw in 1596. The city grew wealthy from trade in the late 10th and early 11th century. Traders who passed through were required to stop here for a few days and sell their wares at a reduced cost.
Krakow did not suffer damage during WW2, therefore the old town square probably has not changed much from the 15th century. It is a people magnet any time of the day. Pope John Paul II was the archbishop of Krakow before he was elected pope, so we saw several statue of him in Krakow near the Krakow Cathedral.
We had 4 nights (thus 3 full days) in Krakow, which was a lot for Krakow. Thus GCT offered an optional tour to Salt Mine and an optional tour to Zakopane, as well as an included tour to Auschwitz. Our hotel, Radisson Blu, was located in old town which made it very convenient to stroll around in our free time. A tour group from Globus and Gate 1 also stayed in our hotel.
Polish food is heavy on meat (sausages, pork chops similar to Vienna's wiener schnitzel) and potato (fried or boiled). So we chose to eat sushi one evening for a change of routine.
Krakow's attractions include but are not limited to:
Prague (10/8 - 10/10/2014, Wednesday - Friday) : link to our Prague Photo
Birth of Two Nations: The nation of Czechoslovakia (formed in 1918 after WWI and dominated by the USSR after WWII, and regained its freedom in the 1989 "Velvet Revolution") split on 1/1/1993 into two separate nations: the Czech Republic and Slovakia. Both countries joined the European Union in 2004.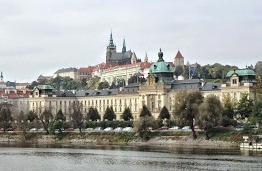 The name Prague in Czech is Praha [PRAH-hah], meaning 'threshold'. The 14th century was Prague's Golden Age, when Holy Roman Emperor Charles IV (1316-1378) ruled from here. Born to a Luxembourg nobleman and a Czech princess, Charles IV was a dynamic man on the cusp of the Renaissance. Much of Prague's history and architecture (including the famous Charles Bridge, Charles University, and St. Vitus Cathedral) can be traced to this man.
The highway entering Prague was wide, straight and modern, much like our highway 128. We stayed at the Park Inn by Radisson, located by the 4th bridge (and a railroad bridge) south of Charles Bridge. It was on the same side of the Vltava River as the old town, and was a 30-min walk there or a few minutes on Tram #3 and #17. Although not very central, Misha told us it was already a big improvement from the originally planned Diplomat Hotel which was a couple blocks north of Prague Castle and not convenient at all.
Two days was not nearly enough to see Prague properly. On the afternoon of the 2nd day, GCT included an outing to Sychrov Castle (one-hour by bus) for a visit and dinner. With merely two days in Prague, we did not want to take that much time away, so we opted to stay in Prague. Other members told us later that the bus ride turned out to be 3 hours round trip due to Friday afternoon's traffic, the castle was OK, and they were served Italian pasta. We definitely made the better decision spending our afternoon in old town having roast pork knuckle, attending a church concert, eating a delicious TRDLO hot off the rod, and buying a Bohemian girl puppet doll for our two granddaughters.
Prague's highlights include but are not limited to the following:
Budapest (10/11 - 10/13/2014, Saturday - Monday) : link to our Budapest Photo
On the 300-mile drive from Prague to Budapest, our bus stopped at Bratislava for an included lunch. Bratislava is the capital city of Slovakia, its old town was small and peaceful compared to other capital cities we visited on this trip. Slovakia's currency is Euro, so those who had Euro currency left from their Berlin stay had no problem buying ice cream or coffee in the old town.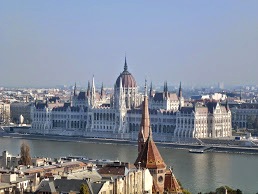 Budapest [BOO-dah-pesht] was warm, high's around 71F in the middle of the day during the two 2 days (3 nights) we were there. The city sits on a thin layer of earth above thermal springs, which power its many baths. Even the word Pest comes from a Slavic word for "oven". The city is divided by Danube River into two parts, the hilly west bank is the Buda, and the flat east bank is the Pest.

Our local guide told us that Hungary's territory used to be 3 times as big as today. During the 12th century the Mongols (Genghis-Khan) invaded Hungary. Then in the 16th century, the Ottomans invaded and occupied parts of Hungary for 145 years. In order to drive out the Ottomans, Hungary needed to ally with the Christian countries in the west such as Poland and the Hapsburgs (Austria). But after the Ottomans were forced out, the Hapsburgs not only did not leave but also repopulated the ruined Buda and Pest with Germans to give it a more Austrian style. In 1867, under a constitutional union Hungary and Austria formed a dual-Monarchy Austro-Hungarian Empire (until the empire's collapse in 1918) where Budapest served as the co-capital of the vast Austro-Hungarian Empire and had the authority over the eastern half of their lands.

Hungary, allied with Austria and Germany, was on the losing side of WWI. As a retribution, the 1920 treaty of Trianon reassigned 2/3 of Hungary's former territory and 1/2 of its population to Romania, Czechoslovakia, Slovenia, Croatia, and Serbia. As a result, more than 2 million ethnic Hungarians live outside Hungary (mostly in Romania). After WWII the Soviet Union "liberated" Hungary and established a communist state until Hungary achieved independence in 1989. Hungary joined the European Union in 2004.

The Hungarian language (a Uralic language) is difficult to decipher or pronounce. It is close to the language spoken in Finland and Estonia.

Hungarian people also has last name first, same as many people in Asia. Therefore the famous Hungarian pianist, Franz Liszt, is Liszt Ferenc in Hungarian.

We hit all the major spots in two days, including the Castle Hill on the Buda side (Royal Palace, Fishermen's Bastion etc.) One good thing about going with a tour group such as Grand Circle is that a bus will take you up to hilly places as far as it could go, to save us from walking. Budapest's highlights include but are not limited to the following:
The Castle Hill and Fishermen's Bastion on the Buda side, where the view across the river toward the Parliament building on the Pest side was very pretty.

Andrassy UT (UT = Boulevard) - Budapest's Champs-Elysees. The Hungarian State Opera House is on this street. It was on this street that Steven Spielberg filmed much of his 2005 movie "Munich" for its fine European architecture.

Hungarian State Opera House - Address: Andrássy út 22. Tickets were relatively inexpensive to see a performance. Or you may take a 45-min tour, nearly daily at 15:00 and 16:00. For details, see http://www.opera.hu/en/operalatogatas. From the outside, this opera house looked like Vienna's, only smaller. When this opera house was being built, Emperor Franz Joseph of Austria-Hungary (1830-1916) contributed funds under the condition that this opera house could not be bigger or more beautiful than Vienna's state opera house.

Franz Liszt Square (Liszt Ferenc tér ) - a lovely square (off Andrassy UT) lined with cafes and restaurants. At the southern end of the square is the music academy founded by Franz Liszt and with a statue of him front and center. We also saw a bust of music conductor Georg Solti and learned that Solti was born in Budapest.

Franz Liszt Museum - a small museum honoring Franz Liszt located at Vörösmarty utca 35, just off Andrassy UT. This was an apartment Liszt once lived. We went to the museum on a Sunday, after our local guide had assured us that it was open on Sundays. But alas, we arrived to find it was closed on Sundays but open on Mondays when most museums were closed. A bit disappointed, we walked to the Franz Liszt Square to enjoy a leisure lunch then toured the State Opera House.

Thermal bath - Both Széchenyi Baths and Rudas Baths were recommended by guidebooks, but we did not try. One reason was that we were short of time, another reason was the we heard our friend Sen Lee went to one, and his verdict was that it was not as nice as the Japanese hot spring bath in Japan.

The Great Market Hall - at the southern end of pedestrian Váci utca [VAH-tsee OOT-zah]. We saw this market hall on Rick Steves' travel video many times. We bought sweet paprika, and ate a fish sandwich. It was worth a quick 30-min look-over, but no reason to linger.

Danube Bend - the Danube River flows east through Vienna, then makes a sweeping 90-degree right turn south toward Budapest. Three river towns along this river bend north of Budapest became day-trip attractions. Misha talked Adam into giving us a ride to Visegrad (Remember this name? Another castle/fortress named "High City") and Szentendre for a half-day outing on the 2nd day, which was supposed to be Adam's off day to rest. Visegrad has a nice view of the Danube River where it makes an U-shaped turn, and Szentendre is a cute little town lined with cafes and souvenir shops. Not everyone went on this outing, some stayed in Budapest to tour the Parliament building or the Great Synagogue or visit a museum. On the bus ride back to Budapest, Vincent prepared Jahann Struss Jr.'s Blue Danube Waltz and two versions of Liszt's Hungarian Rhapsody No.2 to play on the bus' stereo system. Everyone enjoyed that and applauded at the end of the 30-min music.
- Adam's compensation for working today came from our tips. According to GCT's guideline, we were to tip bus driver USD$3 per day per person when we used the bus. Many tipped Adam above the GCT-recommended amount.

Evening cruise along the Danube - The buildings and monuments on both sides of the river were beautifully lit. Since we were on a land tour, not a river cruise tour, GCT chartered a boat for our evening cruise down the river and then back up passing the Parliament building and the Castle Hill twice. The air temperature in the evening was about 60F. But once the boat got going, the wind from the river made it FREEZingly cold.

Going Home (10/14/2014, Tuesday) :
We were among the 1st group to leave Courtyard Hotel for Budapest airport. The two of us and another couple from Florida left our hotel at 3:45am because we were on a Lufthansa flight to Frankfurt. Others who were leaving on British Air, KLM, or United, were leaving the hotel at different hours throughout the day. Misha posted a schedule in the hotel lobby, so everyone knew when they had to be at the lobby waiting for the "transfer service" van to pick them up.
Post return, friends and family asked us what our favorite city was and we'd say it was a tie between Berlin and Prague. We spent many days in Berlin and had ample time to appreciate it. Prague was so visually pretty - the steeples, spires, bridges, red roofs and elegant architecture. We enjoyed our trip and learned a lot about the countries and histories in this region. GCT did a wonderful job once again.