Trip Summary:

We went to Taiwan in October to celebrate Mei-Ching's mother's 100th birthday in Kaohsiung. The birthday banquet was attended by nearly 170 guests, including four generations of Chens. The party took Chester, Mei-Ching's oldest brother, a year to plan and execute. The event was a resounding success, mother was very happy to see all of us, especially the great-grandchildren. A good time was had by all.

We then flew from Taipei to Narita and visited Japan for 8 days before going back to Boston. The multi-city air tickets we searched on Kayak.com and then purchased from AA.com cost only $20/pp more than if we flew round-trip Boston <--> Taipei.

This was our 4th visit to Japan, and since we had been to Tokyo and Kyoto before, we focused on Kyushu and western Japan for this trip, visiting castles along the way. We flew from Tokyo to Nagasaki, and then utilized a 7-day JR Rail Pass to travel eastward, from Nagasaki --> Kumamoto ---> Hiroshima / Miyajima --> Himeji --> Osaka, then to Tokyo to catch our flight home.

However, if you have never been to Tokyo or Kyoto, they should be your top destinations to visit while in Japan. From Kyoto you may take day trips to Osaka, Nara, Himeji, or Hiroshima, depending on your interest.

Our Japan-2013 travel map is below. All the teardrops denote places we stayed overnight. The purple pin indicates Himeji where we visited but did not stay overnight.

Transportation:

We flew AA from Boston to Taipei for leg 1, then flew from Taipei to Narita for leg 2. Leg 3 was from Narita to Boston.
You may try pricing leg 3 to start from Kansai airport (near Osaka) if that will save you time and a train fare back to Tokyo.

In Japan we utilized a 7-day JR rail pass (28,300Yen/pp) to travel the distances. For Rail Passes, see http://www.japan-guide.com/e/e2361.html and http://www.japanrailpass.net/en/about_jrp.html#bm_001 for details.

You must purchase a JR rail voucher from one of the authorized overseas travel agencies before arriving in Japan, then exchange the voucher for a rail pass at a large JR train station with your passport. Here is the list of authorized sellers: http://www.japanrailpass.net/en/purchase.html#step_01 (Click on "North America" to see sellers in USA.) We purchased ours online from JTB's New York Metro Office, paid $14 for FedEx shipping, and received them after 2 business days. (NOTE: The spelling of your name on the JR voucher must match that of your passport.)

Japan Domestic flights: We used 7500 AA miles (per person) to redeem for our JAL domestic flight from Tokyo Haneda to Nagasaki. We read that you may also redeem 6000 United miles for an ANA domestic flight in Japan. Moreover, as a foreign tourist visiting Japan, you may also purchase a discount Experience Japan or Yokoso fare for 10,000Yen per segment. See http://www.japan-guide.com/e/e2364.html for details.

Online Resources:
Maps: Click on the URL below to request tourist maps from JNTO (Japan National Tourist Organization): http://www.japantravelinfo.com/contact/brochure_general_form.php. A package should arrive in about 10 days.

Train types: http://www.japan-guide.com/e/e2016.html, and also there are 3 types of Shinkansen:

Kodama - stop at every station so the trip takes longer, but the train fare is lower too.
Hikari, Sakura etc – are in a class in between the other two.
Nozomi - the newest trains with the fewest stops - but are not available to JR Pass holders.

Japanese train timetable and fare: http://www.hyperdia.com/ (Click on the "More options" link to uncheck airplane, shuttle bus, walk, sleeper train and slower trains, and uncheck "Nozomi" if you are using a Rail Pass.)
Search for train schedule and fare between your destinations, add up the fare to see if a rail pass will give you a better deal. If you are traveling just between Toyko <--> Kyoto round trip, then point-to-point fare is cheaper than a 7-day rail pass.

Fodor's Japan community forum: http://www.fodors.com/community/asia/japan/ to ask questions.

Japan-guide: http://www.japan-guide.com , a wealth of useful info.

Google Map is your best friend during trip planning. Paste in your hotel's address in Google map search box to locate your hotel on the map. Then click on the "Directions" function, enter your 2nd location address or a land mark such as Kumamoto Castle, click on the "man-walking" icon to specify you want walking directions, then you will get a walking route and time estimate, so that you'll know if walking from point A to point B is feasible. By clicking on the "automobile" icon (the default) to get a driving direction and time estimate. If it says 10 minutes, then you'll know taxi fare will not be expensive.

Google Japanese-English translation: http://translate.google.com/#ja/en/
Use Google English-Japanese translation's speaker icon to learn to speak a few survival phrases in Japanese. For example, "Do you speak English?", "I don't speak Japanese.", "Where is .......", "How much is this?" etc.
Guide Books:
Japan By Rail – by Ramsey Zarifeh – great guide for train travel as well as various kinds of rail passes. Recommends lodgings convenient to train travel.
(New) Japan Solo by E. Kanno and C. O'Keefe – detailed city maps and local transportation guide. However, lodging information was lacking.
Lodging:
We chose hotels based on word-of-mouth from Fodor's Japan forum and checked against TripAdvisor's photos and reviews. In general, a hotel near a train station would be convenient for coming and going, and there are often a lot of eating options near train stations. Also, local buses or trams would stop at train stations. However, there were a few locations where we opted to stay closer to town center. In those cases we took a taxi to the hotel, and then taxi back to the train station when leaving.
We used booking.com to book a few hotels (Dormy Inn and Hotel Granvia) at the recommendation of travelers on Fodor's Japan forum. One of the advantages of using Booking.com was that you do not pre-pay. Although you have to supply your CC number in case of a no-show, you pay the hotel in local currency after checking in. Cancellation was also painless, usually 24 or 48 hours prior, depending on each individual hotel's own cancellation policy. (However, always compare prices with offers from a hotel's own website to see which gives a better deal.)
Based on our stay in Nagasaki, we found Dormy Inn Hotel ( http://www.hotespa.net/Resort/ , or http://www.hotespa.net/DormyInn/en/ ) to be a very good value. The quality was similar to Hampton Inn, and the big bonus was that every Dormy Inn came with an onsen (hot spring bath) on premises. Breakfast at 1100Y/pp additional was very good. However, as in the case of all hotel chains, not all Dormy Inns were created equal. Some may be newer than others, and some may be more conveniently located than others. Do your homework by studying the city map on Google and read TripAdvisor reviews. In general, when booking rooms in a Japanese business or budget hotel, pay a bit more to book a twin room for more space, because a double room could be very tiny.
Toyoko Inn (東橫) is a safe fall-back lodging option when you cannot find anything better. It is a successful formula that has been replicated in many locations throughout Japan. They are very clean, always a hotel near train station, less than USD$100/night including breakfast, WIFI, washer/dryer on premises, not to mention a well-built multi-language website with excellent access maps. What's not to like? The room can be a little cramped like a cruise ship's cabin, but they get the job done.
[INTERNET CONNECTION TIPS]: Many Japanese hotels do not provide WIFI in guest rooms, but they usually provide Ethernet cable in guest rooms. So we came prepared. We purchased a palm-size mini-router from Amazon for this trip and hooked it on the LAN line cable in our room. Instantly, we had a wifi network in our room, allowing multiple devices to connect to internet.
Laundry:
The easiest thing is to book accommodations with washer/dryer machines provided: this is quite common with the 'business' style hotels like Dormy Inn, Toyoko inn and Tokyu Inn chains. (In Dormy Inn, washer and detergent were free of charge; dryer was 100Yen for a 30-minute cycle.) Other than this, we have read the following on Fodor's Japan forum:
...There's a chain known as 'Wash and Fold' in Japan - believe it or not, asking around for a 'coin laundry' (yes, the English words) will often elicit helpful directions to an outlet of this chain or similar chain. The cost was from 800 to 1100 yen depending on load size, but it was fast - a load washed and dried in 45 minutes for that sum.
Food:
We found food in Japan very reasonably priced at today's $1USD = 100YEN exchange rate, especially when we ate Japanese style food at where locals ate. All the prices shown next to their respective plastic models displayed outside a restaurant were what you would pay in total, because the taxes were already included in the prices, and there was no tipping. (However, at higher-priced restaurants or hotels you'll have a 10% or 15% service charge added to your bill.)
We purchased several delicious bento boxes inside train stations before boarding trains, and also assembled a few meals out of mouth-watering ready-to-go food from large department stores' Food Hall on B1 level. The quality was surprisingly good. Many restaurants were also located on upper levels. Our first dinner in Nagasaki was at a department store restaurant because it was raining very hard due to typhoon Francisco and all the restaurants along the waterfront were closed.
---
Itinerary with links to picture pages:
Day 1 - Arrival in Tokyo Photo (10/23/2013 Wednesday):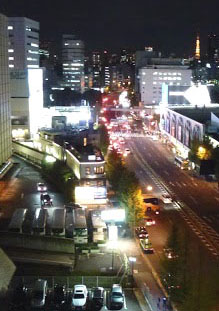 We left Taipei on a noon flight, and arrived Narita at 5:10pm, too late to connect to a domestic flight to Nagasaki. So we booked a hotel 2 minutes away on foot from Shinagawa (品川) train station for the night as a transit stop. Shinagawa was chosen, because Shinagawa station was easier to navigate than Tokyo station. At Shinagawa station, Tokaido (東海道) Shinkansen (bound for Kyoto, Osaka etc) is the only Shinkansen line available; and all Tokaido Shinkansen stop at Shinagawa (one stop and 8-minute after Tokyo station). However, if you plan on spending a few days in Tokyo for sightseeing, then it is advisable to choose a hotel in a more bustling area such as Shinjuku. Citadines Shinjuku Tokyo Hotel and Hotel Century Southern Tower Shinjiku are two well-reviewed hotels.
At Narita airport we stopped at a JR East Travel Service Center to exchange our JR vouchers for passes, specifying our 7-day pass to start from tomorrow (because we needed the pass to be valid on the 30th for the long train ride back to Tokyo). We reserved a few Shinkansen train seats for the next days, also purchased a one-way version of Suica & N'EX card for each of us. (However, this combo-ticket was discontinued in April 2014, so I guess you'll have to purchase a Narita Express train ticket separately. Look up www.hyperdia.com for train schedule and ticket price, or take an Airport Limousine Bus for 3100Yen, depending on which one is more convenient for your destination.) The SUICA card is an IC card that can be used for riding subways and trams in many big cities in Japan. We used it in Osaka to ride metro. You tap it on a reader on the way in, and tap it again when exiting, so that the correct fare can be debited from your card. You can add money to it, and you can return a SUICA card for a refund (minus a fee of 210Yen) at a JR office, because SUICA cards were issued by JR (Japan Railway).
It was 60-min on Narita Express train from NRT to Shinagawa. Narita Express trains are reservation only. After Tokyo station, some trains may split - some cars may go in one direction and others may go another. That's why when booking seats on Narita Express you'll need to tell the ticket agent your destination stop, so that he may assign seat in a correct car for you. (NOTE: If you have large bags, there are easier means to travel from Narita airport to downtown Tokyo hotel using Airport Limousine Bus. Any good guidebook should cover this topic.)
Day 2 - Arrival in Nagasaki Photo (10/24/2013, Thursday):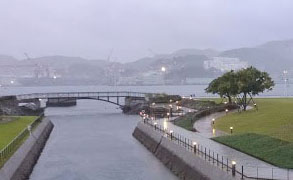 Typhoon Francisco was hovering near Japan's southern coast, we heaved a breath of relief when we arrived at Haneda airport to find our noon JAL domestic flight to Nagasaki was on time. The flight was 2 hours, then we took a 40-min bus from Nagasaki's Omura airport to our hotel in downtown Nagasaki Shinchi(新地). While waiting for luggage at Omura airport, Puccini's Un bel di from Madame Butterfly was piping softly from the public broadcasting system.
It was a pleasant sight when we exited the airport bus at "Nagasaki Shinchi" stop, walked a few steps to the street corner and immediately saw the white, glistening Dormy Inn building in front of us. We packed only 21-inch roller luggage for this trip, but our duffle bag was getting heavy, so a short walk was always welcome.
Our twin room in Dormy Inn Nagasaki Shinchi was very pleasant. It was raining lightly outside, so we took umbrellas with us for a walk. We had expected Nagasaki to be rainy, because of a familiar Japanese oldie, "長崎は今日も雨だった" ("Nagasaki was rainy again today". However, our original link to singer Teresa Teng's YouTube video was no longer available.) But when we walked to the cruise port area it was pouring, so we ducked into a large department store to its 4th floor restaurant for dinner. We had 釜飯, Kamameshi, they were very good.

- Note: Shinkansen trains from Tokyo to Nagasaki were 8 hours and 10 minutes with two train changes. In hindsight, we could have just taken the train since our rail pass already started today.
Day 3 - Nagasaki Photo (10/15/2013, Friday):
There were only a few sights and activities we could not miss while in Nagasaki - the Glover Garden, Dejima Island, and to eat Nagasaki Castella cake (長崎蛋糕).
Glover Garden is a famous European-style residence sitting on a hilltop with commanding views of the harbor. Built in 1863, it was the setting for the story of Puccini's opera Madam Butterfly. The house was named after Thomas Glover, a Scottish entrepreneur and a key figure in the industrialization of Japan. There was a scene in Madame Butterfly where jo-jo-san stood in front of a window watching Lieutenant Pinkerton's ship sailing into Nagasaki harbor.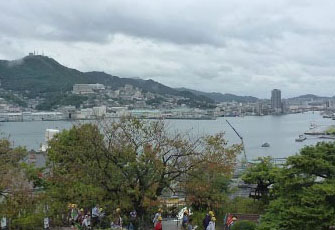 Dejima (出島) is a man-made island in the port of Nagasaki constructed in 1636 to segregate the Portuguese residents from the Japanese population and control their missionary activities.
After the Portuguese were expelled from Japan, a Dutch trading factory, formerly located in Hirado 平戸市, was moved to Dejima. The Dutch workers, the only remaining westerners allowed in the country, were restricted to Dejima during Japan's 200 years isolation period.
Today the whole area has been restored and is maintained as a museum. Based on this history, we can understand why Tokyo train station was modeled after Amsterdam's Central train station, and why the Japanese royal family maintained a special relationship with the Dutch royal family.
Nagasaki Castella cake (長崎蛋糕) - when we were in Lisbon in 2009, we saw these long sponge cake from outside bakery windows. We could not help uttering, "That's Nagasaki cake!". A cake that when as kids in Taiwan we often received as special treats from guests visiting our parents. (Those cakes we received were made in local shops in Taiwan.) So one of our goals during this trip was to EAT NAGASAKI CAKE IN NAGASAKI! We sampled many slices of Nagasaki cake in an elegant shop called 和泉屋 (Izumiya) near the walkway to Glover Garden. Nagasaki Castella has many flavors, green tea, honey, brown sugar, red bean etc, all were very delicious, but we did not buy any to bring home because they were sold in long boxes and we did not have space in our luggage.
After getting back to the hotel Vincent checked online and learned that Red Sox lost game 2 of the World Series.
Day 4 - Kumamoto Photo (10/26/2013, Saturday):
We came to Kumamoto to see Kumamoto-jo (熊本城). Not only because Kumamoto castle is one of the top 3 castles in Japan (although many parts of the castle were reconstructed), but also it was the place where the legendary 16th-century swordsman Miyamoto Musashi ( 宮本武藏 ) spent the last 5 years of his life. Miyamoto Musashi came to Kumamoto in 1640 when he was 57 years old. The Lord Hosokawa Tadatosi was very happy to welcome him as a guest of honor, took him into his service, gave him 300 koku of rice annually and a house at a corner of the Chiba Castle. Musashi stayed here in Kumamoto for five years until he died in early summer in 1645.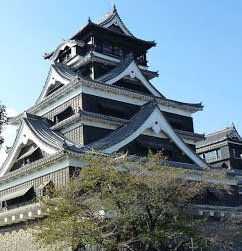 We took a taxi from Kumamoto train station to Toyoko Inn Kumamoto Shinshigai (新市街). There were four Toyoko Inns in Kumamoto city, thus a location qualifier, such as Shinshigai, was necessary to identify a particular inn. This particular Tokoyo Inn was much more elegant than the Toyoko-Inn in Shinagawa we stayed in Day 1, the double room was also bigger than Shinagawa's. (All the twin rooms were old out by the time we booked our hotel room, otherwise we'd have booked a twin room because twin rooms are usually lager than double rooms.) Therefore, it showed that not all Toyoko Inns were the same.
The castle was impressive. We went up to the top of the 6-story keep (or donjon, or 天守閣, all referring to the fortified central tower of a medieval castle). We also visited the palace nearby where the castle lord and his family lived. The looong meeting hall where the castle lord and his retainers met for rituals and big events was just like a Japanese period movie come to life.
Near the castle entrance were many eateries, some advertised with banners shouting "馬刺し" (Horse sashimi, pronounced as ba-sa-shi). Yikes, Mei-Ching quickly walked away from those restaurants. Vincent later bought a meat bun claimed to have horse meat in it. He said the meat filling was heavily spiced, so he could not tell what horse meat tasted like.
We had both lunch and dinner in the shopping arcade near our hotel at a 200-year-old restaurant full of locals. The restaurant was famous for its hand-made noodles, so all the set menu meals came with a side of noodle (hot noodle or cold noodle, your choice). A set meal was priced from $8 to $11, more abundant than what the same amount of money could buy from Daikanyama in Lexington.
Day 5 - Hiroshima / Miyajima Photo (10/27/2013, Sunday):
It took us about 100 minutes on Shinkansen train from Kumamoto to Hiroshima. By the way, we pre-reserved seats on Shinkansen trains for every segment of our train rides. But the first five cars (cars 1 to 5) on a Shinkansen train are non-reserved seats, so if you have a Rail Pass and want flexibility, you may just show your Rail Pass and hop on a train, then find seats in cars 1 to 5. (What happens if you have pre-reserved seats and then changed your mind? Just return the reserved seats tickets to a JR office and get your new reservations. What happens if you missed your train? Again just bring the reserved seats tickets to a JR office to get new reservations, or discard it and hop on the next train to find seats in cars 1 to 5.)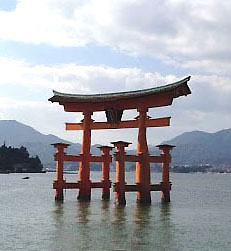 We came to Hiroshima to see the tallest torii gate and the shrine on the Miyajima island (宮島), not to visit the atomic peace park. From Hiroshima station we dropped our luggage at our hotel, Hotel Granvia Hiroshima, located right on top of the JR Hiroshima station, then changed to a local JR Sanyo line (山陽本線, heading toward Iwakuni 岩國) for 27-min to MIYAJIMA-GUCHI (宮島口), then a 10-min JR ferry to the island, all covered by our JR Rail Pass.
Besides the huge shrine on the island, we also visited the Senjokaku Hall (豊国神社(千畳閣)) - started by Toyotomi Hideyoshi but remains unfinished. On the walk back to the ferry terminal there was a street full of souvenir shops, restaurants, and food stands. We purchased fish cake on a stick, delicious roast chestnut, and grilled oysters on the shell. Oysters from the Inland Sea (Seto Inland Sea 瀬戸内海) are a specialty of Hiroshima. In all, we enjoyed an afternoon on the Miyajima island.
Learned Red Sox lost game 3 after we came back to the hotel from Miyajima.
A word about Hotel Granvia in Japan, it is a modern 4-star hotel chain owned by JR (Japan Railways). A hotel Granvia is usually located on top of a JR train station. We booked our Hotel Granvia Hiroshima via booking.com for about $123 USD/night (including 5% VAT and 10% service charge, but without breakfast). This rate was lower than the rate posted on Hotel Granvia's own website. We liked it and will not hesitate to stay at another Hotel Granvia in Japan. Incidentally, In Kyoto there is a very popular (but pricy) Hotel Granvia right on top of the Kyoto train station.
Day 6 - To Osaka with a stop at Hemiji Photo (10/28/2013, Monday):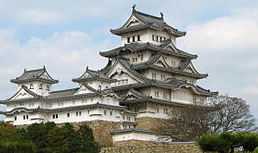 We left Hiroshima on a 7:45am Shinkansen heading toward Osaka, on the way we got off the train at Himeji for a quick look at Himeji-jo (姫路城). Himeiji Castle is considered Japan's # 1 castle. However, the castle donjon has been under scaffolding for renovation since April of 2010 and won't be completed until 2015, so we knew we could not go inside the donjon therefore our visit would be brief. We stored our luggage in a locker in Himeji train station, walked 15 minutes straight north on a wide, beautiful boulevard to the castle. The castle ground was vast and beautifully maintained, we saw several people on bikes. We'd like to return to Himeji someday to stay longer, rent bikes, and visit the castle.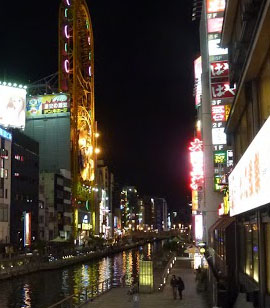 We continued by Shinkansen from Himeji to Shin-Osaka, then changed to a local train for a 4-min ride to Osaka station, arriving Osaka at 1pm. Our hotel in Osaka was ANA Crowne Plaza, which we booked for two nights using 50,000 Priority Club points. If one was willing to pre-pay months ahead with the restrictions of no cancellation and no change, a double room could be had for $139/night on the hotel's website. Many hotels in major European cities are also offering these kind of deals, from 10% up to 30% discount for pre-payment without cancellation or modification. It is a risk some may be willing to take, some may not.
The Crowne Plaza is in a convenient location, 7-min walk to the subway Yodoyabashi station (淀屋橋駅) on the Midosuji line (御堂筋線). We used our SUICA card purchased on arrival at Narita airport to pay for our subway rides in Osaka. It was very convenient. We did not have to stop in front of a machine to buy tickets. Instead, we just tapped the card on a turnstile's reader then walked through. On this afternoon we took Midosuli line to Nanba (or spelled as Namba, both translate to Hanzi 難波), the city center in the south. We had kaiten sushi (see our video clip on youtube), walked to Dotonbori (道頓堀) - crowded with many foreign visitors, saw the restaurant with the giant mechanical crab, Kani Doraku かに道楽. We also ate Takoyaki (たこ焼き, 章魚焼), but they were soft with gooey fillings inside, not crunchy like a octopus ball we had imagined, therefore they were not a hit with us.
On a busy street corner in front of Takashimaya department store in Nanba, we saw a 3-man band playing a very familiar Japanese melody. The singer's hair and eyeglasses were styled as if he was from a way-back era. We stood watching then gave the band a big applause. Vincent took a video of the singer singing. If you know the name of the tune, please let us know.
[Addendum: In December of 2017, a kind viewer left a comment at Vincent's YouTube clip to tell us that the name of the tune is "かえり船" (Ka-e-ri-bune, 戦後の外地からの復員船を歌う, a Japanese end-of-WWII-era oldie), and the band's name is "東京大衆歌謡楽団". You may Google the song's name or the band's name to see more YouTube clips of them.]
We had a fun evening in Nanba. Back at the hotel, we learned Red Sox won game 4 of the World Series.
Day 7 - Osaka Photo (10/29/2013, Tuesday):
Our room was on the 18th floor with a lovely view. It was a luxury to sleep in for once since we did not have to pack or catch a train.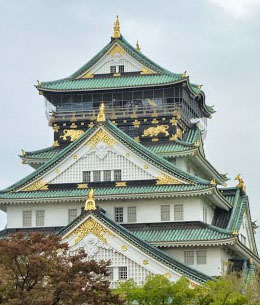 After a breakfast of coffee and delicious Japanese pastries, we headed out to walk along Midosuji (御堂筋) boulevard toward Shinsaibashi (心斎橋). Midosuji is Osaka's Avenue des Champs-Élysées. The trees lining the wide boulevard were Ginkgo(銀杏). Department stores and several international luxurious goods stores could be found on the boulevard.
We then took a subway to Kuromon Ichiba Market (黒門楽天市場), where Vincent bought and ate toro nigiri. We also purchased delicious oden and roast Japanese sweet potato. All were very good and inexpensive.

Our next stop was Osaka castle. Although the current castle is a modern reconstruction, and is nowhere near as impressive as the nearby Himeji castle, we went anyway. Osaka castle houses a museum about the castle's history and the life of Toyotomi Hideyoshi (豊臣 秀吉, 1537-1598).
While in the castle we met a Japanese female staff, who told us that Koji Uehara (Red Sox's closer for the 2013 World Series) was from Osaka area, and that they were all very proud of him. Back at the hotel, we learned that Red Sox won game 5 of the World Series.
In the evening we walked north from ANA Crown Plaza toward Kita Shinchi (北新地), the city center in the north. We reached the neighborhood of Osaka station in about 15 minutes on foot. We saw a Hansin (阪神) department store on our map so we went to buy pastries from its bakery shop for our breakfast tomorrow morning, but we saw so many ready-to-go food on the B1 level that we wound up assembling a nice dinner from there.
Day 8 - To Narita airport to catch AA flight home Photo (10/30/2013, Wednesday):
We left our hotel around 9:30am by taxi to Shin-Osaka station. From there we boarded a Shinkansen train to Shinagawa (品川, one stop before Tokyo station) then changed to a Narita Express to Narita airport. We wanted to go to Shin-Osaka station with plenty of lead time to buy bento boxes to bring on the train for lunch. Japanese Shinkansen trains were very smooth and enjoyable. Four hours later we were at Narita airport terminal 2 checking in at AA desk.
Vincent enjoyed listening to music stored in Apple gadgets on the long flight with the wireless + noise cancellation Parrot Zik headphones which he received as a birthday gift. It made the long flight bearable. He also purchased internet time on the AA flight home so that he could follow the progress of Game 6 World Series. By the time we touched down in Boston we learned that Red Sox had won the 2013 World Series championship. Everyone we saw in the Logan airport was smiling. What could be a better time to land in a city when the whole town was so joyous!
---------------------- Epilogue -------------------
We have visited Japan several times in the past. However, this was the first time traveling in the far western region of the country. The impression from this trip clearly enhances our admiration of the country and her people. The Japanese is, without a doubt, the most courteous people (race) of the world. Throughout our trip, we had been so enthusiastically and kindly helped by total strangers.

No matter where we went, places were always so clean and orderly. Public facilities, including toilets, are mostly spotless. People simply don't litter anywhere, period. Consequently, public trash cans are hard to find on street. Shinkansen (high speed rail) and local trains are always punctual, literally to less than one single minute. That did help our tight travel schedule going smoothly. All of these things and more made our trip very secure, pleasant, and comfortable. We also enjoyed all the foods we experienced in Japan, no matter in restaurants, train stations, or street stands. Besides good taste, we never needed to worry about any food related health issue.

A couple of surprises were observed; 1. many more Japanese are willing to communicate with tourists in English, that was not so in the past. 2. recent government policy of Yen devaluation does help foreign travelers finding everything much more 'affordable' in Japan now a day.

For sure, we will visit Japan again. Next time, we shall go to the northern country, including Hokkaido. And perhaps, we shall develop an itinerary with more Shinkansen rides, which is so impressively comfortable and runs efficiently.