Trip Summary:
The River cruise king, Viking, has branched into the Ocean cruise market in recent years. They custom-built 6 luxurious 930-PAX ocean liners a few years ago, with one delivered in 2015, one delivered in 2016, two delivered in 2017, one to be delivered in 2018 and one in 2019.
All six ships have identical deck plans and every stateroom has an outside balcony. A very basic shore excursion is included at each port of call, or you may pay extra for an optional excursion. House wine/beer/soda with lunch/dinner services, unlimited free WIFI, thermal spa, self-service Laundromat and dinners at special restaurants are all included. Airfare is extra, but sometimes Viking throws in free air to promote a particular sailing. Transportation between airport <-> ship is included if you let Viking book your air and do not deviate. The dress code is "casual" during the day and "elegant casual" for all dining venues after 6pm, no "formal nights". Needless to say, the company is targeting the same clientele attracted to other up-market cruise brands like Oceania, but their additional incentives like all-balcony rooms and free excursions give them added value against the competition.
After watching many Viking commercials during PBS's run of Downton Abbey, as well as reading glowing online reviews, we wanted to try a Viking Ocean cruise. We found an 11-night Trans-Atlantic crossing on the brand new Viking SUN at a good price. (As a matter of fact, almost all the Trans-Atlantic sailings are at good prices.) We treated this cruise as vacationing in a 5-star floating resort hotel, with dining services, entertainment, enrichment lectures, excursions and transportation all included. For this cruise, the ship was the destination.
The brand new Viking SUN started its maiden voyage on October 4th with a 7-night cruise from Venice to Athens. By the time we boarded the ship in Lisbon on November 6th, she was only one-month old. In mid December, Viking SUN embarked on a 140-day World Cruise from Miami to London.
Viking Ocean's home page is at: https://www.vikingcruises.com/oceans. You may click on the "360° Tour" link to see the interiors of one of the ships.
We went to Lisbon in 2009, and to Bermuda in 2013, so, the only port that was new to us was the Ponta Delgada on the Sao Miguel Island in the Azores of Portugal. We heard that the Azores felt like New Zealand, although we have not been to New Zealand.
Rough seas? Since we would be crossing a big open ocean for several days, MC brought along a pack of over-the-counter "Non-Drowsy Dramamine with Natural Ginger". We did not encounter any rough seas but the ship did sway a bit on two of the days due to wind, and the Dramamine did help MC to dispel any discomfort. Vincent seemed not to be affected by the ship's movements at all.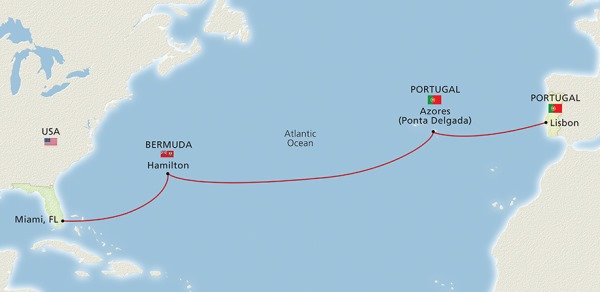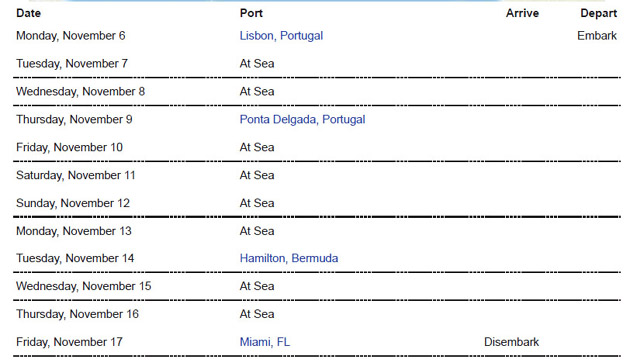 Transportation
CRUISE: We knew that if we were to book with an outside travel agent we would receive a few hundred dollars of OBC (On Board Credit), but for several reasons we won't bore you here, we decided to book directly with Viking. We paid $2199/pp (after applying a $100 new-customer discount) for a 270-sq-ft Deluxe Veranda. Air fares were included, free of charge from over 150 US cities.
AIR: We flew TAP Portugal from Boston -> Lisbon, and then flew AA from Miami -> Boston. If your flight departs too early in the day or have a tight connection, call Viking soon after receiving your air itinerary to discuss and request a change before tickets are issued. You just have to be your own advocate.
Guidebooks and Online Resources:
Lisbon - https://www.whatsinport.com/Portugal.html and Rick Steves' Portugal guidebook.
Ponta Delgada, Portugal - https://www.whatsinport.com/Ponta-Delgada-Sao-Miguel.htm , as well as first-hand tips from several Toronto TravelZine members who often spent winter months vacationing in Ponta Delgada.
Bermuda - There are 3 ports in Bermuda. Being a mid-sized ship, Viking SUN docked at Hamilton, https://www.whatsinport.com/Hamilton.htm. We also dusted off our Moon's Bermuda guidebook from 2013.
Internet:
With free WIFI on the ship and very few shore days, we planned to just use the ship's WIFI to load Google maps, check emails and web surfing. But be careful to always (1) turn your iPhone's (3rd party) Data Roaming OFF first, and then (2) turn your Cellular Data OFF.
Or, to be absolutely sure, turn the Airplane Mode ON to shut down everything, and then turn the WIFI to ON to connect to a designated network. This way, you will only use WIFI and nothing else; your phone won't ring either.
On the ship, Viking provides free internet at a reasonable speed throughout the whole ship, and guests are free to connect to any number of devices they want. This amenity definitely scored high points for Vincent.
Cuisine:
How is the food on Viking cruises compared to Oceania cruises? We'd say that the buffet restaurant on Viking was as lovely and enjoyable as Oceania's - sushi/sashimi and king crab legs were served every evening (as opposed to sushi/sashimi and grilled lobster tails on Oceania). However, Oceania scores higher in the afternoon tea and dining experiences in the main dining room and specialty restaurants. Not only were those venues on Oceania more elegant, the cuisine was better prepared and the service personnel more experienced. But Viking is new, so all of these could be improved over time when they are high enough priorities for Viking to address them.
---
Itinerary and highlights:
Day 1 - Arrival in Lisbon, Portugal (11/6/2017 Monday, 67~50F, sunny): Link to our photo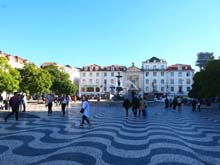 The immigration hall at Lisbon airport was very crowded when we arrived at 6:30am and it took us over an hour to go through immigration. Several Viking reps were there to greet us and we boarded a large bus to the cruise terminal at Cais Jardim Do Tabaco, which is immediately south of the Alfama neighborhood.
We finally checked in and were welcomed aboard the ship at 10am. Guests had the opportunity to enjoy snacks/beverages/lunch and relax. We decided to stay put until we could check into our cabin, drop our carry-on bags and then go sight-seeing in downtown Lisbon.
We visited Lisbon in 2009 with Grand Circle Travel, so we saw Lisbon's major attractions, including those in Belém. The day's plan was to check out some of the areas of central downtown that we did not get to see the last time and we accomplished this via taxis and tuk-tuk.
Our ship left Lisbon at 11pm by sailing west on the Tagus River to the Atlantic Ocean. As we looked out at the street lights and building lights from our room on the right-hand side of the ship, we knew that our ship would sail past the Belém Tower, the Monument to the Discovers, and the Monastery of Jerónimos, but due to the darkness we could not visually identify these landmarks.
Here is a link to some Lisbon photos from our 2009 trip.
Day 2 - Sea Day (11/7/2017, Tuesday, sunny): Link to our photo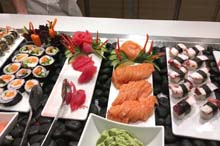 Breakfast at the buffet had many choices, including shrimp & pork 燒賣 (Shu-Mai), chicken congee, brioche bread etc. The croissant was very good and had a tinge of sweetness on the top crust.

We used this free day to explore the ship's public spaces. The atmosphere on the ship was very calm and serene. Many guests sat on lounge chairs and read. There was no casino on the ship. Viking guests must be 18 or older. Each stateroom holds only 2 guests and there are no connecting rooms.

The pool deck had a grill with two chefs grilling hamburgers and hotdogs to order. The hamburgers were good, but the wait time was long.

Daily "Afternoon Tea" was served from 4 to 5pm in a lounge called "The Winter Garden".

The World Cafe (the name of the ship's buffet restaurant) serves sushi, sashimi and king crab legs every day during dinner. On today's dinner menu, there were also Filet Mignon, Roast Orange Duck and many others.




Day 3 - Sea Day (11/8/2017, Wednesday, 68F , partly cloudy): Link to our photo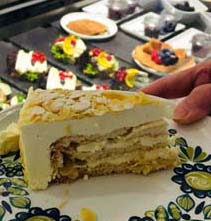 We went to the Norwegian deli on deck 7 called Mamsen's for breakfast. Viking cruise line's founder, Torstein Hagan, named this deli after his mother. The cakes and Norwegian waffles served there are from his mother's recipe. The waffle was different from the Belgian waffle and worth a try. We loved the almond cake served here.
Attended a lecture where the speaker, Paul Riley, gave a series of talks about the Universe and Planet. He provided very good visuals, which made it very interesting. We attended all 5 of his lectures spanning over several sea days.
Dinner was in the main dining room called "The Restaurant". The seating was a bit cramped and very close to the neighboring diners that we wound up conversing with. Some folks like to dine in the main dining room, where they are served for the whole meal. We prefer the buffet, where we choose where to sit and sample a variety of dishes - sushi/sashimi, fish, meat, pork, poultry or whatever looked appetizing.
The evening's show featured a young and energetic Scottish singer named Matt Cairns. He sang Scottish and Irish songs as well as John Denver, Neil Diamond and Beetles songs.
Day 4 - Ponta Delgada, Portugal (11/9/2017, Thursday, 72F, sunny): Link to our photo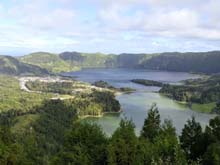 Ponta Delgada is the administrative capital of the Autonomous Region of the Azores, which is an archipelago composed of 9 volcanic islands. The name, Ponta Delgada, translates to "Thin Tip", Ponta=tip.

The city is located on São Miguel Island, the largest and most populous in the archipelago. Historically, the Azores played a very important role as a supply station for the explorers during the Age of Discovery, when Portugal was a great superpower for 200 years from 1500 to 1699.

We booked a 3-hr included excursion to the western part of São Miguel Island to explore the scenery and see the volcanic caldera called "Sete Cidades" (Seven Cities). The island was very green in November. It may be green all through the winter.

We also walked around downtown Ponta Delgada and purchased several jars of pineapple jam to bring home.

For dinner, we went to the ship's Italian restaurant called Manfredi's. MC ordered the popular Bistecca Florentina (Beef Steak Florentine Style) cooked medium rare. According to Mandredi's menu, it was a thick cut of rib eye rubbed with porcini mushroom powder, Kosher salt, brown sugar, and red chili flakes. It was very tender and flavorful, one of the best steaks she has ever had. VT had Fish of the Day and he said it was delicious as well.

The evening show was "Gershwin and Friends", performed by a duo named Virtuosos made up of two young men, one played clarinet and the other piano. Both were graduates of music academies in UK. They were very good at their craft.




Day 5~8 - Sea Day (11/10 ~ 11/13/2017, Friday ~ Monday): Link to our photo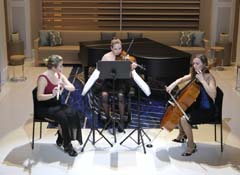 The ship crossed 5 time zones from Lisbon to Miami, so there were 5 days when we gained one extra hour by turning the clocks 1-hour back.
We used the Thermal Pool with water jet on Deck 1. The changing rooms had showers, lockers, robes, towels, slippers and even a machine to dry your wet bathing suit. There was an attendant to assist if you had questions. The spa area also had a sauna, a steam room and a cold Nordic Snow Grotto, all free of charge to guests.
Each guest floor had a self-serve launderette with 4 washers, 4 dryers and 2 irons and iron boards. The laundry rooms were open 24/7 and the machines were free of charge, which was very convenient.
Day 9 - Hamilton, Bermuda (11/14/2017, Tuesday, 76~69F, cloudy): Link to our photo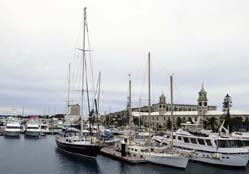 Viking SUN sailed into Bermuda at 8am. We docked at the capital city, Hamilton, till 3:45pm. Viking provided each guest a complimentary excursion called "Bermuda on Your Own", which was an all-day transportation pass to explore the island on our own via bus or ferry.
The air in the city of Hamilton had a distinct smell due to its high humidity. We walked to the City Hall, then to the city library. Hamilton felt very commercialized with its endless number of stores.
We took a ferry to the Royal Navy Dockyard for nostalgia reasons.
Day 10~11 - Sea Day (11/15 ~ 11/16/2017): Link to our photo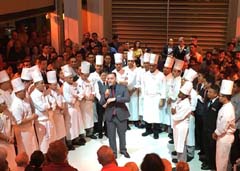 We met some passengers on the ship who were on their very first ocean cruise. They were happy customers of Viking River cruises, so they took a leap of faith and signed up for a Viking Ocean cruise. Were they happy with this cruise so far? They sure were. The ocean ship's cuisine was much more extensive and the public spaces were enormous compared to a river ship's.
On the last evening, the production singers presented a performance of "The Music of ABBA" celebrating the hit songs of ABBA - Dancing Queen, Fernando, Take A Chance On Me, I Have A Dream, Mamma Mia! etc. The beats and rhythm were very cheerful and brought the ending of the cruise on a high note.
Luggage needs to be placed outside the cabin by 10pm, or one may roll their own luggage off the ship the next morning.
Day 12 - Disembarkation (11/17/2017, Friday, 79F, sunny): Link to our photo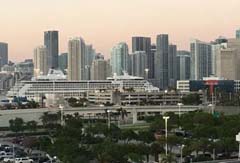 MC got up at 5am and went to the Explorers' lounge to watch Viking SUN sailing into Miami port. The water channel was narrow with sky scrapers straight ahead, a highway to our right and a causeway lined with palm trees to our left. The ship had to sail further toward land to a wider area to make a 180 degree spin turn to dock at the terminal.
We took our time to tie up loose ends, then went to the buffet to enjoy breakfast one last time. We left on a shuttle bus chartered by Viking to Miami International Airport.
At mid-day, Miami was sunny and 79F, while we knew our home in Reading, MA was only 39F, very cold.
Our AA flight left Miami at 12:50pm.
What we liked about Viking Ocean cruises:
With a free excursion at every port, plus well-priced ship's optional excursions for purchase, means you do not have to organize your own independent excursion if you are happy with what is being offered.
Free WIFI at reasonable speed and connectivity throughout the ship, and guests are not limited to how many devices they wanted to connect to.
Newer ship, very clean windows.
The pool deck has a retractable roof, so that guests can continue to use the area on rainy or cold days.
Sushi, sashimi and king crab legs are served at every dinner at the buffet.
What to be aware of:
At Logan airport, the TAP Portugal agent charged us $180 for two check-in bags. We were surprised that Viking purchased such bare-bone international air tickets with 0 check-in bags for its customers, so we fired a grievance email to Viking's air department attaching a picture of our $180 payment receipt. Viking agreed to reimburse us. They promised a check within 14 business days, but it actually took about a month. We are very glad to have received it.
---
Practical Tips:
1. Internet: If you plan to just connect to free WIFI, then remember to turn both Data Roaming OFF and Cellular Data OFF on your iPhone. If you forget to turn Data Roaming off, 3rd party data roaming will automatically kick in if the WIFI momentarily drops, causing you to incur international data usage fees.
2. MAPs - we downloaded a port city's detailed Google map to our iPhone using the ship's WIFI, then while on the shore we rely on Google Maps GPS (the blue dot) to guide us in the right direction.