Trip Summary:

Having learned valuable tips from the online Travelzine discussion board on how to book a cruise vacation, we decided to give it a try. We went to vacationstogo dot com to do a custom search. Our criteria were: Mediterranean Region, April or May departure, 10-14 day length, and visiting the port of Istanbul.

Out of the search results, a 12-night cruise to Turkey and Greece embarking from Rome on 5/16 on RCCL (Royal Caribbean) Mariner of the Seas caught our eyes for two reasons. First, its itinerary - it docked at Istanbul for a day and a half, and it called on two Greek Islands (Crete and Rhodes) that we had not been before; and by embarking from Rome, it presented us with an opportunity to visit nearby Tuscany. The second reason was its very reasonable price. The least expensive cabin was $1059/pp when we saw it in February. The next day we booked a cabin on the 9th deck, aft. Since we opted for anytime-dining, we had to pay tips up front, with taxes and tips, it was $1320 per person. We did not splurge for a cabin with a balcony or oceanview, that will have to wait till a more significant cruise in the future. A few days later, we booked open-jaw airplane tickets to Pisa, and would return home from Rome.

From March to April we saw RCCL offering deals as low as $899/pp on some cabins on our cruise. We had also learned tips from the Travelzine discussion board on what to do if the price of your cabin dropped. Following these tips, we called our booking agent at vacationstogo. However, we were told by our agent that we'd have leverage only if (1) the cabins on sale were of exactly the same (alphabetical) category as ours, and/or (2) if it were still more than 90 days out from sailing (when one could still cancel without penalty). Otherwise, there was really nothing they could do to sweeten the deal.

Our 21-day itinerary was:
Fly to Pisa, stay in Lucca for 2 nights. Then to Siena for 3 nights, then to Rome a day prior to boarding the ship.
12-night Turkey and Greece cruise on Mariner of the Seas, the world's 9th largest cruise ship in terms of tonnage, and with 3200 passenger capacity.
Stay two nights in Rome after the cruise, before flying home.
Transportation:

We flew Air France from Boston to CDG (Paris), then connected to a flight to Pisa, Italy.
We flew Alitalia from Rome direct to Boston.
In between while in Italy, we traveled by trains and buses.

Online Resources:
Travelzine discussion board: http://groups.yahoo.com/group/thetravelzine/messages
Fodor's Italy community board: http://www.fodors.com/community/europe/italy/
Italian train website: http://www.trenitalia.com (Search within next 7 days to see ticket prices. Search for your actual dates to see train number and schedule.)
SienaMobilita Bus map: http://www.sienamobilita.it/mappe/Mappa_EXT.pdf
SienaMobilita Bus connections & schedule search: http://www.busfox.com/timetable/accessible_timetable.php
SITA Bus – Runs between Florence and Siena, http://www.sitabus.it
SENA Bus – Intercity, such as from Siena to Rome or Milan, http://www.sena.it
"Europe For Visitors" - detailed instruction on how to train from Rome to Civitavecchia port: http://europeforvisitors.com/rome/civitavecchia/rome-to-civitavecchia-by-train.htm
And below is for the other direction, train from Civitavecchia back to Rome:
http://europeforvisitors.com/rome/civitavecchia/civitavecchia-to-rome-by-train.htm
Google Italian -> English translation: http://translate.google.com/#it/en/
Guide Books:
Rick Steves' Italy.
Rick Steves' Mediterrean Cruise Ports.
Rick Steves' Istanbul.
Supplemented by Lonely Planet, Frommer's, and Eyewitness Travel Guides.
---
Itinerary with links to picture pages:
Day 1 - Arrival in Lucca Photo (5/10/2012 Thursday):
Our neighbor, Paul, kindly gave us a ride to Logan Express in Woburn yesterday. Our Air France flight left Boston at about 8pm last night and arrived at Paris CDG terminal 2E shortly after 8am this morning. After a long walk and a shuttle bus ride in the Charles de Gaulle airport, we finally reached terminal 2G to catch our connecting flight. We landed in Pisa at 10:10am local time. On this second flight, we met several American ladies on their way to a biking vacation with VBT, a tour company specializing in bicycling and walking vacations.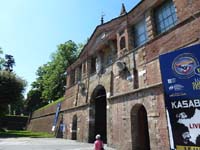 Bus information from Pisa airport to Lucca is available on the airport's website. Or we could take trains from Pisa Aeroporto to Lucca with a change at Pisa Centrale. We opted to take the bus, only because buses would be easier when traveling with luggage. Our hotel, Hotel Rex, is located in Lucca's train station square, just outside the old town walls. We knew that it would be a 15-min walk from Lucca's bus station (Piazzale Verdi) to our hotel. Little did we know how uneven the street surfaces in Lucca were, otherwise, with rolling luggage in tow, we'd have chosen to take a train. We were sweating profusely by the time we reached Hotel Rex.
After freshening up, we went for a walk in Lucca's old town. Lucca is a charming walled town without major monumental sights. Be warned that if one comes here to have a quick look on his way to Pisa, then one may be underwhelmed. For many music fans, Lucca is the birthplace of composer Giacomo Puccini. We had a leisure walk through many lovely squares and bustling shops, saw several German tour groups. We had a specialty pizza (pizza with mozzarella cheese and fresh tomato) for 7€ at an outdoor pizzeria ringing the lovely Piazza Napoleone. This pizza was not bad; a B+. We also munched on pastry, almond cookies, fresh oranges, and gelato.
We hit the sack early. It had been a long day.
Day 2 - Biking, GTG, Pisa's Field of Miracles, and the best Pizza of this trip Photo (5/11/2012, Friday):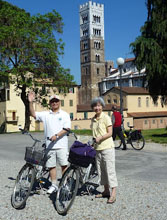 The hotel offered loaner bikes to guests free of charge, so we requested two bikes for the day. We biked on the 2.5 mile city walls. These thick Renaissance walls were built from 1550-1650 and designed to sustain the pummeling of cannonballs. They were state-of-the-art at that time. We also biked on the streets inside the old town. It certainly was more efficient than seeing the town on foot.

At 1pm we biked to a restaurant for lunch GTG (Get Together) with Ron and Linda Audet, two retired teachers from Virginia who now permanently live in Florence. We met the Audets online through the Travelzine discussion board. They took a train from Florence to Lucca and we met at Vecchia Trattoria Brualli for a very pleasant lunch. We were curious as to how they are handling their medical insurance. (They are on the Italian medical system.) The Audets posted a blog at http://audetsin.blogspot.com/ describing their experience of moving to Florence.

Late in the afternoon, we took a 25-min train from Lucca to Pisa to see the Campo del Miracoli (Field of Miracles). NOTE that Pisa Centrale train station is a 30-min walk to Campo del Miracoli, so if you come from Lucca by train, get off at Pisa San Rossore station, one stop before Pisa Centrale. Pisa San Rossore is only two blocks from Campo del Miracoli.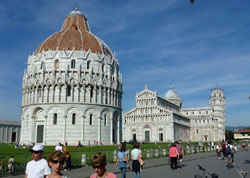 The sight of the three pastel-colored monuments (Duomo, Leaning Tower, and Baptistery) standing on an expansive green field was very pretty. The field was crowded with tourists speaking all kinds of languages. We had no desire to climb the leaning tower, therefore we did not pre-book admissions to the tower. We did pay 2€ admission to see the inside of the beautiful Duomo.
Pisa was a powerful sea-trading city-state rivaling Venice and Genoa for three centuries from 1000-1300 AD. The Pisan Republic used its sea-trading wealth to build these grand monuments. At the time when the Crusaders were hiring Pisan boats to carry them and their supplies to the Holy Land, what cargo did these Pisan boats carry on their way home? They brought back soil from the Holy Land, and laid those soil on the field by the Duomo, now part of the field known as Campo del Miracoli.
After about 1.5 hours, we took a VAI bus back to Lucca. The bus fare was 3€, the same as the train fare.
In the evening, we went to Trattoria pizzeria Da Francesco for dinner, 3 minutes' walk from the train station. This restaurant was recommended by our hotel's night manager - an older gentleman who is knowledgeable about the differences between Taiwan and China! We ordered a Margherita pizza (4€), a mixed salad (3.5€), a black-ink spaghetti with squid (10€), a fried seafood platter (12€), a glass of red wine (1€), and a bottled water (2€). When we saw how big a pile the fried seafood platter was, we asked the waitress if it was still in time for us to cancel the pizza. No, too late. But we were glad we could not cancel, because this pizza turned out to be so good (an A+, and very thinly crusted like crackers) that we wound up finishing the pizza and left the fried seafood on the plate instead. The price tag for dinner was 34.50€ before tip, very reasonably priced.
Day 3 - Siena Photo (5/12/2012, Saturday):
There are many transportation options to go from Lucca to Siena. We could take a train-train combination, or bus-train combination, or train-bus combination. The main difference is that Siena's bus station is in the historical center, while its train station is at the edge of the town. We chose the shortest route time-wise, which was train with a change at Pisa Centrale and then another change at Empoli. Some of the train stations have elevators, so look for an elevator first before schlepping luggage up and down stairs.
Since the ticket windows at Lucca's train station were not busy, we purchased all the train tickets needed for the remainder of the trip at Lucca station, including the regional train tickets from Roma Termini (Rome's main train station) to Civitavecchia port and back. Regional trains are open seating. A regional train ticket is good for 2 months from the date of purchase until you validate it at a train station (by inserting it into a time-stamping box). After that, the ticket is good for only 6 hours from the timestamp. Therefore, it is important that before boarding a regional train one must validate one's train ticket. If one were caught on a regional train without a validated ticket, he would be fined as if without a ticket.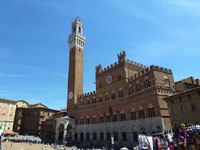 We left Lucca on the 9:12 regional train and arrived in Siena at 11:38. The train fare was 10.10€/pp. We took a taxi (9€ fare) from Siena train station to our hotel in the historical old town. It was a good thing that we took a taxi, otherwise we might not have been able to locate our hotel so easily on our own. Our hotel was Alma Domus. We chose this hotel because it was recommended on Fodor's Italy board, and it is also listed in Rick's Italy guidebook, and also because the hotel is located half way between IL Campo and Siena's bus station square, convenient for our making day trips from this base. This hotel is run by a church organization and is associated with the "Santuario S. Caterina". Santa Caterina is Siena's patron saint. If you google "Saint Catherine of Siena" you will be able to read stories about her. The hotel has elegant marble floors and marble staircases but very simple rooms. Wifi was available for an extra fee.
After dropping off our bags, we walked to the fan-shaped IL Campo. There were many day-trippers at the campo, we purchased pizza slices and sat on the campo under the shade of the City Hall bell tower to drink in the atmosphere, just like so many folks around us did.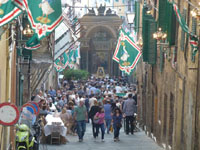 We then walked to the Duomo, passed by many shops, ate gelato - Ananas and pistacchio were the flavors of choice during this trip. Vincent left the camera at the hotel so we did not pay the 3€ admission to go inside the Duomo. We thought we'd come back to go inside the Duomo with a camera before leaving Siena, but we did not go back to go inside the Duomo. Good reason for a return visit!

In the evening, we happened upon the Goose contrada's (one of the 17 Contrade of Siena) annual celebration on the streets surrounding our hotel. Every Goose contrada member was out with a green and white contrada color on their person. We participated by purchasing BBQ pork, sausage, grilled vegetables, pasta, and sweets from the street festival as our supper.

Day 4 - Tuscan Hill Towns Photo (5/13/2009, Sunday):

We pre-booked a driving tour with Hills and Roads of Siena for a join-able driving tour of the UNESCO Val d'Orcia (Valley of Orcia) area for today. We had requested that the itinerary include the hill towns of Montalcino, Pienza, and Montepulciano.

In the morning, a driver/guide named Andrea from Hills and Roads came to our hotel to pick us up at 9:15am as appointed, and we were the only passengers for today's join-able tour. Andrea not only took us to the places we requested, he also threw in several stops to make sure we saw a variety of villages in this area. The scenery of rolling hills with various shades of green dotted with tall cypress trees was very pretty. During the 9-hour tour we:

Andrea walked everywhere with us and answered all our questions all day. At the conclusion of the tour, we gave him a generous tip to show our appreciation. He was very pleased.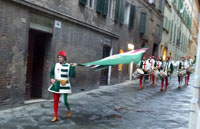 After we got back to Siena, we saw a parade procession of the Goose contrada on the streets near our hotel. Their marching band and color guards had been performing since this morning before we left town for the driving tour, and now they were still performing at 7pm. Amazing!
For dinner we went to La Taverna Di Cecco (listed in Rick's Italy book, and also recommended by Andrea) for a very enjoyable Mothers' Day dinner. Mei-Ching had Osso Buco (veal shank braised with vegetables); Vincent had chicken sautιed with mushroom in white wine sauce, which was superb. A glass of prosecco was complimentary from the restaurant. The dinner bill came to 41€. What we saw and ate today combined really made today a highlight of our entire 21-day trip.
Day 5 - Day trip to San Gimignano Photo (5/14/2009, Monday):
We took a bus from Siena to San Gimignano [sahn-jee-meen-YAH-noh] for a day trip on our own.
(Bus schedule:http://www.busfox.com/timetable/accessible_timetable.php)
As an evidence of San G's popularity, there are buses to San Gimignano from both Florence and Siena even on Sundays! Andrea, our guide from yesterday, told us that if Pienza were Disneyland, then San Gimignano is Disneyland times 2. It is always packed with tourists, especially on weekends.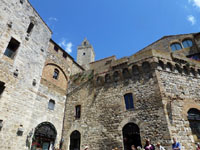 We wanted to visit San Gimignano because we have seen many beautiful pictures of its skyline with 14 towers, and also because we have seen the 1999 movie "Tea with Mussolini" which shot many lovely scenes in San Gimignano.
The day we were there it was very windy and chilly, so we did not walk all the way to the northern part of the old town, nor did we see a panoramic view of all the 14 towers. But we did have a very good gelato at Gelateria Pluripremiata "di Piazza" (on Piazza della Cisterna) whose owner was a member of the Italian team that won the official Gelato World Cup. The gelato was good, its pistachio really stood out.
Since it was windy and chilly, lunch at an outdoor cafe would not be comfortable, so we walked to Trattoria Chiribiri (on Rick's Italy guide) for an indoor lunch. It turned out to be a good find - tasty home made bread, remarkable food at fair prices and no cover charge on our bill. (The negatives? Seating was very tight in this petite restaurant.)
Day 6 - Bus to Rome Photo (5/15/2012, Tuesday):
We decided to move from Siena to Rome a day before sailing, so that we would not have to worry about possible train delays or missed connections on the embarkation day.
We took the 9:30am SENA bus from Siena to Rome, arriving at Roma Tiburtina station at 12:45pm. From Tiburtina we took a cab to our hotel on Via Firenze, near Piazza Repubblica. The cab fare was 9€, city cabs were very reasonable for two or more traveling together. Rick Steves recommended several hotels on Via Firenze, and on three different occasions we stayed at three different hotels on this street. They were all good and convenient, but after reading several traveling posts which recommended staying within a few blocks of Piazza Navona for a more bustling evening scene, maybe we will do that on our next trip to Rome.
Our hotel for this trip was Hotel Oceania, which occupies the entire 4th floor of a 19th-century palazzo. The hotel has a nice homey decor, friendly staff, a 4th-floor patio with tables and chairs where we accessed free wifi and chatted with other guests from the USA, all staying here on account of Rick's recommendation. Another of Rick's recommendations on the same street, Hotel Aberdeen where Mei-Ching and Austin stayed in 2000, was also similarly good and without street noise. We paid 142€/night for our dates in May at Hotel Oceania on a Rick Steves discount. Did not ask what the rate was without discount.
[NOTE: The star rating system for hotels in Italy is based on facilities and services, not on luxury. For example, does the hotel have a bar service? 24-hour reception? Has parking? The rating system does NOT factor in the lack of charm, tired room etc. ]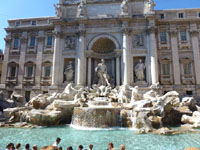 The first thing we did after checking into the hotel was to find a full-service laundry to have our laundry done. Our hotel recommended a business within walking distance. A load washed and dried in 1.5 hours was 7€. What a relief to start the cruise with clean clothes.
We took a walk past Trevi Fountain to Pantheon, then to Tazza d'Oro (literally, golden cup) for a cup of the much-touted granita de caffe (iced coffee slush). The 2.5€ ice-coffee-slush-with-cream came in a small paper cup. It was good but we did not make an effort to go back, because gelateria was widely available whenever we craved for a frosty treat.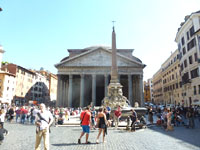 The Pantheon and the Piazza Rotunda were crowded with tourists. If the Italian government were to collect a small 1€/pp admission fee to the Pantheon, it might be able to make a dent in the national debt.
We also walked to Campo de Fiori (a bustling flower and vegetable market in the morning) to find the Forno Campo de Fiori (Forno = oven, often used for a bakery's name). We bought pizza, focaccia and almond cookies. At 5pm, the few pizza and focaccia slices behind the counter were cold, and the clerk did not offer to heat them before giving them to us. As a result, the pizza did not taste as good as we had remembered. On top of that, the shop also did not resemble what we had remembered from our last visit more than a decade ago. In our memory, the shop we went for a piping-hot pizza only made and sold pizza, no cookies or fancy bread or sandwiches. What had happened? Out of curiosity, we did some Googling after we came home. What we learned was that the Forno has two parts of business in two buildings. One part makes cookies, bread and sandwiches, another part in a building ACROSS AN ALLEY makes pizza. That makes sense. We saw a building on the campo with a Forno sign and immediately walked in. We did not think of looking for another building across an alley specializing in pizza.
CruiseDay 1 - Cruise embarkation in Rome Photo (5/16/2012, Wednesday):
Mariner of the Seas was set to sail at 5pm from Civitavecchia port, so we had to get on board by 3pm on embarkation day. The ship offered transfer from central Rome or Fiumicino airport to Civitavecchia for US$92/pp; a privately booked car service cost about 140€ for two; but a train ride on a regional train from Rome to Civitavecchia took 70 minutes and cost only 4.50€/pp. Since we are familiar with taking trains in Italy, we naturally took the train.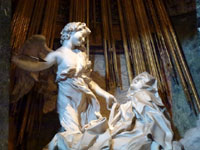 After a breakfast of croissant and coffee at our hotel, we went for a brief sight-seeing by walking to Santa Maria della Vittoria church to see one of Gian Lorenzo Bernini's sculptures, St. Teresa in Ecstasy. This masterpiece revived Bernini's artistic career. We would get to know more about Bernini after we came back to Rome and visited the Borghese Gallery on the last day of this trip.
The Italian train website showed roughly two trains every hour from Roma Termini to Civitavecchia on the morning of 5/16. We took a train leaving Roma Termini shortly after 11am.

Trains to Civitavecchia departed from track 25, which is a 10-min walk from the main platform area. On the train, we saw passengers speaking Italian, English, Spanish and German all schlepping luggage with the same kind of tags as ours. They were all going on the same cruise as us.
From Civitavecchia's train station to the port entrance was a 300 meters' walk. Once at the port entrance, there were dedicated buses to shuttle passengers to their respective cruise ship.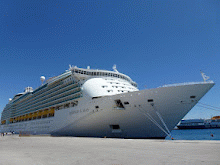 The check-in process was quick. Before long, we were sitting at the Windjammer Cafe on Deck 11 enjoying a lunch buffet, plenty of choices to eat, as well as bottomless lemonade, iced tea, coffee and tea. We attended a "First-Time Cruiser" meeting and learned that entertainments and theaters are usually located at the front of a ship, while the restaurants are usually located towards the back of a ship.
Our cabin was very pleasant, decorated in green and white. Its size was a little bit bigger than the cabin we had last year on a river cruise with GCT to Holland and Belgium. The bathroom was modern, with a glass-enclosed shower stall and strong water pressure. This ship just came out of a dry dock for several updates, including replacing miles of brand new carpet.
CruiseDay 2 - Messina, Sicily Photo (5/17/2012, Thursday):
We slept very well last night; when we woke up it was already 9am. The shore excursions from Messina were to Taomina or Mt. Etna in Sicily. Since we had been to those places in 2009, we stayed in Messina for the day. Thus, this was like a free day for us with no schedules to meet and no "must-see" sights.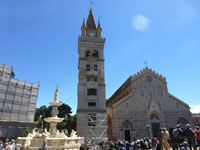 After a leisure breakfast at Windjammer Cafe, we walked off the ship toward Messina's Duomo. There was a big crowd gathering at the piazza in front of the cathedral. We did not know why so many people were all standing outside the cathedral, so we joined them to find out why. Ah, a few minutes later we knew the answer - they were waiting for the astronomical clock's show at 12 noon. The astronomical clock on the bell tower struck at noon, then a bronze lion rustled to roar, followed by a crowing bonze rooster, then a processing of historical figures in bronze accompanied by music. This astronomical clock is the world's largest, and was built in Strasbourg (France) in 1733.
There were many school groups visiting the cathedral. A group of 12-year-old girls asked to take photos with us. Why? Don't know. But looking at their smiling faces, we happily obliged.
The cathedral was built in the 12th century in the Norman style. Over the years, it has suffered many disasters and damage - fire, devastating earthquakes, and WWII bombing. As a result, it is not on a par with the cathedral at Cefalω, where we visited in 2009.
We then walked to the sickle-shaped harbor. It was very windy by the harbor, so we soon went back to the ship. Since most of the passengers were still out touring, there was no line at the customer service desk. We seized this opportunity to book our shore excursion to Pompeii (from Naples), and also purchased 100 minutes of internet connection time for $55. All transactions on the ship were based in US dollars. Before dinner, we attended a classical strings performance at the Schooner Bar by a trio named Three Seasons. Life certainly was looking very good on a cruise ship.
CruiseDay 3 - Sea Day Photo (5/18/2012, Friday):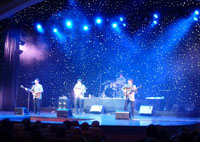 Today was a sea day, and the first formal dinner. As it turned out, when it was a sea day, it would also be a formal dinner day. Since we were heading east to Crete, we turned our clock one hour ahead at 11:30am. Our task for a sea day was deciding when/where to eat lunch and dinner, and also what activities to participate in.
We attended a destination port talk in the morning (mainly about ports in Turkey and Greece), and saw an ice skating show in the afternoon. We went to the main dining room for lunch. It served an Italian buffet - toss salad, grilled vegetables, shrimp cocktail, smoked salmon, cold cut meat, stewed beef, chicken, fish, pasta, soup, and dessert. All were of excellent quality.
For the formal dinner, we shared a table for six with two couples from Australia. There were many Australians on this cruise. We had a lively conversation with our table mates. As a matter of fact, we enjoyed meeting with different folks and talking about whatever topics that took us. All had been enlightening.
CruiseDay 4 - Chania, Crete Photo (5/19/2012, Saturday):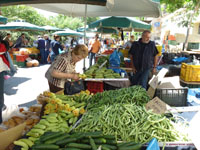 Crete is Greece's largest island. Its capital is Iraklion, gateway to the Minoan ruined Palace of Knossos. Our ship called at Chania instead of Iraklion. Chania is a charming town with a beautiful Venetian harbor, and is located on the north-west side of Crete island.
Our ship docked at Sorda port, 10 km from the old town Chania and required a 15-min bus ride. However, the city of Chania rolled out their welcome mate when cruise ships called - the city provided continuous shuttle buses between Sorda port and the old town of Chania for 3€/pp round trip. The town also set up a booth at the port to hand out maps of the old town.
The old town center was very developed and very bustling. On our walk to the harbor we saw buildings from the Venetian(1212-1699) and Turkish era. Along the waterfront there were many restaurants, but not many customers. Looks like the local economy depends heavily on tourists. We then stumbled upon a lively Saturday market - Vincent took many pictures of the colorful fruits and vegetables. Our walk ended up at the indoor Municipal Market, which is packed with rows of eateries, deli, butcher, fish market, bakery, souvenir shops, and spice vendors. Many eateries were hawking lunches for 6€ ~ 8€, but we felt the food at Windjammer Cafe on our ship was more appealing than what we saw on offer. Besides, once back on the ship, we could use our own clean bathroom, wash hands, put the bags down, and then enjoy a relaxed meal. Therefore, we took a shuttle bus back to our ship for a late lunch at Windjammer Cafe.
We saw Crab Cake on tonight's menu, so we went to the dining room for dinner at 8 o'clock. We shared a table with an older couple from Montreal, and a middle-aged couple from London. Crab Cake turned out to be not as good as American Joe's in Woburn, but the conversation more than made up for any deficiency in the culinary department. The six of us had a very interesting conversation with topics ranging from Facebook IPO, Steve Jobs and iPhone, the Internet, the Euro debt crisis, favorite cruise vacations (ship and destination), and the pending summer Olympics in London. Our conversation lasted for two hours, by then the dining room was almost deserted.
The pool-side screen on deck 11 broadcast the European soccer tournament tonight. It was very windy up there so we did not stay long.
CruiseDay 5 - Rhodes Photo (5/20/2012, Sunday):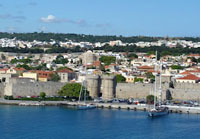 Rhodes [ROH-dohs], Greece's 4th biggest island, sits just 11 miles from Turkey. Its main town is also called Rhodes. Our cruise ship docked right in front of the Old Town of Rhodes. We could just walk into town.
Rhodes was once a trading and navalpower house under Ancient Greek, but then languished through Byzantine times. During the middle ages, as it is the nearest Greek Island to the Holy Land, it became the logical stopping point of the passing Crusaders. In 1309, the Knight of St. John - an order of the Knights Hospitaller of Jerusalem - claimed Rhodes as their headquarters, and transformed it into a bustling medieval walled town, governed by their grand master. Rhodes became a magnet for knights coming from all over Europe, who gave the city a cosmopolitan appearance.
In 1552, Ottoman Sultan Sόleyman the Magnificent drove the knights off the island, adding it to his empire. (The knights fled to Malta, where they became the Knights of Malta.) As the Ottoman Empire floundered in the early 20th century, Rhodes fell under Italian rule in 1912. The Italians tore down many of the Ottoman structures, rebuilt some of the earlier medieval ones, thus adding an Italian layer to Rhodes' diverse mix. After WWII, Italy signed a 1947 peace treaty, and Rhodes became part of Greece again.
We walked through "Street of the Knights" to tour the "Palace of the Grand Masters". Everything was on a grand scale in this town - big thick city walls, big thick buildings. We wandered from the main shopping area to the back streets. After lunch on the ship, Vincent stayed on the ship and Mei-Ching went out to the Old Town for souvenir shopping but came back empty-handed.
CruiseDay 6 - Sea Day (5/21/2012, Monday):
Today was a sea day. We were on our way to Istanbul. Lunch was in the main dining room - an encore of the very good quality Italian buffet.
Shortly after entering the Dardanelles strait, our ship passed Gallipoli where war memorial monuments were erected. There was an announcement on the ship's speaker system at 6:50pm, and everyone went out to the railing to observe and stood in silence, as there were many passengers from Australia on this cruise.
During World War I, there were fierce battles on the peninsula of Gallipoli between the Allied forces and the Ottomans from 1915 to 1916. Australian and New Zealand forces suffered heavy casualties during the 8-month Gallipoli Campaign.
As this was a sea day, it was a formal dinner day. We shared a table for 10 with Scottish and UK folks. A tuxedoed gentleman from the UK looked like New York City mayor Michael Bloomberg, but we did not mention this to him.
There is no photo link for today.
CruiseDay 7 - Istanbul Photo (5/22/2012, Tuesday):
Today's port of call was a highlight for us. From Rick's "Mediterranean Ports" guidebook we knew that the cruise ship terminal was near the Istanbul Modern Museum, and that we could take a tram or a short taxi ride to the old town, Sultanahmet, for our sight-seeing. Inside the cruise terminal there was a tourist info desk giving out Istanbul city maps, but we had already had a very good Istanbul map requested from Turkey's National Tourist Office in 2009. In the tourist info booth there was a post listing approximate taxi fares to popular city destinations, and it was 4€ to 5€ to Sultanahmet, the old town where many tourist attractions were.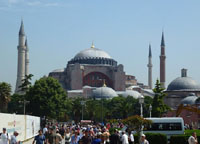 After considering all the shore excursions offered by the ship, we decided to tour Istanbul at our own pace with Rick's Istanbul guidebook, because we already knew which sites we wanted to see and where they were located (all within a small area in the old town). Topkapi Palace was closed on Tuesdays (today was a Tuesday), so it was one less site we otherwise would have to consider whether to cram into the day's schedule.
All the taxis waiting outside the cruise terminal wanted 10€ to go to Sultanahmet, so we took a tram instead, but first we had to get local currency. Turkey uses its own currency, Lira, or YTL, and 1 Turkish lira = 0.5465 USD. We drew 200YTL (about $110 USD) from a bank ATM, then went inside the bank to break a 50YTL into smaller denominations and coins so that we could purchase tram token from automatic machine. A tram ride costs 2YTL, no transfer. If you need to change to a funicular, then you'd need another token.
The trams are clean, sleek and efficient. We never had to wait more than a minute for a tram heading our direction. We went to the Hippodrome (a Byzantine racetrack that became Istanbul's main square), visited the Blue Mosque (1617, the only mosque with 6 minarets, [minaret=清真寺的尖塔]), Hagia Sophia (532 AD, once the most magnificent Christian church in the world), and the Sirkeci train station. Sirkeci train station was the Istanbul terminal of the famous Orient Express. You could board a train in Paris and arrive at this station 3 days later. Though the Orient Express is no longer running, this station still serves trains bound for Europe, as well as commuter trains. We also ate fish sandwiches at Rick's recommended fish restaurant under the Galata Bridge (on the east side of the Galata bridge, lower level, the first restaurant closest to the old town). We decided to skip the Grand Bazaar and went to the Spice Market (Egyptian Bazaar) instead. But the market only held our interest for about 10 minutes.
Both the Blue Mosque (free of charge) and Hagia Sophia (25 lira admission) were very crowded. It seems like the relative low cost of traveling in Turkey, the friendliness of Turkish people, and the political unrest in Egypt, all contributed to making Istanbul a very popular tourist destination in recent years. On the square outside Hagia Sophia there was a high school marching band playing, and many school-aged children milling about. A student approached Mei-Ching for a survey of questionnaires including whether this was our first trip to Istanbul, where we had visited prior to Istanbul, what did we like the most so far in Istanbul, and what we disliked the most so far in Istanbul, etc. Our Istanbul guide book (purchased in 2009) listed the admission fee to Hagia Sophia as 10 lira/pp, so it was a surprise when the clerk at the ticket window said it was 25 lira (13.75 USD, or 10.69 Euro). On our way out of Hagia Sophia we overheard a guide telling his group that Hagia Sophia received 2 million visitors in 2011, and with 25 lira admission per person, the annual income from admission was 30 million US dollars! Enough to fund many restoration projects throughout the country.
After Spice Market, we took a tram for 3 stops to go back to our ship to quench our thirst. The ship's lemonade was much more refreshing than the lemonade we had at the fish restaurant.
In the evening, we took a tram to the Kabatas stop, then changed to the funicular to go up to Taksim square and strolled the main shopping street, the Istiklal Caddesi. This is the modern New District of Istanbul. This area (north of the Golden Horn) used to be settled by the Genoa (in today's Italy) traders during the late Byzantine period. (Byzantine Empire, 東羅馬帝國, 395 - 1453.) The crowd on Istiklal street was amazingly thick on a Tuesday evening, it was hard not to bump into someone while walking.
On the funicular ride from Taksim square back to Kabatas, a crisply dressed young man sat next to us. He told us that he went to school in the US for five years, then worked at ADP's investment department for another five years. He then moved back to Istanbul, and is working in banking. He lives on the Asian side, because he could get more space for the same amount of money than on the European side. He also told us that he paid 70 lira for a monthly transportation pass, which granted him unlimited rides on local tram, funicular, and ferry. Wow! That is a very good public service for the local folks.
This morning, we were the only cruise ship in town, but by the evening there were three more cruise ships docked beside us. Assuming a cruise ship carries an average of 2500 passengers, that was 10,000 visitors arriving from the cruise port in one day, and almost every one would visit the Blue Mosque, Hagia Sophia, Topkapi Palace, and the Grand Bazaar before leaving town.
CruiseDay 8 - Istanbul Photo (5/23/2012, Wednesday, till 1:00PM):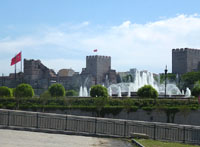 All-aboard was 12:30pm today, so we had the whole morning to spend in Istanbul. Having read Roger Crowley's "1453: The Holy War for Constantinople and the Clash of Islam and the West", Mei-Ching was keen to take a look at the western Theodosian Walls where the Ottoman army, led by their 21-year-old Sultan Mehmed II, laid siege to Constantinople and pummeled the thick city walls with huge cannonballs from March to May of 1453. Constantinople fell on May 29, 1453. After the conquest, Mehmed II made Constantinople the Ottoman Empire's new capital, and converted the cathedral of Constantinople into a mosque (which was converted into a museum in the 1930's and is known as Hagia Sophia.)
We rode the tram all the way to the western suburb of Istanbul for a sight-seeing ride, then turned around and rode it back to a tram stop called TOPKAPI (not the palace in the old town, but a tram stop with that name just outside the Topkapi Gate of the Theodosian Walls). We got off the tram to find ourselves in a beautiful park. In the park there is a museum called "Panorama 1453 History Museum", which shows images of the Ottoman conquest of Constantinople in 1453. We went to the museum's entrance to get a colorful brochure, but did not purchase admission to go in, because we did not want to risk not getting back to the ship in time. This museum was not mentioned in my copy of Rick's Istanbul guide, otherwise we would have planned time for it.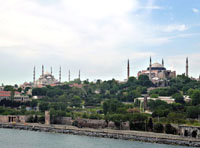 The Turkish people we met were very friendly and helpful. People on trams would give up their seats for us, either because of our silver-colored hair or because they could tell we were visitors from a foreign country. On trams, we often had conversations with seat neighbors. They were interested in learning where we came from. However, a pastry shop's cashier inflated our total price and overcharged us, because we looked like tourists and were easy prey. That was the only exception.
At 1pm our ship slowly sailed away from Istanbul. Everyone was on the open deck on the 11th, 12th, or 13th floors craning their necks or taking photos. We saw the gardens of the Topkapi palace immediately in front of us, and beyond that were the orange-tinted Hagia Sophia and the 6-minareted Blue Mosque, all in one frame. It was a very beautiful sight.
CruiseDay 9 - Ephesus Photo (5/24/2012, Thursday):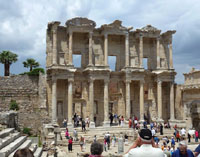 Today we docked at the Turkish port of Kuşadası [koo-shah-DAH-suh] from 8:30am to 6:30pm. The main tourist attraction is the ancient site of Ephesus [EFF-eh-suhs], 30-min drive from Kuşadası. The ship's 3-hour $59/pp excursion to Ephesus did not include visiting terrace houses, but included a carpet demonstration. So we googled and booked with a local company called Ephesus Shuttle for a 4-hour tour of Ephesus, including terrace houses, and no mention of a carpet demonstration, for USD$39/pp.
There were three other cruise ships docked at Kuşadası port besides ours. They were Holland America's Noordom, the Oceania's Riviera (a brand new ship on its inaugural cruise), and a Silversea cruise ship. Outside the cruise terminal we found a guide holding an "Ephesus Shuttle" sign waiting for us.
A sparkling 45-person bus was used to transport the 14 of us. The guide and the driver both did a good job. At the entrance to the Ephesus site there was a private restroom facility for a fee. A fee-collector sat on a chair outside the facility and had this sign on his table : 1 Lira, or 0.75 USD, or 0.5 Euro. Since the exchange rates were not exactly like that, he was using the most convenient way to round up to his advantage : -). There was an attendant inside the restroom to make sure everything was in good order.
Our local guide, Jon, told us that more and more cruise ships are calling at Kuşadası. As a result, Ephesus receives an average of 6000 visitors a day. The area outside the Kuşadası port has also been developed into a sprawling shopping bazaar.
Ephesus was an ancient Greek city which later became a major Roman city. In the Roman period, Ephesus had a population of 250,000 in the 1st century BC, which made it one of the largest cities in the Mediterranean region. The city's importance as a commercial center declined as the harbor was silted up. For modern day tourists like us, the main attraction in the ruins of Ephesus is the remains of the Library of Celsus, which is a Roman building built in 135AD by Celsus' son to honor his father, a man of Greek origin who become a senator and consul in the Roman Empire. The library was built to store 12,000 scrolls and to serve as a monumental tomb for Celsus.
The newly excavated terrace houses required separate admission (all included in our tour price). Those were houses built by the rich Ephesians to enjoy a good life with their families - terraced houses with plenty of sunlight, water pools in the compound, mosaic floors and decorated walls.
When we returned to Kuşadası at 1pm, our guide Jon told us there "was" an optional carpet demonstration. We opted out, thanked him and gave him and the driver a tip, then walked back to our ship for lunch. In the afternoon, Mei-Ching went out to the Bazaar area for shopping, because we still had 80 Turkish lira that we needed to spend. She purchased many kinds of Turkish Delight (Lukom) and Turkish coffee at a very big sweet shop called Tuğba Kuruyemiş, then changed the rest of the Turkish lira into Euros at a money-changing place in the bazaar.
CruiseDay 10 - Athens Photo (5/25/2012, Friday):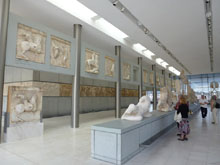 We bid good-bye to Turkey yesterday and arrived at the Greek port of Piraeus at 6am this morning. We had until 5pm to spend on shore. Since we were in Athens in 2008 and had seen its major sights, we decided to take it easy on our own. We planned to just visit the Acropolis Museum (opened in 2009) and have lunch at O Thanasis (Mitropoleos 69, just off Monastiraki Square) for its delicious chicken souvlaki and pita bread with Tzatziki.
Piraeus was another port where Rick's "Mediterranean Cruise Ports" guidebook came in handy. The guidebook illustrated the cruise terminals in the big harbor, its distance to the Piraeus metro station, and how to get to the Piraeus metro station from the cruise terminal. We followed the guidebook, asked for directions from passers-by when necessary, and reached the Acropolis Museum in Athens in about 40 minutes, all for the cost of a metro ticket of $1.40€ each. (The metro tickets included bus transfer.)
The Acropolis Museum has a model of the Parthenon temple on the top floor. From the top floor window one could see the real Parthenon across the street. It was very cool. In the museum we saw a young woman guiding a small group of guests. Her face looked familiar, so Mei-Ching asked if she was Katia, who used to lead groups for OAT. Yes, she said. We explained that we were on an OAT tour to Greece and the Greek Islands in 2008, and she was the Program Director of the other group that shared the same small ship with our group. She was delighted, saying, "Now you are back!"
After the museum, we walked through Plaka to O Thanasis restaurant. The restaurant looked the same as in 2008. The chicken souvlaki and pita bread with Tzatziki were as good as we had remembered. Afterward, we walked for a while, then took the metro back to Piraeus station, found bus #843 which took us back to the cruise terminal.
We found the metro stations in Athens sparklingly clean; the streets orderly; people were going about their business as usual. There need not be concerns about visiting Athens.
CruiseDay 11 - Sea Day Photo (5/26/2012, Saturday):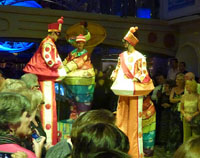 Today was a sea day. We were on our way to Naples, Italy. We also gained one hour at 2am this morning.
The ship had been keeping our passports since Day 1. Today the passports were returned to us. There was never a requirement on our part to obtain a visa to Turkey prior to the cruise. Whatever formality that needed to be done in order for us to step on Turkish soil was taken care of by our ship's administration. When we went through the port authorities in Turkey, we just showed our ID badge from the ship, and that was good enough.
Lunch was in the main dining room. We shared a table with a young man from Germany and his girlfriend. The young man had just graduated from college majoring in finance but had not found a job yet. It was interesting to hear his view on the Euro debt crisis. We had come to the conclusion that the dining room's lunches were all pretty good, maybe better than its dinner.
This was also a formal dinner night, the 3rd formal dinner on this cruise. We did not feel like dressing up, so we had a casual dinner at the Windjammer Cafe. At 10:45pm there was a costumed parade on Deck 5's Promenade by all the performers and musicians on the ship.
CruiseDay 12 - Naples Photo (5/27/2012, Sunday):
Our ship docked in Naples at 7am. That was the last full day of our cruise. Tomorrow morning we'd dock in Rome at 5am, concluding our 12-night cruise.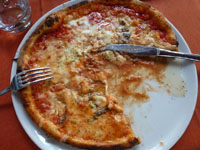 We had booked a 4-hour ship excursion to Pompeii in the afternoon, that left us with the whole morning to explore Naples on our own. We walked off the ship toward the Royal Palace. The first landmark we saw was the 100-year-old Galleria Umberto I shopping mall, a very beautiful shopping mall and very similar to the Galleria in Milan where we visited in 2000.
Across the street from this mall was the Teatro di San Carlo. Built in 1737, 41 years before Milan's La Scala, it is Europe's oldest opera house and Italy's second-most respected (after La Scala). Beyond the opera house is the Royal Palace. But the piazza adjacent to the Royal Palace (Piazza Del Plebiscito) was littered with discarded food wrappings, empty drinking bottles and other debris on this Sunday morning. What were the city administrators thinking?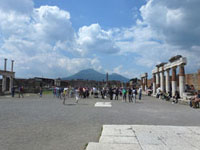 We continued walking to the Church of Gesu Nuovo, an unassuming church on the outside but very beautiful inside. We found the street named Spaccanapoli (meaning split Naples) which bisects the city and was built by the Greek as a main thoroughfare and is as straight as an arrow. This street is very narrow, the buildings on both sides are old and tall, making the street dark and claustrophobic, so after a while we did not feel comfortable, we made a turn to the right and another right to go to the modern and wide Corso Umberto I. Thus we aborted the walk that would lead us to the two famous pizza restaurants in Naples. What should we do? We switched to Plan B. We located a restaurant near the cruise port that received good online reviews for its Naples pizza. We ordered one Margherita pizza (4€) and one Romana pizza (5.5€, pizza with anchovy). Both pizzas were soft and gooey in the center. The Romana pizza was too salty due to the anchovy, so a big portion of Romana was left uneaten. The Margherita pizza was good, an A, but we still think the Margherita pizza in Lucca was the best pizza of the entire trip.
We went back to the ship for a rest before the excursion to Pompeii in the afternoon ($69USD/pp). There were 45 people on our bus. The local guide was good, we needed a guide to make the ruin come alive for us. Pompeii was a booming commercial port city frozen in time (August 24 , A.D.79).
Tonight we had to pack and leave our luggage outside the cabin by 11pm.
PostCruiseDay 1 - Rome Photo (5/28/2012, Monday):
Mariner of the Seas docked at Civitavecchia at 5am this morning. The disembarkation process was efficient. Some passengers might have been in a hurry to get to the airport, but we were staying two more nights in Rome, so we were in no rush. There was a Holland American cruise ship that was disembarking at the same time, so our train from Civitavecchia to Rome was crowded.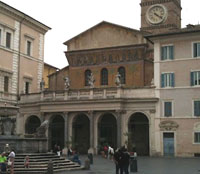 Our plan for today was to visit Trastevere and the Jewish Quarter. However, because of the rain, we did not leave our hotel until after 4pm, so we scrapped the Jewish quarter from our plan. Trastevere [trahs-TAY-veh-ray], meaning across (tras) the Tiber (Tevere) River - was long a colorful working-class neighborhood, but now it has become trendy, with B&B's, vacation rentals and new restaurants attracting tourists.
When we got to the Tiber River at 5pm, the traffic noise from both banks of the river was deafening. We did not think we'd be able to hear our IPod clearly even with earbuds. So we scrapped the plan to follow Rick's audio guide and just walked with a map in hand instead. The major tourist sight is the Santa Maria in Trastevere church - since the 4th century, and it is one of the oldest churches in Rome. Maybe it was the rain and dark clouds, or we did not walk on the right streets, we did not come away loving Trastevere - some of the streets looked "scruffy" to us. We'll definitely give Trastevere another try next time when we are in Rome. Perhaps a sunny day will make all the difference.
We also walked past two landmarks in the Jewish quarter: the Teatro Marcello completed in 13BC; and the Synagogue, completed in 1904. Looking at these two monuments proudly standing side-by-side like two persevering giants, we could not help but feel in awe.
For dinner, we went to a Chinese restaurant named Lon-Fon (Dragon and Phoenix) on Via Firenze, just a few doors from our hotel. We had dined in this restaurant before on our prior visits to Rome, so we knew the food was acceptable. Besides, Vincent said he missed Tou-Fu ( 豆腐 ). After dinner and saying good bye to the restaurant owner, he said to us in Chinese," 謝謝光臨, 小心皮包". (Thanks for coming, and be careful of your wallet.) Vincent had a double take, asking "Did he say 小心皮包?" Yes, he did. We had been very careful with our valuables on this trip, and we have been safe so far.
PostCruiseDay 2 - Rome Photo (5/29/2012, Tuesday):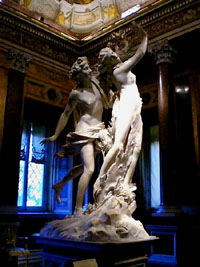 The major event this morning was to visit Galleria Borghese [bor-GAY-zay], an art museum located on the north-eastern corner of Villa Borghese, Rome's "Central Park". The villa was built in the early 17th century by the great art collector Cardinal Scipione Borghese, who ascended to cardinalship at age 28 by virtue of being the nephew of Pope Paul V (1605-1621), and before that he was not even a religious man!
We had booked online and paid for entrance tickets to Galleria Borghese back in early April. The museum only allowed 300 visitors per 2-hour slot (9am, 11am, 1pm, 3pm, and 5pm). Our reserved time slot was 11am, and we had to arrive 30-min prior with our confirmation email to collect entrance tickets. There was an English guided tour at 11:10am for 6.5€/pp (while renting an audio guide was 5€), so we signed up for the English tour on the spot, and we sure were glad that we did. We got to see several famous sculptures of Gian Lorenzo Bernini, and began to appreciate him as a master artist. Be sure to watch the Youtube video of Simon Schama's introduction of Bernini in "The Power of Art" series: http://www.youtube.com/watch?v=95_7l87prmI (54-min long).
From Rome's bus map we knew Electric bus #116 had a stop at Museo Borghese, so we asked for directions to the bus stop, and then hopped on the small electric bus for a sight-seeing ride all the way across the Tiber River and then back to Campo de Fiori. The price for a single ride ticket had increased from 1€ to 1.5€ just two days ago, and its validity also increased from 75-minute to 100-minute, so we could take one metro ride and an unlimited bus transfer, all within 100 minutes. We saw some of the colorful fruit and flower stands in Campo de Fiori were still open, so we got off at Campo de Fiori for a stroll. Lunch was at an outdoor cafe facing the campo. We had Focaccia Bianco (4€, very good), Rigatoni Amatriciana (11€, a bit salty to our taste, otherwise it was very good), and shared a huge salad (8€). Amatriciana sauce is a red sauce made with bacon from pig's cheek, in the style of Amatrice, which is a town 161 km north-east of Rome. We had pasta with Amatriciana sauce 3 times during this trip, once near Sant'Antimo Abbey with driver/guide Andrea, once on the cruise ship, and once here in Rome. They all tasted different, it seems each chef has his own way of making Amatriciana sauce.
After lunch, we walked to Piazza Navona looking for suitable souvenirs to take home (but failed to find any), then walked to the Spanish Steps. There was a huge crowd at the Spanish Steps. It was only a staircase, but by the size of the crowd you would think something big was going on. From the Spanish Steps we walked back to our hotel. We walked for five hours today, including the two hours spent inside Galleria Borghese.
Fly home (5/30/2012, Wednesday):
The easiest way to go from our hotel to FCO airport was by Leonardo Express train. Leonardo Express departs from Roma Termini to FCO airport at :22 and :52 past the hour. We purchased train tickets (14€/pp) in the station from the fast food shop near track 24 where the Express trains depart from. Tickets for Leonardo Express purchased at a train station (as opposed to purchasing online) are good for 2 months until you validate them, then they are good for only 90 minutes from the time stamped on the ticket.
Our 11 am flight was only half full, we arrived in Boston in the afternoon.
It was a wonderful 21-day trip. In our minds, it felt as if we had been on three trips - one was to Tuscany, the second was the cruise, and the third was the remarkable two days in Rome. Which one did we enjoy the most? We loved all three. Will we cruise again? Yes, we definitely will, when an attractive itinerary comes along.