Trip Summary:
After last year's 44-day cruise on an Oceania R-Class ship (684-passenger capacity and 400 crew), we wanted to try one of Oceania's larger O-Class ships (1250-passenger capacity and 800 crew). We knew that staterooms on the O-Class ships were larger, and they also had four specialty restaurants (two more than the R-Class ships, one for Pan-Asian called "Red Ginger", the other for French known as "Jacques"). It also touted the same level of renowned great cuisine we had come to expect along with a very relaxed atmosphere and "country club" casual dress code.
In May, Oceania promoted their South American routes. Many cruises to that area were not selling well, perhaps due to Zika. We thought if we could avoid heavily vegetated areas and apply mosquito repellent as needed we would be OK. So we opted for the 12-night cruise from Rio de Janeiro to Buenos Aires on an O-Class ship, the Marina. We had never been south of Panama, and metropolises like Rio de Janeiro and Buenos Aires had always piqued our interest. This was also a terrific time to escape winter for two weeks and enjoy the summer days of South America.
A saved copy of Oceania's itinerary and fares webpage for our cruise is here: Itinerary-n-Fares-RioToBA-Dec2017.pdf . So what was the promotional incentive? Each passenger on our 12-night segment received 4 free Shore Excursions AND a Beverage Package AND $400 OBC (Onboard Credit) on top of the standard complimentary unlimited internet access and free airfare for North American customers.
For the 4 free shore excursions, each passenger might choose any 4 from Oceania's extensive list as long as each was less than $200 in à la carte price. The Beverage Package (Wine/Beer over lunch and dinner) was not valuable to us because we seldom drink wine. The $400 OBC was applicable towards quite a few things, including gratuities, excursions beyond the 4 free ones, or laundry services, among other things.
Some weeks before departure, we received up-sell emails from Oceania to upgrade our stateroom to a 420-sq-ft Penthouse Suite for a discounted rate and finally took them up on it after the 2nd price drop offer, which was quite reasonable. The Penthouse Suite included a shared butler. We did not think we needed a butler, but it would be interesting to meet him.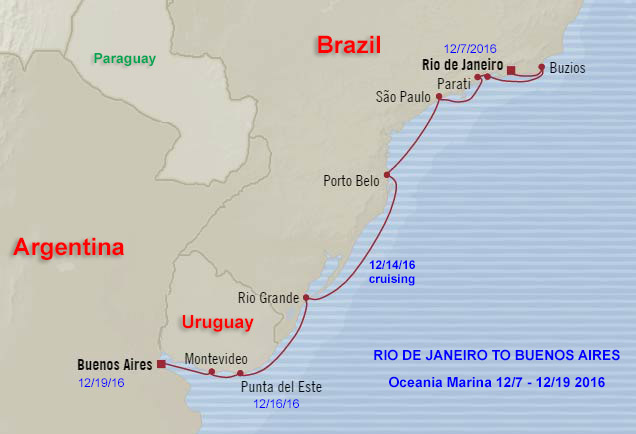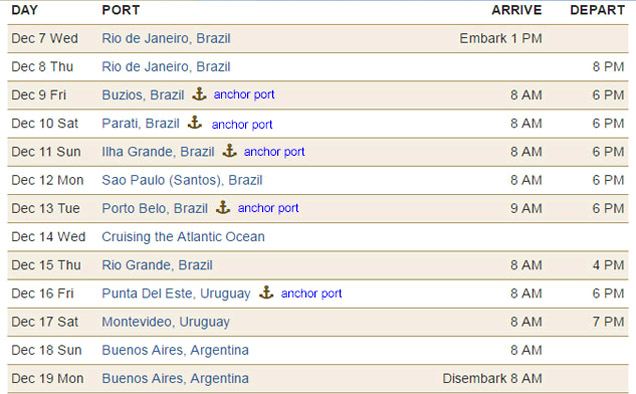 And below is our customized Google map with major attractions in each port highlighted. Each red tear-drop marks the location of the cruise ship terminal, or the ship's anchor area according to WhatsInPort.com.


VISA:
Brazil - Visa was required for US Passport holders. We applied at the Brazil Consulate in Boston, along with a $160/pp fee.
Uruguay - No visa was required for US passport holders.
Argentina - a reciprocate fee for US passport holders was suspended as of March 2016. Therefore neither visa nor fees were required.
Time Zone:
Brasilia Time (BRT) - ranges from 1 to 3 hours ahead of Boston, depending on if both are in DST (Daylight Saving Time), or neither are in DST, or one is in DST and the other is not.
- At the time of our travel, Brazil was 3 hours ahead of Boston.
Argentina Time (ART) - At present, Argentina does not observe Daylight Saving Time. They are 1-hr ahead of Boston while Boston is in DST, and 2-hr ahead of Boston otherwise.
Transportation:
We were happy with the air schedule Oceania booked for us, good connections and no early-morning flights. The travel time each way was 14 hours total, including a flight change and a 2-hr layover.
Outbound: Boston -->Miami --> Rio de Janeiro. The first leg on AA was 3.5 hours, the 2nd leg, an overnight flight on LATAM Brasil, was 8.5 hours.
Inbound: Buenos Aires --> Atlanta --> Boston; both legs were on Delta.
We also paid Oceania an additional $175/pp air-deviation fee, because we wanted to fly home two days after debarkation. The alternative was to take a $1000 credit from Oceania and purchase our own air.
Online Resources:
We prepared by reading guide books, travel discussion boards and travel blogs, as well as looking up port info on http://www.whatsinport.com/ or just Google the information we needed. Here is our compiled Port Research Document: PortResearch-2016Rio.htm .
Fun Fact: Do you know Uruguay is ranked first in Latin America in democracy, peace, lack of corruption, and is first in South America when it comes to press freedom, size of the middle class and prosperity? Uruguay is an important global exporter of combed wool, rice, soybeans, frozen beef, malt (麥芽) and milk. Many claim Uruguayan beef is better than Argentine beef.
Money Matters (Cash, ATM etc):
We read that Argentine ATMs have high fees and low withdrawal limits (max was 2000 Peso, which was about USD$133 at the 15:1 conversion rate), so we brought along crisp clean US bills in various denominations ranging from $100 to $1. The $10, $5 and $1 were very useful for small purchases and for tipping bus drivers and local guides.
We bought USD$100 worth of Brazilian currency (Real) at Bank of America before leaving. The exchange rate offered by BoA was not good at all, but we wanted to have some Brazil currency on hand to pay for the taxi ride to the cruise terminal upon arrival. In Argentina, we used a Cambio (money-changer) to change USD cash into Argentine Peso. In Uruguay, we did not get local currency at all, the vendors just quoted prices in USD, and that was fine since we only made small purchases.
Food:
We ate a lot of meat! In São Paulo we experienced a Brazilian all-you-can-eat churrascaria lunch where the meat was carved at the tableside. In Uruguay, we had a traditional Uruguayan BBQ lunch in a winery paired with 5 kinds of wine. In Argentina, we had a Gaucho BBQ lunch called asado a la parrilla at a horse ranch.
But we would be remiss to not mention the excellent food on the ship and have included many pictures of it in the daily photo links.
National Languages:
Brazil's national language is Portuguese, Uruguay and Argentina are both Spanish.
---
Itinerary and highlights:
Day 1 - Embarkation in Rio de Janeiro (12/7/2016 Wednesday 83~70F): Link to our photo
Austin gave us a ride to Logan airport yesterday. He was able to leave Woburn courthouse earlier than expected, so we arrived atLogan three hours before departure.
The 2nd leg of our flight, 8.5 hours on a LATAM Brasil from Miami to Rio de Janeiro, was almost full. We arrived in Rio at 9am local time. Even though the time difference from Boston was only 3 hours, there was no jet-lag to speak of, but we had a sleepless night, so we were a bit tired.
We knew that a taxi from Rio airport to Pier Mauá (the cruise terminal) took about 30 minutes and was going to run around 60 Brazilian Real ($1 USD= 3.3 BRL). After exiting the security area of the airport, we saw a group of people wearing blue "Oceania" tee shirts. They were local guides contracted by Oceania to help guests that had pre-purchased a transfer to the ship. We inquired about a cab with one of them. The guy said, "Wait, a van is leaving for the ship soon, maybe there are seats for you!". Indeed, there were vacant seats available. Hitching a free ride with Oceania to the cruise terminal was a nice surprise.
The check-in at the cruise terminal was quick. We went to the Terrace Cafe (buffet) for lunch and waited there until our room was ready at 1pm. The set-up of Terrace Cafe was similar to the Insignia (an R-ship) we sailed last year, only this was much more spacious.
Our Penthouse Suite was very nice. The chilled champagne and sweets that greeted us upon entering was a nice touch as well. (Click on today's photo link to see panoramic pictures of the suite.) Soon after, our butler, Francis (from Goa, India), and our steward, Ljiljana (from Croatia), knocked on the door to introduce themselves.
Mei-Ching went to the Destination Desk to book 2 additional excursions. We wanted to pay for these two excursions with OBC, and since OBC did not kick in until we boarded the vessel, we could only book them after we were on board. Luckily, spaces were still available for the two excursions we sought.
In the afternoon, we took a free shuttle to the Rio Sul (Sul= South) shopping mall, which was not far from Copacabana beach. From the mall we took a taxi for a quick view of the famous Ipanema and Copacabana beaches. The Copacabana beach alone was several miles long.
We returned to the Terrace Cafe for dinner and chose a lot of the same items we liked from last year - sushi, sashimi, white rice, steamed vegetables, and grilled lobster tails for Mei-Ching. It felt as if we were simply picking up from where we left off last October.
Day 2 - Rio de Janeiro (12/8/2016, Thursday, 88~76F): Link to our photo
The city of Rio de Janeiro, or simply Rio, is the 2nd largest city in Brazil. The city's name, Portuguese for "River of January," reflects the fact that the first European explorers, who set sail from Portugal in 1501, arrived at a huge bay in Brazil in January 1502 and believed it was the mouth of a river. It was named by mistake. There's no river there. (A good trivia question? Which city is named after a river but there is no such river?)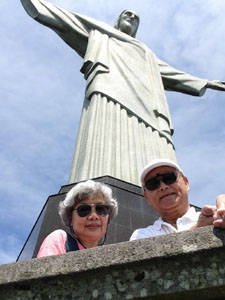 With only one full day, we listed only a few highlights to see:

We went on a free excursion with O for a 4-hr tour to the Christ the Redeemer statue and then toured the famous beaches. The views from the top of the Corcovado Hill were fantastic. We could see Sugar Load Mountain to the east, the beaches to the south, and the Maracanã stadium to the north.

After that, our bus drove us through the city's beautiful parks, lagoons, nice commercial and residential areas to Ipanema and Copacabana beaches. The city is very green and beautiful. If you know which parts of the city to see and which to avoid, one could really have a fantastic vacation in Rio.

Ipanema beach was made famous by the 1964 song "The Girl from Ipanema". You may listen to the song on this youtube link: https://www.youtube.com/watch?v=UJkxFhFRFDA . The girl, Heloísa Pinheiro, who inspired the artists to write this song when she was 17, is now 72 years old.

After a late lunch poolside at Waves Grill on the ship, we decided to relax in the room instead of going out in the hot afternoon. We went to the 4pm afternoon tea at the Horizon Lounge, an elegant setting with delicious finger foods and a performance by a string quartet. We chatted with a server and learned that there were about 720 guests on board during this segment, about 60% capacity. But the next segment, sailing from Buenos Aires to Santiago, Chile over the X'mas and New Year's holidays, was 100% fully booked.

We went to the evening show at 9:30pm where we met our cruise director, Peter Roberts, hailed from the UK. He is humorous, but that is part of the job requirement, isn't it? Peter told the audience that 20 years ago he started as an aerobics instructor. Rising through the ranks, he is now a cruise director in charge of the entertainment team of an Oceania ship! Peter also polled the audiences' demographic with the majority being from the USA and Canada.





Day 3 - Búzios, Brazil (12/9/2016, Friday 92~73F humid): Link to our photo

Although our cruising direction was toward south-west, to go to Búzios we actually had to head east from Rio, away from our general direction.

Búzios, (which means 海螺), is a Brazilian resort set on an ocean peninsula. Originally settled by European pirates and slave traders, this happy mixture of many bloods prospered and became a picturesque fishing village.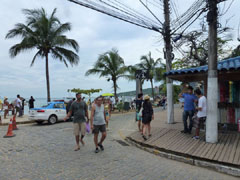 Thanks to the French movie star Brigitte Bardot who used to vacation here in the 1960s, her visit was so influential that Búzios soon became known as a vacation destination in Brazil.
We set out around 10:30am, the tender to shore was only 10-min, and we were dropped right at the town center. We walked along the main thoroughfare, Rua das Pedras, bought 2 pairs of Havaianas beach flip flops for our granddaughters. We also looked for bathing suits for them, but all that the stores had were bikinis for adults.
It was hot and humid, so after about 90 minutes we decided to go back to the ship. We did not mind having a few slow days like this - there was no need to set an alarm to wake up early, we could enjoy our breakfast leisurely at the Terrace Cafe, there was no must-see list for the day, and we could go back to the ship anytime we wanted.
We had a 6:30pm reservation at Red Ginger for dinner. Red Ginger is a specialty restaurant offering Pan-Asian dishes - Japanese, Chinese, Thailand, Korean, Malaysian, you name it. The menu does not change from day to day. Here is a link to a sample dinner menu at Red Ginger. We loved the Miso Glazed Sea Bass main dish.
Tonight's entertainment was 50' and 60' songs at the theater lounge.
Day 4 - Parati, Brazil (12/10/2016, Saturday 82~74F humid): Link to our photo
Parati (also spelled Paraty) is a historical town with Portuguese colonial architecture. First settled by the Portuguese in 1667, Parati grew in the 18th century as a strategically important port for exporting gold to Lisbon during the Brazilian Gold Rush. Because of Parati's strategic importance along the gold route and its spectacular Portuguese colonial architecture, UNESCO deemed the entire city a World Heritage Site.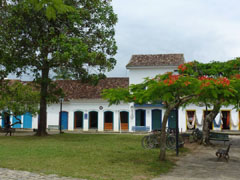 The tender from our ship to Parati was 40-min, quite a long distance. The walk from the tender pier to the old town was 5-min. The historical old town with cobble-stoned streets was very pretty, with restored colonial houses turned into small shops, restaurants, and artists' studios.
The Parati marina turned out to be very busy, with many locals taking boat rides to outlying islands. We did not know what the attractions were out there, but good to see the marina full of activities.
Back on the ship, after a late lunch, we went to Baristas coffee bar for beverages and French pastries. This place has the best coffee offered on board. Its ice coffee slush was also very good.
At 4pm Mei-Ching went to the "Artist Loft" class to learn some new art skills. The instructor, Pat, has worked for Oceania for 5 years. She and her husband sold their house and both live on the ship. Her husband, Angelo, gives enrichment lectures on the ship from time to time. It is a good skill to retire on, isn't it?
At 5:30pm we attended an Enrichment Lecture by Terry Bishop. The first topic of the series was "The Making of Brazil - Colonists and Kings, Emperors and Slaves". His slide visuals and talk were very captivating. Terry can also play guitar and sing songs with his own lyrics. He is from the UK but now lives in the Andalusia region of Spain, "for good weather and cheap wine", he said. Terry Bishop's personal website is at http://www.troubadourstales.com
We had a 6:30pm dinner reservation at the ship's French restaurant called "Jacques". It is a special restaurant named after Master Chef Jacques Pépin, the Executive Culinary Director of the Oceania cruise line. Each dish in this restaurant was designed by the Maser Chef himself. The service was excellent, but the food did not impress us. Maybe we have set our expectations too high? Or maybe we did not order the right dishes? (See today's photo link for food pictures.) We decided to come back to Jacques for another try a few days later. Here is a link to a sample dinner menu at Jaques Restaurant, but this menu is different from the menu we had at Jacques that evening.
Dining in the specialty restaurants is complimentary, you just need to reserve your time slot ahead. Each guest is guaranteed a minimum number of dining experiences in each specialty restaurant based on your cruise length and room category. After that, one may request additional dining reservations based on space availability.
Day 5 - Ilha Grande, Brazil (12/11/2016, Sunday 92F~78F humid): Link to our photo
Our destination for today is the "Big Island", founded by the Portuguese.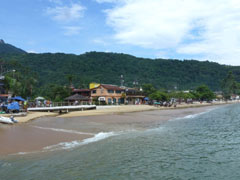 ILHA is a Portuguese word meaning island, isle. (Pronounced as I-LA, 伊拉.) We are familiar with this word, because Taiwan was named Ilha Formosa by the Portuguese sailors in 1542, meaning "Beautiful Island".

ILHA Grande has an infamous past as an entry point for African slaves. Later, the island supported a leper colony and a political prison.

Also, we read that, save from the little village of Vila do Abraao, Ilha Grande is totally deserted and completely car-free, which means the only way to access the beaches is by walking/biking or by taking a boat round the coast.

Even the ship's "Practical Information" hand-out warned us that there were no taxis, no ATMs, no TI, nor beach facilities.

So, after a 20-min tender ride, we were expecting a desolate place. But how wrong they were! We were greeted by a bustling town with a TI (Tourist Information booth) handing out maps, many restaurants, boutique shops, a church, and store-fronts for boat tour and bike tour companies. And all of those back-dropped by a very green mountain.

We had a 6:30pm reservation at Toscana, the Italian specialty restaurant on the ship. The Balsamic Vinegar from Modena, Italy was outstanding and dinner was very enjoyable. Here is a link to a sample dinner menu at Toscana.

Tonight's entertainment at 9:30pm was a celebration of songs by Peggy Lee, an American singer and actress.

In the evening, we left our butler, Francis, a note to reserve additional specialty restaurants dining for us, one at Red Ginger and one at Jacques, on 12/14 and 12/15. Francis had the task fulfilled in a very short time. On three mornings, we ordered room-service breakfast at 7am because of early departure times for excursions. Francis delivered the breakfast trays and set everything up in our room on each of those days. That was about the extent of services we relied on him for. But we often saw him in the hallway. He was always well-groomed, sharply dressed in a tailed tuxedo and always courteously asking if everything was all right and if we required anything else.




Day 6 - São Paulo (Santos), Brazil (12/12/2016, Monday 84~74F Heavy Rain): Link to our photo

Our port, Santos, the gateway to the Brazilian state capital of São Paolo, has long been nicknamed "the coffee port." Though no coffee (except for a few show trees) actually grows in Santos, the city is synonymous with the bean and ties its history to the growth of Brazil's coffee trade. Santos is the busiest port in Latin America, shipping 25 percent of the country's exports. However, we knew there was not much to see in Santos except for a Coffee Museum, so we planned to visit São Paulo.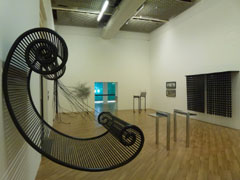 São Paulo, the city, is the capital of the state of São Paulo, Brazil's most populous and wealthiest state, and is the nation's main financial hub. It exerts a strong international influence on commerce, finance, arts and entertainment. The city's metropolitan area of Greater São Paulo ranks as the most populous in Brazil and the 11th most populous on Earth.
The city of São Paulo is located on a plateau, 2,200 feet above sea level, which is reached by crossing the Serra do Mar mountain pass. The alpine-like, winding road offers stunning scenery. The drive from Santos to São Paulo should be about 75-min. However, excursions could get delayed due to traffic or mountain fog, so we booked an O excursion to São Paulo using our OBC credit (because its à la carte price was more than $200, therefore it could not be chosen for free).
We woke up to heavy rain and a dark sky. Of all days, why did it have to rain that day? It was too late to cancel the excursion at that point.
There were 3 tour buses on the excursion to São Paulo. Each bus carried about 30 passengers. On the way out, the sky was dark and the mountain road was misty, while it was foggy on the return trip. It took us 2 hours each way due to the traffic and the unfavorable weather conditions.
At the outskirts, there was a photo stop at the Ipiranga Monument commemorating Brazil's independence. But very few people braved the rain to get off the bus to snap pictures. While inching through the downtown area, we drove by the Stock Exchange Building, the Municipal Theater and the Metropolitan Cathedral, but had no opportunity to get off the bus. Finally, the bus stopped at the Pinacoteca of the State of São Paulo, (an important art museum, pinacoteca=gallery, museum). Our guide took us in, and said we had 45-min free in the museum.
The highlight of the excursion was the Brazilian barbecue lunch at a churrascaria where the servicestaff kept the meat coming to the table. Surprisingly, the steaks were a bit tough for our liking.
We arrived back at the ship shortly after 4:30pm. Our ship set sail at 6pm. The excursion was a disappointment. For such a pricey outing (was at $249/pp à la carte price), we did not get to see much. However, we know that Oceania had no control over the traffic nor the weather.
Later, we met a fellow cruiser who went on a 4-hr "Highlight of Santos" excursion. He said the highlight was the Coffee Museum, but they did not sell coffee or coffee beans in the museum.
Day 7 - Porto Belo, Brazil (12/13/2016, Tuesday 88~74F): Link to our photo
Porto Belo is a quaint little fishing village. Its name in Portuguese means "Beautiful port".
Our mission on this day was to buy coffee beans. We wanted to bring home some Brazilian coffee beans, but had not yet come across any place selling Brazilian coffee beans.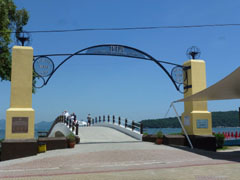 After a 20-min tender to shore, we were greeted by a beautiful pier. At the end of the arched pier were two big shady trees with benches underneath. A female vocalist was singing American Oldies from a restaurant/bar across the street. All was very pleasing to the eyes and ears.
We got directions from the Information Booth to a supermarket (to buy coffee beans.) The streets were very clean and neat, a lovely town indeed. However, no coffee in bean form was to be found on any shelves at the supermarket. We picked out a few different brands of ground coffee to bring home. We brewed them at home and found them quite interesting, as the taste was very different than our usual coffee.
We went to dinner at Polo Grill, the Steak specialty restaurant on the ship. We had dined at Polo Grill several times last year on the Insignia, so we knew what to expect and what to order. We were very happy with the service and dishes. Here is a link to a sample dinner menu at Polo Grill.
Tonight's entertainment was Celebration of Broadway Songs. Selected arias from South Pacific, Jersey Boys, Cats, Man of La Mancha etc were sung beautifully. "Don't Cry for Me Argentina" from Evita received the biggest applause.

Day 8 - Cruising the Atlantic Ocean (12/14/2016, Wednesday): Link to our photo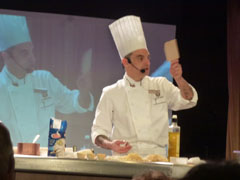 Today was a sea day. It was very windy on the open deck.
There were plenty of activities available on the ship. Tango Dance Class, Cooking Demo, Wine Tasting, Texas Holdem Tournament, Jewel Presentation (by the prestigious jeweler H. Stern of Brazil), Social Bridge, Canyon Ranch Spa Club Seminar etc. We went to the cooking demo in the morning.
At 2pm, there was an Enrichment Lecture by Terry Bishop. The subject was "Hide & Seek in the Atlantic - The Hunt for the Admiral Graf Spee" where, in December 1939, the German cruiser Admiral Graf Spee was found and engaged and damaged by three smaller British Royal Navy cruisers at the Battle of the River Plate. We'd be in Uruguay in two days' time, and this was to prepare us for a historical event that took place during the early stages of WWII on the estuary of the River Plate, just off the coast of Uruguay. The scuttled Graf Spee still lies in the shallow water of the Montevideo harbor. Terry is an excellent story-teller. (Here is a BBC documentary of "The Battle of the River Plate": https://www.youtube.com/watch?v=Ja0fpJnWxhM .)
Dinner was our second try at the Jacques restaurant. This time we shared a table for 6 with a couple from the Netherlands and a couple from San Diego. The Dutch couple are accountants. They have been to many places, including China. The San Diego couple have lived in Guam and Japan and visited Taiwan in the 1970's. So we had a lot to talk about, from Taiwan to the threat from China, to the "Giant Bicycles (捷安特)" - which, the Dutch couple said, "The best!" with a thumbs up. As a matter of fact, we were so engrossed in our discussion of Asian affairs that the food just faded into the background. We don't remember the names of all the dishes we ate that evening.
Later that evening, we received a notification from Oceania that due to the high winds and swelling water, it would not be safe to tender in Punta Del Este the day after tomorrow. So the ship would sail directly to Montevideo and dock there for two days. Our excursion into Punta Del Este would still run, only we'd have to travel there from Montevideo by bus. They offered free cancellation due to the schedule change, but we decided to stay put and still do our Punta Del Este excursion.
Day 9 - Rio Grande, Brazil (12/15/2016, Thursday 84~75F): Link to our photo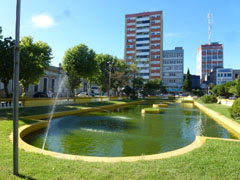 Today was a beautiful day; blue sky, sunshine, not humid, and very pleasant.
There are several cities named Rio Grande (lit. "Great River") around the world. This one we are visiting is one of the oldest cities in the Brazilian state of Rio Grande do Sul (Great River of the South). Being situated on the southernmost tip of Brazil, Rio Grande do Sul shares a border with Uruguay and with Argentina.
The city was established by the Portuguese in 1737. Over the years, the city built up its wealth over the industrial movements. Today, it is still one of the richest cities in Rio Grande do Sul, mainly because of its port, the second busiest in Brazil, and its refinery, which processes Ipiranga petroleum.
We booked a 3-hr "Sights Of Rio Grande" excursion with Oceania, mainly because there was not much to see on our own. In parallel, the city welcomed us by providing free hourly shuttles to the City Hall in downtown, so the DIY folks could browse the downtown squares/shops/churches on their own.
Although lacking a tourist infrastructure, the downtown of the Rio Grande was very clean and very green. We saw the bustling waterfront, a very nice main square, and the Alfandega, the Customs House. The former customs house is the most beautiful building in neoclassical architecture in the city. It was built in 1804 at the behest of Emperor Dom Pedro II (of Portugal) to manage the public revenue of this province. We also visited the Oceanographic Museum, where we saw a small collection of marine life as well as a giant sea shell.
At 4pm we went to Horizon Lounge for afternoon tea, and watched the sail-away. Bye-Bye Brazil. We will be in Uruguay the next morning.
We set our clock 1-hr back for Uruguay, which is 1-hr behind Brazil, and the same as Argentina.
Tonight's dinner was our second time at the Red Ginger. We enjoyed it. See today's photo link for details.
Day 10 - Punta Del Este, Uruguay (12/16/2016, Friday 80~70F): Link to our Photo
Punta Del Este (Point of the East), or simply Punta, is a trendy resort town. It is known for its beaches, surfing, beautiful people and an ardent night scene. It is expensive, usually about 50% more expensive than other areas of Uruguay, if not more. It is called the Monaco of South America, or just the French Riviera of South America.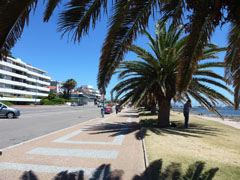 The bulk of Punta del Este is on a peninsula jutting into the ocean. The resort takes its name from the "east point" marking the division of the Rio de la Plata (Plata=Silver, River Plate in English) in the west from the Atlantic Ocean to the east.
Our excursion today was called "Art & Culture Of Punta Del Este", which we chose from O as one of the free ones. The tour time changed from 6 hours to 8 hours, because we needed to add time for the bus ride from Montevideo. (If you missed the reference to the sea day's entry, our ship docked at Montevideo instead of tendering us off the coast of Punta Del Este, due to high winds and swelling water.) We enjoyed this tour. With sunny weather and beautiful scenery, it was pure pleasure to just sit back and let the scenery unfold before our eyes.
On the bus ride from Montevideo to Punta, our local guide, Pilar, told us that Uruguay is a thin slice of ham in a sandwich between Argentina, which is 15 times the size of Uruguay, and Brazil, which is 45 times the size of Uruguay. Most of the population in Uruguay are descendants of European immigrants, from Germany, Italy, France, Spain, .... etc.
With an efficient public transportation system, a well-educated and well-informed population, no natural disasters (no earthquakes, no typhoons, no tsunamis) and no income taxes for retirees who bring their own money, Pilar said that Montevideo is an ideal place to retire. She said she'd be happy to be our local contact should we be interested in looking for a house or condo to retire in Montevideo.
While in Punta, we drove past a construction site where we saw a billboard with Donald Trump's face on it. The Trump family is building a Trump Hotel and Casino in Punta Del Este.
Gorlero Avenue - 10-block long major shopping area. We were given 75-min free time to explore on our own.
Museo Ralli - a large collection of contemporary Latin American art. It is located in a lovely Spanish-style building in the fashionable Beverly Hills neighborhood. Salvador Dali has several sculptures in one of the two sculpture gardens.
Casa-Pueblo - a beautiful resort-museum near Punta del Este. It was created by the late Uruguayan artist Carlos Paez-Vilaró, a sprawling white complex perched on a bluff above the ocean and houses many of the artist's works.
By default, we took our dinner at the Terrace Cafe (buffet) unless we had a reservation at a specialty restaurant or if the Grand Dining Room had something special on its menu. We have more photos of the Terrace Cafe in today's photo link. With food like this, why do we need to dine elsewhere, you may ask? The difference is in the service. Here you have to get up to choose your own food. In other restaurants, you are served by very attentive wait staff.
Day 11 - Montevideo, Uruguay (12/17/2016, Saturday 91~75F): Link to our photo
Our excursion in Montevideo today was also a free one. We chose the "City Sights & Juanico Winery" - 7 hr, 8:30am~ 3:30pm, including a buffet lunch of traditional Uruguayan food at the winery, paired with Uruguayan wines. The draw for us was the "traditional Uruguayan food", as well as a chance to go north outside the city.
While doing research on the city of Montevideo, we learned that the Old Town district (CIUDAD VIEJA), situated between the cruise terminal and CENTRO, is full of narrow lanes. The eastern edge of the Old Town adjacent to CENTRO is pretty, but the rest of CIUDAD VIEJA may be deserted with run-down houses, therefore it is not safe for tourists. The CENTRO district itself does not have big attractions as far as tourist sights go. That was why we booked an excursion with O, instead of spending time in downtown CENTRO on our own.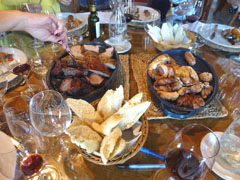 Montevideo is the capital (and the largest city) of Uruguay. Uruguay's official name is the Oriental Republic of Uruguay. Uruguay won its independence between 1811 and 1828, following a four-way struggle between Spain, Portugal, Argentina and Brazil. Modern Uruguay is a democratic constitutional republic.
Our local guide today was a middle-aged woman from an Italian family. A few things she said stood out in our minds:
1) Uruguayan people consume 200 pounds of beef per person per year. For example, her husband had to have a steak for dinner every day.
2) Uruguay's presidential term is 5 years, and he/she cannot run for re-election. He/she must wait another 5 years before he/she can run for presidential office again. This way, there is very little opportunity for corruption at the top office.
3) Same as what Pilar conveyed yesterday, she told us that Montevideo is a very nice place to retire, and that she would be happy to help any of us getting settled should we be interested in moving here.
The weather was very pleasant, sunny with a breeze, and not humid at all. Our tour bus drove slowly through a few city landmarks, stopped at a river-side park, drove past some nice neighborhoods, then delivered us to the winery 30km north of the city at 12 noon. Our guide said Juanico Winery is the oldest and the best winery in Uruguay.
The reception center at the winery was very pleasant, low-rise buildings on well-maintained grounds. The dining tables were elegantly set up in an airy dining hall. We were seated 10 per table. Our lunch was traditional Uruguayan barbecue served family style, paired with 5 different wines throughout the courses. One of the items served on the grilled meat platter was "sweet bread". I'll leave it to you to Google what "sweet bread" is. See today's photo link for food pictures.
After lunch, we were treated to a Tango show, then we were driven to the vineyard to see their grapes. The harvest time runs from February-March. We enjoyed today's outing very much. Oceania did a great job organizing this excursion, and the winery did an excellent job hosting their visitors so that everyone would have a good time.
After returning to the port, we dashed across the street to the Mercado de Puerto (Port Market) for a quick look. It was a covered market full of restaurants and shops selling handicrafts. We saw several restaurants grilling all kinds of meat on large racks, and with wall-to-wall customers eating and drinking. (Today was a Saturday.) A few locals pointed to their plates and said "very good" to us, encouraging us to try. But we had just come back from a lunch of grilled meats, and there was no room for more.
At 5:30pm we attended an Enrichment Lecture by Terry Bishop. Today's topic was "Argentina - A land of Promises and Broken Dreams", which centered around Juan Perón's promises which he ultimately was unable to deliver.
At 6:30pm, we set sail towards Buenos Aires. We went to the 15th deck to watch the sail away. Bye Bye Uruguay.
Day 12 - Buenos Aires, Argentina (12/18/2016, Sunday 82~70F): Link to our photo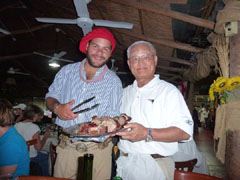 Our ship docked at Buenos Aires at 8am this morning, so today's excursions were all in or near Buenos Aires.
We originally considered using one of the 4 free excursions to book a Buenos Aires City Tour with O, but since we were staying 2 more nights in Buenos Aires after debarkation, we would have additional time to tour the city later on, so we changed our minds and chose the "Gaucho Fiesta" excursion as a free one from O.
Gaucho Fiesta (Gaucho=cowboy) was a 7-hr excursion including an Argentine barbecue lunch. The ranch we went to was named "Estancia Santa Susana" (estancia=ranch), located 76km northwest of the city of Buenos Aires. The owner of the ranch is an ex-polo player who breeds horses on the farm. The drive to the ranch took 75 minutes and along the way we got to view some countryside scenery.
It was windy, heavy rain with occasional thunder, and very cold for those of us in short sleeves. After a horsemanship show, we went inside to watch the cowboys preparing our lunch.
For lunch, we were served wine, salad, beef sausages, blood sausages, chicken, steaks, filet mignon, dessert and coffee. After lunch there was a show of Gauchos playing traditional music and Tango dancing on the stage.
The outing was fun, but there was a lot of waiting around before lunch was ready. You may Google the ranch by name to read more reviews on Tripadvisor.
We had to pack tonight. Luggage had to be placed outside the door by 10pm.
Day 13 - post-cruise, Buenos Aires (12/19/2016, Monday, 82~70F): link to our photo
The name, Buenos Aires, means fair winds, or literally good airs in Spanish. Approximately 3 million people live in the city of Buenos Aires. The city is further divided into 48 districts or barrios (neighborhoods).
Argentina is an immigrants' country. Many Europeans from Spain, France, Germany, Russia, Great Britain etc immigrated to Argentina, and that also influenced the local cuisine. Spanish, French and Italian dishes are wildly popular.
We disembarked the ship at 8:15am. The taxi mafia at the port wanted US$20 to go to our downtown hotel.
The road to downtown was congested due to a large scale "protest" (=demonstration? =strike?) The taxi driver told us that city buses, subways, and domestic airport were all shut down today due to the "protest". Imagine if one had a domestic air ticket to fly to Iguazu Falls today, it would be very difficult to get help.
Our hotel in Buenos Aires for 2 nights was the Palacio Duhau-Park Hyatt, located in the Rocoleta neighborhood of the city. We earned 2 free nights from opening a Hyatt credit card and spending a required amount. If we were to pay for a hotel room, we'd prefer a more central location, such as within a few blocks of Teatro Colón, where one may find plenty of shopping, eating and entertainment options within walking distance.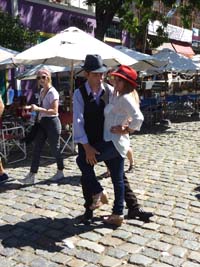 Back in August, we booked with a local guide named Pedro Werberg to take us on a 7-hr city tour for this day. Pedro is an Argentine who lived in Amherst, MA for several years while working for PBS radio at UMASS campus. Needless to say, his English is excellent. You may read his bio at http://www.AmigoDeBuenosAires.com/
Pedro, with a driver and car, met us at 10am at the hotel as agreed upon. Although we first headed north to wait for the "protest" crowds in the central downtown to dissipate, here we listed the highlights and organized photos in a south-to-north order, same as how the city was developed.
La Boca - which means "The Mouth", is the city's old port and the birthplace of tango. It is also famous for its multi-colored tin houses. To reach the main tourist attractions, one needs to travel through some rough area, that's the main reason why we booked a private guide to accompany us for the day. We wanted to see the little street Caminito (Caminito ="little walkway" or "little road") that inspired the music for the famous tango "Caminito" (1926), composed by Juan de Dios Filiberto.
- Linked below is Julio Iglesias' rendition of Caminito, which sold over 3 million copies: https://www.youtube.com/watch?v=vo8-axTVPWI

San Telmo - this district preserves colonial-style houses along narrow cobblestone lanes. On Sundays, there is a weekly street fair and an antique market, as well as tango dancing. However, we happened to visit on a Monday.

Plaza de Mayo - (Mayo = the month of May) in El Centro, Buenos Aires' most important plaza. It is named for the 5/25/1810 uprising against Spanish colonial rule. The plaza is flanked by the following landmarks:
- Casa Rosada, the pink house that is the presidential palace, features the famous balcony from which Evita used to address throngs of Peronists.
- Catedral Metropolitana, looks more like a Greek temple than a church. It was the seat of Cardinal Jorge Bergoglio, then the archbishop of Buenos Aires, before he was elected Pope Francis.
- the old colonial town hall, El Cabildo, and the current City Hall, Palacio de Gobierno, next to each other, on the west side of the Plaza.

Plaza San Martín - a beautiful green park with a monument to commemorate their independence hero General José de San Martín.

Recoleta - one of the finest and most expensive areas of the city. It boasts many French-style buildings, large green spaces, first-class hotels and restaurants. The famous Recoleta Cemetery is where all the rich families in Buenos Aires have their final resting places. Eva Perón, the daughter of an aristocrat and beloved First Lady, rests here. Her full name was María Eva Duarte de Perón.

Run-away inflation has been a big problem in Argentina. Inflation rate was almost 40% just last year. To hedge against inflation, many Argentines invest in real estate, or change money into USD and stash it somewhere. Pedro took us to a money-changing place on the south side of Plaza San Martin near Calle Florida for us to change money, $1 USD= 15.75 ARS (Argentine Peso), at the time we visited. (Foreigners must show a copy of your passport.)
In one day, we saw a lot with Pedro and a dedicated driver/car. And saw it safely, without having to keep an eye on pickpockets or the "black water" scam (or mustard, or ketchup, dropped onto your clothing).
Day 14 - Buenos Aires (12/20/2016, Tuesday): Link to our photo
Our mission for today was to tour inside the opera house, walk down the Florida street and visit a museum in the afternoon when the outside temperature was high.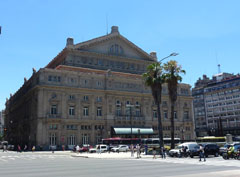 We had a French breakfast at an organic bakery around the corner from our hotel, then set out using taxis for transportation. Taxis were metered and very inexpensive. The most we ever paid from point A to point B in the city was 100ARS (~USD$6.5), which included fares for idling in traffic.
Day 15 - Buenos Aires (12/21/2016, Wednesday): Link to our photo
Our flight was not until 9:15pm, so we requested a late check out at 4pm from our hotel and it was granted. We still had most of the day to tie up a few loose ends and see some more sights on our list.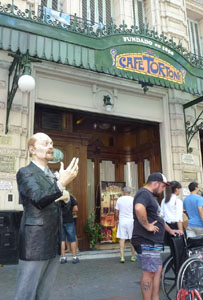 We decided to have a leisurely breakfast at the Park Hyatt. The weekday breakfast buffet was USD$25/pp for hotel guests, plus an additional 21% VAT tax. The spread included many kinds of bread, pastry, juice, coffee, cold cut meat, scrambled eggs, bacon, sausage, yogurt and fruit.
[NOTE about the 21% VAT tax: We read that foreigners may be exempt from the 21% VAT tax on hotel rooms if you pay with a foreign credit card and show a foreign passport. Inquire about it with your booked hotel before arrival.]
After breakfast we took a taxi to Cafe Tortoni to start our sightseeing.
Café Tortoni : Located at 825 Avenida de Mayo, it is the oldest coffee shop in Buenos Aires and voted one of the "World's 10 Most Beautiful Cafés". We originally planned to come here to eat churros with thick hot chocolate ( http://www.cafetortoni.com.ar/en/?p=delicias ) but we had just had a full breakfast, so we changed plans to just take a look here.
This café has daily performances by musicians and tango dancers in the basement salon on a small stage, but we read in a recent review that the weekday tango shows were no longer accompanied by live accordion players and now use recorded music instead, so we scrapped the plan to watch a Tango show here. The weekend shows should still use live musicians, but that's only our guess, judging by this web page: http://www.cafetortoni.com.ar/en/?p=shows (NOTE: There are many glitzy Tango shows available in the city that charge more than USD$100/pp without dinner. Most of these shows start at 10pm; dinner starts at 8pm.)

Avenida de Mayo - this is one of the streets radiating off of Plaza de Mayo where the pink Presidential Palace is. Even though Buenos Aires is called the Paris of South America, up to this point Vincent had commented that the buildings and streets looked more like Barcelona (in the Eixample) to him. But this morning while walking along the Av. de Mayo, with many small shops and street vendors, it did feel like Paris, as if we were on the Blvd. Saint-Michel, just off Saint-Michel square.

Calle Florida - We wanted to walk the lower part of Calle Florida starting from Av. de Mayo. This was really a pleasant street for browsing and for people-watching.

Two days earlier, we booked online at TAXI EZEIZA for a car to take us from our hotel to Ezeiza airport. The fare was fixed, we could pay the driver either ARS 550 or USD$36 cash. The distance from the city center to Ezeiza airport was 45km. It should take 45-min in normal traffic. But with traffic, one never knows, so we booked a car to fetch us at our hotel at 4:50pm. The online response was prompt and we are happy with it so far.
An older gentleman with a white car (not a taxi) arrived at 5pm. He was sweating profusely and apologized for being 10-min late. We said no problem because it was hard to gauge traffic. With the heavy traffic at 5pm, as well as the on-going "protest" which caused some streets to be closed, we wound up taking 1h40m to reach the airport. We felt bad that the driver spent so much time on this trip yet only earned a meager fare (the folks at the TAXI EZEIZA website took a cut too), so we gave him a big tip.
But wait, he dropped us off at the wrong terminal! He thought Delta was at Terminal A, but it was actually Terminal C! We had to haul our luggage and walk the 10-min from A to C, part of it was outside under a hot afternoon sun and dodging traffic. This was a lesson learned: know which terminal you should be at.
We still had 200 Argentine pesos with us, so we spent it all at the small coffee shop in Terminal C for an over-priced ham-n-cheese sandwich and a bottle of ice-cold water.
Day 16 - Arriving home in Reading (12/22/2016, Thursday):
Our Delta flight from Buenos Aires to Atlanta was full. The fly time was 10h15m. Then, after a 2-hr lay over, it was another 2-hr flight to Boston.
The Atlanta airport was very crowded, long lines to go through immigration, and long lines to go through security check to board a domestic flight. Maybe it was the beginning of the peak travel period for the X'mas Holiday?
A taxi took us from Logan Airport to Reading home shortly before 12 noon. Our lawn was covered with a thin layer of snow.
This was an eye-opening journey. We were glad that we got to experience the land, people and food from a big part of the world that we had not been before. The big cities at both ends of the cruise (Rio de Janeiro and Buenos Aires) had more to offer, and Uruguay really surprised us in a good way. We have good impressions of the people and the two cities we visited in Uruguay - although we understand that we only saw the beautiful parts of the city. Last but not least, we enjoyed the food and service on the elegant Marina and will definitely cruise with Oceania again.
---
Practical Tips:
A few tips for trips such as ours:
1. A big tip on MAPs - if you downloaded the detailed map of a city to your iPhone's Google Maps app while you have WIFI from your hotel or from the ship, then later when you are out and about in the city without WIFI and without using Cellular Data, you can still use your Google Maps GPS (the blue dot) to pin-point where you are on the map.
2. The free internet on the ship was very slow, but it is still better than none.
3. Know your departure airport's terminal number for your flight. Cannot rely on a taxi driver to know that for you.
4. Laundry: Oceania's O-Class ship has one laundry room on each guest deck, and each laundry room has 3 washers, 3 dryers and 2 iron/boards. (While on the smaller R-Class ship, there is only one laundry room on the entire ship.) We did two loads in one early morning before breakfast, and another load in one afternoon without much wait. We read that it is best to do it shortly after 4pm, when most guests are getting ready for afternoon tea or cocktail or dinner. On sea days, laundry rooms will be busy. (Detergent is dispensed in the laundry room free of charge.)