Trip Summary:
We had been looking for a cruise up along the Norwegian coast crossing the Arctic Circle to the North Cape (Nordkapp), the northern most point of mainland Europe, for a while. After studying brochures, ship amenities, itineraries and cost, we decided that we would be happier on a real cruise ship than on a Hurtigruten ferry, for the onboard amenities, cuisine, evening entertainment and longer day-time hours spent on shore. [By the way, Hurtigruten has a two-tier pricing system. Booking from its USA website is much more expensive than booking from its Norwegian website.]
We visited the Scandinavia capitals as well as St. Petersburg in 2004 with Grand Circle Travel, so this time we looked for a cruise itinerary that did not include Helsinki, Copenhagen, Stockholm or Oslo. We had our eye more on the Norwegian coast as far north as North Cape or beyond. As it turned out, not many cruise ships sailed on such an itinerary, and even if one did, it usually just did it only once in June, for the chance of experiencing the Midnight Sun. We knew that we would not be able to see the colorful Northern Lights because that phenomena only appears in winter months, from October to April.
Out of a handful of cruise ships that sailed all the way to the North Cape, we chose a 14-night cruise on the Holland America Line's Rotterdam (1300 passenger capacity and 600 crew). We had not cruised with HAL and were interested in giving it a try. Besides, the embarkation city of Rotterdam was only 4 ~ 5 hours' train away from the middle Rhine, enabling us to tack on a pre-trip to visit a few pretty towns along the middle Rhine and Mosel on our own. We also added two nights in Delft to walk in the footsteps of the great Dutch painter Johannes Vermeer, before boarding the cruise ship in Rotterdam. (A bit confusing isn't it? The ship's name is The Rotterdam, and its embarkation port was the city of Rotterdam.)
Packing for this trip was a challenge. The middle Rhine region was warmer (60F ~ 80F) while the Norwegian ports were colder (40F ~ 60F). So what was the right time to visit North Cape? It was the luck of the draw. The day we docked in Honninsvåg it was 40F with rain, fog and dark clouds. We could not see 10 foot in front of us at the North Cape's Globe Monument, and the sun could not be found. However, our iPhone weather forecast app indicated Honninsvåg would have a series of sunshine and 54 ~ 60F temperature starting Tuesday, two days after our visit! Later, the lady at Honninsvåg's Tourist Information Center said that visiting in early June was too soon, as it was still very cold. She suggested visiting in late June, July or even early August for better weather.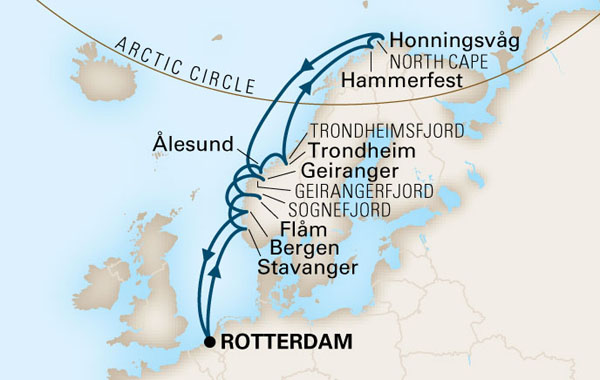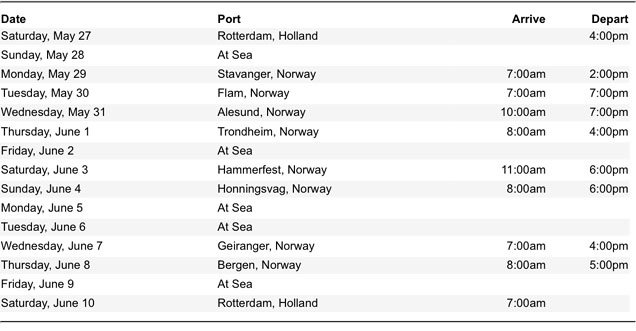 Transportation
CRUISE: We booked our cruise with VacationsToGo.com in early February and chose a Main Deck mid-ship Ocean-View cabin for $2575/pp. We always bring a print out of our booking confirmation, which spells out what we paid for and the amenities we were entitled to; because 50% of the time the ship has incorrect information. We had to email our booking agent while on board the ship to resolve discrepancies on the amount of OBC we had.
AIR: We purchased multi-city tickets to fly to Frankfurt and then fly home from Amsterdam. We were lucky to catch the tail end of a January airfare sale, so our tickets on Lufthansa cost only $440/pp and the non-stop flight from Boston to Frankfurt took only 7 hours.
RAIL: We looked up train schedules and fare on the Deutsche Bahn website, www.Bahn.com, and pre-purchased long-distance high-speed (IC, ICE etc) train tickets online for an early-bird discount. For short-distance regional trains (commuter trains) we mostly purchased tickets as we went, since the regional train ticket prices do not change and do not sell out. We also utilized Germany's individual federal states' regional day-pass when our travels were within a single federal state's boundary and were all on regional trains.
- For train journeys spanning more than one federal state territory, and if IC or ICE fast trains don't save a significant amount of time, here is the weekday's Cross-Country-day-pass on regional trains, and here is its "Happy Weekend" version.
- Dutch rail website is http://www.ns.nl/en, we used it to find train fare but always double checked with www.Bahn.com for schedule, train number and platform info. I guess we liked the display format of the Deutsche Bahn better.
- Last but not least, if after crunching some numbers that you do find the multi-day German Rail Pass worthwhile, this pass shall give you great flexibility in riding any trains (high-speed or regional) operated by Deutsche Bahn.
Lodging
Boppard, Germany (4 nights) - Bellevue Rheinhotel, at Rheinallee 41. Rates vary according to day of the week and views. Breakfast was €11/pppd additional. 5-min walk from Boppard Hbf (Hauptbahnhof, the main train station). The hotel was lovely, but may not be ideal in summer, since they lack air-conditioning.

Cologne, Germany (2 nights) - Cologne Marriott Hotel, booked using 70,000 Marriott points. This hotel was 5-min walk from Cologne's main train station, very convenient and comfortable. WIFI was complimentary. Another choice in Cologne would have been the Ibis hotel (unless they don't have A/C) right by the train station at the Cathedral square.

Delft, Holland (2 nights) - we were looking for a hotel half-way between the Delft train station and the town center. The canal-side Hotel Leeuwenbrug fit the bill and looked charming from its website photos. We booked a deluxe double room, which got us a canal-view room at the front of the hotel. However, the hotel did not have air-conditioning, and the windows did not have screens. So when we opened the windows at night to let the cool breeze in, we also let in a few mosquitoes. Not recommended. You'd be better off selecting a modern hotel with air-conditioning.
Below are our customized Google maps with the 8-night land trip on the left, and the 14-night cruise on the right.

Guidebooks and Online Resources:
For the cruise part, the small villages such as Flåm, Geiranger and Honningsvåg, each had a TI (Tourist Information) office organizing sightseeing activities to welcome the surge of thousands of tourists in summer. We also researched by reading info on the ports on https://cruisecrocodile.com/ and http://www.whatsinport.com/ , then booked a few excursions online. As for the rest, we just walked off the ship and strolled on our own or waited to see what was on offer at the pier. In short, this was a very easy-to-prepare itinerary, since the majority of the attractions were natural scenes of fjords and mountains that surrounded us.
For the land part, we used Rick Steves' Germany and Netherlands guidebooks, as well as Fordor's Germany discussion board and Google searches.
Use Google translate to learn a few survival German words, such as:
ZU=to; ZUM=to the; VON=from, of; GLEIS=platform, track;
AUFZUG=lift, elevator; EINGANG=entrance; AUSGANG=exit; ABFLUG=departure; ANKUNFT=arrival

Perhaps these below are of interest to some:
-berg, -burg, and -heim towns in Germany
berg towns (Bamberg, Nuremberg, Heidelberg), - towns associated with mountain,
burg towns (Regensburg, Wurzburg, Rothenburg), - towns associated with castle,
heim-towns (Kelheim, Rudesheim, Wertheim) - towns smaller and pertaining to homes or houses of the settlers.
Internet:
We had internet while staying in land hotels for the first 8 days, but also purchased Dutch Vodafone SIM cards for our two iPhone for data. The SIM allowed us to look up train schedules and consult Google maps while out and about, which was very convenient.
- You'll need to have an unlocked Smartphone in order to work a foreign SIM. If your carrier is AT&T, you may go on att.com/deviceunlock to submit a request to have it unlocked. There are a few YouTube videos that demonstrate how to replace a SIM card.
- While cruising, there were plenty of opportunities to connect to free WIFI like at each Norwegian port's TI (Tourist Information), the town library and also at coffee shops and restaurants.
Money Matters (Cash, ATM etc):
We brought some Euros home from our prior trip to Europe, so we had enough cash for this trip, but when we saw ATMs of Deutsch Bank (a partner bank of BofA) in front of the Cologne Cathedral, we withdrew some more just to be safe. Many small-town restaurants along the Rhine and Mosel River did not accept foreign credit cards.
Norway's currency is Norwegian krone (NOK), 1 USD = 8.3 to 8.5 NOK at the time of our visit. During a port talk, the ship's destination guide, Claudia, told the audience that almost everything in Norway could be paid by credit card. Claudia suggested each person change about USD $10 worth of NOK to start. At our first Norwegian port, Stavanger, we did not see any money changer, but Vincent used a €20 note to pay for a cup of coffee in Stavanger's public library cafe and received NOK170 back in change. That certainly was one way to get local currency! Later, we learned that the ship's front desk would change currency for guests. At the end of the cruise you could also change your surplus NOK back into USD at the front desk, but they only accept bills, no coins. Therefore you'd need to consolidate all your NOK coins into bills at a shop on shore, and then change these bills into USD at the ship's front desk.
Food:
We had many good meals during the pre-trip in Germany, but no particular dish stood out. We did not see any pork knuckle on the menu either.
The food served on the HAL cruise ship was pretty decent. There were always choices of fish, pork and beef as main, so one would not be left hungry. King crab legs were served one evening, and surf and turf (grilled Florida lobster tails and filet mignon) were served on another evening. Filet mignon and prime ribs were served on two or three evenings. Plenty of fruit was also available at the ship's Lido buffet.
---
Itinerary and highlights:
Day 1 - Arrival in Boppard, Germany (5/19/2017 Friday, 58F, Rain): Link to our photo
Frankfurt Airport (Frankfurt Flughafen) has two train stations, one is called the Regionalbahnhof for local/regional trains, the other is the Fernbahnhof for high-speed long distance trains. The two stations are about 10-min apart on foot. High-speed train tickets are train-specific, and since we did not know how long it would take us to clear immigration/custom, we decided on taking regional trains all the way to Boppard via pre-purchased and print-at-home train tickets. As far as we know, regional train tickets gave us a few hours' window to start our journey from the originally ticketed train time. It also saved us time from having to queue up at a ticket counter, or fumbling at an automated kiosk after a sleepless overnight flight.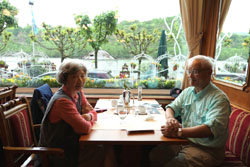 It took us about 1-hour to claim luggage and clear immigration at Frankfurt airport. Then an 80-minute train to Boppard, arriving at our hotel at 9am.
Boppard was raining. We sat in the Bellevue Rheinhotel's beautiful dining room to have breakfast and to wait until check-in or when it would stop raining. The hotel is directly behind Boppard's river cruises dock. We saw a Tauck river ship, two Viking river ships, and an Avalon river ship cruising by during the 4 days we were there. We also saw tour groups from China, Taiwan, and UK in town. The whole town of Boppard is a UNESCO site.
Train noise?
One thing to be very aware of when making your lodging selection is the ever present train tracks that parallel the Rhine and the main street that fronts many of the quaint towns along the Rhine River. In fact, the train rails are basically between the hotels and the Rhine, or just behind the rear of the hotels and restaurants. The train goes through this area nearly every half hour day and night, transporting goods to/from Europe's largest port, Rotterdam. The noise may hamper your quality of rest, so choose a hotel carefully by studying Google maps (of the hotel and train tracks' relative locations) as well as read individual hotel's reviews.
Our non-smoking room on the 4th floor was adequate - large room and large bathroom. The only complaint would be (1) the vanity in the bathroom did not have enough counter-top space, and (2) no A/C at the hotel. Not a problem when we visited in May, but may be a problem when the temperature gets higher.
When we saw a falafel and shawarma eatery in the town center we could not resist it. We ordered one of each for an early dinner, but these were not as authentic as what we had in Jerusalem in 2015.
Day 2 - Rhine cruise (5/20/2017, Saturday, 64F, partly sunny): Link to our photo
We woke up this morning to a bright sunny sky, so we decided to go on a short segment of the Rhine River cruise. After a hearty breakfast at the hotel's restaurant, we set out at 9am, the temperature was only 56F at that time.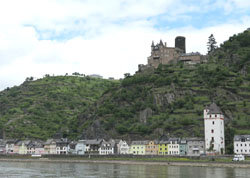 The most scenic segment of the Rhine is called Rhine Gorge, the stretch between Bingen to Koblenz. The Rhine River flows very fast, a river cruise up-stream would take 2 times as long as down-stream. (The Rhine River begins in the Swiss Alps and flows north eventually empties into the North Sea in the Netherlands.)

We wanted to save time by cruising down-stream, and also wanted to check out the towns of Bacharach (population 2200) and St. Goar (population 2000), two Rhine River towns highly recommended by Rick Steves. We chose to stay in Boppard because it is a larger town (population 5000) and had more choices of lodging and dining options. So we took a 20-min regional train from Boppard to Bacharach, toured the main street and its town square, then boarded a K-D river cruise boat down stream to St. Goar for 40-minutes, covering the Loreley (or Lorelei) Rock.

We got off the boat in St. Goar to have lunch, strolled the main street of the town, then took a train back to Boppard. Many tourists were on the boat, and disembarked in St. Goar after passing the Loreley Rock, just like us. While cruising past the Rock, the boat's PA system played the German folk song, Die Lorelei.

K-D River Cruise Line - (K-D stands for Koln-Dusseldorfer) http://www.kdrhine.com/rhineschedule.htm (print out the colorful map), or http://www.k-d.com. Buy tickets at the dock. Seniors over 60 get 30% off. Or show your train tickets to get 20% off.

While waiting to board the K-D cruise boat in Bacharach, we chatted with a middle-aged German couple from Cologne, who wanted to know what we thought President Trump was doing, because he was visiting Saudi Arabia at that time and was on hot topic all over the world.



Day 3 - Cochem(Mosel) (5/21/2017, Sunday, 68F , partly cloudy): Link to our photo

The forecast said it potentially could be as high as 70F, but during breakfast, we saw people walking along the Rhine promenade bundled up in jackets zipped up to the collar, so we knew it was chilly outside. It was still only 52F at 8:30am when we set out.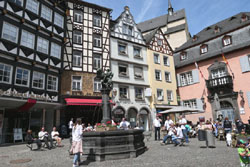 Our plan for today was to visit the pretty town of Cochem by the Mosel River.
Mosel River (Mosel [MOH-zehl] in German, and Moselle [moh-ZEHL] in French) rambles 300 miles from France's Vosges mountain range (in eastern France near the German border) to Koblenz where it dumps into the Rhine.
Mosel is a narrow, winding river lined with grapevines and produced famous white wines. Train travel from Boppard to Cochem required a train change in Koblenz. We started with a 13-min train ride from Boppard to Koblenz, then changed to another regional train to Cochem. One-way travel time was about 60 to 90 minutes.
The train from Koblenz to Cochem emptied out after a few stops (Winningen, to be exact, because it held a wine festival). The conductor came to chat and wanted to know how we thought our President Trump was doing. Will he bring stability to the world, or will he cause more chaos? The conductor told us he grew up in East Germany and worked for the East Germany railroad. After Germany's unification he worked for Deutsche Bahn, and now lives with his wife and children in Koblenz (a city in the formerly West Germany).
Cochem was indeed very pretty, but also very crowded today, a Sunday and a beautiful day with blue sky, so perhaps many locals came to Cochem for a family outing as well?
After strolling through the quaint old town center, we sat at an outdoor table of a riverside restaurant for lunch and people-watching, just enjoying being part of a postcard-perfect scenery. Due to time constraints, we did not take a Mosel River cruise down to Beilstein, another pretty but smaller river town.
Day 4 - Koblenz (5/22/2017, Monday, 72F, sunny): Link to our photo
We decided to take it very easy this day - go on a K-D river cruise slowly down to Koblenz to see the German Corner and its old town, and then train back.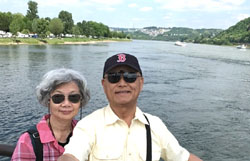 At 9:30am the hotel's breakfast restaurant was almost empty, everybody had an early start on a Monday. After eating here for several mornings, the wait staff's faces became familiar to us, but this morning we saw a new face and found out she spoke English and was originally from Poland! We told her we had been to Warsaw and visited the Chopin museum. She then told us she played piano, came to Germany to study and then stayed. She plays piano part time at the hotel's Le Chopin restaurant during winter months.
Today was sunny and in the low 70's, the best day weather-wise of the 4 days we had been here. The K-D boat ride to Koblenz was very pleasant with a gentle breeze. Half-way between Boppard and Koblenz we past the gleaming UNESCO Marksburg castle which can be visited. The boat's PA system had four languages (German, English, Japanese and Chinese) narrating on landmarks as they came into view.
Sitting at the confluence of Rhine and Mosel Rivers, Koblenz has been an important military post since Roman time. It has a population of about 110,000, a large city when compared to many neighboring river towns of only a few thousands.
After walking through the very pleasant Deutsches Eck (German Corner) park, we stood at the pointy point to watch the flowing water from Mosel merge into the Rhine. Then we walked toward the old town. In our haste to find the TI we just breezed past the old town without taking any pictures. However, the old town did not stand out from the other towns we had visited in the past few days.
Although Koblenz did not even merit a mention in Rick Steves' Germany guidebook, we had a very relaxing and enjoyable day thanks to the nice comfortable weather.
On the train back from Koblenz to Boppard, we heard train's PA system announcing the name of an up-coming stop. The announcement always started with "Nächster Halt". We remembered the first day on the train from Frankfurt airport to Boppard we heard "Nächster Halt" several times and thought that was the name of a major up-coming stop. It was not until one day when we sat on seats where we could see the train's overhead digital display and also heard the PA announcement simultaneously that it dawned on us that "Nächster Halt" meant "Next Stop".
Day 5 - Transfer to Cologne (5/23/2017, Tuesday, 76F, sunny): Link to our photo
Transfer to Cologne today, train time was 1h25m. Regional train from Boppard to Koblenz then changed to a faster IC (Inter City) train to Cologne. We purchased this train tickets online the night before on the German Rail website (www.bahn.com), received the tickets via email, and used the hotel's printer in the lobby to print.
Arrived at Cologne Hbf at 12 noon. Walked 5-min to the Cologne Marriott Hotel, very convenient, but our room was not ready.
The receptionist sold us Lounge access for €39/per day/per room so that we could go to the Executive Lounge to wait and enjoy snacks/beverages as well as having evening cocktail/dinner and breakfast the next morning. Sounded like a good deal so we bought Lounge access for two days, which turned out to be not only a very good value but also a great time-saver. We did enjoy the food - both the cold spread and the hot items, as well as unlimited beverages.
We were very pleased with our spacious, quiet and A/C room at the Marriott. After settling in we went for a walk, cutting through the huge and busy train station to the Cathedral square.
Cologne (German: Köln) is Germany's 4th largest city. Today the city is most famous for its perfume: The 4711 "Eau de Cologne" was first made here by an Italian chemist in 1709, and its gothic Cathedral.
Köln's gothic Cathedral (DOM) is one of the few gothic cathedrals which has been completed, including two spires. It is the tallest Roman Catholic cathedral in the world, and also the most visited German landmark (more than the Neuschwanstein Castle and Brandenburg Gate). But we think its location is the main factor that helped winning the "most visited" contest - Anybody passing through can get off the train at Cologne, stow luggage at the train station, walk 5 minutes to see the Cathedral, then get back on the train again.
We also walked down the shopping street (HOHE Strasse) and then turned to the Alter Markt (Old Market), but they were nothing special. We did not attempt to go to the east side of the Rhine River to take a photo of the Cathedral from across the river, because it was very windy near the river. In Rick Steves' guidebook, Cologne was only worthy of a few hours' stop.
Day 6 - Day trip to Bonn (5/24/2017, Wednesday, 64F, cloudy): Link to our photo
Today's plan was to visit Bonn and see Beethoven's birth house/museum. Train time from Cologne to Bonn was 25-min on the regional train.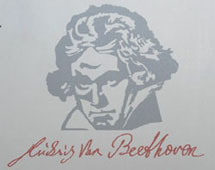 For r/t transportation Cologne<->Bonn, there was a regional day pass for the southwest of the state (of North Rhine-Westphalia) called VRS (Verkehrsverbund Rhein-Sieg) mobilises. Between Cologne and Bonn was level 4, €18 for one person, €25.30 for up to 5 person. Cologne station had manned counters selling tickets, so we purchased the day pass from there.

Although Bonn was West Germany's capital from the end of WWII until Germany's reunification in 1990, today it looked very much like a provincial town, hard to imagine that it was once the capital of a nation.

A very pleasant pedestrian street leads from Bonn's train station to the Market Square anchored by the baroque City Hall. After perusing the fruits and vegetables at the market we walked to the Beethoven Haus - Beethoven's birthplace, www.beethoven-haus-bonn.de. Although Beethoven only lived the first 4 years of his life in this house, today this museum houses the world's largest Beethoven collection containing original documents from the time Beethoven was in Bonn and in Vienna. He went to Vienna when he was 22, lived there, and died in Vienna at 56.

Even though Beethoven (1770-1827) was very successful in Vienna, he always looked for teachers from whom he might learn something he did not already know. In one of the rooms, a display on the wall stated that Joseph Haydn was Beethoven's teacher from 1792-1794, and Antonio Sallieri was Beethoven's teacher briefly around 1801/1802. You remember Antonio Sallieri, right? He was the court composer villainized in the "Amadeus" movie.

[Addendum: In 2018, we heard from a classical music podcast's commentary that Beethoven and Haydn's pupil/teacher relationship did not develop very well because Haydn was more structured musically than the young Beethoven was at that time, and it was Sallieri from whom Beethoven learned more.]

After touring the house with an English guide, we sat in a digital studio with individual computer screens and headphones to listen to selections of Beethoven's work. You could read the text on a screen explaining the European events and personal story at the time when the piece was composed as the music played. It was a very fruitful and enriching day.

Before we left home for this trip, Vincent mentioned to our 8-year-old granddaughter Angelina that we might visit Beethoven's house in Germany. Her eyes opened wide, saying "Seriously?"




Day 7 - Transfer to Delft (5/25/2017, Thursday, 67F, mostly cloudy): Link to our Delft photo

Travel day to Delft on a German high speed ICE (Inter City Express) train to a Dutch railroad hub called Utrecht Centraal, then changed to Dutch train to Delft.

Our reserved seats on the ICE train were in wagon 22, seats 56 and 58. However, the train rolled into Cologne station so fast that we did not see where the wagon numbers were posted. So we just got onto the wagon stopped in front of us and then walked through the narrow isles of 6 wagons to get to our reserved seats. The train was quite full. We were glad that we paid €4.50/pp extra to reserve seats; otherwise we could have ended up standing.

A kind train conductor helped us stow our large bag on the overhead rack. After we got settled into our seats, he told us if anyone called our attention to money on the ground and asked if it was ours to ignore them and just watch our belongings.

The German ICE train provided free WIFI within Germany. Once we crossed the border into the Netherlands, WIFI was no more.

After 3 hours and 45 minutes, we arrived at our hotel in Delft, the Hotel Leeuwenbrug (Leeuwen=Lions, brug=bridge.) Today was a religious holiday and the town hosted a marathon event with the finish line at the town hall in front of the Market Square. We joined the revelers in the street and saw the house where Johannes Vermeer lived when he was a young boy. We also visited the Vermeer Center, which did a good job paying tribute to the artist's talent, but no original paintings of Vermeer's were there.

The 17th-century Dutch painter Vermeer is Delft's best known son, he lived and worked his entire life in Delft. The city is well-known for its Delft Blue earthenware and its lovely canals.

Vermeer (1632-1675) was born the son of a Protestant art dealer and innkeeper. After he married a Roman Catholic, he moved in with the wife's family and converted to Catholicism. Not only did he have to leave his old neighborhood, he also was apparently erased from the civic records because of his conversion (after Protestants deposed the Catholics in Holland, the public practice of Catholicism was banned in Delft and other cities for about 200 years). That explained why we know very little about Vermeer's life, and his work was not discovered until the 19th century. The in-law's house is a mansion in an area called "Papist's Corner" to the west of town hall, where he did most of his paintings. (Papist = a Roman Catholic.)

We also went to snap a picture of the houses at Vlamingstraat 40-42 in Delft, where Vermeer painted "The Little Street" c. 1657-58. Below are the "then" and "now" side-by-side. The painting on the left is housed in the Rijksmuseum in Amsterdam. The photo on the right is what the two houses looked like the day we saw it.

We wanted to group all the Delft pictures together in today's photo link. The pictures were taken in the afternoon and also the following morning, just in case you noticed the differences in the lighting.




Day 8 - Day trip to Den Haag (5/26/2017, Friday, 80F, sunny): Link to our photo

The hotel's included breakfast was pretty good - shrimp salad, smoked fish, cucumber and tomato salad, varieties of cold cut meat, cheese, eggs, fruits, bread, jam, coffee, and juice. After fueling up, our first mission of the day was to bring laundry to a laundry service called "Rein-Tex" to be washed and dried. It was closed due to the holiday yesterday otherwise we would have dropped it then. A load washed, dried and folded cost €12. We picked up our clean clothes in the afternoon.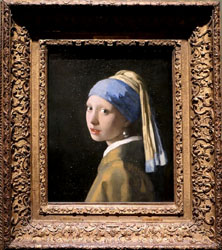 Today's plan was to go to Den Haag (The Hague). The highlights in Den Haag for us were:
Binnenhof (Inner Court) - The Dutch Parliament, this is the heart of the city, and also only meters from the MauritsHuis Art Gallery.

MauritsHuis Museum - Maurice House, delightful art collections starring Vermeer and Rembrandt. Vermeer's "Girl with a Pearl Earring" (1664) and "View of Delft" (1658) are here, so is Rembrandt's "The Anatomy Lesson". The museum's own website is at https://www.mauritshuis.nl/en/.
- We downloaded the museum's mobile app, were loaned headphones and then shown how to follow the audio guide from our iPhone to tour the museum on our own.
Transportation from Delft to The Hague could be by train or tram. We took Tram #1, which leaves from the street across the Delft train station. Fare was €3.50/pp, pay driver. After about 30-min, we got off at The Hague's Centrum stop (not the Holland Spoor station stop, nor the Centraal station stop), which was the stop closest to the MauritsHuis Museum.
We were lucky that there was no queue at the museum's entrance. Afterwards, we enjoyed lunch at the museum's coffee shop, which was bright, pleasant and with free WIFI. We texted the kids back home with some photos taken at the museum, sharing instantaneously with them the highlights of what we had just seen.
P.S. Here is a site devoted to Vermeer, and lists the whereabouts of his 36 paintings with images: http://www.essentialvermeer.com/vermeer_painting_part_one.html
CruiseDay 1 - Embarkation in Rotterdam (5/27/2017, Saturday, 84F, sunny): Link to our photo
Today was an unusually hot day for Delft. We took an 11-minute frequent train from Delft to Rotterdam. Delft train station did not have ticket counters, only automated kiosk. One-way train ticket was €3.30. We read discussions on travel community sites which said that Dutch train ticket machines did not accept foreign credit cards, so we took that as truth and just used Euro coins to purchase tickets.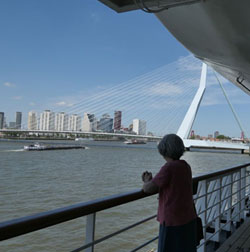 From Rotterdam train station we took a taxi to the cruise terminal, the fare was €15. Our ship was the only one at the terminal today. Check-in was very orderly and divided into color-coded groups. Our room was ready when we boarded the ship at 12:30pm. After settling in, we went to Lido buffet for lunch.
Sail-away was at 4pm, the ship headed out west on the Nieuwe Maas River (a distributary (分流) of the Rhine River) then continued on a canal named Nieuwe Waterweg ("New Waterway") to the North Sea and then north toward Norway.
We also went to Lido buffet for dinner, the choices for main were Prim Rib, New York Steak, BBQ Ribs, and Grilled Salmon. The green vegetables (sautéed spinach, asparagus) were very good.
This was a bi-lingual cruise. Probably more than 50% of the guests were Dutch. All the important announcements were in English and then repeated in Dutch. Most of the restaurant service staff and room attendants were Asians from Indonesia and the Philippines.
The Cruise Director and the Destination Guide were two young and capable Dutch ladies who spoke English very well.
CruiseDay 2 - sea day (5/28/2017, Sunday, 54F at sea, partly cloudy): Link to our Photo
We had a Cruise Critic "Meet and Greet" at 10am, and a cocktail invitation from HAL at 4:30pm. Other than that, we were free to fill in our time.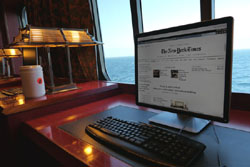 We checked out the ship's spacious library, used one of its many computers connected to the ship's intranet to read daily New York Times free of charge. We stopped by at the library almost daily to read NYTimes.
Also checked out the self-service laundry room. There were three self-service laundry rooms located on three different decks. Each had 4 washers and 4 dryers, so it was not difficult to find a machine to use when needed.
Attended a destination talk at 1pm. This was when the Destination guide Claudia told us that almost everything in Norway could be paid by credit card, and that we really did not need much local cash (Norwegian Krone) at all.
We also checked out the Afternoon Tea served from 3pm-3:45pm in the Main Dining Room for the first and last time, as we considered it one of the "weak" event on the ship. Perhaps we have been spoiled by Oceania's afternoon tea?
CruiseDay 3 - Stavanger, Norway (5/29/2017, Monday, 54F, chance of rain): Link to our photo
At 9am the temperature was only 52F and cloudy. Our ship only docked in Stavanger till 2pm, not enough time to make an excursion to the Pulpit Rock. We walked to the TI right on the pier for free WIFI to download Stavanger's map into our iPhone, then walked toward the Cathedral (Domkirke) in the city center. Stavanger is very walk-able and there is no need for a taxi or HOHO bus.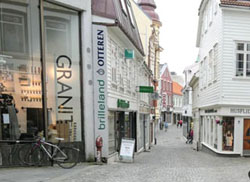 We were looking for a money-changer to change USD into NOK (Norwegian Krone), but did not see any. Although we saw a bank or two, we did not think it was worth the banker's time to change USD$10 for us. We continued walking to Stavanger's city library to sit down and use its WIFI to catch up on email and news. There was a coffee shop in the library and they accepted Euros and USD. Vincent used a 20 Euro note to buy a cup of coffee and got 170 NOK back as change, so now we had local currency, problem solved.
Stavanger had a booming oil industry - which brought multinational workers and their money into the city. The city's top sight is the Norwegian Petroleum Museum, so that was where we visited after the library.
From the late 1960's to 1980's, gas and oil reserve was discovered in the North Sea, leading to an economical boom as well as family sacrifices - with the fathers being away from home living on oil rigs for extended period of time, and facing fear and peril over rig accidents and North Sea storms etc.
Back on the ship, we went to the ship's MDR (Main Dining Room) for dinner and shared a table with a couple from California, a couple from Pennsylvania and a couple from Australia and had a lively conversation. Both of us chose "Grilled Salmon with Cilantro and Ginger Pesto" as main dish. We ran into our table mates from time to time for the duration of the cruise and felt like old friends.
CruiseDay 4 - Flåm, Norway (5/30/2017, Tuesday, 58F, raining): Link to our photo
It was a raining day with dark clouds. We woke up early and went to the Crows Nest (9th deck, forefront) at 5:30am to watch our ship's sail-in on the mirror-like fjord surrounded by snow-capped mountains interspersed by many thin white streaks of water falls.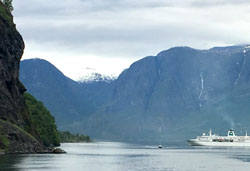 Flåm is an an important mid-point of the famous Norway-in-a-Nutshell tour where one changes from a train to a fjord cruise, or vice versa, depending on where you were heading.
Since we had been to Flåm in 2004, and had done the "Norway-in-a-Nutshell" tour from Oslo to Bergen, we planned to take it easy and just stroll the town on our own. However, if this were your first time in Flåm, then book your excursions ahead of time at https://www.visitflam.com/en/ to do just the train part (Flåm --> Myrdal and back), or just the fjord cruise part (fjord cruise by ferry from Flåm to Gudvangen and then ferry or bus back), or a triangular loop of Norway-in-a-Nutshell, depending on your schedule and stamina.
The TI office was very busy, selling all kinds of tour tickets as well as providing info to tourists coming and going. We met a Taiwanese tour group that had just arrived from Oslo by train on a day trip and were waiting to board a ferry for a fjord cruise and then returning back to Oslo. When they asked where we were going next, we pointed to the BIG ship docked less than 100 meters away and said, "We will be sleeping on that ship." They were envious. In such a wet and cold day, it was appealing to have warm dinner and room waiting so close by.
Sail-away was at 7pm. As our ship cruised the Sognefjord the Destination guide, Claudia, gave commentary on the PA system. One might go to the Crows Nest or any open decks to watch the scenery and listen to her commentary.
CruiseDay 5 - Ålesund, Norway (5/31/2017, Wednesday, 50F, partly cloudy): link to our photo
Today was 10 degrees colder than yesterday, and Ålesund was very cold, especially in the harbor area with whipping winds blowing across the open seas. A bigger cruise ship, Aida, was also in port, so the TI (free WIFI) was crowded, HOHO bus, town bus, as well as the tourist "city train" all had long queues.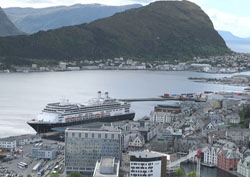 A popular excursion from Ålesund was to visit the Geiranger fjord, but we'd be calling on Geiranger on Day 12, therefore we chose to stay in town today. We walked to the old town in the morning and then had lunch back at the ship. Then fortified with hats, gloves and winter jackets, we took a 70-minute tourist "city train" to the Mount Aksla viewpoint in the afternoon.
Ålesund's town center was burned to the ground about a century ago. The town was rebuilt in Art Nouveau style after the 1904 fire. Today, Ålesund is a modern town with exciting cafés, restaurants and a rich assortment of shops.
Ålesund is also an important fishing harbor. It is one of the largest exporter for klippfisk (literally translated as Rock Fish) - split, dried and salted cod, which is called bacalao in Spanish and is very popular in Portugal. We had bacalao for lunch in Portugal in 2009 while on a Grand Circle Travel tour to Spain and Portugal. We'd take fresh fish over bacalao any day, but during the "Age of Discovery" bacalao was an important source of food for the Portuguese sailors embarking on long voyages.
Below are some Ålesund tourist info:
tourist "train" - every 30 minutes and departs from the cruise terminal, http://www.bytoget.no/home.html. Tour last 70-min. This will take you up to Fjellstua viewpoint (which is the name of the restaurant located at the top of Mount Aksla) and stop for 10~15 minutes. Save you from climbing the 418 steps. And here is a video of the train ride found on youtube: https://www.youtube.com/watch?v=1TcD4F8AOc4
CruiseDay 6 - Trondheim, Norway (6/1/2017, Thursday, 40F, rain & wind):Link to our photo
Our ship docked at 8am. During breakfast, we could see that it was raining and windy with dark clouds outside. Our iPhone's weather forecast app showed that the outside elements felt like 38F. Are you sensing a theme here? Rain and cold seemed to follow us!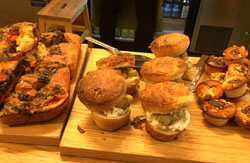 We set out at about 11am, walked to the TI to get printed maps as well as use their WIFI to load Trondheim's map to our iPhone, then walked to the city library to find comfortable chairs, wash our hands, and take advantage of their free WIFI as well.
Trondheim is Norway's 3rd largest city (after Oslo and Bergen). Founded in 997AD, Trondheim is Norway's oldest city and was its original capital. The city, known as the historical, religious, and technological capital of Norway, has a trendy and hip vibe due to the population of young students from its University of Science and Technology.
The main tourist attraction in Trondheim probably is the towering Nidaros Cathedral, the largest medieval building in Scandinavia. Since VT decided to stay put in the city library's coffee shop due to the rain, only MC went to see the Cathedral. Therefore you'll have to settle with pictures from the Cathedral's Wikipedia page. Torvet, the huge square along the Munkegate ("Monk Street", the main commercial street of Trondheim) on the way to the Cathedral, had a McDonalds and a Burger King. MC saw a sushi restaurant advertising all-you-can-eat-sushi before 4pm for about USD$25/pp. It seemed like businesses had adapted to the younger demographic.
CruiseDay 7 - Sea day (6/2/2017, Friday, 43F at sea, Partly Cloudy): Link to our photo
Our stateroom was on the Starboard (right) side of the ship. With the ship heading north, our room window faced east. This morning we woke up with bright sunshine beaming into our room, it was 3:43am.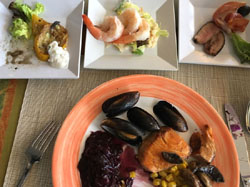 We went to MDR (Main Dining Room) for breakfast and intended to order a Belgium Waffle and a Banana Pancake, but when MC saw an "Asian Breakfast" (miso soup, white rice, and grilled salmon) being offered, she ordered that instead and it was pretty good. VT also changed his mind and ordered an omelet with a side of bacon and sausage. We split a Belgium Waffle as well.
Our captain announced that we had crossed the imaginary Arctic Circle at 7am. Therefore, from then on we were cruising inside the Arctic Circle.
Lunch was at the Lido buffet. We had seared trout filet and other hot food, then had starfruit (楊桃), Kumquat (金橘), and grapes for sweets. The buffet station always offered some exotic fruits. When MC showed interest in Kumquat, the Indonesian server behind the counter was very pleased. He used tongs to pick several that he deemed best to place in MC's plate.
We met 4 Taiwanese travelers (2 couples, about our age) who were friends and had sailed together with HAL so many times that they attained the "VIP" status with HAL. Although their English was limited, it was great to see that it never deterred them from exploring the world.
Dinner was a feast. The Lido buffet had King Crab Legs, Filet Mignon, Lamb Chops, Clams and Mussels, Shrimp Salad etc, similarly to items available in the MDR for tonight's Gala night (i.e. MDR's dress code was "formal" tonight).
CruiseDay 8 - Hammerfest, Norway (6/3/2017, Saturday, 39F, partly sunny):Link to our photo
With a population of 10,300+, Hammerfest enjoys the title of being Europe's northernmost "CITY". Hammerfest" means "mooring place" and refers to the natural harbor (remarkably ice free year-round thanks to the Gulf Stream) formed by the crags in the mountain.
Founded in 1838, Hammerfest was razed repeatedly over the years by storms, fires and most savagely by retreating German soldiers at the end of World War II. Now almost completely rebuilt (it was Europe's first city with electric street lights), Hammerfest is known for its colorful homes lining the sea, contemporary attractions and passion for welcoming visitors to its pristine Arctic environs.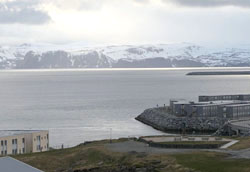 Our ship arrived at Hammerfest at 11am. It was 1.5 miles walk along the shore line to the town center, so HAL provided free shuttles all day to transfer passengers back and forth. From the ship, we could see that the outside scenery was covered by patches of snow, and the mountains were barren, not much green at all.
The shuttle dropped us off in front of the TI, but it was crowded so we walked to the city library, which was unfortunately closed on Saturday. Next, we walked to the Reconstruction Museum and saw that it had a very pleasant coffee-shop with free WIFI, so we ordered tea and sat down.
Museum of Reconstruction - tells the history of and the rebuilding after World War II when the retreating German soldiers destroyed the whole city.
Hammerfest Church - a new church built in 1961, its shape resembles a rack that Norwegians use to dry fish. It has beautiful stained glass and nice views of the harbor.
Tourist Information Center - Free WIFI and exhibition of histories of Finnmark (name of the extreme northeastern part of Norway where Hammerfest is located.)
Tonight's evening show featured a magician named Marc Oberon from UK. He was very good at mind-reading and making objects float in the air. After tonight's performance he stayed on the ship and gave us another performance on cruise-day 13. We could not help wonder how an entertainer could work for a day, take 4 days off vacationing on the ship, and then do another performance on day 5? Do the entertainers earn enough money to work for one day and rest for 4 days?
CruiseDay 9 - North Cape (Honningsvåg), Norway (6/4/2017, Sunday, 41F, rain/fog/wind, sunrise 2am, sunset 2am):Link to our photo
North Cape is the northern-most point of mainland Europe. Honningsvåg, 34 km south of Nordkapp, is the closest port town to the North Cape and has about 3000 residence. No area is granted CITY status unless they have a population of 5000 or more.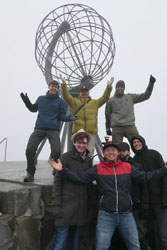 Our weather forecast app indicated that today was Showers/Wind, 41F, Sunrise at 2:00AM and Sunset also at 2:00AM.
Since visiting North Cape was an absolute must, we booked a 3.5 ~ 4 hour shore excursion called "North Cape Sightseeing" bus tour with a local tour operator, http://www.nordkapp.no/en/booking. We booked our seats online back in February for a tour starting at 9am, the cost was 769NOK/pp (~USD$92). The drive from Honningsvåg port to the North Cape Visitors' Center should take about 45-min.
We woke up very early and had breakfast at 6:30am. The scenery outside the windows on the port side of the Lido restaurant was desolate, brown-rocky mountains covered by patches of snow rising above a grey-ish sea water. However, the harbor was ice-free, due to the warm gulf stream of the Barents Sea.
We walked to the TI office to meet our tour group, then got onto a bus. Our guide was a young lady from Switzerland who currently lived in Honningsvåg. The drive to North Cape along Route E69 was on a curvy mountain road, with snow-capped mountain tops at our eye-level. The all-white mountainous scenery reminded us of the Glacier Express train ride in Switzerland.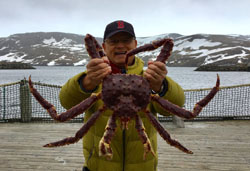 We detoured to a fishing village to see fishing boats and how the fish were been dried. Then detoured to another seaside town called Skarsvåg to meet a 5kg king crab up close.
At the North Cape Visitors Center we first saw a 14-min film about the four seasons living so far north. In the film, we saw school children playing in the playground in the dark in winter.
The outdoor Globe Monument (which has become the symbol of North Cape) was shrouded in fog. We could not see 10 feet in front of us, but VT was able to get a picture of himself in front of the Globe with the help of a group of joyful young men partying at the monument.
Back on the ship, we took dinner at the MDR because its menu listed Coq au Vin (紅酒燉雞), a French peasant dish popular in the Alsace region, which MC wanted to try. After dinner we went to the 8th deck's large windows to watch our ship cruising the northern coast of the North Cape. Although still foggy, we could make out the shape of the tall straight cliff of the North Cape.
CruiseDay 10 - sea day (6/5/2017, Monday, 45F at sea, cloudy):Link to our photo
The most noteworthy event today was that we saw a bright sunlight at 12 midnight and captured it with our camera.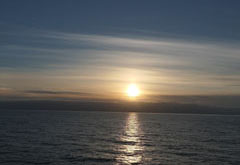 Our ship had been cruising southbound all day. Outside elements were still foggy; the sun did not shine through at all during the day. We stayed up late only because the hardworking Indonesian crew took to the stage to present a show of traditional music, song and dance at 11pm, and wanted to see it.
When we arrived at the theater at 11pm, wow, what a surprise! Not only were all the seats taken, but standing room was already 5 deep. None of the entertainers in the past week had drawn such a big crowd, but a show staged by the crew for free did! We had to stand behind tall people craning our necks to see part of the action on the stage. The traditional dance was very elegant, and a skit with humorous narration drew laughter from the audience. Kudos to the crew!
After the show we walked outside to the open deck, and that was when the sun broke through layers of cloud and hung bright and red in the sky.
CruiseDay 11 - sea day (6/6/2017, Tuesday, 48F at sea, sunny & blue sky): No photo link today
This was another day to relax without a set plans. We lingered at the Lido Restaurant and enjoyed a lengthy breakfast with an ocean view. One of the Taiwanese travelers came to chat. He also saw the sun at midnight last night, and had been wondering if it was a setting sun or a rising sun. We told him it was a setting sun, because sunset was at 2AM two days ago in North Cape, therefore sunset yesterday should be a bit before 2AM. He smiled with delight, as if a puzzle had been lifted off his head.
We did a self-service laundry. Just like the last time, we went to the laundry room shortly after 3pm when most guests were getting ready for afternoon tea or cocktail, so there was no wait for a machine. Each stateroom also came with a small laundry bag that one could stuff dirty laundry in and the ship would do for $30/bag. The ship also offered an unlimited laundry service package for $9/day, but one must sign up for the entire length of the cruise (14 days in our case). Therefore if this were a port-intensive cruise then there were options to have laundry done for you.
Dinner had Surf & Turf available in both MDR and Lido buffet. Lido was very quiet this evening. We enjoyed Grilled Lobster Tails and Filet Mignon in Lido sitting by a large window with soft music piping through the restaurant and seeing land on the port side getting closer and closer. We would be passing Ålesund soon on our way to Geiranger, tomorrow's port.
CruiseDay 12 - Geiranger, Norway (6/7/2017, Wednesday, 58F, Cloudy. Sunrise 3:45am, Sunset 11:18pm): Link to our photo
This was the 2nd port (besides North Cape) where we pre-booked a shore excursion. We booked a 90-min panoramic bus tour to two view points, Ørnesvingen (the Eagles Bend) and Flydalsjuvet (Flydals Gorge). We booked online back in February with Geiranger Fjordservice, http://www.geirangerfjord.no/english and chose a 10:45am departure. The cost was NOK220/pp (~USD$27). The tour operator emailed us confirmation as well as instructions on when and where to wait for the tour bus (by the road to the left of the TI office.)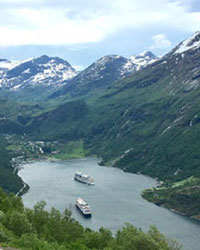 Geiranger ([geh-RAHN-gher] or [GEH-rahn-gher], we heard both pronunciations been spoken) is a small village of about 250 residents, its nearest gateway city is Ålesund. Geiranger village is located at the dead end of a narrow fjord, similarly to Flåm, but Flåm is a transportation hub, busy with travelers coming and going, while Geiranger is more serene. Since 2005, the Geirangerfjord area has been listed as a UNESCO World Heritage Site due to its scenery of high mountains, 500-meter-deep water and beautiful waterfalls such as "The Seven Sisters", "The Suitor" and "The Bridal Veil".
Cruise ship passengers must tender to shore. We went to the ship's desk at 9am to get a tender ticket and got assigned to the 9:15am tender. Guess most of the guests had already gone on shore by then. We were on shore by 9:30am, went to the TI to use free WIFI and walked around before our panoramic bus tour started. The TI also sells all kinds of tour tickets - bus tour, ferry tour, as well as renting bicycles.
Our tour bus had a multi-language audio system. The views at the two view points were indeed breathtaking.
At the 4pm sail-away, we went to the open deck at the bow on deck three to listen to Claudia's commentary as well as take pictures of the waterfalls up close. Geiranger fjord was as pretty as we heard it would be and was a major highlight of the trip.
CruiseDay 13 - Bergen, Norway (6/8/2017, Thursday, 53F, rain shower, Sunrise 4:14am, Sunset 11:01pm): Link to our photo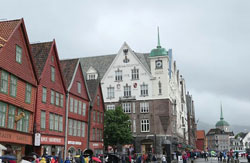 Bergen is the 2nd largest city in Norway. For a first-time visitor, the major attractions in Bergen include:
Bryggen - the historical Hanseatic Quarter in the waterfront area.
Fish Market - besides the outdoor fish market, there is now an up-scale indoor fish market located at the ground floor of the modern Tourist Information building.
Take the Fløibanen funicular to Mount Fløyen for the best view of Bergen.
Visit composer Edvard Grieg's Museum in his home at Troldhaugen - the museum offers LunchTime concerts including r/t bus transportation from downtown Bergen (May ~ September). See http://griegmuseum.no/en/article/grieg-bus-tours for details.
We visited Bergen in 2004 and saw all the major attractions then. So this time we planned to just stroll the waterfront to browse the fish market and buy souvenirs, but even that simple plan had to be cut short due to the unrelenting rain. However, we did enjoy the fish market, and have many pictures from both the outdoor and indoor one in today's photo link.
Danish word Trold means Troll, which is a mythical, cave-dwelling being depicted in folklore as either a giant or a dwarf, typically having a very ugly appearance. That explained why the troll dolls we saw on souvenir store shelves were all ugly-looking, unlike the cute characters created by DreamWorks artists in the 2016 Trolls movie that our granddaughters so enjoyed. In the movie the bad guys lived in Bergen Town!
CruiseDay 14 - sea day (6/9/2017, Friday, 57F at sea, partly cloudy): No photo link today
We had a leisurely breakfast and then started packing in the afternoon. Luggage had to be placed outside the door by midnight.
Dinner was at the Lido buffet and we said good-bye to the sweet and attentive Indonesian waitress Gina. This ship will be calling on Boston at the end of July, and then again in September on its way to the Caribbean. Gina was very excited to visit Boston, her first step on American soil.
Evening entertainment was the magician Marc Oberon and a young rock-n-roll singer from the UK, both making their second appearances after vacationing on the ship for a few days. They brought the house down. VT commented that why the entertainment program couldn't be like this every day?
Going Home - Debarkation in Rotterdam (6/10/2017, Saturday):
Our super-cheap air tickets did not allow us to choose seats until 24 hours prior to departure. But yesterday was a whole day at sea, and we did not want to use the pricy CELLULAR-AT-SEA internet minutes purchased from HAL for this purpose, so VT suggested to wait till this morning when we would be close to land. MC woke up at 5am and could see streetlights right outside the window. Our ship had entered the Nieuwe Waterweg canal, which meant the phones had Vodafone cellular signals, so we finally checked into our flight. Glad we chose our seats at that time since a Lufthansa agent at the airport told us the plane was quite full.
Our flight departure was 2:50pm, so we had plenty of time to get to the airport in Amsterdam. Instead of taking a taxi to the train station and then 25-min train from Rotterdam to Schiphol airport as we had originally planned, we purchased a ship's bus transfer from the pier to airport for $39/pp, not too expensive and it gave us some convenience. Our bus ride from Rotterdam pier to the airport took about 55 minutes.
Boston's Logan airport was very busy and we spent an hour getting through the long lines at immigration and customs. It's always good to come home.
We enjoyed our 8-day pre-trip as well as the 14-day cruise. It felt like taking two trips back-to-back.
What we liked about HAL's Rotterdam:
Pool deck had retractable roof, so that guests could continue to use this area even on raining or cold days.
Good varieties of dinner choices at the buffet and the Main Dining Room.
Digital NYTimes was available online through intranet free of charge.
---
Practical Tips:
A few tips for trips such as ours:
1. For the more adventure-some friends, ExploreWorldwide has a 16-day trip called "Nordkapp Adventure" which starts in St. Petersburg, crossing Russia by land into the North Cape and ending in Tromso, Norway.
2. Internet: As mentioned earlier, get your Smartphone unlocked (if it is locked to your service-provider's frequency) and then purchase a SIM card after you get to Europe.
3. A big tip on MAPs - every TI on shore had free WIFI, so we walked to TI to download the city's detailed map to our iPhone, then without WIFI and without using Cellular Data we could rely on Google Maps GPS (the blue dot) to guide us in the right direction wherever we wanted to go.
4. We used our Double Cash CitiCard, which covers travel cancellation/interruption for up to $3000/pp to pay for the cruise and air. Citibank has many kinds of cards, some offer travel protections for a higher dollar amount, some do not at all. Call to ask. We used Bank of America's travel reward card, which did not incur foreign transaction fees to pay for everything else.
5. For emergency medical and evacuation, we purchased AMEX's "Global Medical Protection" for $32/pp for a trip up to x days. For this, go to https://www.americanexpress.com/, click on "Travel" link from the top. In "Other Travel Services" category, click on "Travel Insurance". On the next page, enter trip information and choose "Build Your Own Coverage" option. On the next page, look at the "Global Medical Protection" section, click on "View Coverage options" to see Basic/Silver/Gold three plans. The Gold plan only costs $32/pp. Note that this is a secondary insurance. Some other insurers (such as TravelSafe) sell primary travel insurance policies at a higher premium. A lot of choices out there, it all depends on what suites your need.